About Backland
Enjoy scenic views and farm-to-table dining through luxury glamping at Backland. We offer lavish tents and an array of on-site amenities and activities that let you explore the outdoors like never before. Make Backland your home base to discover what northern Arizona has in store for you as well as the Grand Canyon, Sedona and more. Relax by the fireplace or unwind on our beach-side patio to soak in the nature in luxury. You can also explore horseback riding, take a leisure paddle on the pond, or get a massage in our tented spa. Book our packages today!

Hours of Operation : Arrivals accepted 24-7 (on-call reception), Phone reservations : 8 am - 8 pm MST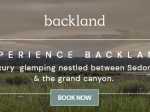 What is the phone number for Backland?
The phone number for Backland is (928) 288-5441.
---
Where is Backland located?
Backland is located at 6929 E Rosilda Springs Rd , Williams, AZ 86046
---
What is the internet address for Backland?
The website (URL) for Backland is https://www.travelbackland.com/
---
What is the latitude and longitude of Backland?
You can use Latitude: 35.17637960 Longitude: -112.05039730 coordinates in your GPS.
---
Is there a key contact at Backland?
You can contact Backland at (928) 288-5441.

v