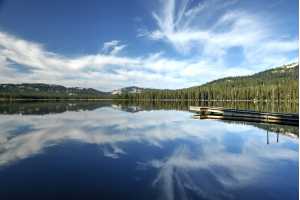 About Webber Lake Campground
Webber Lake Campground has 2 camping areas: North has 34 generously sized sites, West has 11. There is a Group Site to accommodate 4 families. There is a turnkey 4 bedroom/2 bath house on the lake that rents for a 6 night minimum. Each site accommodates a maximum 8 guests (children included), two (2) vehicles per site and one (1) RV (defined as motor vehicles and trailers which include living quarters designed for temporary accommodation, including camper vans and cab over campers) and has fire ring, bear box and picnic table.

In October 2012, the Truckee Donner Land Trust acquired the 3,000 acre property from its longtime owners, Clif and Barbara Johnson. Webber Lake had been in the Johnson Family since the 1870s. Until the Land Trust's acquisition, the property had been closed to the public for decades. The property consists of Webber Lake and two large meadows, Lower Lacey Meadow and Upper Lacey Meadow. Lacey Creek meanders through both meadows and feeds Webber Lake. Dr. David Webber's hotel, built in 1860, is the last standing stagecoach hotel (out of about 30) on the historic Henness Pass Road.

Campground is DRY until later in 2021 when the new water system is expected to be fully functional. There is no retail on site.
There may be fire restrictions imposed periodically in the summer depending on weather and local wildlife conditions.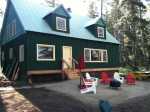 Available Camping
---
Backpacking
Tent
Non-Motorized RV
Motorized RV
Big Rig / Pull Through
Allowed Vehicles
---
Passenger Vehicles
Off-Road Vehicles
Bicycles
Recreation
---
Boat Ramps
Fishing
Hiking/Trails
Beach
What is the phone number for Webber Lake Campground?
The phone number for Webber Lake Campground is (530) 587-2267.
---
Where is Webber Lake Campground located?
Webber Lake Campground is located at 120 Webber Lake Road , Sierraville, CA 96126
---
What is the internet address for Webber Lake Campground?
The website (URL) for Webber Lake Campground is http://tdlandtrust.org/webber-lakelacey-meadows
---
What is the latitude and longitude of Webber Lake Campground?
You can use Latitude: 39.46708050 Longitude: -120.42579510 coordinates in your GPS.
---
Is there a key contact at Webber Lake Campground?
You can contact Webber Lake Campground at (530) 587-2267.
Webber Lake Campground Reviews
v