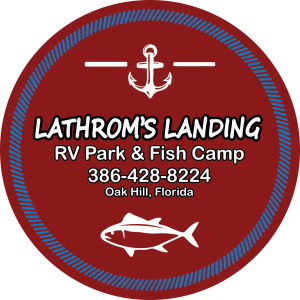 About Lathrom
Lathrom's RV Park Full Hookup RV Sites - extra large - sod grass - lagoon views - clubhouse - laundry facilities - decks - grills- fishing pier - shrimping pier.

Lathrom's Mosquito Lagoon Fish Camp offers four waterfront units — a 2-bed/1-bath with four full-size beds, an efficiency/studio with two full-size beds, an efficiency with one queen bed, a 2-bed/2-bath manufactured home next door to the main fish camp building and 1 42' 5th wheel located in the RV Park. All units have expansive views of the lagoon, A/C and fully equipped kitchens. The 2/1 unit and the larger efficiency have French doors that open directly to your covered waterfront deck and dock.

Fish Camp & RV Park- Located on the Intracoastal Waterway in Oak Hill, Florida, a five-minute idle from the world-famous flats of Mosquito Lagoon, our three unit fish camp with private docks and on-site launch ramp is the ideal base of operations for skiff anglers, kayakers, stand-up paddle boarders, birdwatchers and other wildlife enthusiasts.

Bring your own boat, fish with one of the lagoon's accomplished guides, or use one of our complimentary Native Watercraft kayaks to explore the area. With our unique lagoon redfish population, the fish are here all year, and we'll make sure you find them.
What is the phone number for Lathrom?
The phone number for Lathrom is (386) 428-8224.
---
Where is Lathrom located?
Lathrom is located at 359 River Road , Oak Hill, FL 32759
---
What is the internet address for Lathrom?
The website (URL) for Lathrom is http://www.lathromslandingrvpark.com/
---
What is the latitude and longitude of Lathrom?
You can use Latitude: 28.87785490 Longitude: -80.84184280 coordinates in your GPS.
---
Is there a key contact at Lathrom?
You can contact Lathrom at (386) 428-8224.

v