About JB's RV Park
We are in a rural, country influenced, location that's close to restaurants, shopping, and Walmart.
We have 22 premium pull-thru campsites that's resting on a flat and level grass lawn.
Every site has water, sewer, and power connections.
The laundromat is exceptional and laundry service can be added to your stay.
AT&T and Verizon cell phones receive good signal and Hotspots work good without buffering when streaming. We are conveniently located for the areas supplemental workforce. We are 10 minutes from Plant Hatch, and 35 minutes from Rayonier Jesup. Our recreational campers will be pleased to find so many nature related activities nearby.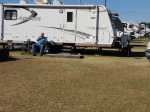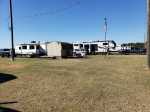 Available Camping
---
Non-Motorized RV
Motorized RV
Big Rig / Pull Through
Allowed Vehicles
---
Passenger Vehicles
Off-Road Vehicles
Commercial Vehicles
ATV/UTV
Bicycles
Services
---
Electricity Hookups
Fresh Water
Sewer/Dumping
Trash Disposal
Laundry
Connectivity
---
Cell Phone Service
Radio Coverage
Recreation
---
Boat Ramps
Water Skiing
Fishing
ATV
Picnic Sites
Farm
What is the phone number for JB's RV Park?
The phone number for JB's RV Park is (912) 240-0099.
---
Where is JB's RV Park located?
JB's RV Park is located at 623 Bullard Road , Baxley, GA 31513
---
What is the internet address for JB's RV Park?
The website (URL) for JB's RV Park is http://jbsrvpark.net/
---
What is the latitude and longitude of JB's RV Park?
You can use Latitude: 31.83745390 Longitude: -82.36955400 coordinates in your GPS.
---
Is there a key contact at JB's RV Park?
You can contact JB's RV Park at (912) 240-0099.

v