About Southern Retreat RV
Southern Retreat RV Park is a family-friendly campground in southeast Georgia's gorgeous Golden Isles. The park has full hook-up, pull-through sites perfect for big rigs, with sites up to 90' long. All sites include water, sewer, 30/50 amp electrical, Wi-Fi, and cable.

Park amenities include a recreation area for children, an outdoor swimming pool, fitness center, store, and a fenced off-leash dog park. Our covered pavilions with picnic tables, grills, and firepit are perfect for groups or rallies. Our laundry, showers, and bathrooms are bright, clean, and secure.

With primitive and electric tent sites, along with newly renovated cabins for rent, we offer the perfect spot for a family get-together. The on-site cabins sleep up to 6 people with pullout sofa beds and rentals include bedding, linens, dishes, coffee pot, microwave, cable, and Wi-Fi.

Located just minutes from Jekyll Island, St. Simon's Island, and Historic Downtown Brunswick there is an amazing selection of outdoor activities including beaches, golf, and fishing, abundant shopping, and multiple historic settings sure to satisfy the entire family.

Southern Retreat RV Park is excited to announce the grand opening of our new fully licensed, on-site restaurant, Fish Tales Pub & Grill.

Our casual environment and fun, friendly staff make Fish Tales Pub & Grill a perfect spot to enjoy a delicious meal or drinks with family and friends.

Dine inside, gather at the stunning custom-made bar, enjoy a game on the TV outside in the comfy lounge area, or share appetizers by the campfire.

We offer a large variety of menu items including all-day breakfast, custom pizzas, scrumptious shrimp and fish dishes, delicious sandwiches, amazing burgers, steak and ribs cooked to perfection, and tasty appetizers to satisfy everyone's appetite.
Enjoy our custom craft lager created by Brunswick's Silver Bluff Brewing Company, one of our signature cocktails, or a spirit of your choice.
We are proud to offer a 10% food discount to all first responders, FLETC personnel, active military and veterans, as well as Southern Retreat guests.
Stayed tuned for live entertainment, bingo, and special events. Follow us on Facebook facebook.com/FishTalesPubandGrill and Instagram instagram.com/fishtailspub/.
Fish Tales is open 7 days a week, 8am to 10pm Monday to Thursday, 11pm Friday and Saturday, and 9 PM Sunday. Join us for breakfast, lunch, dinner, or a relaxing drink at Exit 29, 7445 Blythe Island Hwy.


Join us for fun events throughout the year including live music, Easter egg hunts, Halloween, breakfast with Santa, and many more.

Less than half a mile off I-95, Southern Retreat RV Park is perfect for an easy overnight stop, a week-long vacation, or a seasonal getaway. We promise that your first visit won't be your last!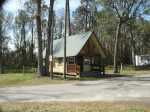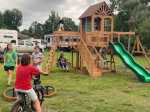 Available Camping
---
Tent
Motorized RV
Big Rig / Pull Through
Cabins
Allowed Vehicles
---
Passenger Vehicles
Bicycles
Services
---
Electricity Hookups
Fresh Water
Sewer/Dumping
Trash Disposal
Propane
Cable/Satellite TV
Laundry
Connectivity
---
Cell Phone Service
Wifi/Internet
Radio Coverage
Recreation
---
Swimming Pool(s)
Playgrounds
Picnic Sites
Biking
Facilities
---
Restrooms
Restaurant
Group Kitchen
Licensed Restaurant
Discounts
---
Passport America
Escapees RV Club
Good Sam Club
AAA
Military
Coast to Coast
What is the phone number for Southern Retreat RV?
The phone number for Southern Retreat RV is (912) 261-1025.
---
Where is Southern Retreat RV located?
Southern Retreat RV is located at 7445 Blythe Island Highway , Brunswick, GA 31523
---
What is the internet address for Southern Retreat RV?
The website (URL) for Southern Retreat RV is http://www.southernretreatrvpark.com/
---
What is the latitude and longitude of Southern Retreat RV?
You can use Latitude: 31.14604600 Longitude: -81.57968800 coordinates in your GPS.
---
Is there a key contact at Southern Retreat RV?
You can contact Southern Retreat RV at (912) 261-1025.
Southern Retreat RV Reviews