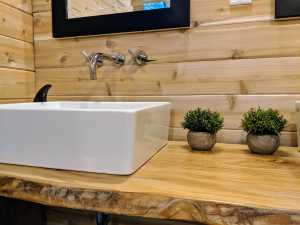 About Desert of Maine
The Desert of Maine Campground is on the same property as the iconic tourist attraction which has drawn visitors from all over the world for nearly a hundred years. The campground itself has recently been renovated! There are approximately 30 sites for tents and small RVs / trailers (20' max length). The bath house is stunning--literally the nicest bath house you will ever see at a campground. Despite being close to Freeport, the beaches, and downtown Portland, it is very secluded! The forest and woods surrounding each campsite provides lots of privacy and you can spend evenings on the dunes hiking or star gazing.

We are building several stunning A-frame cabins for next year!

There is a one-of-a-kind natural playground for kids, corn hole, a magical labyrinth called "gemstone village", and of course the dunes are lots of fun.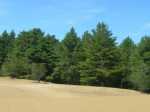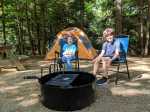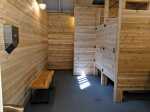 Available Camping
---
Tent
Non-Motorized RV
Motorized RV
Cabins
Allowed Vehicles
---
Passenger Vehicles
Off-Road Vehicles
Commercial Vehicles
Bicycles
Services
---
Electricity Hookups
Fresh Water
Sewer/Dumping
Trash Disposal
Connectivity
---
Cell Phone Service
Wifi/Internet
Radio Coverage
Recreation
---
Playgrounds
Picnic Sites
Hiking/Trails
Biking
Forrest
Winter Sports
Facilities
---
Restrooms
Cafe/Snack Bar
General Store
Camping Store
What is the phone number for Desert of Maine?
The phone number for Desert of Maine is (207) 850-3025.
---
Where is Desert of Maine located?
Desert of Maine is located at 93 Desert Rd , Freeport, ME 04032
---
What is the internet address for Desert of Maine?
The website (URL) for Desert of Maine is http://desertofmaine.com/campground
---
What is the latitude and longitude of Desert of Maine?
You can use Latitude: 43.85784000 Longitude: -70.15335300 coordinates in your GPS.
---
Is there a key contact at Desert of Maine?
You can contact Desert of Maine at (207) 850-3025.