About Shooltz
We are a family owned and operated campground located off Boom Lake on the Martiny Flooding in Mecosta, Michigan.

We are primarily a seasonal campground with a few weekend/ transit sites available featuring a very family friendly atmosphere.

We offer:

seasonal campsites
transit/ weekend campsites
2 bath houses with showers
dump station
great fishing
play area for kids
boat launch
mooring spaces
pet friendly camping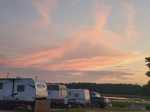 Available Camping
---
Tent
Non-Motorized RV
Motorized RV
Cabins
Services
---
Electricity Hookups
Fresh Water
Sewer/Dumping
Trash Disposal
Recreation
---
Boat Ramps
Water Skiing
Fishing
Playgrounds
Picnic Sites
Forrest
What is the phone number for Shooltz?
The phone number for Shooltz is (989) 382-5596.
---
Where is Shooltz located?
Shooltz is located at 16621 65th Avenue , Mecosta, MI 49332
---
What is the internet address for Shooltz?
The website (URL) for Shooltz is https://shooltzslanding.wordpress.com/
---
What is the latitude and longitude of Shooltz?
You can use Latitude: 43.70727570 Longitude: -85.21864400 coordinates in your GPS.
---
Is there a key contact at Shooltz?
You can contact Shooltz at (989) 382-5596.

v