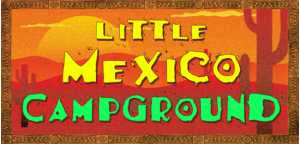 About Little Mexico Campground
Come on over to Little Mexico Campground. We are nestled down in the valley of Central PA. Our campground spans 42 acres located in the middle of nature's beauty. We are located a short distance off of US 11/US 15/Interstate 80, midway between Harrisburg and Williamsport.
Enjoy a day or a couple of days with us relaxing and listening along Penns Creek's banks with the water babbling over rocks downstream. Make it an adventure and go kayaking or tubing down Penns Creek. Take some time to have fun on our playgrounds with the kids or cool down with refreshing swim in the largest above ground pool from the summer heat. You can also try your hand at getting the big catch of the day out of one our three large ponds. Or come and take part in one of our many exciting activities we have planned on the weekends for all ages. The campground has a store for your convenience to supply you with many of your camping needs and a large selection of goods.
Our campground has many sites to meet your request big or small. We have electric, water and cable supplied to all sites and sewer for some of the sites. They are shaded and non-shaded with locations along the creek side and others that are not along the creek. We also have sites located around pavilions for groups of people that would like to camp together. Our pavilions can also be used for your next get together and celebrations with friends and family.

Available Camping
---
Tent
Non-Motorized RV
Motorized RV
Big Rig / Pull Through
Cabins
Allowed Vehicles
---
Passenger Vehicles
Bicycles
Services
---
Electricity Hookups
Fresh Water
Sewer/Dumping
Trash Disposal
Propane
Cable/Satellite TV
Laundry
Connectivity
---
Cell Phone Service
Wifi/Internet
Radio Coverage
Recreation
---
Fishing
Swimming Pool(s)
Playgrounds
Biking
Facilities
---
Restrooms
General Store
RV Store
Camping Store
What is the phone number for Little Mexico Campground?
The phone number for Little Mexico Campground is (570) 374-9742.
---
Where is Little Mexico Campground located?
Little Mexico Campground is located at 1640 Little Mexico Road , Winfield, PA 17889
---
What is the internet address for Little Mexico Campground?
The website (URL) for Little Mexico Campground is http://www.littlemexico.net/
---
What is the latitude and longitude of Little Mexico Campground?
You can use Latitude: 40.87379040 Longitude: -76.94179630 coordinates in your GPS.
---
Is there a key contact at Little Mexico Campground?
You can contact Little Mexico Campground at (570) 374-9742.
Little Mexico Campground Reviews