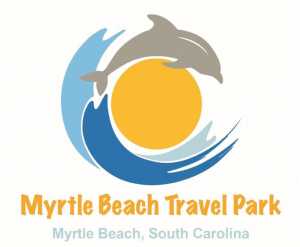 About Myrtle Beach Travel Park
Enjoy Myrtle Beach oceanfront camping at its best! Choose from spacious shaded spots, lake front sites or our beach area. We have many amenities including a 17-acre lake, basketball, volleyball, arcade & snack bar, Breakfast by the Sea restaurant, lazy river, splash pad, heated indoor pool, outdoor pool, pavilion, laundromat, camp general store, planned activities, ministry with worship services & much more!

We are located on the north end of Myrtle Beach near Restaurant Row, live theatres & shopping.

Directions:

Between Aynor and Conway, take the Hwy. 22 exit.
Follow Hwy. 22 for 27 miles all the way to U.S. 17.
Immediately get in the right lane and take the Kings Road exit
Turn right at the end of the off-ramp. Drive around the curve and look for our gate on the left.

Please see our website www.myrtlebeachtravelpark.com for rates, activities, sales and other exciting information.

Local Interests:

Legends in Concert, Alabama Theatre, Medieval Times, Dolly Parton's Pirate Voyage, Barefoot Landing, Broadway at the Beach, Brookgreen Gardens, Skywheel, Myrtle Beach Boardwalk, Carolina Opry, Family Kingdom Amusement Park, Myrtle Waves, Myrtle Beach Pelicans Baseball, Ripley's Aquarium, WonderWorks, Tanger Outlets and more!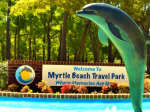 Available Camping
---
Tent
Non-Motorized RV
Motorized RV
Glamping
Villas
Rental Travel Trailers
Allowed Vehicles
---
Passenger Vehicles
Bicycles
Services
---
Electricity Hookups
Fresh Water
Sewer/Dumping
Trash Disposal
Cable/Satellite TV
Laundry
Connectivity
---
Cell Phone Service
Wifi/Internet
Radio Coverage
Recreation
---
Fishing
Swimming Pool(s)
Playgrounds
Picnic Sites
Biking
Beach
Facilities
---
Restrooms
Restaurant
Cafe/Snack Bar
General Store
What is the phone number for Myrtle Beach Travel Park?
The phone number for Myrtle Beach Travel Park is (800) 255-3568.
---
Where is Myrtle Beach Travel Park located?
Myrtle Beach Travel Park is located at 10108 Kings Road , Myrtle Beach, SC 29572
---
What is the internet address for Myrtle Beach Travel Park?
The website (URL) for Myrtle Beach Travel Park is https://www.myrtlebeachtravelpark.com/
---
What is the latitude and longitude of Myrtle Beach Travel Park?
You can use Latitude: 33.77766330 Longitude: -78.77361460 coordinates in your GPS.
---
Is there a key contact at Myrtle Beach Travel Park?
You can contact Myrtle Beach Travel Park at (800) 255-3568.
Myrtle Beach Travel Park Reviews