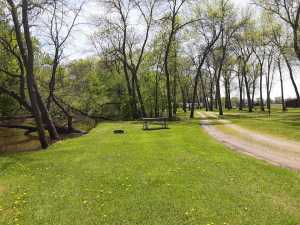 About Alcock County Park
Alcock Park is located on the west side of Frederika with park property lying on both sides of the Wapsipinicon River. The current 42 acre park was completed in 1982 when the city of Frederika donated 17.2 acres.

The park offers a wide variety of recreational activities to area citizens and visitors. Two picnic and playground areas provide day-use recreation. A sand volleyball court and horseshoe pits are also available. Two shelters with electricity are available on a first come - first serve basis unless reserved. A recycling shed was added in 2003 for campers to reduce the amount of items going to the landfill.

Canoeists and fishing enthusiasts obtain access to the Wapsipinicon River through the park's shoreline or the boat ramp. The campground has over fifty electrical sites and two wells for drinking water. The park also offers a shower house and a modern restroom as well as pit latrines and a dump station.

Alcock Park has a low-head dam within the park. Improper and unsafe activities can result in fatalities. The following information was written by Kip Ladage of Tripoli, Iowa. Low-head dams can look pleasant and relaxing with the water gently falling over them. However, the dams become dangerous with thousands of gallons of water pouring over the dams and creating a churning current, often called a "hydraulic." The water will take any object, large or small, wearing a Personal Flotation Device (PFD) or not, and slam it to the bottom of the dam, release it to the surface, and again slam it to the bottom. The cycle can continue indefinitely. You will not have the strength to fight the force of the water should you be caught in the backwash of the low-head dam. Do not attempt a rescue. Call in a trained rescue squad. Low-head dam accidents become multiple victim incidents when rescues are attempted by individuals lacking proper training. With these thoughts in mind, consider very carefully your activities around the dam so we can see you enjoying another day on the Wapsipinicon.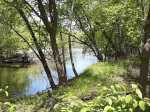 Available Camping
---
Tent
Non-Motorized RV
Motorized RV
Big Rig / Pull Through
Allowed Vehicles
---
No Motorized Vehicles Allowed
Services
---
Electricity Hookups
Fresh Water
Sewer/Dumping
Trash Disposal
Recreation
---
Fishing
Playgrounds
Picnic Sites
Forrest
What is the phone number for Alcock County Park?
The phone number for Alcock County Park is (319) 882-4742.
---
Where is Alcock County Park located?
Alcock County Park is located at 1171 Midway Ave. , Frederika, IA 50631
---
What is the internet address for Alcock County Park?
The website (URL) for Alcock County Park is https://www.mycountyparks.com/County/Bremer/Park/Alcock-Park.aspx
---
What is the latitude and longitude of Alcock County Park?
You can use Latitude: 42.88144550 Longitude: -92.30789630 coordinates in your GPS.
---
Is there a key contact at Alcock County Park?
You can contact Alcock County Park at (319) 882-4742.
Alcock County Park Reviews