9 Best Hiking Boots for Women
As a woman, there are a lot of things that we consider when choosing the right hiking boots. For us, our boots are not only articles of comfort and protection, they are also a way for us to express ourselves. Yes, they have to be comfortable and should be able to protect our feet from injuries, but they also have to be fashionable, flattering, and trendy.
That being said, there are different hiking boots in the market that are designed exclusively for women with taste. In this post, we have carefully selected the best hiking boots for women to help you with choosing which boot is perfect for you and your style! Check it out!
9 Best Hiking Boots for Women

SKENARY Women's Dimo Hiking Boots
The Skenary Hiking Boots is made with fabric-and-synthetic, with rubber sole. It has breathable and hydroshield waterproof upper that lets moisture out of this footwear ensuring you stay dry on the inside. The molded TPU ankle support is making a unique texture so it will be non-slip and have its grip. There is double toe protection that wraps up the toe for protecting your fragile shoe toe. EVA is a durable midsole for long lasting comfort, superior cushioning, and high energy return as well as an advanced traction rubber sole for slip-free movement on rough ground. Suitable for hiking, walking, travelling, fishing, trekking, backpacking, urban leisure, family outings and camping outdoor sports.
Cons
Foxtail stickers may attach to its outer fabric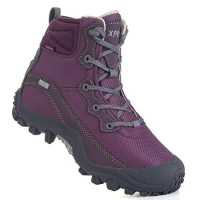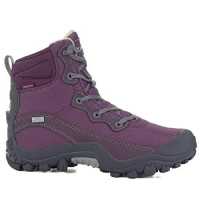 Our Take
These hiking boots are wonderful. I cannot overemphasize the comfort they bring, especially when you are hiking. They are well-designed and ergonomic. You do not have to worry about your feet getting wet because they are completely waterproof. Water just slides off of its side, which is one of the most important features of hiking boots. You cannot afford to have your feet wet in the wild when hiking because it will affect your overall stability. This pair also does not leave your feet sore even if you wear it for long. Comfort is a priority when choosing hiking boots because you have no other options to choose from when you are already hiking. These will not disappoint you when it comes to protection and reliability. However, the fabric it has easily picked up foxtail stickers when exposed to them. They are very easy to remove, though. You will not even feel them, but it would be a great improvement if they don't stick at all. Lastly, these boots are reasonably priced. Most of the boots I have seen are priced above $75, these ones are just $65, and they will serve you well.

Mishansha Mens/Womens Winter Snow Hiking Boots
The Mishansha Hiking boots are made of artificial leather and oxford with rubber sole. It is covered by thickened faux fur inside so that the snow boots provide enough temperature to your feet and offer cozy experience. Lugs on the bottom of the sole offer stability and support on uneven or smooth ground. This has a good-quality rubber sole which features excellent wear resistance and skid resistance, better to protect your feet. The removable insole with faux fur makes it easy to wash and dry. Perfect for vacation, skiing, walking the dog, taking the express, hiking, leisure, fishing, mountaineering, camping, driving,etc. They are unisex winter partners and gifts.
Pros
Highly affordable
Best in keeping your feet warm
Our Take
These boots are perfect for winter hiking. They offer a pretty good level of warmth for your feet because of the faux fur inside. It is ideal that when you go winter hiking, you are wearing the appropriate shoes for the activity. If you merely use regular hiking boots, your feet will be freezing all throughput because they usually do not have fur-like features inside. If you are planning to wear socks with these boots, I would recommend that you take a size that is .5 bigger than your original size. This is because the fur lining inside could make it quite small. It will not be a problem though, because these boots are available in a wide variety of sizes. The leather finish may not make it dirt-free, but they are also very easy to clean. For its $25 price, your expectations would be exceeded by the quality these boots bring. I am delighted with this purchase. It is something I would highly recommend.

XPETI Women's Thermator Mid High-Top Waterproof Hiking Outdoor Boot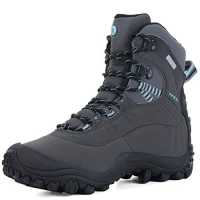 This Thermator Women's casual hiking boots provide special technology to protect your feet. It has rubber toe cap protection and rubber outsole for optimal trail grip. You will find it a very aggressive sole to grab the rocks and give good traction. Waterproof mesh upper and Hydroshield Membrane waterproof keeps feet dry and warm during walks through mud and snow. Molded TPU ankle support and moisture-wicking mesh lining is perfect for hiking the snowy trails, feet stay warm, dry and comfortable. It has 200 grams Thinsulate Insulation for -25℃ and integrated inserted EVA Midsole that is lightweight and sturdy enough even when carrying weight. Ideal for your trips in the snow or hiking in cold weather.
Pros
Snowproof
Waterproof
Good arch support
Cons
Should be used a few times before the hike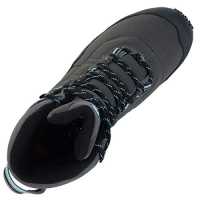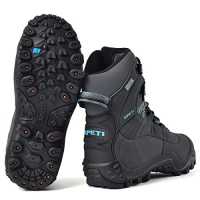 Our Take
These boots are impressive. Not only are they snowproof, but they are also waterproof. They will keep your feet warm and dry throughout your hiking adventure. Instead of the usual faux fur, this pair uses its Thinsulate Insulation feature to keep the cold out. The arch support in these is also very good. It is an additional level of comfort when you are hiking because an unsupported arch may eventually cause your feet to feel sore. Taking one full size higher than your normal is recommended when buying these boots as they can be quite small. This is assuming you will wear thick socks to have an additional layer of protection from the cold. It will also prevent your feet from being wounded because of the constant friction. It may take a few uses for you to break in in these shoes, so it is ideal you use it days before you go to your intended hike. This is just to assure you that you will get the optimum comfort when you are in the mountains. They look fashionable as they are not too bulky. Overall, they offer a good deal for below $75. These are highly recommendable.

Hi-Tec Women's Wn Logan Mid Waterproof Hiking Boot
The Hi-Tec Hiking boot is made of synthetic sole, waterproof suede and high performance mesh upper. It has bootie membrane that is waterproof and breathable. The lace up closure with rust proof eyelets secures fit with a padded collar and tongue for added support. It also features cushioned footbed for added comfort and has fabric lining. The lightweight nylon fork shank adds stability to the boots.
Pros
Great support
Weatherproof
Good gripping power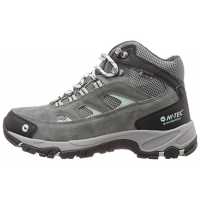 Our Take
If you are one of those people who generally have many feet problems like a painful bunion, flat feet, and achy ankles, these boots will be of great help for you. It is designed to cater to the places of your feet that often get hurt when you are hiking. The insoles are cushioned well, which offer good comfort. These boots are perfect when paired with athletic socks. They are also quite a little bulky as compared to most hiking boots for women, but that is because it offers great support even at the sides. These can withstand mud, water, and snow, and they are certainly weatherproof. The gripping power of this pair does not disappoint. If you are a first-time hiker, the design of its soles will help you climb up better. It is recommended that you take just the right size or even a size smaller than your regular when you purchase these boots. Unlike most women's boots in the market, they offer some extra space inside. These boots will make your $80 worth it.

Manfen Women's Hiking Boots
The outsole materials of Menfen Women's Hiking Boots are waterproof mesh rubber, hydroshield membrane that is waterproof and 200 grams of Thinsulate Insulation for -30℃. The rubber toe cap protection and rubber outsole gives optimal grip and protects your feet. It has advanced technology of integrated inserted EVA midsole, waterproof hiking boot features our lightweight, durable midsole for long lasting comfort, superior cushioning. Molded TPU ankle support with snowshoe strap ridge. The hiking boots combine durability and comfort seamlessly while remaining lightweight and stylish. This is the perfect pair for your outdoor activity.
Pros
Heavy-duty
Great trail grip
Waterproof
Snowproof
Cons
Pressure points may occur if you wear the wrong socks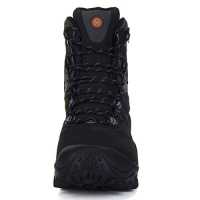 Our Take
If you plan to take on hiking trails that are rough, rocky, and wet, these boots will be your perfect companion. It is designed to withstand conditions like those previously mentioned. They are waterproof, durable, and lightweight. Water and snow would just slide right off when you come in contact with them. The soles on them offer a good trail grip. They also prevent you from tripping over when you step on rocks that have irregular shapes because of the meticulous details on the sole. It is ideal that you get a size that is one notch higher than normal, especially if you plan to wear thick socks in them. It will feel stiff at first, but it is stiff that offers support and comfort. Just make sure you wear the correct socks as to not get painful pressure points because of the stiffness. Overall, the price is reasonable for the benefits and features it offers. For only $75, you will be able to take on more adventurous trails without worrying. I would highly recommend it!
$72.99


Hi-Tec Women's Skamania Mid-Rise Waterproof Hiking Boot
This boots is made of 100% suede and mesh with a rubber sole. The shaft measures about 5" from the arch and the heel measures 1.5". Mid-rise mesh hiking boot with suede overlays featuring Dri-Tec waterproof membrane and padded collar. Inclement weather isn't a problem with Bandera hiking boots for women. Featuring high performance mesh and waterproof suede, this brown hiking boot ensures you stay dry. Removable contoured footbeds make it easy for hikers to quickly swap out insoles for personal orthotics. Finished with an EVA rubber cup outsole, these olive hiking boots offer great traction on technical trails.
Pros
Waterproof
Suitable for long hours of use
Comfortable
Cons
Might not have enough room if you take your normal size. One size up is ideal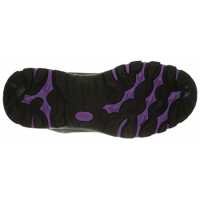 Our Take
These Hi-Tec are designed to offer comfort for long hours of usage. These are comfortable to wear not just in a stationary position, but also even when you are doing strenuous physical activities like hiking. It is important that they offer optimum comfort for long hours because hiking normally takes some time. They are waterproof, which is necessary for keeping your feet from getting blisters. Sometimes, moisture is another factor. In case water does get in as you pass through rivers or deeper puddles, it is very easy to dry. Just an overnight stay near the fireplace is sufficient to dry it up and suitable for the next day's activities. Taking a size bigger is recommended in order to give space to the socks you will be wearing. The details on these boots are well crafted. Their seams are perfectly made, which helps them offer a comfortable fit. You also do not need a "breaking in" period before you can use them for hiking as they can be used as is without feeling sore. All in all, it is a great pair of boots.

Columbia Women's Newton Ridge Plus Waterproof Hiking Boot
The Newton Ridge Plus Waterproof Hiking Boot features a lace-up closure for an adjustable, secure fit. This features a hiking boot that's lightweight, durable midsole for long lasting comfort, superior cushioning, and high energy return as well as an advanced traction rubber sole for slip-free movement on rough ground. This women's waterproof hiking boot delivers style and durability with its contrasting color combinations and soft mesh exterior. The multi-terrain traction system matches specially formulated compounds and treads to specific environments. A dual-zone winter tread pattern ensures solid footing on surfaces such as ice and snow. The Columbia Newton Ridge Plus Waterproof hiking boot is the ultimate companion for a rigorous day out on the trail.
Pros
Completely waterproof
Blocks off cold temperatures completely
Almost no breaking in period required
Cons
Not for use on hot weathers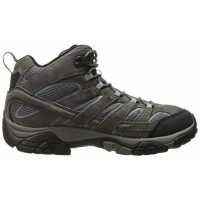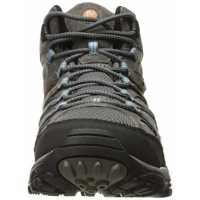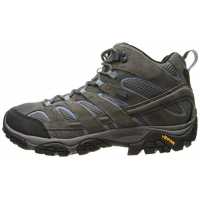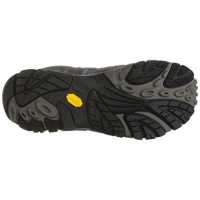 Our Take
These boots will undoubtedly keep your feet warm amidst the snow while hiking. They are also waterproof and can withstand mud and rain. They are extremely lightweight and comfortable to wear. You almost do not feel like you are wearing hiking boots as they fit perfectly without bulkiness. They also do not require long breaking in periods. A little walk around the house to test comfort is enough for them to be prepped for your hike. Going a half a size up will make it more comfortable when you plan to wear thick socks. They might accumulate dirt along the way, but they are easy to clean. The dirt will surely never penetrate the surface of the shoes as they are completely waterproof. However, these boots might not be ideal for hot weather. They were designed to combat extreme cold temperatures, and using them on a hot day might not help. The temperature on your feet may be too hot for comfort, and you may need to take them off at certain intervals to knock down the temperature a bit. Other than that, you will have no issues with these. They will never disappoint you on your next snow hiking activity.

Merrell Women's Moab 2 Mid Waterproof Hiking Boot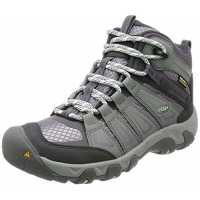 The Merrel Moab 2 is made with 100% suede leather and mesh with a rubber sole. The shaft measures approximately 4.25" from the arch. It has a removable insole. The Merrel air cushion in the heel absorbs shock and adds stability. Targeted heel cushioning improves overall comfort by reducing stress on your foot with each step. It also features a protective toe cap with molded nylon arch shank. The M select dry seals out the water and lets the moisture out so your feet cans stay dry when you're on the move.
Pros
Comfortable
Completely waterproof
Ideal for snow hiking
Cons
Just adequate grip
Relatively expensive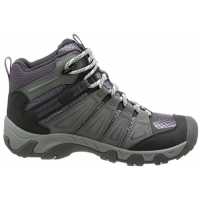 Our Take
These boots are really comfortable to wear. If you normally take on trails that are highly elevated, it is recommended that you take half a size up to leave room for the big toe. On average level hikes, the size that you normally have with your other shoes would fit perfectly fine. You are guaranteed with no aching feet and blisters when you use this pair. They are completely waterproof also, keeping your feet dry all throughout the hike, as long as you do not submerge them in water. It is built for extremely cold temperatures, which makes it ideal for snow hiking. However, its grip is not particularly impressive, although it does the job. It is just best to stay away from slippery rocks when using these. Mud can stick on them, but they can be easily brushed off as soon as they dry the day after. The features they have to make them a good investment for its price. Overall, they are great boots. I would highly recommend this pair.

KEEN Women's Oakridge Mid Waterproof Boot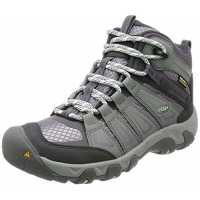 The Keen waterproof boot has carefully selected leather uppers that are designed to last. It is waterproof and lightweight with its mesh upper and breathable membrane. The hydrophobic mesh lining can guarantee dry comfort for the feet. It has a removable, metatomical eva footbed and compression-molded EVA midsole.
Pros
Highly durable
Comfortable to wear
Excellent grip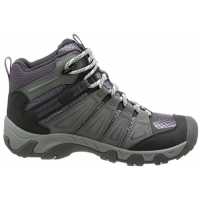 Our Take
These are durable boots that are very comfortable to wear. You will never have blisters when you use this pair for your next hike. They are heavy-duty and highly durable. This is ideal for snow hiking because the trail grip it has is impressive. You are less likely to slip on wet surface if you are wearing this pair. They are also true to the size, unlike other hiking boots that require you to upsize to leave space for your socks. These will also take a while before you can break in, but as soon as you do, you are assured of premium comfort. However, these boots are not completely waterproof, they are decently water-resistant. They are recommended for snow and dry hikes. The price is reasonable and and worth it for the features this pair has. As long as you do not necessarily go to wet places, this will be adequate to keep you feet warm and dry.