7 Best Tall Tents
A tent should serve for more than just sleeping. And still, many people don't look up for the best tall tent out there. Why? They don't even know they have this option. They all want to avoid kneeling and crawling. But only a few think about a tent you can stand up in.
If you're a tall person, don't settle for just any tent. Focus your search on finding the best high tent. You'd be surprised to see that there are many options out there that fit the sit-up criteria.
Tents with tall center height, ideally even with straight walls, will bring many other benefits. Aside from providing more comfort, they give you more room. You can tuck more cots inside. Or you can choose to bring a tent heater with you. Consider even adding in extra camping furniture!
Have you begun to wonder about those tents for tall people we're talking about? Bear with us one minute for a few extra tips on things to consider. And then, we'll dive right in for the best tall camping tents out there..
Size
Of course, when comparing tall tent sizes, height is the first thing you'll want to look into. While doing so, you will notice one thing in particular.
Most models claiming to offer a good size don't really excel at it. Specifically, they are rather built to allow you to sit on a chair or on your knees. From 40 to 55 inches height, you'll find plenty of options.
However, there are a few tents tall enough to stand up in. Those are built to nearly fit the height of a normal room. And they will allow you to sit up, just like you'd do it at home, in your own bedroom.
Options like these don't abound. But if you will find one, make sure you put it on your tent for tall person shortlist. A 6 foot tall tent, perhaps even a 7 foot tall tent, is certainly worth the attention!
Weight
As always, weight depends on the overall size. Two-person tents for tall guys should be lighter than five-person tents, without a doubt. However, some tents are built with more solid materials, which adds up to the final weight.
If you're into backpacking, you won't want to compromise on weight. Polyester tents with fiberglass poles provide the lightest structure. And a 3.5 pounds tall tent for two people is generally a good option.
Are you going to travel by car and don't need to worry too much about size and weight? Then your range of choices will significantly expand.
And you can consider slightly heavier tents. Those might throw in some aluminum poles, for extra stability, and could go up to 4.5 pounds, on average. A decent weight for a tall 4-person tent would be around 5.5 pounds.
Setup
A tall tent makes use of extra fabric and longer poles. As you can imagine, the more and the larger the pieces are, the more complex the setup may be.
Nevertheless, if you have minimal camping and tent setup knowledge, you'll find your way around most models. Whether it's a tall dome tent or a tall pop-up tent, it will still rely on the classy parts.
Think of steel stakes and guy ropes, rain flies and buckles, mesh walls that zip up and roll or turn into canopies.
Tip: Here you can check our easy pop up canopies guide.
Then again, different manufacturers can go for certain designs. Some will ease things even more. For instance, a tent with a unified hub-and-pole setup structure will have an edge over more traditional models. But don't obsess over that.
More often than not, it suffices for the manufacturer to provide some good quality setup instructions. If it really is the best tent for tall person, setup instructions will be intuitive.
Warmth
Tall tents are larger tents, make no mistake about that! For this reason, keeping the heat in can sometimes be challenging.
That's also why some manufacturers specifically label these products as three-season tents. Winter is not the best time of the year to go out camping with them. And even for spring or autumn, some source of heat would be desirable.
The lightweight and most compact tents for tall people make, in fact, a good choice for summer camping. Some will take them for beach camping, specifically.
They come with a special coating to keep UV away. And they are insulated to prevent moisture from getting in. Long story short, you'll mostly be looking at polyester tents. These are great, insulation-wise, but not the best to keep you warm when it's starting to freeze outside.
Ventilation
Ventilation is important with any tent out there. And it doesn't just come down to how many windows and doors the tent has.
But, also, with whether it has dedicated ventilation holes inside, or not. If it has, which is ideal, the cuts should come with zippers, so you can decide when to keep them on or off.
One thing to keep in mind with tall camping tents is that only one of the features above-mentioned isn't enough. Because of its height, the tent needs to allow the air to flow both at the base, where you're sitting, and at the top.
So, there's a winning combo to look for. And that would come down to ventilation holes close to the ceiling and large windows on opposite walls.

Pacific Breeze – Easy Setup Beach Tent
This beach tent from Pacific Breeze Products has 52 inches in height. The base is spread on 95-inches length and 51-inches depth.
A perfect tall 4 person tent, it weighs only 6 pounds. For a product of these dimensions, it is certainly lightweight. After all, it is made of polyester and sits on flexible fiberglass poles.
Out of the box, it comes with four stakes, five sand pockets, and a dedicated carrying case. First-time users might need to check the assembly instructions, first.
But once you get the ropes of it, the setup will be straightforward and fast. What you get is a spacious tall pop up tent with 3 X-large windows and water-resistant PE floor.
The tent is designed to ensure water, wind, and sun protection. Ventilation is optimal, and the internal pockets with hooks for hanging are very practical. Through it all, it is one of the good high tent options out there, lightweight, and easy to fold or unfold.
Pros
Benefits from outstanding, industry-leading design and spacious interior.
Available as an XL version with an extendable floor for even more comfort.
Made of durable polyester, water repellent & breathable.
Ensures sun protection, with a 50+ UPF.
Comes with a convenient 1-year warranty.
Cons
Assembly instructions are not very intuitive.
Could use enforced sun protection on top.
Our Take

Columbia – Sportswear Pinewood
Are you a Columbia fan? Then this tall 4 person tent with 59-inch center height is a solid choice. It weighs 12 pounds, with the base sized at 23 x 7 x 7 inches. And it boasts a sleek design, made of 68D polyester mesh and fiberglass poles. As expected, it features Columbia's Omni-Shield water-and-stain repellant barrier.
Suitable for beach camping and not only, this model comes with an expandable carry bag. So, you will not only be able to set it up in a snap. But you can also pack it back in a jiff, and make it sit tightly in its carry bag. The fast clip setup is making a big difference in the process.
Once assembled, you'll be looking at a tall dome tent with a double-door, four-windows design. Ventilation is kept at an ideal level with the dual triangle venting system. And you have two storage pockets, plenty of gear loft, and an electric port to make your stay comfy.
Pros
Designed with extra-high awning and double door, to facilitate access.
Boasts four large windows and duel triangle venting, for proper ventilation.
Sits on fiberglass poles, featuring a solid, durable structure.
Packed with great features, including an electric cord port.
Includes rainfly attachments with side release buckles.
Cons
Floor quality could be better.
No window on its back wall, only mesh.
Our Take

Weanas – Professional Backpacking Tent
For hiking and camping without worries, consider this backpacking tent from Weanas. It comes in three different sizes of tents for tall people.
The inner tent is sized as follows: 6.9' x 6.9' x 4.3' (H) at 6.2 pounds for four persons; 6.7' x 5.3' x 3.8' (H) at 5 pounds for three persons; 6.7' x 4.3' x 3.6' (H) at 4.5 pounds for two persons.
The lightweight structure is certainly something to appreciate. Though, knowing that it comes from a high tent with aluminum frame poles, it makes it even more interesting. All in all, it's a tent that even one person can easily set up. It features a practical design: brace windows, closable ventilation points at the top, double door easy to action from outside and inside.
As expected, the tent features 4000mm waterproof protection. Its breathable nylon benefits from special UV coating. And the wind protection is ensured by the sturdy aluminum poles.
It is easy to use and a versatile choice for many outdoor activities. Keep it on your shortlist of tents for tall guys.
Pros
Features a classic, practical design with two doors and two skylights.
Design makes it possible to turn the dual zipper vestibule into an awning.
Seam-taped construction with rainfly and lots of guyout points to secure it tightly.
Walls feature a combo of mesh and fabric to keep insects away.
Provides useful details on the inside, a light hook and dual-side zippers included.
Cons
Requires footprint separate purchase.
No trekking poles for the awning included in the package.
Our Take

Mountainsmith – Morrison 2 Person 3 Season Tent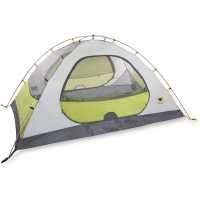 This tent from Mountainsmith reaches 43-inches in peak height. Not exactly a tent you can stand up in, it still easily accommodates two adults, measuring 43 x 92 x 56 inches at 5.53 pounds. On the inside, the main floor space covers 35 square inches, whereas the vestibule space totals 14 square feet.
Whether you're considering it for camping, backpacking, or kayaking trips, it's an interesting choice. It is very easy to set up and offers a lot of space for two persons. The poles, the guyouts, and everything else that comes with it make it a stable, tall pop up tent once set up.
The waterproof coating and the bathtub floor work as intended, keeping everything inside dry. And the two doors and the overall design with ventilation windows make it easily accessible and comfortable.
Inside, you have storage pockets on every corner, plus a welcomed overhead net attachment. So much room, for sleeping and storage, with a decent height – it's a great tall tent!
Pros
Friendly and practical design with two doors and vestibules.
Sturdy construction, with taped seams, aluminum poles, and bathtub floor style.
Improved ventilation, with adjustable ventilation windows and mesh wall panels.
Made of breathable polyester with waterproof rainfly (2000mm) and floor (5000mm).
Lots of attachment options, guyouts, clip-poles, grommet poles.
Cons
A tad heavy for a two-person tent.
Re-packing it can be a bit challenging.
Our Take

Eureka Copper Canyon 8 – Person Tent
This cabin-like tent looks the part and has two separate rooms thanks to a detachable divider curtain; you have the choice of one large tent or two equally sized compartments. The walls are almost vertical so the tent feels pretty spacious inside. Six large zippered windows give panoramic views and plenty of air. There are two doors and two gear lofts. It comes in an orange and cream color and costs a minimum of $320.
Pros
A power port means you can use an electrical power cord inside to charge phone and electronics.
The tent has plenty of storage options for gear and valuables.
The tent is exceptionally tall at 7 feet so anyone can stand up inside.
It weathers storms very well.
Cons
The colors are not particularly vibrant.
The design of the rain fly puts it close to the tent with no projection to clear the rain from over the door.
Our Take

Browning Camping Big Horn 5 Person Tent
The Browning Camping Big Horn 5 Person Tent sports a tall design that helps maximize the space, allowing for more gear inside.
Ventilation isn't a problem with this tent, as there are windows all around and a mesh roof to optimize airflow.
Tent leaks can really be a problem when it comes to camping, but not for this one. All of the tent's seams are appropriately sealed to keep water from seeping inside. Browning Camping Big Horn 5 Person Tent got you covered, literally!
Pros
Fiberglass poles and steel uprights provide additional strength and stability.
There's an extra protective awning over each door, giving extra weather protection over the entranceways.
It has six large windows and a mesh roof, creating great ventilation.
It includes a polyester rain fly.
There are storage pockets to keep smaller items organized.
Cons
A bit heavy
The divider is not removable.
Our Take
The best 5 person tent is the Browning Camping Big Horn Tent. The freestanding design with a center height that will delight even the tallest campers truly stands out. It is a bit pricey compared to the alternatives. But let's just recap all of its strengths, and you'll instantly want to try it out. Here's what the 5-person tent from Browning Camping has to offer you:
Designed and built to offer a truly comfortable experience for a group of 5 campers.
Smart layout, freestanding, and with straight side walls that give you extra space inside.
A welcomed door-mesh-roof-three-windows distribution for adequate ventilation.
Excellent combo of steel uprights and fiberglass poles, for a stable but light structure.
Reliable fabrics, with factory sealed seams and superior 2000 mm waterproof coating.
Easy to set up, by simply clipping snaps over poles, that even one person could do it.
I got this tent a couple of months ago, and it is a simple and easy to set-up tent. Even if one person set this tent up, it wouldn't be a problem. It only took me around 10 minutes to pitch this up, which is pretty good!
This tent was my buddy during our base camp, and it did rain during that time, but I didn't experience any leaking. The tent was waterproof, and the floor is well sealed. I also set-up a tent cot inside this tent, and it fits nicely. Moving around and stand up wasn't a problem; there was a generous space for the headroom.
The only thing I noticed is that this tent supposedly stated to fit a group of 5 people. It may seem to be a little small for its stated capacity, as for my opinion. Nonetheless, it was still a roomy tent with side storage.
I forgot to say, if you're not a fan of a heavy tent, this tent may not be of your liking. It's a little bit heavy, but if you use it for camping out, this is still a recommend tent! This tent will be really cool to use in summer or your next campout!

MSR – Hubba Hubba NX Backpacking Tent
As a super light tent for tall person, this Hubba Hubba NX model from MSR is well worth your attention. It measures 84 x 50 x 39 inches at 3.44 pounds. And the peak height reaches 39 inches, whereas the non-tapered floor area spreads on 29 square feet. Add the pole geometry design, and two persons will stay more than comfortably inside, without a doubt.
Don't appreciate spending too much time with the setup? You're going to love this design. It's all straightforward and intuitive, with color-coded clips and a unified hub-and-pole system. Let's just say that there's little that can go wrong when assembling this tall tent. And when you're done, you're going to enjoy a large two-person tent. Plus, all the extra storage space within the 8.75-square-feet side vestibules!
Among its top-rated features, the tent stands out as an excellent tall camping tents choice. The lightweight and durability are also significant design strengths. All in all, it provides excellent value for the money. And so, it just can't go unnoticed.
Pros
Lightweight design, freestanding, ideal for two-person backpacking.
Easy to put together, with a minimalist unified hub-and-pole setup system.
Built as a two-door tent with side vestibules for extra space.
Includes a versatile rainfly with kickstand vent and cross-ventilation.
Comes with a three-year limited warranty.
Cons
Footprint comes separately.
Could use a slightly larger peak height.
Our Take