5 Best 4 Person Tent
Choosing the right tent is very important because essentially you're choosing your home away from home. There are a plethora of makes and models, which can become overwhelming. Some important considerations are to find a product that will provide sufficient weather protection for your climate.
When you think of tents, many people immediately think of The North Face. But you should know that there are many other, high quality, budget friendly brands around, at every price point.
Here's a round up of our top pick of the best four man tents to help you choose the right one for you and to ensure that you have the best camping experience.
Is A Four Person Tent The Right Size For Me?
Normally four adults wouldn't squeeze into a four man tent. What a four person tent means is that it would fit four adults in sleeping bags lying side by side leaving no extra room.
The general rule when picking out your tent is to take the amount of people sharing the tent and then go up a size if extra room for personal items is needed. This means if there are three adults they should opt for a four man tent.
A four man tent is also well suited to family with two small children or a couple who prefer having plenty extra room or need space for their pet/s.
Another key thing to do when looking for your four man tent is to check the dimensions of the tent. If you were 1,9m tall you would definitely need a tent with a length of over two meters to avoid sleeping in the fetal position for the duration of your trip. Surface area also differentiates from tent to tent, so if you're after some extra room in your tent, make sure the dimensions match up to what you're looking for.
Typically, you will be looking for something that is between 60 square feet (sq ft) and 70 square feet of space (sq ft). These smaller tents are generally easier to set up and pack down.
Is Weight Important?
The short answer is maybe.
Well, it all depends on what you're looking for. When considering the weight of your tent keep in mind that the lighter your tent is, the more you compromise on durability. Most camping enthusiasts will say that lighter is better, but that isn't always the case. For example, if you are going car camping, weight consideration will not be of the utmost of importance, as you will not be carrying the tent for long periods of time.
However, if you are considering taking your tent on a hike, you will definitely want to find something that's on the lighter side. As a general rule, a tent should be around about 1,1kg (2,5lb) per person.
Don't forget that if you are backpacking or hiking you can share the weight of the tent by distributing the rainfly, tent and fiberglass poles / aluminum poles out (depending on the pole design). At the end of the day you must consider what you will be using you tent for, will you be hiking and backpacking, or will you be car camping with your tent close by, or maybe even a little bit of both?
Also if you intend to camp somewhere where there are heavier winds, you'll want to go with something a little more durable and heavy. This will prevent the wind from ripping your tent from the ground and potentially smashing into someone or something.
How Many Tent Doors Should I Have?
This comes down to comfort versus weight. With two doors on your tent, tent living is made more convenient and comfortable.
Just think, you wouldn't have to roll over your sleeping partner in the morning to squeeze out the door, but you could rather slip out the door that is closest to you without waking them up. Although having two doors is great, it will add weight.
If weight is a major factor for you when buying your camping tent and you need it to be as light as possible, you should consider a one door tent. If the weight doesn't concern you too much, then the choice is up to you! Having two doors is also great if you're camping during the summer months and you need that extra bit of ventilation.
You will thank yourself for the extra door when the breeze comes rolling through the tent on a scorching hot day.
What Is Tent Ventilation?
If a camping tent has good ventilation it means that water that is inside the tent body can escape. If a camping tent has bad ventilation it would create dampness inside the tent because of the condensation collecting overnight. That means wet sleeping bag and wet gear. No, thank you! Your tent should keep you dry.
When we sleep we produce about one litre of water when we exhale and this is why tent ventilation is so important. Well placed vents in the tent body can help minimise the condensation collected and if these vents are close to the bottom of the tent, make sure your gear and other personal items are not blocking them.
Make sure you consider the impact that tent ventilation can have on weather protection. Usually, the ventilation is provided via full mesh screens over the doors and walls.
Frequently Asked Questions
Q: What is the best four person tent?
A:
Our pick for the best tent is the Zomake Four Person Pop Up Tent. It's a great all round tent, that pops up in a matter of seconds for hassle free camping.
The tent is spacious and we like the two doors that give easy access as well as great ventilation. It's also extremely lightweight, meaning it easy to carry along on your next camping adventure.
So, if you're looking for a versatile and affordable tent, this one gets our vote.
You want to make sure you select a tent that is not too bulky when packed up, so you still have space for extra gear, but still has enough space inside when set up.
Q: How much is a four person tent?
A:
As with any camping gear, the amount you spend on a tent can vary wildly, depending on the construction, quality, materials and durability. If you need a tent for a one-off trip or to use at a festival, you could spend as little as $30. That should cover a basic model that will do the job just fine, so long as you don't experience any extreme weather conditions.
If you're a seasoned camper needing a tent that will serve you for numerous trips a year, for several years, then you could spend anything up to $300. An expensive price tag isn't always a sign of quality, of course, so it's worthwhile spending your time researching the best choice for you before making that investment.
You should be able to find a high-quality, sturdy family tent in durable materials for around $100.
Q: What are the 4 types of tents?
A:
There are four main types of tent, which vary in their design and construction:
1.A-Frame
An A-Frame tent is probably what first pops into your head when you think of a standard tent. It's a triangular design, with a rectangular floor space. Tent poles at either end of the tent create the A shape, with a pole connecting the top of each A to complete the frame.
2.Pyramid
A pyramid tent has a one central peak, with vertical walls sloping down to the tent floor. There's usually just one pole, which supports the peak, and guy ropes that keep the walls taut. These family tents are usually easy to set up, but the sloping walls don't necessarily make the best use of the floor area.
3.Hoop
Hoop tents have a curved pole, or series of poles, that provide a semi-circular frame. The tent fabric is held up by the pole and staked out to keep the sides taut and to give the structure stability.
4.Dome
Popular dome style tents have two flexible poles that cross in an X formation. The curved poles are staked at the four corners of the tent to support a domed centre. These tents are generally lightweight so ideal for taking on hiking trips. They tend to be quick and easy to set up, often with linked poles that click into place.
Q: What are the dimensions of a four person tent?
A:
When looking at the size of a four person tent, it's important to remember that the stated capacity is usually the maximum number of people that the tent can fit 'backpacking tents style'. This means each person in an individual sleeping bag, arranged close together. It doesn't factor in space for camp beds, air mattresses, or your personal belongings.
Typical four person tents are around 7 foot by 8 foot, giving just enough room to fit four sleeping bags. This may be in a top and tail formation to make the most use of the space. That assumes the floor plan is a rectangular shape – if it's square it could possibly be a little bigger, say 8 foot square.
The height of the tent will very much depend on the style of the tent you choose. A pyramid style family tent will naturally have a higher ceiling at the centre point, because it has a peaked design, so this can be anything up to 7 foot – space to stand up easily. An A-Frame or Hoop family tent could have a ceiling of just 3 foot, giving enough room to sit up but certainly not to stand. Dome tents sit somewhere in the middle, probably giving enough room to stoop but not to stand straight.

Coleman Sundome Tent
The Coleman Sundome Tent has a 2-person capacity and measures 7 x 5 feet with 4-foot center height. It has a 75 Denier flysheet and a rainfly awning for better shade and rain protection. The dome of the tent is customed to fit two people, packed with a spacious interior for comfort. The tent features a WeatherTec System that enables superior protection from wet environments through its patented welded floors and inverted seams. This tent retails for a starting price of $38.22 to $205.99, depending on the sizes.
Pros
Perfect for humid locations
Size Variations
Quick Setup
Easy to set up in 10 to 15 minutes.
Large windows with an air vent for ventilation.
Durable carry bag.
Affordable.
Cons
Not perfectly fit for cold weather.
Cannot withstand strong winds and heavy rains.
Heavy.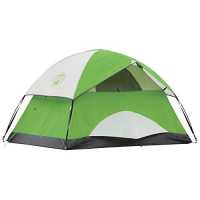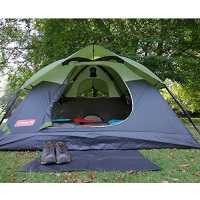 Our Take
If you're someone who prefers locations with tropical weather for your outdoor trips, then this Coleman Sundome Tent is a perfect choice. First, it has large windows and a ground vent for superior ventilation. Second, it's dome is spacious enough to enable you to move with ease. However, if you do encounter a little bit of rain, this tent got you covered since it also features incredible protection from wet environments. What makes this tent special is its intention to maximize comfort. You got a storage pocket placed systematically to prevent annoyance while going in and out of the tent. And, its E-Port section creates easy access that does not compromise the tent's ability to protect the interior from getting wet. This tent is one of Amazon's Top Choice, which surely explains why you should get one.
$107.37


Zomake 4-Person Pop Up Tent
If you're looking for a tent to take to the beach, the Zomake Tent is a good choice. It's made with materials that can withstand saline air and has Hogan Hook Stakes that firmly hold the tent even on sand. The bottom part of the tent is made with durable Oxford fabric. It also offers excellent sun protection with 50+ UPF.
When packed, it fits into a 31-inch diameter carry bag and weighs only five pounds. Its light weight and compact size make it convenient to take along anywhere. It requires no complicated setups. Just remove it from the bag, and it pops up into shape in a blink of an eye.
Air ventilation isn't an issue as the tent comes with two mesh doors, two mesh windows, and an extra mesh roof sky window. High density mesh is used to ensure durability. It keeps air in while keeping pesky bugs out.
Three adults can fit comfortably inside. A fourth one could be squeezed in but would leave very little elbow room. While the tent can feel a bit cramped for adults, it can be spacious for kids and make a great play tent.
Pros
Works great at the beach.
Pops up in a second.
Easy access with double doors.
Good ventilation.
Sun protection.
Cons
Not for use in heavy rain.
Not that roomy.
Our Take
The clear overall winner is the Zomake Four Person Pop Up Tent (and for good reason)! This tent is affordable, versatile and extremely lightweight. By looking at it, you might even mistake it as a 6 person tent. It is lighter than the Coleman Sundome, the Eureka Copper Canyon, the Kelty Grand Mesa and the ALPS Mountaineering tent and therefore can be used for any sort of trip that you're planning.
Even though the ALPS Mountaineering Lynx Tent is easy to set up with just two pole structure, the Zomake tent pops up in a matter of seconds, which cannot be beaten. This hassle free tent feels more spacious than the Kelty Grand Mesa Four Person Tent and also has two doors for easy accessibility as well as ventilation. The Eureka Copper Canyon tent has more space to offer, but the Zomake is a better all rounder tent.
On the inside, you will find some handy storage space / storage pockets to keep your belongings.
This tent would make a great choice because it is spacious, has two doors and great ventilation.

Eureka Copper Canyon 3-Season Tent
With a room capacity of six people, the Eureka Copper Canyon is a good choice for a family camping trip. It's a cabin style tent that's spacious enough for a small family. With a center height of seven feet, it provides ample room even for tall people.
The frame is a combination of fiberglass and steel. The tent itself is made of heavy-duty double-wall fabric. The outer wall is made of polyester coated with polyurethane for protection from the elements. Keep in mind though that the Eureka Copper Canyon is a 3-season tent. It was designed for use during summer, not for withstanding heavy rain and extremely cold weather.
Huge windows and an all-mesh roof provide plenty of ventilation. However, there is only one door which limits access.
For those who can't keep away from gadgets during trips, the electricity port can be a nifty feature. Of course, it only becomes useful when there's electricity available at the campsite.
While the Eureka Copper Canyon can be stored into a very compact bag, it's quite heavy to bring on trips that require long walks or hikes. Over 20 pounds can be a challenge to carry on long distances. Another downside to this tent is that it has no vestibule for storing gear.
Pros
Windows on all sides.
Good ventilation.
High ceiling.
Cons
Not reliable during heavy rains.
No vestibule.
Too heavy for hikes or backpacking trips.
Our Take

Kelty Grand Mesa 4-Person Tent
This tent would be very well suited for any person who loves to hike or backpack and has to carry their tent as it only weighs just over 3kg (7 lb).
The Kelty Grand Mesa Four Person Tent has colour coded clips and fly attachments for easy set up: so helpful!
This tent does feel smaller than the average four-person tent and this is due to its trapezoidal shape, which means that it is smaller in width at the back than at the front. This 2,5m by 2m (8.1 ft x 6.7 ft) tent would be best suited to two people with a small amount of gear. The Kelty
Grand Mesa has a vestibule, under the full rain fly, which is super handy for muddy shoes and other gear.
Pros
Lightweight.
Compact.
Colour coded clips and fly attachments.
Our Take

ALPS Mountaineering Lynx 4 Person Tent
This tent has been cleverly designed with a two pole set up, which makes set up exceptionally quick. The two vestibules are perfect for storage and for extra protection against harsh weather.
With its lightweight design, the ALPS Mountaineering Lynx Four Person Tent, weighing under 3,5kg (8lb), is another tent that is great for hiking.
This reasonably priced tent has two doorways for easy coming and going and for extra ventilation. This 2,6m by 2,3m (8.5 ft x 7.5 ft) tent has plenty interior space with a centre height of 1,3m (4.3 ft).
This tent would be a great choice for anyone who is looking for a versatile tent that is light as well as durable. If you're considering taking your tent with you on a hike or backpacking trip, this might be the one for you.
Pros
Easy setup with just two poles.
Two vestibules.
Lightweight.
Two doorways.
Reasonably priced.
Our Take