7 Best 3 Room Tent
If you have a family and you love to camp, or you like to head out into the wilderness with a group of friends, having a tent that provides enough space is essential.
It's nice to be able to have the kids sleeping in one room, so you can put them to bed early and then have your own space. Or, two couples camping together will each want their own room.
Rather than carry multiple tents, a 3 room camping tent is the ideal solution. Multi room camping tents offer a living area plus bedrooms. Some multi room tents even have the option of opening up into one large space.
Multi-room tents have other advantages. They help you keep your gear organized, so that backpacks, clothes and more aren't in the living and eating area. The tent will be tidy, and it's easy to find what you need when you need it. A tent with rooms also provides privacy when you want it, for sleeping and more. It's nice to have "me time" when you're in a group, or a spot to have a nap when nobody else wants one.
So what are important factors to look for in roomed tents? Let's take a look at what you should be watching for in choosing a multiple room tent.
Size
There are a few factors that are important when it comes to the size of 3-room tents for camping.
First is floor space. If you're looking for family camping tents with rooms, the size of your family will matter. If there are 2 adults and 2 small children, you could handle a smaller size than someone with 4 kids, or 2 adults and 2 teenagers, for instance. The amount of gear you will keep in the tent also plays into the size decision.
How many friends you bring along is another consideration when deciding between big camping tents with rooms. If you regularly travel in large groups, you may want a tent with separate rooms, or you may prefer one that also opens up, to allow the maximum amount of sleeping space.
And the size rating for the tent doesn't apply to every situation. An 8-person tent may in fact sleep 8 people, for instance, but may not sleep 8 people and store a bunch of gear for each of the 8 people.
It may also be desirable to have 3 room camping tents with more than one door, to allow for added privacy when camping with a group.
There are also multi-room tents with a porch, to allow for even more space. Even a tent with a living space that has large windows can serve as a common area for eating, or for just relaxing and enjoying the views while indoors. And that extra space and privacy will be welcome if you're stuck in the tent on a rainy day.
Indoor height can also be a size consideration. Some people want to be able to stand inside the tent, so check to see the center height of a tent if that's an important factor for you.
How you plan to use the tent and how many people will be camping at once are important factors when determining the size of the tent.
Weight
Somewhat related to size is the weight of the tent. As you would expect, bigger tents will weigh more, and may be bulkier to pack when they're put away.
If you're car camping, weight and bulk may not be a factor – unless you have a small car! But even when it comes to car camping, the weight can be a consideration if you park a long distance from the intended camping site. If you tend to spend your time in campgrounds with easy access to the sites, a heavier 3-room tent won't be a problem.
Any of the camping tents with rooms will likely be too big to carry in a backpack for long hikes. But you may want to choose a smaller, lighter three bedroom tent if you travel by motorcycle, for instance, or if your vehicle can't handle the extra size. Or, if you have a large family, space for the tent may be limited because of the number of people and amount of gear already packed into the vehicle.
So once again, how you use the tent will play into the decision whether to get a bigger, heavier and bulkier tent, or whether you should choose a smaller multi person tent.
Versatility
The answer to the size and weight question becomes more difficult if you will be using your multi room tent in a variety of ways.
Perhaps you camp with your kids once in a while, and you also camp with a large group of friends once in a while. Maybe several families sometimes get together, but the rest of the time it's just you and one child.
You may even want your three room cabin tent for a family reunion, to serve as a place for everyone to eat.
In those instances, you may want to look for a multiple person tent that is versatile enough to change around depending on the circumstances.
Some big tents with rooms are actually open spaces with optional dividers, meaning you can keep them open to sleep a lot of people, to hold a lot of gear, or to serve as one big dining tent, for instance. Then, when you do want a tent with rooms, the dividers are added to create multiple rooms, to serve as individual bedrooms, gear storage, or just a private, quiet sitting space.
If versatility isn't that important, you can choose a tent with 3 fixed rooms.
Ease of Use
Consider setup and takedown as factors in your decision, because ease of use may be important if you'll be setting up the tent yourself, or if you're traveling to a different camping location every day.
There are large camping tents with rooms that have pre-assembled frames, making setup and takedown easy. The tradeoff there is usually added weight and bulk.
If you're planning to camp in place for a longer period of time, you can consider many other tents, including a tunnel tent with inflatable beams instead of poles, or a traditional tent that you set up and stake to the ground.
Durability
The weather in your local area is also an important factor when it comes to choosing a 3 bedroom tent.
If you often camp in rainy weather, you'll want to be sure a rainfly is included, or that the tent is sealed against water without requiring a rainfly. Sometimes you can opt for a multi-room tent with a porch, to keep wet gear away from the sleeping area. Some tents have a rain cap protecting the door. Watch for features like inverted seams that help with wet weather as well.
Windy conditions also play into your choice of 3 room camping tents. If you often camp in the wind, be sure to choose one that stakes down, ideally with a number of stakes. A dome-shaped or tunnel tent may be a better shape for windy conditions.
If you're often camping in hot weather, be sure you choose a tent with airflow, such as one with several windows, perhaps more than one door, and a vent system. Some even have SPF sun protection.
So let's look at the best tests to help you make your choice.

Coleman – Rocky Mountain 5+ Tunnel Tent
This tent is made for 5 people or more, with a square footage of 120 feet, including 2 bedrooms and a living room that can also serve as a sleeping space. The front of the tent has a rain cap that protects the front door.
The "Black Out Bedrooms" feature blackout material that keeps 99% of sunlight out of the sleeping area, while the living room has 2 large windows, one on each wall, to let light in.
Despite its size, the Rocky Mountain tent is relatively easy to set up. It has flexible yet lightweight fiberglass poles.
It's easy to get in and out of this tent as well, with one full height door that prevents tripping, and also allows you to walk in, or even wheel in a stroller.
The material provides protection from all the elements, including SPF50 sun protection. Exterior rain proof material combined with a waterproof groundsheet will keep you dry. The rain cap over the door allows you to go in and out of the tent in the rain without allowing water in. All fabrics are fire retardant.
Zippers close within easy reach, ensuring even the kids can get out in an emergency. Center height is 6-foot-4. Packing weight is 37 pounds and it includes a polyester packing bag.
Pros
Full-height door is convenient.
Black Out bedrooms keep light out for a good night's rest.
Cons
Packing weight is a bit heavy.
Our Take
These tents are all great options for providing the privacy of a 3-room tent. We like the Coleman Rocky Mountain 5+ tunnel tent the best, and here's why:


Total square footage of 120 feet.


2 bedrooms and a living room that can also be used for sleeping.


Comfortable for 5 people or more.


"Black Out Bedrooms" are a real bonus, allowing you to sleep past first light with blackout material that keeps 99% of sunlight out of the sleeping area.


The living room is nice and bright, with 2 large PVC windows, one on each wall.


Flexible but lightweight fiberglass poles make it easy to set up.


You won't trip getting in and out of the tent, with a full-height door that also allows you to roll in your cooler, a wheelchair or a stroller.


The material provides protection from all the elements: SPF50 sun protection; exterior rain proof material; waterproof groundsheet; and, all fabrics are fire retardant.


A rain cap over the door allows you to go in and out of the tent in the rain without allowing water in.


Nice center height of 6-foot-4.



Easy Camp – Tempest 500 Inflatable Tunnel
This tent is unique in that it has inflatable beams instead of poles. The tubes have external inflation valves and create the 3 loops that are typical for a tunnel-style tent. It comes with a two-way pump with a manometer for fast inflation.
There is an inner tent with two rooms for sleeping, and one large front room, which can also be used as a bedroom. This tent is relatively compact, with a total size of 116 square feet, and a packing weight just under 35 pounds.
The bedrooms feature a rear vent and there are organizer pockets in the living room to keep your gear organized.
There are 2 doors, one on the front of the living area and one on the side, and a clear PVC window.
Pros
Relatively compact.
Easy to inflate tubes might be easier to assemble than poles.
Cons
Smaller than some other 3-room tents.
Our Take

OZARK Trail – 12 Person 3 Room Instant Tent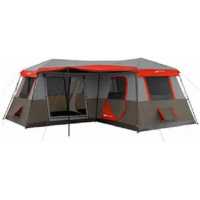 This is the granddaddy of instant tents, with a huge 16 x 16 foot size and the capacity to sleep 12 people. It can hold 3 queen-sized air mattresses, one in each of its 3 rooms.
Despite the size, it's still considered an instant tent due to its easy set up, including pre-attached poles that snap into place to create the separate but attached rooms. It's somewhat L-shaped with a large front awning that provides shade.
This is comfortable enough for adults to live in with a center height of 82 inches or almost 7 feet – making it more like a cabin than a tent!
It also has 7 fully closing windows, meaning you'll get full ventilation throughout. There are two internal room dividers that create separate living and sleeping areas. There's a ground vent that also fits an air conditioner, and a port for an electrical cord.
When it's put away, it fits into the included wheeled carrying bag, which is 52 x 12 x 12 inches.
Pros
Great for big families.
Adults can fully stand inside.
Cons
Make sure you need this much space, or lugging around a tent this big could become a hassle.
Our Take

Coleman – 8-Person Tent for Camping
With the famous Coleman name backing it, this tent is ideal for groups up to 8 people.
The large space of 17 x 10 feet is versatile in that you can leave it open for one big room, or use the dividers to create 3 separate rooms. The center height of 6 feet makes it comfortable to stand in, and it has a total square footage of 170 feet.
Coleman also has its WeatherTec system to keep you dry, featuring patented welded floors and the added protection of inverted seams, which means the needle holes are hidden inside the tent.
There's one large door in the front that has a zipper cuff made of weather-resistant fabric, adding even more rain protection. The door has partial protection from the included rainfly, allowing the mesh window on the door to stay open even in the rain. There's also a vent opening situated near the floor that allows for good air circulation.
Pros
Create 3 separate rooms or leave the dividers open for one large space that sleeps 8.
Comes with the Coleman name, synonymous with camping equipment
Cons
You only get 3 rooms by using dividers.
Our Take
Coleman's 8-person tent for camping is our winning product in the best large tents category. Before anything else, it truly stands up by the label of comfortably accommodating 8 persons – there's no doubt about that.
Its price is extremely affordable compared to other models that offer a lot less but are significantly expensive. And in between these two, you'll enjoy a ton of other benefits! Here's a short reminder of what makes it a winning product.


Massive tent that fits three air mattresses with ease, and leaves you extra room around.


Lightweight and compact once you pack it up, easy to store pretty much anywhere.


Versatile enough to let you either share one large room or use dividers for privacy.


Boasts Coleman's patented Weather Tech system of welded floors and inverted seams.


Designed to withstand anything from mild winds to storm bursts in any environment.


Fabric is weather-resistant and features a zipper protection cuff, for extra resistance.


Package includes even a detachable mud tarp and the tent is easy to clean.


Through it all, it provides great comfort at a good size, and it is intuitive to set up.



Core – Two Room 12 Person Instant Cabin Tent
This is effectively a 12 person pop up tent, with a set up time of just two minutes. It has poles which are pre-attached to the tent, so you simply unfold it and extend the legs until they click.
The overall size of this tent is 18 foot by 10 foot, and it can accommodate 12 people in individual sleeping bags, or fit up to three queen size air mattresses. A detachable room divider can split the interior and provide a private sleeping area, or you can remove it and have one open space.
There's a side D-door and a front T-door for easy access. At one end of the tent are windows that span the full height of the tent, so you can use this as a sleeping area or as a seating area that lets you see the outdoors whilst keeping bugs out.
This tent features a venting system with an adjustable air vent that draws in cool air from the ground. Hot air can escape through the mesh windows and also through the mesh ceiling. If the weather is fine, the water repellant rainfly can be removed so you can stargaze through the mesh ceiling.
Pros
Extremely fast assembly.
Detachable room divider to create two interior areas.
Two entry doors for easy access.
Full height windows giving the feeling of being outdoors, indoors.
Venting system including a mesh ceiling.
Cons
Most comfortable if not used at full 12 person capacity.
Our Take
If you are looking for a tent that is quick and easy to set up, this Core 12 person pop-up tent will do the trick. This large cabin-style family camping tent can fit three queen size air mattresses or accommodate 12 people in individual sleeping bags. It has two entrances with doors, so it's convenient if some of your party need to leave at night without waking everyone else inside. You'll have plenty of space for all your gear with room dividers included! Is this the perfect instant cabin tent for you? Check out our other tents too!
After considering the benefits of each of these models, we've concluded that the Core Two Room 12 Person Instant Cabin Tent is our winner, for these reasons:


Super-quick and easy assembly, which takes two minutes or less.


Great overall space with generous dimensions.


Option to split the interior into two areas with a detachable divider.


Venting system to keep the tent cool in warmer weather.


Two access doors for easy access, and large windows to enjoy the outdoors.



Slumberjack – Adult Overland 10 Tent
This tent combines a good size with a light packing weight. Sleeps 10, with a large living space and room dividers that turn it into a 3-room tent.
Total size is 19 x 9 feet with a center height of 6.2 feet. Packing weight is only 26.8 pounds. The large windows can be opened and closed from inside the tent. Tunnel construction gives you good space inside the tent, with room for your gear.
The large stand-up door opens into the living area, and combines with windows and a venting system to provide good airflow. Rooms are on either side of the living area, and each room has two windows.
It's relatively easy to set up, as you stake one end and move down the tent to unfold it and stake it as you go.
Pros
Light packing weight.
Has a large entryway and windows for airflow.
Cons
Might be difficult for one person to set up.
Our Take

GigaTent – 10 Person Family Tent
This tent has built-in versatility and lots of space inside, with vertical walls and a center height of 7 feet. A front room can be used as living space, sleeping space, or a screen room, with 2 large close-able windows and 2 doors.
The back room can be divided into 2 separate rooms with a removable curtain. When divided, each room is 7 X 6 feet with a D-shaped door opening into the living room. Each of the back rooms has 2 windows.
The included rainfly has 4 clear panels that allow light in.
Total size is 15 x 12 feet with a square footage of 180 feet. The packing weight is 39 pounds. The entire tent has 2 doors and 8 windows, and the setup features 13 poles. Comes with a zippered duffle-style storage bag, a pole bag, a stake bag, tent stakes, and extra guy lines.
Pros
This tent has lots of floor space and is versatile enough to be used several different ways.
Lots of windows and 2 doors makes for good airflow.
Cons
Somewhat heavier packing weight.
Our Take