8 Best Multi Room Tent
If you're planning to camp as a family or in a group on a regular basis, you're probably ready for a tent with a bit more space.
A multi room tent can be a real advantage for those needing lots of space, such as those who have kids and want to put them in their own room, or those with a lot of gear. Multi room tents are also ideal for those adventures where you want to set up a tent with rooms to use as a base camp for a long camping expedition.
But you have a lot of options when it comes to multi room tents, from 2 room camping tents to 4 room tents to those with the flexibility to be everything in between.
Let's take a look at the factors you should keep in mind when choosing a camping tent with rooms.
Size
When it comes to tents, people often think size refers to sleeping capacity. This is an important factor, but it isn't the only one. And even sleeping capacity can be a deceptive indication of how many people should actually camp in a specific multiple person tent.
Here's why.
A tent with a sleeping capacity of 8 may indeed be big enough to sleep 8 people. But once 8 sleeping bags are spread out in the tent, there may be little room for gear, or anything else.
It also depends on the group itself, as 4 adults and 4 small kids will take less space than 4 adults and 4 teenagers, for instance. Add a family dog or two and the quarters get cramped. So sleeping capacity is simply a guideline when it comes to size.
Another size factor is actual floor space, perhaps a better indicator of actual space. Perhaps you want one room larger than the other, so even the size of each room may be important.
And when it comes to multi-room tents, the number of rooms may also be key to your decision. Perhaps a 3-room tent is enough, but if you're a family of 5, you might want a 4-room tent, or even a 5-room tent. If you want everybody to sleep in the same room, your choice will be different than if everybody wants a separate room.
The final factor with size is packing weight. The large multi room camping tents will fit a lot of people, but are likely suited for car camping only, as the extra size makes them extra heavy. If you plan to be hiking or backpacking, you may be looking for something small and lightweight, such as two room tents.
Even with car camping, the packing size may be a factor if you have a small vehicle, you already have a lot of gear and people filling your vehicle, or you will have to walk a long distance to your campsite.
Many of the larger multi room tents do tend to be heavy and bulky to pack.
Height
Height is important to some people who like to be able to stand inside a tent. The center height is the key factor to watch for in that instance.
However, if you camp in an environment that's often windy, the extra height may be a detriment. A high cabin tent with open windows will catch the wind, whereas a tunnel or dome style tent may be a better choice among roomed tents when it comes to wind protection.
Number of Rooms
As mentioned in the discussion on size, the number of rooms is another important factor when looking at camping tents with rooms.
Here are several reasons you may want several dedicated rooms.
If you have people who go to bed at different times, or need to nap, such as young children, you will want a dedicated space for them. If you have a lot of gear, you may want a room just to store stuff, keeping it away from your living area and your sleeping area.
Perhaps you desire personal space when camping, or your teenager likes time alone, in which case separate rooms are a must. Privacy is where tents with rooms really earn their keep.
If you don't need quite that much space, you can also choose an excellent 2 room tent that will allow you to have a living space and a sleeping space.
So, you have the choice of a multi room tent with separate, dedicated rooms, anywhere from 2 to 5 rooms; or you have the choice of large tents with dividers that allow for flexibility, turning them from a 1 room tent to a 4 room tent, for instance.
Shape
The shape of a tent can be important to some campers. Some prefer a large cabin tent to a smaller tunnel tent, for instance.
A cabin tent may provide more room but can also be more susceptible to the wind. A tunnel tent may stand up to the wind better, but a tall person may not be able to stand up in it.
For other campers, shape isn't as important as factors such as sleeping capacity or number of rooms.
So, now that you know what to watch for, let's look at the best multi room tents, including our choice as the winner.

Coleman – 8-Person Tent for Camping
With the famous Coleman name backing it, this tent is ideal for groups up to 8 people.
The large space of 17 x 10 feet is versatile in that you can leave it open for one big room, or use the dividers to create 3 separate rooms. The center height of 6 feet makes it comfortable to stand in, and it has a total square footage of 170 feet.
Coleman also has its WeatherTec system to keep you dry, featuring patented welded floors and the added protection of inverted seams, which means the needle holes are hidden inside the tent.
There's one large door in the front that has a zipper cuff made of weather-resistant fabric, adding even more rain protection. The door has partial protection from the included rainfly, allowing the mesh window on the door to stay open even in the rain. There's also a vent opening situated near the floor that allows for good air circulation.
Pros
Create 3 separate rooms or leave the dividers open for one large space that sleeps 8.
Comes with the Coleman name, synonymous with camping equipment
Cons
You only get 3 rooms by using dividers.
Our Take
Coleman's 8-person tent for camping is our winning product in the best large tents category. Before anything else, it truly stands up by the label of comfortably accommodating 8 persons – there's no doubt about that.
Its price is extremely affordable compared to other models that offer a lot less but are significantly expensive. And in between these two, you'll enjoy a ton of other benefits! Here's a short reminder of what makes it a winning product.


Massive tent that fits three air mattresses with ease, and leaves you extra room around.


Lightweight and compact once you pack it up, easy to store pretty much anywhere.


Versatile enough to let you either share one large room or use dividers for privacy.


Boasts Coleman's patented Weather Tech system of welded floors and inverted seams.


Designed to withstand anything from mild winds to storm bursts in any environment.


Fabric is weather-resistant and features a zipper protection cuff, for extra resistance.


Package includes even a detachable mud tarp and the tent is easy to clean.


Through it all, it provides great comfort at a good size, and it is intuitive to set up.



Mountain Trails – Grand Pass 10 Person Tent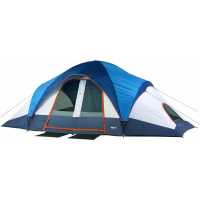 This is a spacious dome tent that can accommodate up to 10 people, 'backpacker style'.
This tent has an overall floor area of 18 foot by 10 foot, and the ceiling is 6 foot 4 inches at the highest point. There is a detachable divider which you can use to create two separate rooms within the tent, giving more private sleeping areas or splitting the space into areas for living and sleeping. Two D doors mean that each side of the partition has its own entrance and exit.
This tent is made from nylon, with a shock-corded fibreglass frame. The pin and ring system allows for easy set-up. There are large mesh roof vents and windows to help air circulate, helping you stay cool in summer months whilst keeping bugs out. A detachable rainfly protects you from the elements. Once the rainfly is added, there's a small awning above the D doors.
The tent can comfortably fit at least two queen size air beds if you like to camp in comfort. Overall, this is a great 10 person family tent.
Key features & benefits
Affordable tent
Divider included for creating 2 rooms
Great floor area
Dome-type tent
Windows
Pros
Spacious floor area.
Good ceiling height at the highest point.
Detachable divider can be used to divide the space into two areas, giving extra flexibility.
Easy to assemble, with a shock-corded frame.
Mesh roof and windows offering ventilation.
Cons
Best used in the summer months.
Our Take
This Mountain Trails Grand Pass Tent Review will conclude with a reminder that it is a well-built tent. It looks great, kids love the cavernous design and windows. It has a huge floor area, is very affordable and is difficult to find a comparable tent on the market.
This tent is not suitable for extreme conditions. Although they do not have an official rating for weather resistance, it is still a summer tent.

OZARK Trail – Base Camp 14-Person Tent
This grand-daddy of multi-room tents can sleep up to 14 people in up to 4 separate rooms. It has a floor size of 20 x 20 feet and a center height of 6.5 feet. It can hold up to 5 queen-sized air mattresses.
Use the 3 sewn-in room dividers to create as many rooms as you want, from one big room with the dividers tied open, to 2, 3 or 4 separate rooms.
Each room has its own door, allowing for more privacy, and there are 12 windows providing great views and excellent ventilation.
A port for electrical cords makes it handy to add a fan, heater or other appliance, and wall pockets keep items off the floor. It has a mesh ceiling with an included fly for rain protection, along with taped fly seams to prevent leakage. It does weigh 50 pounds so it's ideal for car camping but not hiking.
Pros
Lots of space, as it sleeps up to 14 and holds 5 queen mattresses.
Flexibility to have 1, 2, 3 or 4 rooms thanks to the sewn-in room dividers.
Cons
At 50 pounds, you'll likely only be able to use this car camping.
Our Take

Core – Two Room 12 Person Instant Cabin Tent
This is effectively a 12 person pop up tent, with a set up time of just two minutes. It has poles which are pre-attached to the tent, so you simply unfold it and extend the legs until they click.
The overall size of this tent is 18 foot by 10 foot, and it can accommodate 12 people in individual sleeping bags, or fit up to three queen size air mattresses. A detachable room divider can split the interior and provide a private sleeping area, or you can remove it and have one open space.
There's a side D-door and a front T-door for easy access. At one end of the tent are windows that span the full height of the tent, so you can use this as a sleeping area or as a seating area that lets you see the outdoors whilst keeping bugs out.
This tent features a venting system with an adjustable air vent that draws in cool air from the ground. Hot air can escape through the mesh windows and also through the mesh ceiling. If the weather is fine, the water repellant rainfly can be removed so you can stargaze through the mesh ceiling.
Pros
Extremely fast assembly.
Detachable room divider to create two interior areas.
Two entry doors for easy access.
Full height windows giving the feeling of being outdoors, indoors.
Venting system including a mesh ceiling.
Cons
Most comfortable if not used at full 12 person capacity.
Our Take
If you are looking for a tent that is quick and easy to set up, this Core 12 person pop-up tent will do the trick. This large cabin-style family camping tent can fit three queen size air mattresses or accommodate 12 people in individual sleeping bags. It has two entrances with doors, so it's convenient if some of your party need to leave at night without waking everyone else inside. You'll have plenty of space for all your gear with room dividers included! Is this the perfect instant cabin tent for you? Check out our other tents too!
After considering the benefits of each of these models, we've concluded that the Core Two Room 12 Person Instant Cabin Tent is our winner, for these reasons:


Super-quick and easy assembly, which takes two minutes or less.


Great overall space with generous dimensions.


Option to split the interior into two areas with a detachable divider.


Venting system to keep the tent cool in warmer weather.


Two access doors for easy access, and large windows to enjoy the outdoors.



Vango – Capri 400 Tent
This tent is from the AirBeam collection made by Vango. The 4 AirBeams replace the need for poles, quickly inflating to make setup and take down a breeze. The flysheet and inner section pitch together to make it simple to pitch and to pack away. A tension band system ties down the tent to protect you from adverse weather conditions.
The Capri 400 is a 4-person tunnel tent, featuring a dedicated living area and an attached front extension or canopy for rain and sun protection and extra living space. At the back of the tent is the sleeping area, which is made of darker "lights out" material to allow you to sleep in even after the sun comes up.
Features a large main entrance at the front and a D-shaped door at the side, with another door separating the living space from the sleeping space. The living area has large PVC windows on either side to let in natural light, with privacy curtains when you need them.
The beams are angled rather than in an arc, which creates more usable space inside the tent, and provides additional strength in a side wind. The tension bands add stability with internal connection points, which brace the beams and prevent movement in the wind. You can unclip and roll those away when you don't need the extra bracing.
Total size is almost 20 feet long by 8.6 feet wide at the front, tapering slightly to a width of 8 feet at the back, where the sleeping area is located. The height is 6.67 feet, tapering slightly in the sleeping area to 6.4 feet, making it easy for almost anyone to stand inside. The packing weight is almost 48 pounds.
Pros
Dedicated sleeping area with dark material makes it nice for sleeping in after sunrise.
Extra living space with the front extension or canopy is a bonus.
Cons
No flexibility to add extra rooms or create one large room.
Our Take
There are lots of great multi-room tents from which to choose, but we selected the Vango Capri 400 Tent as our winning product, and here's why:


The AirBeam design makes it easy to set up and take down by simply inflating the 4 AirBeams that provide support in place of poles.


The flysheet and the inner section pitch together which makes it easy to set up and to pack away. The beams are angled so the walls aren't in a true arch shape, creating more usable space inside the tent.


The angled beams also provide extra wind resistance.


The included tension band system adds even more stability in the wind with internal connection points to brace the beams. When you don't need them, you can unclip them and roll them away.


While this is only a two room tent, it is a tent with separate rooms, a dedicated sleeping space and a dedicated living space. A pre-attached front extension or porch with a canopy gives you a little extra space and protects the main entrance from sun and rain.


It sleeps 4 in a sleeping area at the back of the tent, where the material has darker fabric incorporated into it to allow you to sleep in rather than wake up at sunrise.


The large main area has big PVC windows on either side to let in natural light, with privacy curtains when you need them.


It features a large entrance at the front and a D-shaped door at the side, with another door separating the living area from the sleeping area.


The tent is a nice size, at 20 feet long by 8.6 feet and a height of 6.67 feet.



Coleman – Tenaya Lake Tent
The Tenaya Lake Lighted Tent has a built-in LED system with a fabric cover, and it gives a pleasant overhead light that makes in-tent activities much easier. The tent also has a built-in closet to keep your things organized throughout your trip, and it is dry and comfortable thanks to the WeatherTec system, protected seams and rainfly.
This tent looks the part with an aesthetically pleasing colour scheme, and it's incredibly easy to assemble thanks to pre-attached, color-coded poles and hub, fast-fit feet, and snag-free Insta-Clip suspension.
Pros
Built-in lighting gives an even light throughout – it's great for activities.
It has a built-in closet with shelves and a hanger bar to organize your belongings.
It withstands high winds well.
It is well ventilated.
The hinged door makes access easy.
There are storage pockets for your valuables.
Cons
It is a little smaller than some comparable tents, but fits 2 queen sized airbeds with space left.
Poles may be less sturdy than comparable tents.
It takes more than 2 people to set it up easily.
Our Take

Slumberjack – Adult Overland 10 Tent
This tent combines a good size with a light packing weight. Sleeps 10, with a large living space and room dividers that turn it into a 3-room tent.
Total size is 19 x 9 feet with a center height of 6.2 feet. Packing weight is only 26.8 pounds. The large windows can be opened and closed from inside the tent. Tunnel construction gives you good space inside the tent, with room for your gear.
The large stand-up door opens into the living area, and combines with windows and a venting system to provide good airflow. Rooms are on either side of the living area, and each room has two windows.
It's relatively easy to set up, as you stake one end and move down the tent to unfold it and stake it as you go.
Pros
Light packing weight.
Has a large entryway and windows for airflow.
Cons
Might be difficult for one person to set up.
Our Take

Outbound – 8-Person Dome Tent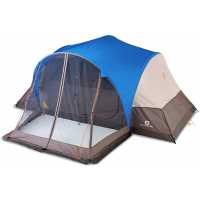 This is an ideal tent for backpacking, with a packing weight of only 18 pounds and a zippered duffle bag for carrying and storing. Also comes with tent stakes and guy lines for wind resistance.
The tent features an "easy up" technology with a fiberglass frame system, making for simple setup and take down of the dome tent, which actually resembles a tunnel style tent without the fly.
The living space of the tent is 14 x 8 feet, and the porch sits in front at 14 x 5 feet. The inside height of the tent is 6 feet 4 inches. The porch has an extra pole for support and a removable floor. The tent can sleep 8 across its bathtub style floor, but that likely wouldn't leave much room for gear.
The screen room has a zippered opening, and the tent itself has a D-shaped door, 2 windows and mesh roof panels for ventilation. It comes with a rainfly with a front canopy for protection from the elements.
Pros
Its light weight makes it ideal for backpacking.
That light packing weight combines with a nice size to make it ideal for families or groups.
Cons
It might be crowded to sleep 8 in this tent, or there wouldn't be room for much gear.
Our Take
These are all great camping tents with a screened porch, and the selection is often based on personal preference. But we like the Outbound 8-Person Dome Tent the best, and here's why:


It's a great size, with a living space of 14 x 8 feet and an inside height of 6 feet 4 inches, meaning you can spend time comfortably in this tent.


The porch with a removable floor adds another 14 x 5 feet. You can also leave the porch open and the sides pulled back.


The tent can sleep 8 if necessary.


It's perfect for any type of camping, including backpacking, with a packing weight of only 18 pounds. Even with car camping, it will be easy to transport to the campsite.


The fiberglass frame system makes it easy to set up and take down.


The screen room has a zippered opening, and the tent itself has a D-shaped door, 2 windows and mesh roof panels for ventilation.


The rainfly and front canopy provides protection from the elements and the stakes and guy lines provide wind resistance.