6 Best 2 Room Tent
Two room tents are all about extra comfort, extra intimacy, and extra storage space.
Whether you want to take your family into the wilderness or you're after a unique getaway with a small group of friends, a two bedroom tent is the best choice.
Just think about it: you pack and carry around only one tent instead of two or more; you get to stay together while still enjoying some privacy; and you set the grounds for memorable times spent under the same roof, one that is painted in stardust.
Have I gotten your attention? If so, I should give you a heads up: there are so many 2 bedroom tent options out there that the quest for choosing one can prove quite daunting. Let us walk you through all the details that make a difference and, by the end of this best 2 room tent guide, you'll know what exactly will work best for you!
Size
If you're looking for a 2 bedroom tent, you clearly want more space. But here's the catch: you're not just looking for the biggest tent you can find with two dedicated areas. You want one that is large enough for your needs when you set it up AND small/compact enough when looking to store or transport it. Suddenly, the tent's size becomes a coin with two facets, so you'll want to check both of them when looking at your options.
Try judging size along with everything else that the product has to offer – you'll see what we mean in an instant. But if you can't help but wanting to do the math, you'd better count 2 feet of elbow room at a minimum, for each person you'll want to sleep in.
Weight
Massive tents weigh more because of the fabrics they are made of. You may think you need a heavy tent to face harsh weather more confidently. But as we are about to find out together, that's not necessarily true.
So, if most tents are made of polyester, there are still plenty of other details that make a difference. Like the poles, that can be high-grade steel or lightweight fiberglass. When all those details pile up, you can end up with a two room tent that weighs as little as 8 kg or as much as 15 kg.
Capacity
Hand in hand with the size, the capacity of a two bedroom tent may or may not give you much flexibility. When the structure doesn't allow you to make any changes, your options are just as rigid. Suffices to say that capacity is a numbers' game, but one that you certainly want to be in control of! What does this mean?
If you have one large sleeping area where you can decide to insert or not to insert a separator, you can place your air beds however you want. That way, you can camp as a family and sleep all in one place OR camp with another couple and put a separator between the two of you.
Ventilation
Having enough air when sleeping in a tent is essential for everyone, not just for those who feel a little bit claustrophobic. With two bedroom tents, ventilation is even more important because the distribution of the rooms can make airing more difficult.
Ideally, there should be more than one window and on a different wall than the one with the door. If there's a mesh roof, it's even better!

CORE 9P Instant Cabin Tent
This is another "instant tent" that takes one minute to set up. The poles are attached to the structure and telescope for easy setup and takedown.
It's quite a bit bigger with a measurement of 14×9 feet when set up. The centre height is 6 ½ feet. It fits two queen airbeds.
Inside, the tent has a detachable room divider to allow for flexibility and privacy. Wall storage pockets are handy for organizing smaller items.
Pros
It has an access port for electrical cords.
Includes a carrying bag.
A rain fly is also included and can be adjusted to keep it taut.
Has floor vents to help keep the tent cool, circulating hot air up through the ceiling.
Includes a front door that's D-shaped and a side door that's T-shaped. This makes access easy and allows for extra airflow.
Cons
The zippers of the T-door meet at the bottom of the tent, allowing for some water leakage.
Heavy. That's fine as long as you are car camping, and not backpacking.
Our Take

Wenzel 8 Person Klondike Tent
Made from Weather Armor polyester fabric with a polyurethane water resistant coating, the Wenzel Klondike is a very efficient tent. It is truly spacious, at 16 x 11ft and can fit 8 people inside, with 5 in the interior and another 3 in the screen room, which has a zip-up wall. Even the tallest of people can stand up in it without issue – provided they aren't over 6ft 5". The screen room is also useful for storing luggage or getting out of the sun for a while.
The tent comes in tan or blue, and has a mesh roof and two mesh windows for adequate circulation while keeping out the critters. There's also a rear mesh vent to circulate air around the floor area. All seams are sturdy (double-stitched and lap-felled), it has a tub bottom, and everything including the zips is treated with water repellent, so there is no fear of water getting in.
Pros
The tent is super-spacious so can accommodate larger groups comfortably.
The attached screen room allows for a bit of privacy if needed.
Circulation is highly efficient, so you're unlikely to overheat.
There are double-staked power corners.
The screen room can be zipped up to prevent rain coming in.
It only takes between 10 and 20 minutes to set up.
Cons
There is no zipper on the top of the side windows.
The rainfly is on the small side.
It sometimes has a tendency to sag a little.
Our Take

Wenzel – Blue Ridge 7-Person Tent
With a floor area of approximately 11 sq m (4m x 2.7m) and a peak height of 1.8m, this Wenzel Blue Ridge tent for 7-persons is a one of a kind two room tent. You can choose to enjoy its entire surface as this one big room where everyone gets together. Or you can bring in the "I" zipper and set up a removable divider curtain that will separate the tent in two sleeping areas.
Despite its impressive dimensions, this tent is actually quite easy to put on, and a single person can set it up in under 20 minutes. One of the best choices for camping with a group, this polyester tent with welded polyethylene floor is available in two different colors, red and blue, and it is guaranteed to stand out anywhere you go.
The base was designed to offer decent protection from bugs, whereas the top lets the airflow in through a mesh roof. Should rain or wind stand in your way, this huge removable seam-sealed fly is waiting to top off the roof. Once you zip up the "D" style door with its flat window, what happens in the Wenzel Blue Ridge 2 room tent stays in the Wenzel Blue Ridge 2 room tent.
Pros
A little over 8 kg, a great size/weight balance without cutting back from the quality of the fabric.
Smart design that gives extra headroom thanks to the multi-diameter poles.
Functional partitioning, including 4 convenience pockets and an e port for electrical cord access from the outside of the tent.
Sturdy insulation against bugs ensured by a welded floor and a removable seam-sealed fly.
Allows proper ventilation between the door, its 3 windows, and the mesh top.
Keeps water away and ensures extra rain protection with its hooped fly pole over the door.
Gives you the flexibility to separate (or not) the sleeping areas with its removable divider curtain.
Cons
Requires a bit of attention when installing the overhead, which has a front and a back.
Has no porch.
Our Take
After carefully reviewing all of the above two room tents, with and without screened porches and everything else they have to offer, we've picked the Wenzel Blue Ridge as a favorite. The choice is pretty obvious, considering that:


For a 7-person tent, it is surprisingly lightweight and compact at storage.


It features not two, as the majority of 2 room tents out there, but four convenience pockets for storage.


It has a smart design that allows you to use its e port without having to keep the door open.


It was built as a free-standing two bedroom tent, but it also includes guy ropes to give you even more stability.


It doesn't force you to sleep separately if you don't want to, thanks to the detachable divider curtain.


It is easy to assemble even for one person, though it's super-easy if you do it in two persons.


It provides excellent value for its price tag and makes a perfect choice for many types of camping enthusiasts out there.



Portal Outdoor – Beta 6
Yet another polyester tent, the Portal Outdoor Beta 6 two bedroom tent is PU coated, seam taped, and waterproofed. In other words, perfect to face all kinds of weather conditions while sheltering two couples, big families, or really any small group of travelers.
Built on a skeleton of fiberglass poles that easily fold down, the entire 6-person tent can easily fit a mid-sized transportation bag and weighs 11 kg. Despite its moderately lightweight structure, it sits firmly on the ground once you set it up, with enough room not just for a big family or two couples, but also for lots of gear and camping equipment.
The two 210cm x 180cm rooms are separated by a generous living area, equal in size with each of the two bedrooms. Thanks to the sewn-in groundsheet, the entire tent is protected from moisture or insects. Whereas sun and fresh air can easily march in through the side door that serves as sun canopy when opened out.
Pros
Enhanced privacy due to the design of two small individual tents clipped inside the main tent.
Decent 4000mm waterproof rating, which ensures protection for light and moderate rain.
Reasonably tall, which makes it comfortable to sit up or walk around the bedrooms and common area.
Proper ventilation, as the tent comes with separate vents for each bedroom area.
Compact and easy to pack, with lightweight, foldable poles.
Cons
Using the side door as a sun canopy implies keeping the entrance open.
The sewn in ground sheet covers only the bedrooms, not the living quarter.
Our Take

Alpha Camp – 6-10 Family Tent
A top choice in terms of 2 room tent with screened porch options, the Alpha Camp family tent is guaranteed to offer a unique experience. Spacious (5.2m x 2.7m) and with a hefty 2m height, it can comfortably accommodate 6 persons while still leaving room for storage.
The silver coating is not only an excellent barrier against UV but also eco-friendly and pretty cool to look at. Since we mentioned the looks, this 2 bedroom tent offers spectacular views not just from its camping porch, but also through the side windows and the "D" style door – talk about great views and lots of fresh air coming in, when needed.
To ensure extra protection against bad weather, the Alpha Camp 2 room tent with screen porch sits on high-grade steel poles. Well organized from the main entrance all the way to its two large side pockets, it also boasts an impressive range of small details that make for exceptional comfort. Like the cable port or the bug-free lounging area or the reflective tent ropes.
Pros
Spacious enough to fit two queen air beds in the sleeping area.
Well organized, with the entire floor space usable, and a dedicated screened porch.
Well ventilated, with oversized windows and the entire ceiling built as a see-through mesh.
Keeps the bugs away with its fully enclosed flooring and off the ground cord flap.
Comes with a compact, wheeled carry bag, super easy to move around.
Cons
The door entrance above the ground level can be a bit tricky at night.
At 14.5 kg, it is a tad heavier than other similar products.
Our Take

Coleman WeatherMaster 6-10 Person Tent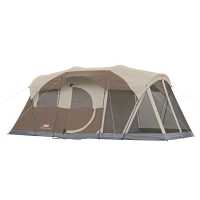 Coleman is no stranger to designing outdoor products, and this tent just shows how experienced they are at it. Designed to fit a family, this tent is robust and provides generous space for everyone.
This is a very spacious and durable tent. In fact, it feels more like a small room than a tent — we were able to fit a queen-sized airbed and a few chairs inside. The poles are made of heavy-duty steel, making this a really sturdy tent.
The tent sports a screened area where you can take off and store snow-covered clothing and gear. This way, you can keep the inner tent, or your sleeping area, dry. In the warmer months, it can serve as a space to relax and enjoy the breeze, away from any insects.
Pros
Spacious and durable.
Has a hinged door.
Has a huge vestibule.
Cons
Roof leaks over time.
Set-up is time-consuming.
Heavy.
Our Take