5 Best Backpacking Sleeping Bag Under 100
It's a long and tiring day, and all you want to do is get some rest and sleep for another adventure. But imagine if you bring a sleeping bag that's not comfortable, warm, or cool enough. Sounds bad, right?
A sleeping bag is essential for comfortable backpacking. If you're frequently outdoors and on a backpacking trip, you'd surely understand why it's essential to pack a quality sleeping bag with you.
How To Choose The Best Sleeping Bag
Sleeping bags are designed to be carried on your back, so typically, they are lightweight and easy to pack. When choosing the best sleeping bag, you should consider a product's weight, size, shape, temperature capacity, insulation, accessories, and additional features.
You need the proper gear for a good sleep on the trails or outdoors. But first, you need to pick the best sleeping bag. Here's a guide on how to choose the sleeping bag that's right for you.
Consider The Temperature During Your Trip.
Sleeping bags have different temperature ratings. So you need to anticipate the climate condition during your trip. Sleeping bags are designed for summer, winter, and three seasons (from early spring to late fall).
Choose a summer sleeping bag for temperatures higher than 30 °F. If you're anticipating temperatures from 15 °F to 30 °F, the three-season sleeping bag is ideal. For temperatures lower than 15 °F, choose a winter sleeping bag.
In some cases where you may need to travel to places that have -0 °F, four-season sleeping bags exist to keep you fully insulated. Lastly, there's five-season sleeping bags. They're specifically used for harsh climate conditions, like when you go to mountain peaks that have high altitudes.
But remember, these ratings are based on the average sleeper, so consider adjusting your choices if you easily get warm or cold. Your clothing, sleeping pad, wind, and humidity are some of the other factors you must consider.
Choose A Lightweight Sleeping Bag.
Your sleeping bag will add weight to your overall load, so it's necessary to keep things as light as possible. Buy a backpacking sleeping bag that weighs less than 4lbs or one that only takes up 10% to 20% of your total pack weight.
Consider The Size And Shape Of The Sleeping Bag.
You'd want to be comfortable or warm in your sleeping bag. This is why you should consider a bag that has enough room for movement. You don't want to feel too cramped.
See if your preferred bag is enough for your height. Check the dimensions to make sure that there's enough room for you to stretch, so you can sleep more comfortably.
As for the shape, sleeping bags come in rectangular, semi-rectangular, and mummy.
You'd have a lot of room for your legs in a rectangular-shaped sleeping bag. Ideally, you can stretch out a bit, and you can unzip the bag and use it as a comforter.
The semi-rectangular sleeping bag has the look of a cocoon. This type offers roominess and warmth.
Mummy-type sleeping bags are ideal for colder temperatures because they keep in heat more effectively, and they're snugger than other types.
Check The Type Of Insulation Material.
Sleeping bags may have insulation materials made of down (comes from geese or ducks) or synthetic materials.
Down is a natural and breathable material, and it costs more than synthetic-lined sleeping bags. A synthetic insulating material is made from polyester. Synthetic insulating materials are cheaper and non-allergenic although they're a bit heavier than down.
Choose A Sleeping Bag With A Waterproof Shell.
Choose a sleeping bag with a durable water-repellent finish to prevent spills and rain from destroying the inner insulating material. This will come in handy in rainforests and other wet environments.
Check For Additional Features.
A snug-fitting hood can add extra heat, so it's mostly found in sleeping bags for cold temperatures. The zipper is also worth checking. A quality zipper makes it easy for you to get into the sleeping bag. Other sleeping bags may be built to last, but heat is not effectively trapped if the zipper is broken or if it snags.
Not all sleeping bags have a stash pocket. But it's great if it's available, especially if you're used to keeping your phone and other essentials near where you sleep.
Consider The Accessories.
Sleeping bags vary in terms of accessories. Some are stored in compression sacks, which take up less space and are easier to store in your backpack or car.
Others have a storage sack, so you have the option not to smoosh your bag inside the stuff sack. Check if the sleeping bag has a mesh or cotton storage sack.
A sleeping bag liner is another useful addition. It helps keep your sleeping bag clean. It also adds extra warmth during cold temperatures. There are many affordable sleeping bags that have good quality, and will keep you warm and comfortable on your outdoor trips. You can find some of them in our list of top picks below.
5 Best Backpacking Sleeping Bag Under 100

Abco Tech Lightweight Sleeping Bag
The barrel shape is the most striking feature of this sleeping bag. It's designed for the sleeper's comfort. It has a wide space at the shoulder and tapers at the bottom. It has a rating of 20 °F, so it's fantastic even at near-freezing temperatures.
It's double-filled, giving you an extra layer of warmth. But because of its lightweight material, this bag can also be used for warm conditions. The material is waterproof and suits wet environments. We think this is ideal when you don't know what weather to expect.
It's designed for extreme weather, and it's suitable for near-freezing temperatures.
It comes with a compression sack that has straps for easy storage.
Pros
Suits both cold and warm weather.
Good for packing.
Cons
Zipper quality may not be the best.
You need to make sure that it's gently washed.
Our Take

TETON Sports TrailHead Ultralight Mummy Sleeping Bag
This mummy-type sleeping bag is designed to keep you toasty, especially your head and face. It's ideal for temperatures between 20 °F to 30 °F. It has a draft tube to keep the air warm, and a vaulted foot box that gives more room for your feet. It also has an interior pocket for keeping valuables.
Its material is breathable and lightweight. Its pack is convenient for people like me who wants to be more efficient when it comes to packing.
Pros
The sleeping bag packs small and is light.
The material is thin at first look, but it's good at trapping the warm air inside.
Its inside material is soft and has a sheet-like texture.
Cons
Not ideal for colder conditions.
Its zipper quality is not the sturdiest one.
Our Take

Winner Outfitters Mummy Sleeping Bag
This product is another mummy-type sleeping bag. But this bag is specifically designed for camping and hiking. Its comfort temperature range is between 35 °F to 40 °F. It also has a polyester shell and lining, and cotton filling.
The material is lightweight and weighs about 3lbs. Because it comes with a compression bag, it's easy and practical to pack. It's also water resistant, which is ideal for wet weather conditions.
Pros
It doesn't feel confining despite the shape, so it can be
It holds up well despite the damp and rainy weather.
If you prefer to use a pillow, stuffing one inside the hood will not be a problem.
Cons
The zipper may be an issue because it doesn't glide as smoothly as you expect it to.
The shell is quite slippery, so you need a cloth padding if this becomes an issue.
During hot and humid temperatures, the inside lining is a bit sticky.
Our Take

ECOOPRO Warm Weather Sleeping Bag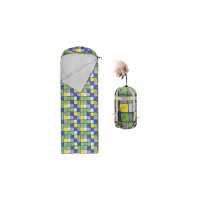 Sleep comfortably after your busy camp day with the ECOOPRO sleeping bag. This weather-resistant sleeping bag is compact and lightweight, making it perfect for camping trips, hiking, and climbing. With a max weight of 2.3 pounds, even children can easily carry them on their adventures.
The ECOOPRO sleeping bag uses double-filled technology to increase the density of cotton for more heat retention. Its inner lining is made of soft polyester pongee, allowing for more comfortable sleep. Polyester taffeta is used as surface material which makes it good for use even in humid areas.
The surface is treated with an anti-splash coating, making it easy to clean. After camping, the sleeping bag may probably require thorough cleaning but it won't be that much of a challenge. Though the bag can be machine-washed, handwashing prolongs its life.
Aside from being weather-resistant, the bag is equipped with a U-shaped hat that provides added protection against wind. It has a durable two-way zipper that can easily be pulled even by young kids.
The ECOOPRO comes in three different styles to match your camping needs. The green sleeping bag is made of double-filled cotton that provides comfort even at temperatures of 50°F. The dark blue and black bags are lighter at 1.45 pounds but offer less heat retention.
Pros
Safe for children.
Waterproof and weather resistant.
Compact and lightweight.
Soft inner lining.
Cons
Not big enough for people with wide shoulders.
Material is too thin to retain heat.
Not ideal for winter use.
Our Take
As for the final verdict, ECOOPRO Warm Weather Sleeping is the clear winner if you're into outdoor camping. It's resistant to wear and tear, and moisture. Its shape and design provide enough room for movement. Its envelope style clearly makes it easy and stress-free for you to slip in and out of the bag. It's not confining at all, compared with other products.
It's affordable, durable, and can function well in warm and cold weather within its temperature rating. It doesn't overpromise to perform in extremely tough weather and temperatures. But for its purpose and price point, it does its job well.
If you're mostly camping and hiking outdoors during warm weathers, it's better to invest in a lightweight and breathable sleeping bag. But if you're the type who likes the outdoors despite the weather, go for thicker, more durable, and four-season type sleeping bags. Make sure to choose a sleeping bag that accurately fits your budget and needs.

Outdoorsman Lab Mummy Ultralight Sleeping Bag
We've chosen another mummy-type sleeping bag, and this one performs best at 38 °F to 42 °F. It has a full-length zipper and drawstring hood for added warmth. The exterior material is water-repellent, and the inside is quick drying.
Its material is lightweight, and weighs about 3lbs. It has a weather-resistant quality to it, while still being breathable. Its foot box design is distinct in a way that it lets people prop their feet out for more comfort. Overall, it's pretty roomy, and can fit larger and taller body types.
Pros
The sizing is accurate. The sleeping bag can accommodate individuals with bigger built.
Outdoorsman Lab improved the previous compression sack and made the new design even smaller.
It provides a 3D foot box.
Cons
The single stitching is noticeable, and this may be an issue with machine washing.
The zipper quality can be improved.
It's not suitable for extremely cold conditions.
Our Take