5 Best Cabin Tent
If you camp with a tent, and you spend a lot of time in the great outdoors, a cabin tent may be just what you need to truly enjoy your experience.
A cabin tent is usually bigger than traditional dome-style tents, and with near-vertical walls, you can stand up inside and easily move around. They're perfect for camping with large groups.
But how do you find the best cabin tent? We're here to help.
What Are The Benefits Of A Cabin Tent?
Cabin tents derive their name from the fact that they are more like a cabin than a tent, in terms of looks and features.
So you must first decide if a tent that's more like a cabin is best for you and any camping companions.
The benefits of cabin tents include:
More space inside, allowing for larger groups of campers or families to sleep inside, as well as more room for gear.
Near-vertical walls, which helps to create more interior space, but also allows for standing up inside the tent. Most are high enough in the center to allow even tall individuals to stand and move around.
The ability to create several rooms. Most cabin tents have built-in or removable dividers, allowing for privacy, or the ability to have a "bedroom" and a "living area" within the same tent.
What Are The Downsides Of A Cabin Tent?
While cabin tents are more spacious, it also means that they are bigger when they're packed up. Therefore, they are best used for "car-camping," when you can arrive at the campground in your car. They are not great for backpacking, due to their size and weight.
Depending on the size of the tent, they can also be more difficult for one person to set up. So once again, they are best suited to group or family camping.
How To Choose The Best Cabin Tent
There are a number of factors to consider when choosing what will be the best cabin tent for you and your family or camping group.
Size
The first and perhaps most important factor is size. You don't want to be out in the wilderness and endure staying in a tent that's too small for your camping group or your family, or to have a tent that isn't functional for your needs.
If you know there will always be three people in your group, then a four-person tent may be ideal. If you want extra space for your small group, then you could go to a larger tent.
If your group is always six people, you want to choose a larger tent. If you like to have extra space, you could go as large as an eight-person or nine-person tent, for instance.
(if you think 6 person tent is enough for group of six people, checkout our guide here)
If it's important to you to have all your camping supplies inside the tent with you, then you need to consider that when making your selection. A four-person tent won't be big enough if you have four campers and you want all your gear in the tent at once.
Interior height is another factor. If you're tall and it's important that you're able to stand and move around, then be diligent about the center height of the tent you choose.
It may even be important to know the size of the tent when it's packed up, if you travel in a subcompact car, for instance, or a motorcycle with a small trailer.
Setting Up The Tent
Setup and takedown is another factor to consider. If you'll usually be doing this work yourself, you may want to select an "instant tent." These have the poles already attached to the tent, making for quick assembly that can be accomplished by one person. These are usually smaller tents, however, so you may not have a choice if you need a bigger tent.
Number Of Rooms
Another factor that may be important to you is the number of rooms or room dividers. Perhaps you want to have your sleeping area separate from your gear, or you want to have separate bedrooms for yourself and your children.
You'll have to determine if you prefer a permanent divider or detachable dividers, and whether you want the ability to zip it open and closed.
Doors, Windows And The Roof
The number and style of windows may be important to you. Door size, placement and number of doors are other factors to consider.
As well, some tents offer a mesh roof. This can be a wonderful feature that provides a view, during the daytime and for stargazing. It's also ideal when camping in hot weather, allowing for extra ventilation. But if you do enough camping in cooler temperatures, you may want to re-think the mesh roof feature.
Some campers also have a preference for a built-in rain fly or a detachable rain fly.
The Best Way To Use A Cabin Tent
A cabin tent is an ideal choice if you will be driving to your campground, and not hiking or backpacking to your destination.
Once you make your selection, it's a good idea to set it up at home the first time, before embarking on a camping expedition. This will allow you to learn how to set it up and take it down.
By doing this you will also ensure you have received all the parts. You'll know if you want any extra accessories, like a tarp to place under it to keep it clean when folding it away.
If you happen to camp during a rainstorm, and you have to pack the tent away while it's still wet, it's a good idea to set it up at home to dry out before storing it.
So, let's take a look at five different options, to help you determine the best cabin tent for your needs.

Coleman Cabin 4 -10 Person Tent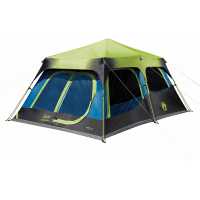 The Coleman Cabin Tent is quite a big tent. It can fit up to 10 people and four queen-size air beds. It's so spacious that it even comes with a room divider. This is a great feature to have for those who want to share tents but still have some privacy.
Even with its size, this tent is still quite easy to set up and take down with telescopic poles that make installation and storage manageable. One person can set the tent up in a matter of minutes.
The frame is strong enough to withstand winds up to 35 mph. Thick heavy-duty Polyguard fabric provides reliable protection from the elements. Like other Coleman tents, this also features the Weathertec system. A vented rainfly and protected seams keep rain away. Patented corner welds and tub-like floor ensure that you stay dry.
Late risers can sleep past sunrise in comfort with the Coleman's Dark Room Technology. Up to 90% of sunlight can be blocked, significantly reducing the temperature inside the tent even during daytime. A vent on the roof provides additional ventilation.
Another nifty feature of this tent is the patented hinge door for easy access in and out of the tent. It would have been better to have two such doors though.
Pros
Easy setup and takedown.
high ceiling and spacious.
Free standing.
Cons
One-side access only.
Too heavy for backpacking use.
Not reliable for extended rain periods.
Our Take

CORE 9P Instant Cabin Tent
This is another "instant tent" that takes one minute to set up. The poles are attached to the structure and telescope for easy setup and takedown.
It's quite a bit bigger with a measurement of 14×9 feet when set up. The centre height is 6 ½ feet. It fits two queen airbeds.
Inside, the tent has a detachable room divider to allow for flexibility and privacy. Wall storage pockets are handy for organizing smaller items.
Pros
It has an access port for electrical cords.
Includes a carrying bag.
A rain fly is also included and can be adjusted to keep it taut.
Has floor vents to help keep the tent cool, circulating hot air up through the ceiling.
Includes a front door that's D-shaped and a side door that's T-shaped. This makes access easy and allows for extra airflow.
Cons
The zippers of the T-door meet at the bottom of the tent, allowing for some water leakage.
Heavy. That's fine as long as you are car camping, and not backpacking.
Our Take

OZARK Trail 8-Person Family Cabin Tent
This tent provides enough sleeping room for up to 10 people, and it will fit three queen-sized air mattresses with room to spare. A more likely set up is to have mattresses on each side with a common area in the middle, sleeping up to eight people more comfortably.
It also has two removable room dividers, so you can create up to three separate rooms, or keep the interior of the tent in an open design.
There are three doors – one in the center and two on the sides, allowing for increased privacy. It also means if you set up individual rooms, each person can get in and out of the tent from their room.
Pros
It has six windows for good ventilation and plenty of views to your camping area.
It's a good size, as it measures 20X10 feet and is 6 ½ feet high in the center.
One person can handle the relatively easy setup.
The room dividers are removable, providing more flexibility.
Cons
The poles do not seem to be very durable.
Our Take

Wenzel Kodiak 9 Person Tent
The Wenzel is a two-room tent with straight walls to maximize space inside. There is a sewn-in room divider that creates two separate rooms, although the divider does not have a window in it. Other tents feature removable dividers so if you want that flexibility, this tent does not provide it. However, the divider does have two panels that can either be tied shut or rolled up to stay open.
A nice bonus on this tent is the storage. There are two gear "lofts" or attached storage cubbies. You access them from inside the tent but they provide more floor space by allowing you to tuck away some of your gear. There are also two hanging pockets for storage.
Pros
It has a full coverage rainfly that's easy to attach.
It folds up into a storage duffel that's also included.
An attached mud mat provides space for shoes outside the tent.
It features two bay windows and two picture windows that provide excellent views.
Relatively easy set up with a pin and ring system and hub connections.
Measures 14x14 feet with a center height of seven feet.
Approximately 34 pounds packed up.
Cons
It only has one D-shaped door.
Our Take
While these are all great tents, and you may have some particular reasons for choosing one over another, our top choice is the Wenzel Kodiak 9 Person Tent.
Here's why we liked it better than the others:


It's a bigger size, allowing you to have all your gear contained, but still easy enough for one person to manage setting it up and taking it down.


The picture windows make for wonderful viewing from inside the tent.


The mesh roof allows for stargazing and ventilation, but the rain fly is easy and quick to get on if the weather changes.


The built-in storage cubbies are a nice bonus for keeping your gear in the tent.


It has a big base size, and is high enough in the center and at the eaves that anybody can stand up and move around.


The room divider can be tied open or zipped closed.


Therefore, this tent addresses all the needs of a cabin tent, with some bonuses. It's a great size, has easy setup, and the flexibility to divide it into two rooms. While it only has one door, it has amazing picture windows in place of a second door. It also has the bonus of the built-in storage.
If you've decided you need a cabin tent, the Wenzel Kodiak is a great choice.

Browning Camping Big Horn 5 Person Tent
The Browning Camping Big Horn 5 Person Tent sports a tall design that helps maximize the space, allowing for more gear inside.
Ventilation isn't a problem with this tent, as there are windows all around and a mesh roof to optimize airflow.
Tent leaks can really be a problem when it comes to camping, but not for this one. All of the tent's seams are appropriately sealed to keep water from seeping inside. Browning Camping Big Horn 5 Person Tent got you covered, literally!
Pros
Fiberglass poles and steel uprights provide additional strength and stability.
There's an extra protective awning over each door, giving extra weather protection over the entranceways.
It has six large windows and a mesh roof, creating great ventilation.
It includes a polyester rain fly.
There are storage pockets to keep smaller items organized.
Cons
A bit heavy
The divider is not removable.
Our Take
The best 5 person tent is the Browning Camping Big Horn Tent. The freestanding design with a center height that will delight even the tallest campers truly stands out. It is a bit pricey compared to the alternatives. But let's just recap all of its strengths, and you'll instantly want to try it out. Here's what the 5-person tent from Browning Camping has to offer you:
Designed and built to offer a truly comfortable experience for a group of 5 campers.
Smart layout, freestanding, and with straight side walls that give you extra space inside.
A welcomed door-mesh-roof-three-windows distribution for adequate ventilation.
Excellent combo of steel uprights and fiberglass poles, for a stable but light structure.
Reliable fabrics, with factory sealed seams and superior 2000 mm waterproof coating.
Easy to set up, by simply clipping snaps over poles, that even one person could do it.
I got this tent a couple of months ago, and it is a simple and easy to set-up tent. Even if one person set this tent up, it wouldn't be a problem. It only took me around 10 minutes to pitch this up, which is pretty good!
This tent was my buddy during our base camp, and it did rain during that time, but I didn't experience any leaking. The tent was waterproof, and the floor is well sealed. I also set-up a tent cot inside this tent, and it fits nicely. Moving around and stand up wasn't a problem; there was a generous space for the headroom.
The only thing I noticed is that this tent supposedly stated to fit a group of 5 people. It may seem to be a little small for its stated capacity, as for my opinion. Nonetheless, it was still a roomy tent with side storage.
I forgot to say, if you're not a fan of a heavy tent, this tent may not be of your liking. It's a little bit heavy, but if you use it for camping out, this is still a recommend tent! This tent will be really cool to use in summer or your next campout!