7 Best 8 Person Tent
I feel more at home than ever when immersed in nature and about to explore uncharted territory. However, as a seasoned camper, trekker and explorer, there are things I have come to learn, and sometimes the hard way! Suffice to say that I'm a true advocate of physical comfort when camping out… otherwise the whole trip becomes hard work. Who wants to hike through unfamiliar terrain with heavy eyelids and minimal energy?
Important Features Of An 8 Person Tent
Let's take a look at some of the important features of an 8-person tent:
What Are The Poles Made From?
There are many 8 person tents out there with fiberglass poles, but that doesn't mean you should buy one. It really depends on how careful you are. Fiberglass is breakable, and the last thing you need is to start setting up only to find that your tent isn't playing ball. Aluminum is a safer bet, but as long as you think you can be careful (and maybe carry a replacement pole or two in your vehicle), you might be fine with fiberglass. Just in case, learn how to repair fiberglass poles before you head out.
Are The Seams And Stitching Top Quality?
One of the first things to pay attention to is seam and stitching – both the method and the quality. The right kind of 8 person camping tent is going to have folded steams with double stitching. You should never be able pull both sides of a seam and see through it. One way to be absolutely sure your seams are totally air and waterproof is by using a seam sealer. This basically means coating the seams with silicon via a little brush.
Is The Rainfly Up To The Job?
There is nothing less comfort-friendly than a rainstorm. Beautiful as they can be, it's probably safe to say that most want them to happen outside the tent. If that applies to you, you will want your 8-person tent to come with an adequate rainfly. For camping newbies, the rainfly equates to an umbrella for your tent.
In this case, size is everything. You will want to check that it reaches over the sides of your tent, as if it barely covers the top, you can expect the sides to get hammered with rain. This probably goes without saying, but it should be waterproof – and a weatherproof tent is always the smart choice, too.
How Sturdy Are The Guy Lines And Stake Loops?
The stake loops (in case you weren't aware) are the loops sewn onto the tent in various places, and they enable you to secure your guy lines. The latter are the lengths of cord that loop through so that you can pull your tent sides tight and secure it to the floor with the stakes.
Look out for reasonable sized loops, ensuring there are some on the rainfly and some near the middle of the tent. There should also be loops made from material around the base of the tent; plastic loops break easily. Securing your tent fully with the stakes means that even when winds are high, you should still get a decent night's sleep.
Does It Have A Sown In Ground Mat And Heavy-Duty Zips?
Like the rest of the tent, the floor should be waterproof. Ideally it will be attached to the tent walls via the kind of seams I mentioned above. The seams should be a few inches higher than floor level for best possible waterproofing. In terms of zips, the stronger these are the better. They should be able to withstand plenty of use.
Does It Have Quality Ventilation?
Lastly, you will want to pick a tent that has proper insect meshing. It isn't a whole lot of fun sharing your tent with insects – especially the biting kind. This also ensures adequate ventilation. Look out for tents with roof vents too, as these can be opened to minimize condensation. Alternatively, you can opt in for pop up canopy that provides shelter, but doesn't have classic walls, therefore plenty of air. It goes without saying that these kind of tents are made for hot seasons.
Over time I have developed equal parts fascination and fondness for tents, and I scrutinize every detail before purchase. If you are not quite sure where to start, I am here to help you find the best 8-man tent for your needs and budget.

Coleman Elite Montana 8-Person Lighted Tent
This tent has an It has a WeatherTec system that includes patented welded floors and inverted seams, so dryness is pretty much guaranteed. The snag-free, continuous pole sleeves and patented pin-and-ring system make it very easy to set up, and the inside is pretty spacious; tall people can stand up inside.
The tent dimensions are 16 x 7ft and 6ft 2 tall in the middle. It has an awning for storage and comes with a carry bag that you can easily pack the tent back into.
Pros
The tent has self-rolling windows, plus a built-in light and switch.
Good ventilation.
Storage pockets mean you can store valuables easily.
The hinged door makes it quick and easy to get in and out.
It sets up quickly. You should have it done within 15 minutes.
Cons
Stakes could be stronger, so you would be wise to bring stronger spares.
The two windows are on the small side, so the cross breeze is minimal.
If you're camping in warm weather, you might be hot inside.
Our Take

Wenzel 8 Person Klondike Tent
Made from Weather Armor polyester fabric with a polyurethane water resistant coating, the Wenzel Klondike is a very efficient tent. It is truly spacious, at 16 x 11ft and can fit 8 people inside, with 5 in the interior and another 3 in the screen room, which has a zip-up wall. Even the tallest of people can stand up in it without issue – provided they aren't over 6ft 5". The screen room is also useful for storing luggage or getting out of the sun for a while.
The tent comes in tan or blue, and has a mesh roof and two mesh windows for adequate circulation while keeping out the critters. There's also a rear mesh vent to circulate air around the floor area. All seams are sturdy (double-stitched and lap-felled), it has a tub bottom, and everything including the zips is treated with water repellent, so there is no fear of water getting in.
Pros
The tent is super-spacious so can accommodate larger groups comfortably.
The attached screen room allows for a bit of privacy if needed.
Circulation is highly efficient, so you're unlikely to overheat.
There are double-staked power corners.
The screen room can be zipped up to prevent rain coming in.
It only takes between 10 and 20 minutes to set up.
Cons
There is no zipper on the top of the side windows.
The rainfly is on the small side.
It sometimes has a tendency to sag a little.
Our Take

Coleman – Tenaya Lake Tent
The Tenaya Lake Lighted Tent has a built-in LED system with a fabric cover, and it gives a pleasant overhead light that makes in-tent activities much easier. The tent also has a built-in closet to keep your things organized throughout your trip, and it is dry and comfortable thanks to the WeatherTec system, protected seams and rainfly.
This tent looks the part with an aesthetically pleasing colour scheme, and it's incredibly easy to assemble thanks to pre-attached, color-coded poles and hub, fast-fit feet, and snag-free Insta-Clip suspension.
Pros
Built-in lighting gives an even light throughout – it's great for activities.
It has a built-in closet with shelves and a hanger bar to organize your belongings.
It withstands high winds well.
It is well ventilated.
The hinged door makes access easy.
There are storage pockets for your valuables.
Cons
It is a little smaller than some comparable tents, but fits 2 queen sized airbeds with space left.
Poles may be less sturdy than comparable tents.
It takes more than 2 people to set it up easily.
Our Take

NTK GT Cherokee 8-9 Person Camping Tent
The NTK Cherokee tent is made from seamless, anti-fungal polyethylene with a silver-coated inner layer to prevent leaks. The 2500mm water column rainfly provides full coverage, and the tub floor ensures you're always dry. Extra thick Nano-flex fiberglass poles make for a study construction, and the inner tent has a large two-way zipper D-style door with full mosquito mesh protection. The door is protected from vertical rain with an extension on the rain fly, plus zip covers. There is a spacious utility pocket and gear loft for storage, as well as a ventilated mesh roof.
Pros
It is very easy to set up, even alone.
It has a detachable room divider for extra privacy.
It packs away quickly and easily.
It has 4 guy lines in orange color for visibility, each at around 10ft in length.
It is lightweight at 8.5kg
The center height is 6ft 1 so you should be able to stand up inside.
Cons
It is 'no frills' compared to other 8 person tents.
It is pretty dark inside (however, that is great when you need shade!).
The mesh on the doors doesn't zip to the outer door to open at the same time.
Our Take
To conclude, best 8 person tent on our list is NTK Cherokee tent. Although it is fairly simplistic compared to the other tents, it is very sturdy, lightweight and easy to construct. If anything were to go wrong with it, the manufacturers are very helpful.
The rainfly does the job perfectly, the guy lines are sturdy, and the Nano-flex fiberglass poles are cutting edge tech. The tent is also seamless, waterproof and has perfectly adequate ventilation and storage. All things considered, this tent has you covered for a comfortable and convenient camping trip.

Eureka Copper Canyon 3-Season Tent
With a room capacity of six people, the Eureka Copper Canyon is a good choice for a family camping trip. It's a cabin style tent that's spacious enough for a small family. With a center height of seven feet, it provides ample room even for tall people.
The frame is a combination of fiberglass and steel. The tent itself is made of heavy-duty double-wall fabric. The outer wall is made of polyester coated with polyurethane for protection from the elements. Keep in mind though that the Eureka Copper Canyon is a 3-season tent. It was designed for use during summer, not for withstanding heavy rain and extremely cold weather.
Huge windows and an all-mesh roof provide plenty of ventilation. However, there is only one door which limits access.
For those who can't keep away from gadgets during trips, the electricity port can be a nifty feature. Of course, it only becomes useful when there's electricity available at the campsite.
While the Eureka Copper Canyon can be stored into a very compact bag, it's quite heavy to bring on trips that require long walks or hikes. Over 20 pounds can be a challenge to carry on long distances. Another downside to this tent is that it has no vestibule for storing gear.
Pros
Windows on all sides.
Good ventilation.
High ceiling.
Cons
Not reliable during heavy rains.
No vestibule.
Too heavy for hikes or backpacking trips.
Our Take

Coleman Cabin 4 -10 Person Tent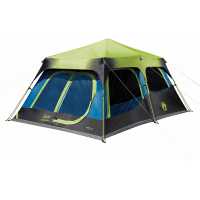 The Coleman Cabin Tent is quite a big tent. It can fit up to 10 people and four queen-size air beds. It's so spacious that it even comes with a room divider. This is a great feature to have for those who want to share tents but still have some privacy.
Even with its size, this tent is still quite easy to set up and take down with telescopic poles that make installation and storage manageable. One person can set the tent up in a matter of minutes.
The frame is strong enough to withstand winds up to 35 mph. Thick heavy-duty Polyguard fabric provides reliable protection from the elements. Like other Coleman tents, this also features the Weathertec system. A vented rainfly and protected seams keep rain away. Patented corner welds and tub-like floor ensure that you stay dry.
Late risers can sleep past sunrise in comfort with the Coleman's Dark Room Technology. Up to 90% of sunlight can be blocked, significantly reducing the temperature inside the tent even during daytime. A vent on the roof provides additional ventilation.
Another nifty feature of this tent is the patented hinge door for easy access in and out of the tent. It would have been better to have two such doors though.
Pros
Easy setup and takedown.
high ceiling and spacious.
Free standing.
Cons
One-side access only.
Too heavy for backpacking use.
Not reliable for extended rain periods.
Our Take

OZARK Trail 8-Person Family Cabin Tent
This tent provides enough sleeping room for up to 10 people, and it will fit three queen-sized air mattresses with room to spare. A more likely set up is to have mattresses on each side with a common area in the middle, sleeping up to eight people more comfortably.
It also has two removable room dividers, so you can create up to three separate rooms, or keep the interior of the tent in an open design.
There are three doors – one in the center and two on the sides, allowing for increased privacy. It also means if you set up individual rooms, each person can get in and out of the tent from their room.
Pros
It has six windows for good ventilation and plenty of views to your camping area.
It's a good size, as it measures 20X10 feet and is 6 ½ feet high in the center.
One person can handle the relatively easy setup.
The room dividers are removable, providing more flexibility.
Cons
The poles do not seem to be very durable.
Our Take