7 Best Tent Air Conditioner
When it comes to air conditioners, they are extremely important during summer to dehumidify the air, ventilate the space and cool down the room or the tent. Their main function is to keep the temperature in the tent pleasant so you can comfortably sleep or spend time inside the tent.
Sometimes, in summer, it isn't enough to ventilate the tent, but you need an air conditioner to cool the tent down, especially if the temperatures are extremely high and there is no natural wind.
It is definitely better to sleep in a cool and dry room, rather than sleeping in a room with a ton of built-up hot air. Some people don't mind if the air conditioner is a bit loud, if it gets the job done, while with others noise is at the top of their list. After reading the reviews below, it will be more clear to you what it is that you're looking for.
Some air conditioners also dehumidify the air, while others serve as a fan, too. Others have 3 functions at the same time. Remember to clean the filters regularly so you can enjoy its maximum power.
The air conditioners are useful for extreme summer weather, when you can't stand the heat. Just imagine having to sleep in a humid, hot tent with more than 2 people.
The filters can be vacuum cleaned with dustbuster, or hand washed by using warm water and soap. It goes without saying that you have to let them dry off properly before plugging the air conditioner into the electrical outlet.
Heat strokes and sleepless nights can become your worst nightmare while camping. That's why it is beneficial to take a look at our list below and see for yourself, which air conditioner suits your needs.
Weight
An air conditioner is an essential part of your camping trip. There are lightweight conditioners that you can easily transport from room to room, or right from your car or bag into the tent.
Try sticking to lighter air conditioners, because they can easily be moved around which is important if you plan on changing your location often.
They usually weigh from 10 to 70 lbs, but the weight itself doesn't tell you much about the unit and how well it works.
Since you will be setting it up in a tent, you should be looking for something more compact and practical for carrying around.
A common weight for air conditioners is 30 lbs to 70 lbs. The size of your tent also plays a major role. If you plan on camping in a bigger tent, you'll probably need a bigger air conditioner which can cover the entire tent's space.
Power
There are high, medium and low speeds and the power is directly related to these speeds. If the air conditioner runs on high, it will be faster so it is normal that it will require more power.
However, there are exceptions. Sometimes, the fan runs on low, and still uses a lot of electricity.
Normally, the power of a tent air conditioner is different in a tent and at home, because if the tent is not insulated the air conditioner is going to work harder to achieve the same effect.
Pay attention not to let the power cord overheat next to the tent. All air conditioners tend to differ when it comes to power, but they should be capable of cooling down spaces from 150 square feet to 400 square feet.
It is a big plus if the air conditioner comes with a high-capacity battery and a charger.
You will need an AC unit that has a 5000 BTU rating to keep the tent cool, or approximately 150 square feet.
Also, don't forget to use an outdoor power cord that is at least 15amp rated is a minimum, but be careful not to overheat it, since it is in close vicinity of the tent.
Remember to keep the tent insulated, if you want to maximally employ your AC unit's power. Some purchase a tarp that goes below the tent, or a blanket that can replace the ground floor, while others use the emergency blanket.
Ease of Use
Most of them come with a window mounting kit, which makes the installation process a bit easier.
Nowadays, with the technology advancements, there are programmable timers and adjustable thermostats, remote controls or LED digital panels you can control to set the temperature as you please.
Typically, air conditioners are pretty simple to install with the help of an instruction manual. You don't need to be an expert to install an air conditioner, especially if it's a portable one.
For a house, sometimes it's more convenient to get a wall-mounted one, but for a tent, this is sometimes impossible.
Evaporative coolers don't need an insulated tent in order to successfully cool it down. They use open ports to make sure the cool air is circulating in the tent.
Basically, with most moveable air conditioners, you just need to move the tent directly into your direction or a specific spot you want to cool down.
Sound Level
The best tent air conditioner is the one that works flawlessly, and doesn't wake you up in the middle of the night. It is important because during the night, all the heat builds up in the tent, and it's hard to get rid of it.
When you turn on your AC during the night, in order to get a good night's sleep, it should not be overly loud. The average sound level is around 60 dBA of noise, which is acceptable.
The problems arise when the tent's noise is a lot higher than an average conversation, so it can be very annoying even though it might be on the other side of the room.
The decibel levels range widely. Portable units get as loud as 55 or 60 dBA, whereas some quiet air conditioners can make just 25 dBA of noise, which is as loud as a regular whisper.
Sometimes, the quieter air conditioners are not so compact, so you'll probably have to sacrifice one feature in order to get another which works for you.
Do yourself a favor, and check the noise levels before deciding on a tent. You definitely don't want to spend your money on portable, compact but noisy appliances.
7 Best Tent Air Conditioner

Coleman – Adb Deluxe Chillgrille
Coleman Adb Deluxe Chillgrille is a white, low-profile conditioner in European style.
Control knobs and operation are located on the horizontal surface so you can reach them with more ease.
With its contemporary, sleek design it is perfect for every type of tent (family size, screen tent, one person tent etc.)
It covers the existing ceiling imprints when replacing earlier ceiling assembly design.
The entire setup process is very simple, because this air conditioner is electric heat strip ready.
As far as cleaning goes, air filters are washable and you can easily remove the retainer grilles, clean them and put them back.
If you own an RV, It is a good fit to replace your current vent, since the air flow is much better.
Pros
Modern design
Beginner friendly setup process
Cleaning the unit is easy
Easy to reach control knobs and operation
Heat strip ready
Cons
Doesn't have a thermostat
Inside cover for the AC
Our Take

FRIGIDAIRE – Window-Mounted Mini-Compact Air Conditioner
With Frigidaire Window-mounted mini-compact air conditioner, the installation process is a breeze, since it uses a standard 115V electrical outlet. There is also a window mounting kit that goes with it.
Some of its most prominent features are: mechanical rotary controls, 2 cool speeds, 2 fan speeds, and 2-way air direction.
It is not loud and will effortlessly cool down even a 150 square feet room, with two cool speeds and two fan speeds.
When it comes to air conditioners, the biggest concern is whether the air is clean. With this product's antibacterial mesh, it cleans the air by removing the bacteria.
You're in charge to manage the cooling and also to direct the air thanks to the top, full-width, two-way air direction.
It quickly cools a room on hot days and its quiet operation keeps you cool without keeping you awake. This unit features mechanical rotary controls and top, full-width, 2-way air direction control.
Low power start-up conserves energy and helps you save more energy and money.
Pros
Clean, cool air
Easy installation process
Effortless comfort
Dependable control
Compact
Cons
Uses more electricity on low
A bit noisy
Our Take

Arctic Cove – Top Misting Fan
Arctic Cove Top Misting Fan is a small, but powerful weapon against hot, summer days.
The 5 gallon bucket lasts for about 3 hours. It has two speeds, so you can switch it up from time to time if you want to run the fan on low or high. When the fan is on low, the battery can last longer, approximately 7 hours.
The battery unit is not waterproof, so you should think twice if you plan to take the misting fan on a boat, or leave it in the rain.
The design is dual purpose, so you can use it on a bucket, or on a flat surface with a garden hose.
There are two independent switches – one for the fan, which has two speeds, and one to engage the misters.
This fan can be used for BBQ, on the kids sport field, and the beach.
Pros
Dual purpose foot design
Compatible with Ryobi 18 Volt One+ batteries
Compact, easy to carry around
Quiet pump performance
Misting control
Cons
5 gallon bucket sold separately
Doesn't come with a high capacity battery and charger
Our Take

JHS – Portable Air Conditioner
JHS Portable air conditioner can cool down a 300 square feet place with ease, so it will be more than sufficient for your tent.
It has multiple functions: it is not only an air conditioner, but also a fan and a dehumidifier.
The air conditioner removes moisture with ease, and leaves your room dry and cool. With the aid of two-direction stainless castors and a handle on the top, the air cooler can easily be transported from room to room.
Window kit is included, which means the installation process shouldn't take more than 10 minutes.
A built-in self evaporation system recycles the water and helps with the cooling efficiency. You even get a reminder when to drain the water. You can choose from dual drainage, so it can be either manual or auto drainage, it is just necessary to install the drain hose.
Pros
Portable and easy to carry around
Comes with a window kit
Perfect for small spaces
Quick installation
Built in dehumidifier
Cons
Doesn't meet the electricity requirements in certain countries
A bit slower when the weather is too hot
Our Take
First of all, it is portable and can be used wherever you go. It can cool up to 300 square feet, which is more than necessary if you spend your time in a tent.
If you regularly clean it (by regularly we mean once a month) it will definitely be appreciated. You can use this appliance not only in your tent, but also at home. It's energy efficient, thanks to the 24 hours programmable timer.


Quick installation process with the exhaust hose and the window kit included.


Portable and easy to move due to its lightweight design.


3-in-1 appliance that keeps your room cool and dry during hot summer days and nights.


Easy to change the settings with intuitive design remote control.


It is a perfect appliance for a small bedroom, tent, kitchen etc.



Honeywell – Compact Portable Air Conditioner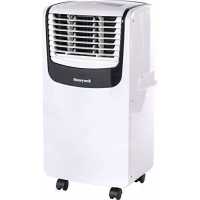 Honeywell Compact Portable Air Conditioner is not only an air conditioner, it also a fan and a dehumidifier.
It's great for spot cooling. It has enough power to cool down a 250-350 square feet.
There is a built in dehumidifier with continuous drain option. Washable drain filters allow for easy cleaning, maintenance and reducing the dust.
You get a window mounting kit, remote control with batteries, and a portable AC unit.
The product comes with a warranty to ensure your total satisfaction.
It is a very light air conditioner, that has wheels, so it is easy to move it around.
In tents where there is a problem with higher humidity, the unit is equipped with dual drainage options, which offers you a lot of flexibility. A continuous drain system can be set up in minutes when used as a dehumidifier.
Pros
1 year warranty
Built in dehumidifier
Ideal for targeting spot cooling in rooms
Washable dust filter
Comes with window installation kit
Cons
Not recommended to replace the exhaust hose
Not so quiet
Our Take

hOmeLabs – Window Mounted Air Conditioner
This h0meLabs window mounted air conditioner is a perfect summer addition for cooling down 150 square feet rooms.
The magic happens in just 15 minutes or less. It comes with a filter, support brackets, leaf guards, window seal foam, and even a handy drip-free installation guide.
You can manually adjust the temperature with the adjustable high or low speeds to easily get rid of the hot air.
It can be cleaned with warm water and dish soap, or with a dustbuster. With the aid of backflow drainage, you can prevent any incidents such as water dripping or soaking the motor.
It also includes a 6-foot long cord that can come in handy when you want to find a specific place in the room to put the air conditioner in.
Pros
With air conditioner mounting kit
Reusable eco filter
Can use it in RV
Fast cool time
Easy installation
Cons
Look for an EER rating
Should not be used with extension cords
Our Take

EdgeStar – Portable Air Conditioner
EdgeStar Portable Air Conditioner can cool up to 400 square feet of space. There are electronic controls with LED display. It comes with a remote control so you can decide on your own what works for you the best.
There are 3 fans speeds, 24 hour times and casters are included. It can serve both as a dehumidifier and as a fan. You can automatically turn it off after running for a certain amount of time.
There is no need to manually drain the unit, because it is built with an automatic drain system.
It is important to mention that these types of air conditioners should be vented outside, and this one is vented using a single hose.
It comes with a window vent kit, and it draws air from inside only.
Just set your desired temperature within the wide range of 62 – 88°F, let the air conditioner do its work, and if you want to use it as a dehumidifier, it will remove up to 71 pints of moisture a day from the air.
Pros
Cools up to 400 square feet
Self-evaporative technology
Portable
Window vent kit included
Three fan speeds
Our Take