10 Best Tent Heaters
The best time to go on a camping adventure with your friends or your family is when the sun is out. But even so, there really are times that the night seems colder than other nights. Not to mention that it is also still fun to go camping during the fall, where the temperature is about to drop big time. What else could be our allies during the cold, dark nights, in the camping sites but good old tent heaters.
However, safety and effectivity are two of the things that you need to look at when buying a tent heater. You don't want your camping getaway to be ruined by a malfunctioning tent heater, would you? That is why it is important to invest in good ten heaters that are not only cost-effective but are also durable but are also budget-friendly.
So if you are looking at buying a new tent heater for your next camping trip, you are in the right place. We have come up with a curation of the best tent heaters available in the market for you to pick the best one from. Check out our list, and thank us later!

Mr. Heater F215100 MH4B Little Buddy 3800-BTU Indoor Safe Propane Heater
This heater is an indoor safe propane heater for rooms up to 95 square feet (not intended for golf cart use or for motorized vehicles). It is continuously odor-free with a 45-degree heating angle and a maximum elevation of 7000 feet. Also has automatic low oxygen shut-off system (ODS) and simple on/off buttons. It uses a 1 pound disposable propane cylinder (not included). The running time is at least 5.6 hours but should not be operated in any moving vehicle. This heater requires a vent area of 4 square inches. This also shuts down safely with its low-oxygen sensor and accidentally tip-over switch automatically. Recommended for emergency heat, tents, campers, workshops, job sites, porches, patios, decks, garages, storage buildings, picnics, tailgate parties, construction trailers, sporting events, barns, sheds, hunting blinds, shelters and ice fishing shanties.
Pros
Effective heating power
Safety switches installed
Budget-friendly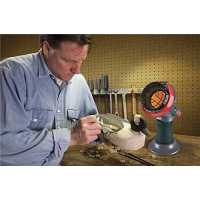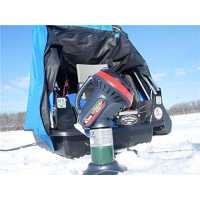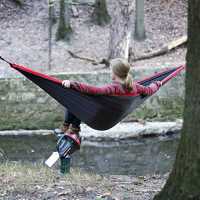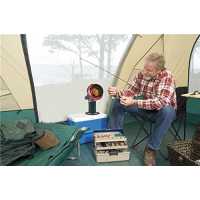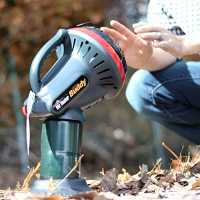 Our Take
There are a lot of good things that are need to be said about this tent heater. Right off the bat, let me say that this propane powered tent heater works very efficiently. When used with the suggested one-pound disposable propane cylinder, this heater can run up to a maximum btu of 5.6 hours. That for me is long enough to sustain the heat while I sleep inside my tent through the night. However, you have to make sure that there is a vent area of at least 4 square inches to ensure adequate ventilation during the time that it is operating. A small gap from the walls of the tent can basically to the job.

One of the most impressive features of this tent heater is its security and safety mechanisms. First it has a low-oxygen sensor that switches it off automatically once it senses that there is low oxygen inside the tent to make sure that you don't suffocate or suffer from carbon monoxide poisoning. On top of that, it also has an emergency tip-over switch to make sure that your tent won't catch fire even if the heater tips over.

It is also very handy and portable as well, making it a perfect tent heater for your next camping trip. All in all, I am very satisfied with this product and I encourage you to check it out to see it yourself!

Brightown Portable Electric Space Heater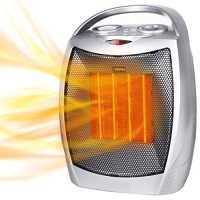 This is a ceramic dual heater fan that provides two heat levels (1500W/750W) and one cool air (fan), you can use it both for winter and summer. Thermostat control of the heater will turn the heater off when it reaches a preset temperature and turn the heater back on when the temperature dips below the thermostat setting. It will cycle on and off. Adjust the setting of the thermostat from 0℉-158℉ to keep the room comfortable. These ETL listed heaters are made of flame retardant material avoiding any fire hazard. b. Automatic safety shutoff system will shut the heater off when the heater overheats. c. The tip-over protection system will also shut the heater off when the heater was knocked over by accident and it will come back on automatically if it is up-righted. Zero Safety Worry. It is compact and powerful because it is a 6.2" x 7" x 9.2", 3.2 pounds Portable mini heater with build in carry handle helps to reinforce the potential of rather low electrical bills by using at the place where you need when you don't want to warm the full house with other centralized heaters. The noise this ceramic heater makes is lower than 45 dB, quiet enough for most people to use in a bedroom while sleeping. With PTC ceramic heating tech and high speed fan, this heater put out tons of heat to heat up 200 square feet in seconds. The room heater with six feet lead cord and 2 prong connection has a long lasting life. 1 year quality guarantee is provided from date of purchase.
Pros
Made with ETL listed ceramic material
Inexpensive
Very safe to use
Temperatures can be adjusted
Cons
Makes a loud sound sometimes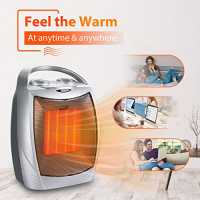 Our Take
We cannot deny that the temperature when we go camping can fluctuate and are not constant. That is why it is important that we have a tent heater that can respond to changes of temperature when it needs to in order to ensure a comfortable and relaxing experience. This is where the Brighton Portable Electric Space Heater comes into the picture. This awesome tent heater can be adjusted into three different temperatures that would suit your needs best. First, there are two heat levels - 1500W and 750W - which can respond to whenever the temperature becomes too hot or humid or when the cold comes back to seep into your sleep again. Aside from that, it can also be set on cool air mode which can serve as a fan that would improve ventilation in your tent during hot and humid evenings.

Not only that, this impressive ceramic dual heater has very good safety mechanisms as well. It's very impressive that it is made with ETL listed and flame retardant material, thus avoiding any fire hazard when you sleep. The second layer of security features that come with this product is its automatic safety shut-off system to prevent overheating. And lastly its tip-off sensor is very sensitive that it automatically turns off the power of the heater when it knocked over and automatically turn it back on when the heater is upright. Because of these safety features, I can sleep in my tent with as much peace as I can knowing that I will not burn down with it just because my tent heater tipped off or something.

With its very affordable price, this gem is a steal of a deal. You definitely should try it as I assure you that you will not regret that decision.

Mr. Heater F232000 MH9BX Buddy 4,000-9,000-BTU Indoor-Safe Portable Propane Radiant Heater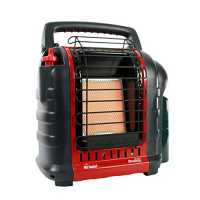 This is the North America's Most Popular Portable Propane Heater. This patented radiant 4,000-9,000 BTU Liquid Propane heater connects directly to a 1 lb. cylinder and is the perfect solution for heating enclosed spaces like large tents up to 200 sq. ft. The expertly engineered size to BTU ratio is augmented with a fold down handle to give this heater maximum output while retaining a minimalistic footprint. A swivel regulator gives you the ability to adapt usage from a disposable cylinder to a remote gas supply with the purchase of a hose and filter. To light the unit, simply rotate the knob to pilot and push. Then the integrated Piezo sparking mechanism will take care of the rest. With the Oxygen Depletion Sensor (ODS) and accidental tip-over safety shut-off you can be sure that you will enjoy years of comfortable indoor safe heat. Please note when operating the heater at altitudes over 7,000 FT above sea level the heater may shut off. Use- Emergency Heat, Tents, Campers, Workshops, Job Sites, Porches, Patios, Decks, Garages, Storage Buildings, Picnics, Tailgate Parties, Construction Trailers, Sporting Events, Barns, Sheds, Hunting Blinds, Shelters, Ice Fishing Shanties.
Pros
Can effectively heat up large tents
Has Oxygen Depletion Sensor
Has a swivel regulator which allows you to change from disposable cylinders to remote gas supplies for more energy
Cons
One cylinder does not run very long
Slightly more expensive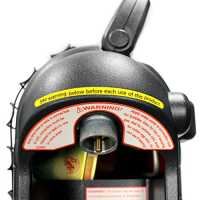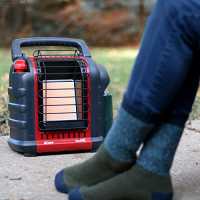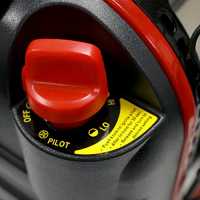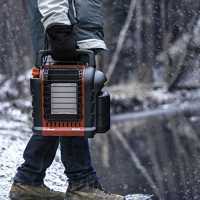 Our Take
I will be honest in saying that this is not the most portable tent heater there is in the market. However, what it lacks in portability, it compensates with so much features which makes it deserving to be in this list. Don't get me wrong, with "not most portable," I did not mean to say that it is not portable at all - it is still. What I meant is that it is bulkier and heavier than other heaters in this list.

But don't let that fool you because with its sizes comes a power that is undeniably impressive. Because it lies in the bigger scale of things, this tent heater can actually be used in your own rooms and not just in tents. It can effectively heat up large tents and rooms up to 200 square feet. That is as big as the average rooms in America. It also has a swivel regulator that gives you the ability to adapt usage from a disposable cylinder to a remote gas supply with the purchase of a hose and filter.

Now, it is really important to shout out to this product's safety precautions because they are too are high quality. What drives me toward this product is its Oxygen Depletion Sensor (ODS) and accidental tip-over safety shut-off that protects you and your tent from untoward incidents like fire or carbon monoxide poisoning.

In conclusion, this tent heater is a one-of-a-kind product that you need to check if you are looking for a sleeping buddy on your next camping trip. It is well-made and is very secure. With that, I have no buyer's remorse!

AmazonBasics 500-Watt Ceramic Small Space Personal Mini Heater
The amazonBasics Ceramic Personal Heater Creates a warm, cozy environment in any space. This is a more efficient take on traditional forced air space heaters. It has efficient ceramic coils that heat up in seconds. Also available in four colors to custom-match your personal decors. This also includes a tip-over protection for extra safety. Perfect for drafty or unheated rooms, or simply when you need an extra bit of warmth on a chilly night, the personal heater is a comforting addition to an office, bedroom, den or any other small area. Switch it on and experience an even, consistent flow of warm air.
Pros
Small, compact, and portable
Works fine
Inexpensive
Cons
Not high power
The ceramic heating is so close to its enclosure making the entire thing very hot at times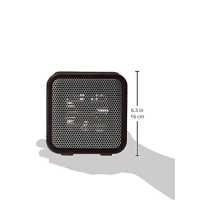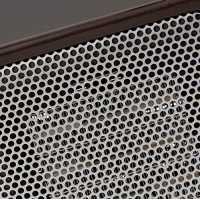 Our Take
This personal tent heater has a very simple design. It is not as elaborate as other tent heaters in this list but it definitely works equally as efficient as others. One thing that I can vouch for this product for is its compact and portable design. This thing is very small; even smaller than a Venti coffee cup. But amidst its size, it works perfectly well, and is enough to increase your tent's temperature to a comfortable level.

However, it has to be understood that this is not a high-powered heater. You definitely cannot use this during the winter in the Appalachian mountains but you definitely can make use of it during short camping trips during spring or summer to help adjust the temperature a little bit for a more comfortable vacation inside your humble tent. There is also a safety button on the bottom so the heater stops working when its tipped over, picked up, or not on a level surface. I like that feature a lot, as it makes sure that I will not catch myself on fire when I accidentally tip it over while I sleep.

All in all, this heater is perfect for those who need a casual heater at a decent price. I highly recommend this during not-so-cold nights or when you just need to heat up a part of your body like your hands or feet during a chilly evening. Great buy!

Space Heater, Portable Electric Ceramic Heaters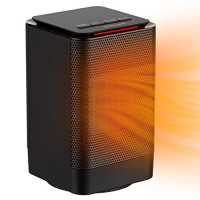 This product is a great helper to warm your corner. You can fit the heater in any place with its compact size of 4.9*4.9*8.1 inches. On the desktop in your office, besides your bed, under the table, anywhere you can imagine. This space heater is super easy to use: switch on the main power button on the back, press the ON/OFF on the top, then choose your desired temp setting, you can enjoy the warm and toasty air quietly, the noise is under 45 dB, hardly notice. With overheat protection and tip-over protection, the ceramic heater will automatic power-off when overheating or tipped over. This is equipped with PTC ceramics with a long service life, high thermal efficiency and quick heating in one second. It also has a sleek design and considerate 3 temperature settings: Natural Wind,Low Heat, and High Heat to fulfill your all year round need only in one switch.
Pros
Very silent
Compact
With effective safety mechanisms
Has temperature adjustment
Cons
Can be expensive for some
Availability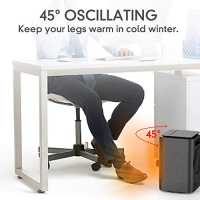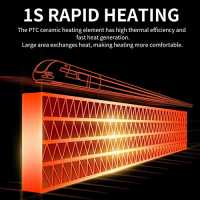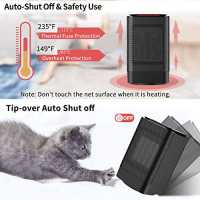 Our Take
This is a perfect, silent, cute and safe heater and fan. It is easily one of the most stylish tent heaters that I was able to find in the market and it can camouflage as an expensive piece of furniture in your home that fits every design style. It is so cute thanks to its beautiful colored LED showing heating level (two level) or fan only mode with blue color. F

It is also a very safe one because of it auto shut off; using a heater can potentially make fire if it tips over but this product automatically turns it off when it tips over. That is why you can sleep soundly at night knowing that it won't catch fire even if it topples over. It is super silent and it can be used in office with no annoying noise.

I am also impressed that I immediately feel heat as soon as I turns it on which i love it. I really don't have time to wait for it (LOL) when I'm freezing, so this product is really designed for people like me. It can rotate as well which increases the range of operation.

All in all, I am very happy with it. Highly recommended.

TRUSTECH Portable Heater
This portable heater carries three power modes, which meet all your needs for the year round. It has three great functions: High heat (1500W) setting warms up the room within 3 seconds. 2. Low heat (750W) setting is for normal use 3. Combined with an adjustable thermostat, this personal space heater can let your room remain at a stable temperature according to the thermostat setting. TRUSTECH ceramic space heaters deliver instant hot air flow, which can warm up your room quickly. If you stand right in front of it, you'll feel the warmth right away. And TRUSTECH ceramic space heaters do not waste a lot of energy and it can also reduce your electricity bills. The heating process would be faster and TRUSTECH ceramic heater is long lasting.The free standing feature of TRUSTECH portable heater makes it steadier. Put TRUSTECH portable space heater on the floor with an easy mind, you can enjoy consistent warmth. You can also place it under your office desk and enjoy the customized warmth without the interrupting from cold.
Pros
Convenient to use
Has a good thermostat system
Portable
Very inexpensive
Very quiet
Cons
It has knobs instead of buttons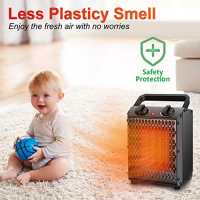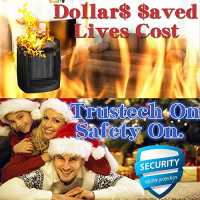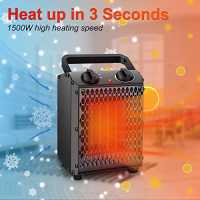 Our Take
There is so much to say about this tent heater and the first thing is that it is worth the money you spend for it. It is important to mention that this heater has three basic functions with the first being that it has a temperature control that can be pumped up to the maximum of 1500W. That is enough heat to power a huge tent or a small bedroom, ensuring that you have appropriate heating while you sleep, wherever you sleep. It also has a low heat setting of 750W which can be used in more humid but still chilly nights. The adjustable thermostat also helps you blend out the best temperature for you need and helps you maintain a stable heating circulation within the room.

I am so very pleased with this TrustTech heater! The fan is actually quiet, as it claimed to be, and creates heat immediately and with a good push to distribute the heat throughout the room quickly. Very nice! And it is so easy and simple to operate; with a thermostat that keeps the temperature right where you want it without having to bother with turning it up or down or off and on - so convenient.

All in all, I highly recommend this heater and you should check it out yourself!

PROWARM Portable Space Heater Ceramic Small Electric Heater
PROWARM heater provides quick, quiet and efficient heating with 3 modes in Fan only, Low and High Heat Mode. Quickly warm up the air around you within 3 seconds! PTC heaters only generate the heat necessary to fulfill its pre-programmed setting. Our PROWARM ceramic heater Made from a fire-retardant metal shell, safe and durable. The smart self-regulating thermostat will stop heating automatically when the temperature is higher than 149°F - an automatic overheat protection for added safety. The ETL-listed space heater includes a durable ceramic heating element and a power indicator light, which lets you know at a glance that it's plugged. The Ceramic Space Heater has 2 modes, heating and cool fan.This keeps your room temperature at the most optimal level and reduces your power consumption. It is also noiseless that it is working in low-decibel and that makes it perfect for any room.
Pros
Has stable anti-fall design
Inexpensive
High power
Our Take
The PROWARM Portable Space Heater Ceramic Small Electric Heater has a very interesting design. Unlike other heaters in this list, it has a circular body with modular steel legs. I think this decision is more than just for aesthetics purposes. It has practical connotations as well. I believe that the way it was design was motivated by the fact that many tent heaters gets toppled over easily. Some of them have a security feature that shuts them down when they fall, but I believe that safety should come from the design in the first place. The way they designed the legs of this badass makes me believe that it is tip-off resistant. That means that its legs prevent it from being tipped off in the first place. This is particularly important because you don't want to wake up in the middle of an extremely cold night just because your heater tipped off and shut down as a result.

This heater also has a a fan mode as well as two heat settings and an adjustable thermostat. Best of all, it blows hard. Most of these types of heaters barely put out any air, but this one really cranks it out. And that for me is enough of a win to highly recommend this heater for y'all!


SENDOW Portable Electric Space Heater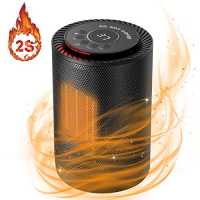 The Sendow portable electric space heater has strong durability and quickly heats-up in seconds. No naked flame, no oxygen consumption and has high safety performance. This is ideal for household energy-saving and environmental protection. You can choose Hot, Warm or Fan only mode freely, warm in winter and cool in summer. Its Fan Only option generates natural air circulation without added heat. And designed with a thermostat for personalized comfort, just press the "+/ -" button to set it to your desired temperature 16°C to 37°C. Single tap "TURN", the ceramic heater will rotate at 70° angle for better heat dispersal in multiple directions and avoid dry skin caused by one direction heating, also brings warmth to the people around you, thoroughly and efficiently warms up your surroundings. ETL certified, auto-shut-off safety system includes tip-over, over-current and overheat protection. Overheat system will shut the heater off when the parts of the heater overheat, this space heater will shut off once it is tipped over.
Pros
Has oscillation options
Thermostat is very accurate
Inexpensive
Stylish and sleek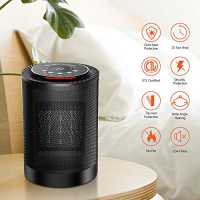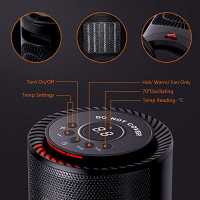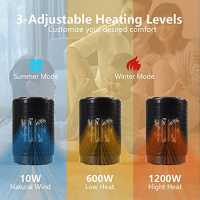 Our Take
If portability and sleekness is the game, then this tent heater from Sendow will easily win over others in this list. However, don't get fooled by its cool aesthetic (it actually looks like a mini Bluetooth speaker LOL) because it also comes with helpful and impressive features that makes it worthy to be part of the list of best heaters in the market. This is a ceramic heater and believe me this requires no time to start the heating process. It starts heating instantly and have options to Oscillate, which cool to be honest.

Most heaters will shut off once the temperature reaches the thermostat setting. That's what I prefer. However, with this heater, once the temperature reaches the thermostat setting, it turns off the "heat", but the blower keeps blowing! Needless to say, the air coming out of it is cold and will keep blowing until the temperature drops enough to cause the heat to come back on. This means that the air is constantly blowing on me, first warm, and then cold. If I want to stop the cold air, I have to push the power button to turn the unit off. This functionality is something I never thought I would like but it turns out that it trains my body to a "routine" when sleeping, thus I get enough sleep every night.

In conclusion, this heater is beyond just aesthetics. And for its tag price, this is definitely a great value for your money!

Andily Portable Ceramic Space Heater
Winter means cold. We can't refuse the winter's coming, but we can choose a ANDILY ceramic heater. It can bring you a spring-like warmth and take good care of those you love. This is a small heater that measures 6.2" x 4.74 x 8.4 and is fully assembled with manual controls. This also has a handle for easy transport whenever you want. An adjustable thermostat for comfortable warmth. The three modes of the heater are High Heat, Low Heat, and Fan only. The power indicator also lets you know that it is plugged in. Ceramic space heaters are fast to heat, produce abundant heat without open coils, and are long lasting
The heater is operated through electricity and equipped with a thermostat that will now maintain the temperature by cycling the heater on or off. Be sure the plug is plugged into a 120V AC,60Hz outlet before you operate this appliance.
Pros
Has an ergonomic temperature control system
Has tip-off shut off system
Inexpensive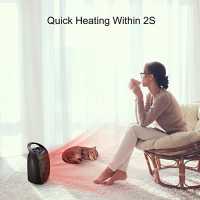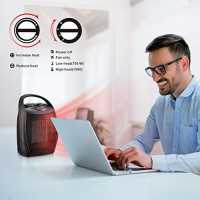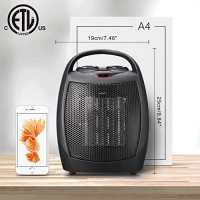 Our Take
Are you tired of waking up in the middle of a winter night or during a camping trip feeling extremely cold? Well, if so, you need a good portable heater so you can have a good night sleep without worrying that you will wake up in freezing temperature. And for that, you should consider the Andily Portable Ceramic Space Heater. As it advertises, this heater can bring you a spring-like warmth and take good care of those you love. And for that, they did not disappoint.

I love that they have a little dial that you turn to set the temp to (not an actual numbered reading but a "+ to -") and if it hits that temp in the space it shuts off. So it'll go on and off on its own in the night if your room is warm enough. I also like how it has a little push in clicker type thing on the bottom so if it gets knocked over or on an uneven surface the heater will shut off and not turn on. This safety mechanism is very important especially if you have little ones and children. All in all, loved this product and I highly recommend it!

Joyday Space Heater
The Joyday Space Heater is designed as a fan with two cute ears and uses circulate heat specifically around your personal space using advanced technology – suitable for desktop or under desk use. PTC ceramic heating element helps the Fan Heaters meeting an automatic thermostat control mode, power energy efficient, uses only 500 Watts. Advanced safety features including overheat protection and quiet operation provide worry-free use. The Space Heater is designed as a mini fan with safety flame retardant materials, heating fast (only 3 seconds). PTC ceramic heating element helps the Fan Heaters meeting an automatic thermostat control mode with a long life time and power energy efficient, energy smart, uses only 500 Watts. The Space Heater works quietly without any light for hurting eyes. Quiet operation helps you to concentrate on your work. Just put the mini Heater on your desk at home or in the office in winter and enjoy your warm life.
Pros
Lightweight
Cute design
Quick heating
Inexpensive
Cons
Only one heating setting
Has a plastic exterior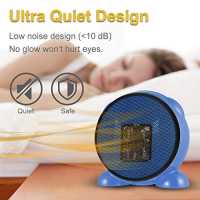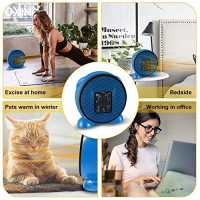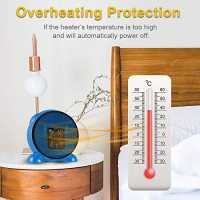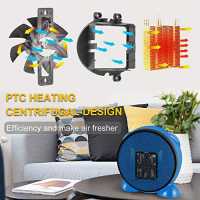 Our Take
This is a cute little heater. It has a fun design and very vibrant color. However, it still works as it intends to. t does exactly what it's described to do: providing quick warmth with minimal noise. I'm not too impressed with its plastic appearance from the flame retardant material, but it's a matter of preference rather than design. . It's mild warmth makes me think this heater could be useful helping develop the dough in the kitchen. I'm also impressed that the plastic shell stays cool (very cool) while providing heat to the feet and legs effectively.

Furthermore, it's lightweight, and the safety shut off is pretty sensitive if the heater tips at all, which is important to me. Good value for the money.