6 Best 3 Person Tent
Whether you're a casual camper or a die-hard hiker, a tent that helps you to get a comfortable night's sleep is an essential piece of your outdoor kit. A good sleep will leave you rested and recharged, ready for whatever the next day may hold.
If you're a small family venturing into the great outdoors or a group of friends heading off on a hiking adventure, you'll need for the best 3 person camping tent to keep you cool, and protected from wet weather.
There are a lot of choices on the market, and it can be hard to know where to start your search. We can help! We've taken a look at some of the best three person tent models, and chosen our pick of the bunch. But first, let's take a look at some of the things to consider when you're making your choice.
Weight
A three man tent is usually a compact size, but the weight can still vary a lot depending on the materials and construction. How important the weight of your tent is to your decision really comes down to how you plan to use it.
If you plan to use the tent at campsites where you'll drive in and out, then finding the lightest 3 person tent is probably not your priority. As you only need to unload it from your car and transport it a minimal distance, you can broaden your choice and prioritise other factors that are more important to you in a 3 person camping tent.
The weight of a tent is a big consideration if you plan to hike with it, especially if you cover reasonable distances. If you have a schedule and a pace to maintain, you don't want a heavy tent weighing you down. If you're the sort of camper who is likely to use your tent frequently for hiking, then it is worth looking at ultralight 3 person tents.
In general, lightweight 3 person tents are made with a polyester material, as this is lighter than cotton canvas, and aluminium or fibreglass poles.
Design
Tents come in a variety of styles, and which one you opt for is a question of personal preference, as well as how you'll use the tent. A 3 man tent will typically just have one communal space, with no internal divider.
If you're hiking, then the job of a 3 person backpacking tent is to provide you with a sturdy and dry place to shelter before you pack up camp and move on the next day. In that case, a dome style tent could be a good match for your needs. The dome is created by two flexible poles that cross in an X formation, which are staked at the corners. Dome tents are easy to put up, ideal if you want to set up camp quickly and with minimal hassle. Often, adding the rainfly to a dome tent creates a vestibule. A 3 person tent with vestibule will give you valuable extra space for your gear, and keep your kit dry.
If you're staying for several days or longer in one location, you probably want a more sociable space where you can relax in comfort. A pyramid or teepee tent may be ideal, as these have a higher ceiling making the tent feel more spacious, and you can stand up to move around freely.
Weather Resistant
Whenever and wherever you plan to camp, you'll want a tent that can stand up to the weather conditions.A good 3 man tent/3 man tents will keep you comfortable whatever the weather.
Ventilation is key to a pleasant night's sleep. If you're camping in warm weather, the heat of the sun beating down on your tent will warm the air trapped inside. By the time you want to go into the tent and sleep, the air inside is stuffy and it's hard to get some proper rest. The best 3 man tent needs to give warm air a way to escape. Double layer tents may have a mesh inner layer allowing air to freely circulate, others have air vents. Look for windows and doors with a mesh layer, so you can keep them open for airflow whilst keeping bugs outside.
We all expel warm, moist air when we breathe, and in a tent, that can turn to condensation when it hits the cooler walls of the tent. Having vents or open windows or doors also helps that warm air generated during the night to escape.
Although you want to let air flow freely in and out of the tent, the one thing you definitely want to keep on the outside is rain. Some tents do a better job of this than others, so look out in our 3 person tent review for tents made in water resistant materials, or that have a water resistant coating. A waterproof tent should also have a good water resistant floor – tub style floors give extra protection – as well as sealed seams.
4 Season Tents
Four season tents will allow you to camp year-round, if you're as keen on camping in the snow as you are in the sun. These tents quite often have less ventilation, as anywhere that warm air can escape, can also let cold air in. They may be more snug than other options, as the smaller the size the warmer the air will be. They may have extra features such as a snow skirt to deal with such a variety of conditions.
Durability
Quality materials and construction, and being able to stand up to wind and rain, are a few of the factors that make a tent durable. Just how durable you need your tent to be again comes down to how you plan to use it.
A keen hiker, who camps in all weathers, will be looking for the best 3 person backpacking tent that will give peak performance year after year. A festival-goer looking for a tent that will survive for only a few days has different criteria.
At the cheaper end of the market will tend to be tents that are good for a few uses, but not robust enough to camp in time and time again. At the top end of the market, you should expect to be seeing rip-stop materials with excellent weatherproofing, strong reinforced zips and sealed seams. Of course, the price is not always a reliable indicator of quality, so check the specifications before you invest.

TETON Sports – Mountain Ultra Tent
This compact and lightweight tent is perfectly geared to the adventurous backpacker.
The dome tent has two layers, with the inner micro mesh layer ideal for using alone in hot weather. The full mesh dome gives the opportunity to stargaze before you settle down to sleep. When you need it, the waterproof rainfly has built-in vents to keep you cool right through the night. It's a perfect fit, with buckles at each corner to give you maximum coverage. Water can't get in from the ground, either, thanks to the deep tub style floor. When the rainfly is on, you'll have a useful vestibule for storage. A gear loft inside keeps your essentials in easy reach.
Putting this tent up is a breeze, and it packs up easily into a compact package, weighing just 8.1 pounds, or 3.7kg. We found it withstood windy weather and a rainstorm without any issues. Overall, we were really impressed with the performance of this tent and rate it highly as an ideal choice to take backpacking.
Pros
Double layer tent with an inner mesh layer that can be used alone in warm weather.
Waterproof rainfly has built-in vents for great air flow.
Rainfly gives maximum coverage and the tub floor keeps any surface water out.
Easy to set up and take down.
Lightweight, and packs down to a compact size.
Cons
Tent pegs are not the most sturdy.
Our Take
In our search for the best three person tent, we've found some great contenders. Protection from the elements, durability and easy assembly were high on our list, and we've found a winner in the Teton Sports Mountain Ultra Tent. Here's why it was a winner for us:


The inner mesh layer is ideal for using alone in the summer, and gives you the chance to stargaze!


The rainfly buckles down at each corner to give maximum coverage.


A deep, tub-style floor keeps surface water out.


When the rainfly is on, it creates a useful vestibule for storage.


Packs down to a lightweight and compact package, ideal for hiking.



Kelty – Trail Ridge Tent
This three person dome tent has a host of backpacker-friendly features.
The rectangular layout of this tent makes it feel roomier, with floor dimensions of 7 foot 6inches by 6 foot 1 inch. The walls are also quite steep, which gives you more usable space right to the edges of the space.
It's a double layer tent, with an inner mesh layer. In warm weather you could keep the rainfly rolled back out of the way, which would also give you a perfect opportunity to stargaze as well as giving great ventilation. We really like the two doors on this tent, one either side of the space, meaning that it's easier to get in and out without disturbing your campmates.
Another benefit of the two doors is that once you've added the waterproof rainfly, two vestibules are created to store your gear and keep it dry. The rainfly quickly clips into place when you need it. There are a couple of side pockets inside the tent and a gear loft to store small essentials such as phones or night lights.
It's really simple to put this tent up, with light, aluminium poles. We'd recommend you do use a footprint.
Pros
Steep walls for a roomier feel.
Inner mesh layer means you can stargaze in fine weather.
Quick and simple set up.
Two doors for easy access.
Two vestibules provide sheltered storage for your gear.
Cons
We recommend you use a footprint with this tent.
Our Take

Marmot – Limelight 3 Person Tent
This dome-style tent manages to be both compact and spacious, thanks to its clever design.
The lower sections of the lightweight aluminium poles used to construct this tent have been pre-bent, to create near vertical walls. This makes maximum use of the inside floor area, giving a good amount of headroom right to the edges. The inner layer of the tent is made of No-See-Um mesh, allowing for airflow whilst maintaining privacy and keeping bugs at bay. D-style doors on either side of the space make access in and out easy, and mean you're less likely to disturb your companions if you need a bathroom trip in the middle of the night. When the rainfly is on, there's a useful vestibule space outside each door for storing your pack, boots and any wet gear. There are a few inside pockets for your phone or a nightlight.
The inner layer has a raised floor tray to keep surface water out, and a footprint is also included with this tent. The rainfly is highly water-repellent and UV-resistant, and has band-welded seams. It took no time to put this tent up with colour-coded poles as a guide. Weighing around 7 pounds, it's not the lightest tent for a long hike, but fine for shorter trips.
Pros
Near vertical walls give extra head height making maximum use of the floor area.
Mesh layer provides good ventilation and keeps bugs out.
Doors on two sides of the tent make access easy.
The rainfly creates vestibules for useful storage space.
Easy to put up, with colour-coded poles.
Cons
Not the lightest tent to take on long hikes, but fine for shorter distances.
Our Take

Night Cat Camping Tent 3-4 People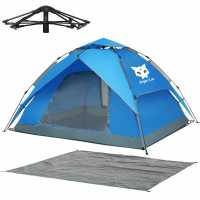 The Night Cat is a rather large tent (can fit 2 adults and 2 children) and comes equipped with a hydraulic pressure mechanism that makes installation a breeze.
I like the rainfly because it covers the top of the tent and the sides, but doesn't get to the ground, which allows the air to circulate. As a result, you won't get too hot during the night, and there's a neat upside: the rainfly can be used separately, as a pavilion.
The other aspect I absolutely love is the installation mechanism. The poles are already installed, and you only need to raise the system up and fix it in place. The entire activity takes about 1 or 2 minutes, whether you're installing it or taking it down!
However, you should keep in mind that this is not a compact, lightweight tent. So, I wouldn't recommend it for a backpacking trip.
In terms of design, the Night Cat is built with two doors, which create easy access and good ventilation. It also has windows secured with mesh fabric,to keep the creepy crawlies out when you want some fresh air during the night.
Overall, the tent is durable (made with 210D Oxford tent fabric) and features an abrasion-proof floor that helps keep the water out. Still, I wouldn't use it in rain that promises to get heavier, since it wasn't designed for windy weather and heavy rain.
Pros
Roomy enough for a queen size mattress.
Mesh fabric to keep bugs away.
Fiberglass poles for durability and reduced weight.
Fast setup and take down.
Rainfly is waterproof (190T PET fabrics).
Perfect for family camping trips.
Indoor pockets for extra storage.
Cons
A bit on the heavy side.
Not compact when packed.
The seams at the corners may wear faster.
Our Take

Winterial – 3 Person Compact Tent
This lightweight three person tent is ideal for backpackers, weighing just 4.4 pounds.
It's a dome style three season tent, which has been designed to withstand wind and rain. There are two layers, with a nylon inner layer that can be used on its own in warm weather. This layer has two mesh zippered doors so you can get in and out of the tent without climbing over someone who's still sleeping. The doors are opposite each other, letting a cooling breeze travel through the tent but stopping any critters from coming inside. There's also a waterproof floor.
The rainfly reaches right down to the ground to keep the doors completely covered, so you don't need to worry about water coming in through the mesh if it rains. With the rainfly on, there's a vestibule where you can put your pack or muddy shoes. The rainfly is also vented, so even if it's raining you can get some air into the tent.
This tent is really simple to put up. There are just two flexible, aluminium tipped poles,and four stakes, so you'll have the tent pitched in no time. When you're on the move again, pack it down into the compact carry bag.
Pros
Three season tent.
Two zippered doors for easy entry and exit.
Double layer tent; you can use the inner layer only if the weather is fine and dry.
Weighs just 4.4 pounds, ideal to take hiking.
Super-easy to set up, and packs down into a compact carry bag.
Cons
Quite a tight squeeze for three adults.
Our Take

ALPS Mountaineering – Meramac 3 Person Tent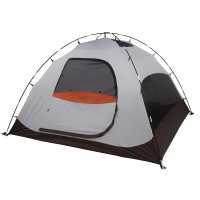 This easy-assemble dome tent is a good all-rounder for car camping.
It's a free-standing, double layer tent, which uses just two shock corded fibreglass poles. The inner layer simply clips on to the pole to form the dome shape. It has large mesh panels in the sides and in the ceiling to maximise ventilation and help keep you comfortable when temperatures soar. There are also two doors so you can get in and out of the tent from two sides, handy to avoid waking everyone up if you need to get up during the night.
The polyester fly has a 1500mm coating to keep the rain out, and there's also a poly taffeta floor, though we'd recommend you also use a floor saver to avoid puncturing the floor. The floor area is 49 foot square, and there's a decent ceiling height of over 4 foot.
When the rainfly is added, it creates a small awning over each door, but not a vestibule. As you don't have that extra storage space, you might find it more comfortable to use this tent for two people, so you've got room for your kit inside. Though, if you're car camping, it's really not an issue as you have your vehicle for storage!
Pros
Quick and easy to assemble, with an inner layer that simply clips to the poles.
Mesh panels for good ventilation.
Two doors, opposite each other, to give easy access.
Good ceiling height.
Cons
No vestibules for storage.
Our Take