5 Best Pop Up Canopy
If you need to be outside in the sun for a long period of time, having some shade can be a lifesaver.
A pop up canopy can be just the thing you need for watching sporting events, going to the beach with a large group, tailgating, camping or even working at an outdoor trade show or market.
Let's look at what makes the best pop up canopy for your needs.
What Is A Pop Up Canopy?
There are several factors that make a canopy considered "pop up." While the name implies that it sets up on its own, it doesn't. But, it should be a basic, one-piece construction that sets up easily.
That includes:
A frame that accordions together to pack it up;
A canopy that is either attached or can be left attached after the first set up;
Telescoping poles to adjust the height or set it to a maximum height;
No need for tools or any assembly;
Folding up easily and fitting into a carrying bag, ideally with wheels to allow for easy transportation, since a pop up canopy can be large and heavy.
Some canopies have mesh walls, and some have the option to purchase fabric walls. But those are optional, and not typical, components of a pop up canopy.
Why Do You Need A Pop Up Canopy?
The reason you're looking at a canopy and the function you're intending to use it for will be factors in your selection.
For instance, are you planning to take it on family outings to the beach or for picnics? If you only need it for sunshine and aren't worried about rain, then you don't need to look for waterproof fabric.
Will you be using it for camping, and want protection from bugs? Then you may want the canopy that has mesh walls.
If you're using it in a business or commercial setting, like for indoor trade shows, you may not be as concerned about UV protection or water repellency. But if your business takes you to outdoor markets, the fabric becomes a more important factor.
You may even be particular about the design of the tent, for instance whether it has angled legs or straight legs. That may be important if you are using it in a trade show setting.
Slanted legs are less stable, and provide less shade, but they can be less expensive than the straight leg design.
Keeping those factors in mind, let's take a look at five different choices if you want a pop up canopy. While these all offer the shade and relatively easy setup, they are some variations in some of the choices.

E-Z UP Sierra 10×10 Canopy
This pop-up canopy has a size of 10×10 feet and the legs are angled, so at the top it measures 8×8 feet. It also has a cathedral style ceiling with a peak height of 8 feet, 7 inches.
It has a folding steel frame so it takes only minutes to set up. Take it out of the carrying bag – which has wheels – and unfold it to full size. There is a toggle leg adjustment that has two height options, and a pull pin system that locks and releases the frame.
It does include a stake set and it's recommended that it be staked down. The fabric is UV resistant and water resistant but not made for prolonged or heavy rains.
Like most canopies, it's also not meant for extremely windy conditions. This is a sun shelter for the beach, sidelines at a sporting event, on a picnic or in your yard or deck.
Pros
Unfolds to set up, so it can be handled by one person.
Nice maximum height so you can invite your tallest friends!
Cons
The construction is not meant for heavy winds or rain, so you need to be careful leaving it set up.
There's no vent in the roof.
Our Take

CROWN Shades 10×10 Pop Up Canopy
This canopy is a straight leg design, so it measures 10×10 feet at the top and bottom.
The system is held together with a central hub. You simply open the frame, push the central hub system up, and the top lifts into place. The cross-truss ceiling design is intended to provide strength and stability.
There are 3 different height options on the adjustable legs. You simply push buttons on the 4 legs to adjust the height. The peak height inside is 9 feet.
It also features UV sun protection, rated at 50+UPF, and the canopy is also water repellent. It's an oxford fabric over a steel frame.
It comes with a carrying bag on with wheels, 8 stakes, and 4 guy ropes for tying it down.
Pros
Three height options give you even more flexibility.
It has a vent on top to allow for some air circulation.
Cons
It isn't really intended for heavy rains or windy conditions, so be careful leaving it up.
Our Take

Coleman Screened Canopy Tent
If you're looking for a canopy with more protection, a screened shelter may be what you want.
This Coleman shelter sets up in 3 minutes with a 3-step process. You basically open it, and adjust the height with the telescoping poles. One person could handle it by raising the poles one at a time. Then there are ground stakes and pre-attached guy lines to secure it to the ground.
It measures 12×10 feet and has a center height of 8 feet-4 inches.
It features 2 large doors in the screened walls, one in the front and one in the back. Its fabric offers UV protection, rated at 50+UPF. It's made of a polyguard double-thick fabric and also has a wheeled carry bag.
Pros
It is nice to have the added features of the mesh walls, to keep bugs out.
Two doors make it easy to get in and out, and you can move a picnic table in if you want.
Cons
With the addition of screens, you do have to be careful in the wind. It can gust through and rip the screens.
Our Take

Core 10×10 Instant Shelter Pop-up Canopy Tent
This option boasts a 2-minute setup, with 3 leg height positions. You simply press the buttons on the leg poles to raise them up and down. The leg position is straight.
It measures 10×10 feet and has a center height of 9.3 feet. The material is rated at 50+ UV protection. The seams are taped for weather protection to repel rain, and there are dual canopy vents that provide circulation.
The canopy is polyester and the frame is steel. It includes ground stakes, tie-downs and a wheeled bag.
Pros
The vents help with air movement in the hot sun.
Cons
The vents aren't great in the rain, but you likely won't want to use it in heavy rain anyway.
Our Take

ABCCANOPY Instant Shelter Pop-up Canopy Tent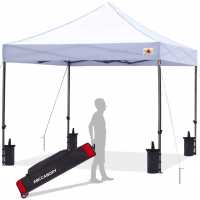 This canopy is also 10×10 feet and has a center height of 9.3 feet, with UPF 50+ fabric.
But it boasts 100%waterproof fabric, claiming that it can be used for sunny or rainy days. It also has reinforced corners for extra durability.
It has a straight-leg design and the adjustable legs have 3 height settings. It includes 4 stakes and ropes for tying down, and the rolling carry bag.
Pros
The waterproof fabric means you can use it camping or for commercial uses because it can be left out in the rain.
Cons
It isn't really easy for one person to set up.
Our Take
All 5 of these options are considered a "pop-up" canopy, but there are some variations among the choices. For instance, if you really want mesh walls to provide bug protection, then the Coleman Screened Canopy Tent is your best option.
If you simply want sun protection, that could change your decision.
Our top choice is the ABCCANOPY Instant Shelter Pop-up Canopy Tent.
Here's why we liked it better than the others:


It's the same size as the other choices, with a straight-leg design that provides the most space underneath possible.


The fabric is waterproof, giving you more flexibility in its use. You can take it camping, or use it at trade shows or markets without worrying about inclement weather.


Similar to the others, it's easy to set up and has a wheeled carry bag. It also has stakes and ropes for tying it down.


Therefore, this choice offers the benefits of a pop-up canopy tent with the added benefit of a waterproof fabric.
If you're looking for a pop up canopy, the ABCCANOPY Instant Shelter Pop-up Canopy Tent is a great choice.