8 Best Hiking Pants
Hiking pants are very important articles of clothing because they protect your legs from debris, sharp objects, and even from the cold. That is why when you go to a hiking trip, you need to wear pants that are specially designed for the said purpose. There are many hiking pants in the market but only a few of them are good enough.
Typically, hiking pants have stretchable materials, think fabrics, and come with multi-use pockets where you can put some of your gadgets like phones and GPS devices. That being said, we have curated a list of the best hiking pants you can buy for yourself to wear to your next camping trip. Check it out!

MIER Women's Quick Dry Convertible Cargo Pants Lightweight Stretchy Hiking Travel Pants
Mier women's pants is designed specifically for hiking, backpacking, and mountain adventures, this convertible pants features 4-way stretch ripstop nylon, lightweight and quick-drying fabric that keeps you cool and comfortable throughout your excursions while the DWR treatment give these pants a little extra boost in protection against the elements. 5 roomy zipper pockets to stow essentials securely. A specially designed inseam gusset provides enhanced ventilation and increases your range of motion, so you can hike farther and reach new heights on your journeys. It has regular fit and does not look baggy. The waist type is mid rise and the pants inseam is 31". It has 1 thigh zipper pocket, 2 front zipper pockets and 2 rear zipper pockets. It is made of YKK zipper and cblack belt with a duraflex buckle.
Pros
Convertible (can be transformed to shorts)
Stretchable
Quick drying
Cons
The rise is a little short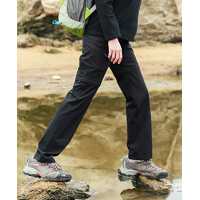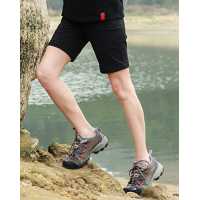 Our Take
When choosing for pants to wear for a hiking trip, you want something that is comfortable, stretchable, and has a lot of pockets. For that, the MIER Women's Quick Dry Convertible Cargo Pants Lightweight Stretchy Hiking Travel Pants is a great contender. The most awesome feature of this pants is that it is convertible. You can remove the bottom of the pants so that it can be transformed into shorts during hot weather or to allow you to be able to move more freely. This also is very lightweight as it is made with a 4-way stretch ripstop nylon. This fabric is also quick-drying so you will not have to deal with uncomfortable wet pants for a long time while camping. It comes with five roomy zipper pockets that are perfect to carry your valuables like your phone, tablet, wallet GPS devices, maps, or what have you. All in all, this is a very comfortable hiking pants and I definitely encourage you to add this to you camping wardrobe.

CQR Men's Tactical Pants Lightweight EDC Assault Cargo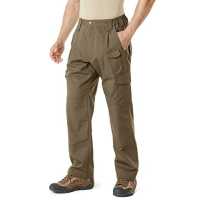 CQR tactical pants are constructed with a hint of military and law enforcement design. It has a high-strength, high density metal alloy button and zipper along with a durable mounted stopper. The Duratex Fabric that is used is making the liquid, dirt and other contaminants repel from the pants. It is a mix of Polyester and Cotton Rip-stop fabric materials. Secure Velcro secured pockets offer simple storage of magazine clips.it is specially designed form fitting elastic waistband for comfort and support. Its Black Nickel plated D-ring provides easy hook-on installation of tactical accessories. Hatched back pocket design for easy access when gloves are worn, and has a deep and secure storage.
Pros
Tons of colors to choose from
High quality
Durable
Elastic
Cons
The fabric is a little stiff (depending on taste)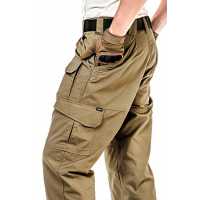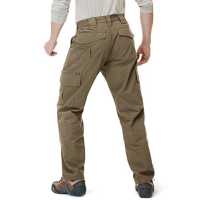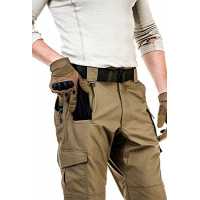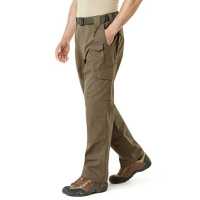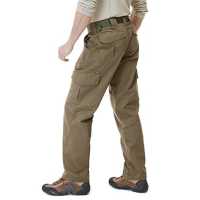 Our Take
If you are one of those who are very particular in "looking the part" when hiking and camping, then the CQR Men's Tactical Pants Lightweight EDC Assault Cargo is definitely perfect for you. Its design is patterned from the tactical cargo pants typically worn by the military and other law enforcement, so it is edgy and cool, if that is your style. You can also choose among a plethora of other colors from black, to tan, to khaki, to navy blue, and so on. Who said you need to compromise your individual style when you go camping, anyway? Sturdy pants, pretty much what I expected, except for the cargo pockets. There is an elastic waist, and the waist size seems to be measured with the elastic pretty much fully stretched, so they always feel a bit snug in the waist. Below the waist they flair out to a very comfortable fit in the hips and legs.. They are also a bit stiff. I have washed them several times in an attempt to relax the fabric a bit. But I think that is a matter of preference and washing it a couple more times resolves that problem. All in all, this is a high-quality pair of hiking pants. Highly recommended!

TBMPOY Men's Outdoor Quick Dry Hiking Pants Waterproof Climbing Camping Pants with Belt
This pants is made of 85% Polyamide and 15% Spandex that is light, breathable and stretchy. It is ensured with zipper closure and zip-pockets at sides and back for convenient and secure storage that allows you comfortably enjoy the exercise time. Quick dry fabrics surface adopts water-repellent quick dry fabrics that makes you feel cool and comfortable in outdoor conditions. It has belt included and the stretchy waistband allows the maximum comfort. Inner comfy fleece in Thick 01 and Thick 02 keeps the water repel but also keeps you warm and dry during the cold and windy weather. These slim fit hiking pants for men are perfect for mountain climbing, camping, skiing, hiking, running, cycling, traveling, walking the dog, fishing, hunting, taking a walk and other indoor & outdoor sports.
Pros
Stretchable
Comfortable
Easy to wash
Comes with adjustable belt
Cons
Not very durable, easy to rip
Our Take
Fit is one of the most important things that you need to look at when buying for any type of pants. The importance of right fitting is even more highlighted when buying for waterproof hiking pants. It is the fit that dictates whether your pants will be effective in keeping your legs warm during the duration of the hike. When it's too big, the cold could creep in. When it's too small, it's hard to move. That is why the TBMPOY Men's Outdoor Quick Dry Hiking Pants Waterproof Climbing Camping Pants with Belt is a really good hiking pants.

It is made of 85% Polyamide and 15% Spandex, that is light, breathable, and stretchable, ensuring the right fit for any type of body structures. It also comes with a belt that is adjustable so that the pants can hug the waist perfectly and to secure the pants in your body. It is a very comfortable pants and it is lightweight. Easy to wash too. The pants is prone to ripping tho, but it depends on how rigorous the activity you are participating in is. Overall, this is a comfortable, stretchable pants that you can rely on for your next winter hiking trip!
$35.99


Columbia Men's Silver Ridge Cargo Pants
Columbia Men's Cargo Pants is perfect for men who enjoy outdoor activities like rock climbing, fishing, or riding all-terrain vehicles, wearing a pair of comfortable, adjustable, and rugged cargo pants will keep you protected from cold wind, sun exposure, and wet conditions. The Columbia Silver Ridge Cargo Pants have been designed with a classic fit for the ultimate in comfortability while you're staying active outdoors. These men's cargo pants feature Columbia's unique Omni-Shade UPF 50 fabric for maximum protection against the sun, and Omni-Wick technology that pulls moisture away to keep you cool and dry. Made of 100% Nylon with button closure, 2" high and 14" wide. This men's durable cargo pant features one zip-closure security pocket, side pockets with hook and loop closure, and mesh pocket bags for ultimate convenience and efficiency.
Pros
Comfortable
Waterproof
Good fit
Not expensive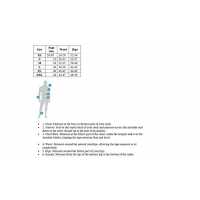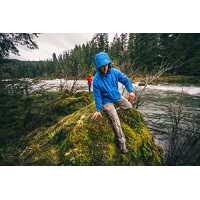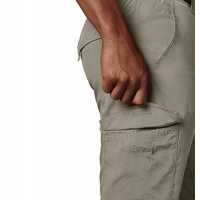 Our Take
Don't you hate it when you are wearing pants during a sunny day and all the moisture has built up in the fabric making it very wet? Well, if so, you have to check out the Columbia Men's Silver Ridge Cargo Pants. These pair of hiking pants is comfortable, adjustable, and rugged cargo pants that will keep your legs protected against the elements during a hike. They are tough and high quality. They also comes in assortment of colors so you can choose which ones fit your style and fashion philosophy. It is classic fit, which is typical in most cargo pants, but the sizing is amazing. If you follow the sizing guide, you will get a pair that is perfectly fit for you. All in all, you should definitely try this one. It's wallet-friendly and high-quality. Value for you money, indeed.
$36.14


BenBoy Women's Outdoor Waterproof Windproof Fleece Slim Cargo Snow Ski Hiking Pants
The softshell Polyester fabrics are used to keep you warm and comfortable. Multiple zipper security pockets keep your phone, keys, credit cards and other personal belongings secure. The slim fit hiking pants feature adjustable waistband with belt, patchwork knees, steric knee darts and unique zippered cargo pockets on the thigh part. The water repellent windproof outdoor pants with fleece lining keep you warm and dry in the cold and windy weather. No matter what kind of outdoor activities, you will never go wrong with this hiking pants. You can wear it at home or outdoors, as hiking, climbing, cycling, skiing, or other winter outdoor activities.
Cons
Not waterproof
Sizing could be an issue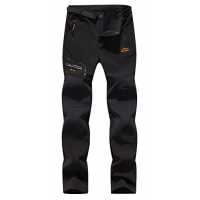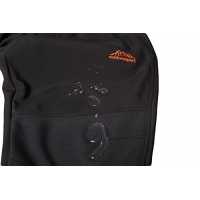 Our Take
There is so much to love about BenBoy Women's Hiking Pants. The material is flexible, durable and high quality. The inside fleece lining is just the right amount with plenty of room for leggings or jeans underneath. Slim fit without being tight, and loose without being boxy like snowboarding pants. I was able to cover my snow boots as well. You can choose from a variety of colors that are available too!

This may not be perfect for a hiking pants, but it serves its purpose. All you need is to make sure that you get the right size and you wash it carefully.
$39.99


Columbia Men's Rebel Roamer Pant
This Roamer Pants is made of 100% Nylon, 2"high and 12" wide with elastic closure. The Omni-Tech technology features air-permeable protection that's waterproof and breathable. It provides excellent waterproof protection, keeping mother nature's elements out, at the same time allowing the inside to breathe. These pants feature two side zippered security pockets and two back pockets to secure your small items. This Columbia Men's Rebel Roamer Pant features our signature seam-sealed waterproof construction with breathability to keep you comfortable while protecting you from the elements. Breathable design allows passage of moisture-vapor from perspiration, and has covered elastic waistband with inner drawstring.
Pros
No metal fittings
Flowy, airy, and comfortable
Has draw strings and is garterized
Cons
Not a lot of pockets
Easy to tear and bore holes
Our Take
Sometimes, the most annoying thing about cargo and hiking pants is that they have metal fittings in them that will rust through time. They sometimes even cause injuries and cuts. That it is why it is a really great design decision for Columbia Men's Rebel Roamer Pant to not include them. This hiking pants is button-less and can be secured by a drawstring, which makes it easy for you to wear it. It is also waterproof and quick drying which makes it perfect for you to wear during rainy or snowy days. My only issue about this pants tho is that it doesn't have a lot of pockets. More pockets would have been great. But all in all, this is a good pants to wear to a hiking trip, so you might as well include it in your wardrobe!

5.11 Tactical Men's Taclite Pro Work Pants, Lightweight Poly-Cotton Ripstop Fabric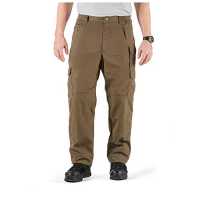 The right mindset, training, and gear are what separates those who are ready and those who are not. Ready to help those in need, ready to protect and serve, and ready to crush goals. 5.11 embodies this mindset of preparedness. Made of lightweight 65% polyester and 35% non-fading polycotton ripstop, you have a pant that is extremely functional and maintains a neat, clean and professional look. The stretch waistband is with gusseted construction for flexibility and strength and has double reinforced seat and knees. It has hip-mounted D-ring and multi-use extra pockets for tactical use. There are 8 pockets in total including strap-and-slash seat pockets. The zippers are YKK teflon finish and Prym snaps. The belt loops are thick enough to support a large belt to carry the weight of a sidearm, cuffs or other equipment.
Pros
Durable
Comfortable
Water-repellent
Cons
Fades with washing
The cut is kinda off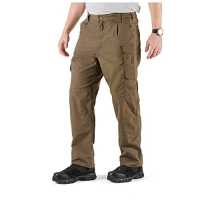 Our Take
The 5.11 Tactical Men's Taclite Pro Work Pants has a very thoughtful design that is perfect for all sortts of outdoor activities like camping, trekking, and hiking. These cargo pants are made of thick but breathable fabric, making them both durable and comfortable at the same time. They are water repellent, and extremely durable. They have plenty of pockets for spare magazines, knifes, pens, handcuff keys, and the list goes on. The rear pockets are deep, which is a good thing because when you sits down to drive your wallet doesn't need to be removed for comfort. They fit exactly as you would expect and the length is perfect. They are cut just right to fit over boots or to sit on top of shoes. The belt loops are thick and wide enough for their 2 inch belt. I highly recommend these pants to anyone who likes to do anything outdoors!
$49.99


Toomett Women's Hiking Pants
These outdoor hiking pants are designed to be comfortable and loose, and have a certain amount of elasticity , which can adapt to the big movements in the movement, such as climb,cross, running and so on. The fabric will not be deformed. It is made with high tech materials and fabrics. The quick-drying fabric has low water absorption, good air permeability. After being wet, it can be dried faster than normal clothes under the effect of body temperature or wind, keeping the body dry at all times. Very good defense makes your quick-drying pants easy to deal with all kinds of harsh environments, and always brings you easy and refreshing. The 3D draping technology for the knee, ergonomic, and great movements for outdoor activities. The two pants are detachable and zippered. The zipper stitching design can be used as a shorts after disassembly. It is convenient for you to wear. For example, when you are going upstream or crossing the river, you can remove the lower half to avoid the wet pants. In the hot summer days, when the heat is too hot, the pants are turned into shorts. It is a good outdoor equipment.
Pros
Convertible to shorts
Plenty of pockets
Very comfortable
Cons
The belts are bad
They make noise when you walk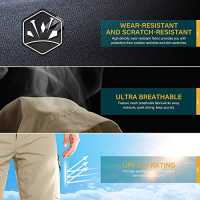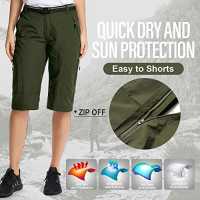 Our Take
The material on these pants is nice, there are pockets everywhere, zippers are smooth, style is cute. Zippers have easy pull tabs on them. Waist clasp is a hook, but looks like a snap. Waist is a little loose which I love because I can adjust with the belt and it's not digging into my sides. Did I mention there are pockets everywhere! One on the butt, two on the front and one on each leg. And they all zip shut! The pockets are all interior, though, so they won't hold large objects or quantities, but their design adds to the sleek style.

The only criticism I have is on the belt that comes with it. It is terrible. The belt is opened by pressing the front of the "buckle" on the right-hand side (if you're looking down at it, the side that doesn't get removed). These pants, however, converts into shorts. The zipper on the legs will be covered by a flap of fabric and doesn't seem too uncomfortable to me. The zipper falls below my knee so I don't anticipate them digging in if/when I sit while they're shorts. So for less than $35, you can get a pair of hiking pants and a pair of shorts in one! Great buy!
$37.99