10 Best Hiking Sandals
It's a hot sunny day and you decide that it's the perfect weather for another day of hiking, but then, as you find your way out, wearing your boots and wool socks, you start to feel that you're burning. Do yourself some favor and give your feet some fresh air to breathe and cool down. That is why for hot summer days wearing a pair of hiking sandals is a great choice.
So, relax and let your toes feel the breeze and pick up a pair of sandals where you could get the most out of your money with durability and comfort. Check out our list to know more!

KEEN Men's Newport H2 Sandal
Go back to the basics with the sandal that started it all, the Newport from KEEN. The razor-siped sole provides excellent traction and the washable webbing upper features the odor-reducing Aegis Microbe Shield®. The secure fit strap design adjusts for a comfortable fit. The rubber outsole features a multi-directional lug pattern and razor sipping for the right traction over wet and dry surfaces. The 'metatomical' footbed conforms to your foot's shape for personalized comfort that's way beyond ordinary.
Pros
Sturdy Sole
Great room in the toe box for wide feet
Excellent, substantial toe guard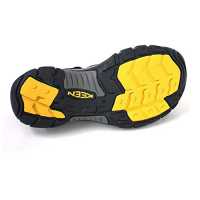 Our Take
Finding comfortable footwear is a big hassle especially for those with wide feet. As most shoes are made with a standard narrow shape, getting the perfect fit is hard because opting for a bigger size to accommodate wide feet would also mean that the length of a footwear may be longer. Right out the box, these sandals offer a spacious toe box while giving great protection with a substantial toe guard. With these sandals my feet don't feel scrunched up and squeezed, it lies naturally flat inside. Although It may cost a bit more than other sandals, it compensates for quality and the comfort of the user.

KEEN Women's Whisper Sandal
From river portaging to sidewalk strolling, the Keen Whisper's waterproof upper makes this sandal a loyal companion for any definition of adventure. This feminine-specific style was built with a women's foot in mind. This concept works with KEEN's patented toe-protection, for effortless style and trusted protection, just for her. It has a quick-draw elastic cord lacing system that adjusts to a comfortable and secure fit, and a washable polyester upper that features the odor-reducing Aegis Microbe Shield® while foot-cushioning EVA molded footbed provides comfort on the go.
Pros
Lighter
Has great style
Maximum feet comfort
Our Take
These sandals are perfect for the modern woman. It has style, it has durability, it has comfort, and it is lightweight, the characteristic of what a woman, who is active and always on the go, need. The Keen Women's Whisper sandals give great protection even if its a sandal for most parts, because of it patented toe-protection, you will never stub your toe if you accidentally kicked your feet on a boulder. It fits snug onto your feet because of its quick-draw elastic adjustable band while giving great flexibility to adjust to your movements. Your feet are surely not going to stink with the help of their Aegis Microbe Shield, feel fresh and dry all day with these sandals!

Merrell Men's All Out Blaze Sieve Water Shoes
The Merrell All Out Blaze Sieve is a water-shedding hiker sandal that attacks terrain. It has a waxy waterproof leather upper that is made for forging creeks. Efficiency comes from the Unifly™ midsole that connects you to the trail while protecting you from the terrain. It has a Lycra® neoprene stretch collar that makes it easy to wear and to take off. The M Select™ FRESH antimicrobial agents are incorporated within the make of the sandals to reduce odor. The outsoles are made from TC5+ Vibram with a 3mm lug depth, sure to give you durability while performing in the outdoors.
Pros
Perfect fit
Strong soles
Very comfortable to walk-in
The backstrap has an extra layer of padding
Cons
The toe guard is not very substantial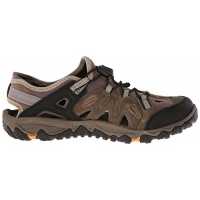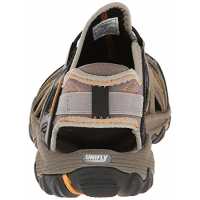 Our Take
If there is a potluck of sandals, Merrell always has something to bring to the table. Applying the latest technology to their products, these sandals are packed with great features and are made with quality materials that they have innovated through their years in the industry. First, they use a Unifly midsole that is soft to the ground so that your sandals can adjust easily to any terrain while giving stability to your foot. It has a Lycra neoprene collar that provides great elasticity, it holds on to your feet snuggly. It uses their signature M Select FRESH antimicrobial agents that is sure to keep moisture and odor aways. Lastly, the soles are made of TC%+ Vibram that is a known high-performance rubber sole that is very durable and sustainable while giving great resistance and traction.

KEEN Unisex Kid Newport H2 Sandal
This great summer sandal can take anything a kid can dish out. The elastic cord lace and adjustable hook and loop strap let kids put them on and take them off by themselves. Quick-drying webbing is perfect when kids are in and out of the water and everywhere else. These sandals feature the Cleansport NXT that naturally controls odor and a multi-directional lug-patterned non-marking rubber outsole to prevent slippage and promote high traction for your kid.
Pros
3 straps
Can be adjusted up to the toes for narrow feet support
Comfortable
Great even for small foot adults
Our Take
These Newports are specifically made for kids, applying the same great features offered by that of the Men's and Women's, your kids are surely going to love these. These sandals provide a strong and sturdy lock so that you wouldn't worry about shoes falling off your kids feet. It has great foot protection while keeping odor away as it has the Cleansport NXT. These sandals offer great size options as their biggest size can fit adults who have smaller feet.

WHITIN Men's Cross-Trainer
These WHITIN cross-trainers offer a minimal design with maximum potential. These barefoot-style sandals offer flexibility so your feet are free to move and can engage with the ground naturally, this helps in preventing muscle immobility and atrophy. It has a thin flexible, flat zero-drop sole and a removable sock liner that supports better proprioception and feedback from the ground while it also allows the feet to be in a neutral position that supports a healthy posture and puts less stress on the joints. This pair also features a wide anatomic toe box so that the toes are not compressed and have room to spread for better balance.
Pros
Minimal design
Great comfort
Lightweight
Cons
Can be too narrow
Soles are thin to be running over rocks.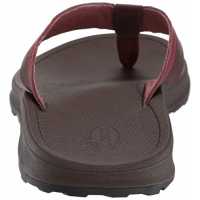 Our Take
These minimalist Cross Trainers offer a simple design with hidden features. These are called barefoot shoes because it promoted the barefoot feeling by giving a zero drop sole. Your feet are in a neutral position to support a healthy posture and put less stress on the joints. The design of these shoes are simple, minimal but still really very stylish at the same time. The downside of these shoes is that they tend to be narrow, it is suggested that wide feet people get a bigger size for maximum comfort, also since these shoes have a thin sole, it might be painful to be walking or running on very rocky paths especially when the rocks are sharp.

https://www.amazon.com/Chaco-Playa-Leather-Hiking-Spice/dp/B07H53NCVV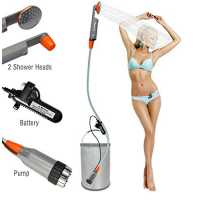 Set your sights on isolated stretches of paradise found along the path less traveled with the playa pro leather. Featuring long-lasting, durable leathers treated to repel salt. Built to last and eco-conscious, each playa pro flip is fully repairable and colored with e.Dye® waterless color system. This has a women's specific dual-density LUVSEAT PU midsole with Cloud cushioning.

Pros
Great quality
Simple design
Cons
May take a while to break-in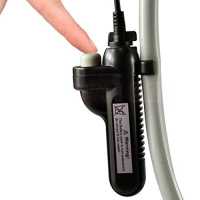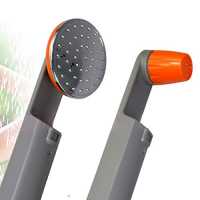 Our Take
The LUVSEAT PU used to create the midsoles of the sandals are very comfortable to soft to the feet, they're shaped with a contoured arch so they give better support.What's amazing with Chaco products is that every sandals or shoes they manufacture that is made with the LUVSEAT PU technology is accepted by the American Podiatric Medical Association. Without a doubt you're sure that your feet are protected and supported properly. These sandals boast a sustainable color dying system. It is a must in this current generation that the products we use are manufactured to use sustainable products, this helps in keeping waste out from our planet, how can mother nature take care of us if we didn't start taking care of it also, right?

GRITION Men's Hiking Sandals Outdoor Lightweight Open Toe Adjustable Summer Walking Flat Athletic Casual Beach Wide Shoes
This classic summer sandals for men offer comfort and style with 3 adjustable hook and loop straps and a pull-back ring to help make your feet fit perfectly. Suitable for the wide feet of most American men. Its has a Phylon Soft Insole keeps you comfortable throughout the day and a wear-resistant rubber outsole that provides excellent grip and traction on different terrains.
Pros
Lightweight
Comfortable
Quality material
Great value
Cons
Can be too narrow
Slippery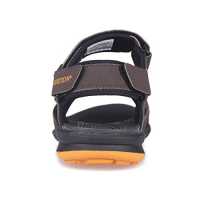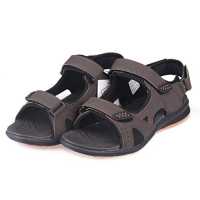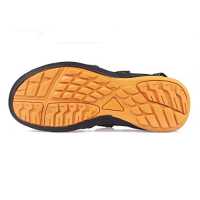 Our Take
Sandals are most of the time, open type of shoes, and are prone to falling off your feet if it has no proper support, not like those closed shoes where your feet are fully covered. These GRITION hiking sandals offer just that, with 3 adjustable hook-and-loop straps. It also has a pull-back ring to securely fasten the ties and help fit your feet perfectly. They have a soft insole that gives my feet comfort while feeling really durable.

KEEN Men's Arroyo Iii Sandal
These sandals by keen are of a fabric and nubuck cattle leather. Its removable dual-density EVA foam footbed offers arch support for long-lasting comfort. Made from the same type of foam, its midsoles are made to give the sandals a lighter feel. It has a non-marking rubber outsole and a hook-and-loop closure so that you could take on the muddiest trail or swiftest stream in these durable, versatile hiking shoes. The traction and support of a hiker combined with the element-repelling performance of a sandal all in one tough lace-up.
Pros
Lightweight
Great fit and support
Cons
Fit is only optimal for narrow feet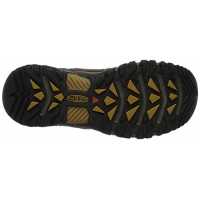 Our Take
Another premium quality sandals from Keen are the Arroyo IIIs. They are extremely more lightweight compared to the Newports although they just look the same. I couldn't stress enough how comfortable these sandals are and also gives me confidence that my toes are protected as they are made with EVA foam for its midsole and footbed while the rubber outsoles offer great performance.
The straps on these sandals are a hook-and-loop so you are sure that these shoes will stay fastened while still offering flexibility no matter how much you move around. These shoes are a great choice especially for men with narrow feet, so it is recommended for wide feet men to get a bigger size than the normal.

KEEN Men's Clearwater CNX Sandal
Another pair of sandals by Keen is the Clearwater CNX Sandal. This has an upper that is made from 100% textile and synthetic leather. Its rubber soles have a platform of approximately 0.5 inches and its contoured arch midsoles have a 4mm drop with a lining that is treated with an Aegis microbe shield, for added midfoot support.
Pros
Versatile all-around shoe
Fits great
Anti-odor footbed
Our Take
The Clearwater model of sandals from Keen uses a CNX technology where they took out so much weight off down to 10oz while keeping the same protection that the company is known for. These sandals are very flexible and as mentioned very lightweight. They don't feel heavy at all but they also don't compromise quality as it still feels very sturdy and durable. The shoes hsa this natural flexibility to it and it has a significant ground contact which is made possible by the multi direction flex groove design. The support to my feet is great and it also provides comfort because of arch and natural underfoot reinforcements. Keen has always been a great option of outdoor hiking sandals, you will always get the best value for your money with this brand. Invest in any of their products today!
$110.00


ATIKA Women's Sport Sandals Trail Outdoor Water Shoes Cairo Orbital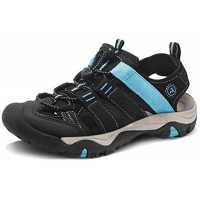 The ATIKA Women's Sport Sandals has an all polyester jacquard webbing washable upper that is extremely durable and has quick drying property with microbe shield lining, it wraps around the foot and through the midsole for a customized fit. Its closed Loop elastic cord lace and adjustable hook offer a more secure fit while its open strapping system for outstanding ventilation. Borrowed concepts from outdoor shoes to protect toes completely in wild activities while keeping comfort and pliability. It has an ultra-lightweight midsole (Compression EVA midsole) for long-lasting comfort, superior cushioning, and high energy return and a multi-directional lug pattern for traction over both wet and dry surfaces. It features a 3-Layer Front toe protection that has a PU toe cap, synthetic upper inner layer, and an outer rubber guard.
Pros
Affordable
Durable and offer good arch support
Great style
Adjustable straps
Cons
Fit may be too small
Narrow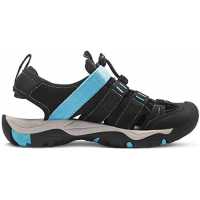 Our Take
These featured sandals are directed to the gals out there especially for those who are trying out sandals or hiking for the first time. These sandals by ATIKA are very affordable as it retails for a maximum of $30 depending on the design and size. They offer a durable upper that is made of polyester jacquard webbing that is washable and at the same time have quick drying properties so you won't have to worry about your feet being still really wet or moist at the end of the day. It features a 3-Layer Front toe protection so you would be confident that your toes are totally secured from the outside forces and for those who still have their expensive pedicure on, you don't have to worry, your paint will not chip off. They have great ventilation and a strapping system that can be adjusted to fit your feet perfectly. It is ultra-lightweight for long lasting comfort. Its outsoled have a multi directional lug pattern design to increase traction on any surface, whether wet or dry.

These sandals are sure not to disappoint your precious feet while saving money without compromising quality. Check these sandals now!