7 Best Hiking Socks
We all know that shoes are made to protect our feet from the ground and the environment. However, we should also understand that socks serve the same purpose as well. It protects us from the cold, from injuries, and from the shoes itself. Thus, good hiking socks are those that have excellent protection features. They should also be hypoallergenic and should be able to prevent the growth of bacteria so that our feet won't smell bad after a long day of hiking.
There are different types of socks that you can choose from, and whatever you like totally depends on your preference. However, you have to make sure that the socks you wear on a hiking trip must be able to serve its purpose. For that, we have collected a number of socks in the market that we felt are the best that you can get for yourself. Read each of the products below to learn more about them!

EnerWear 4P 86% Merino Wool Women's Outdoor Hiking Trail Crew Socks
These socks are made of 86% extra-fine Merino Wool, 10% Polyester, 3% Nylon and 1% Spandex. The high quality wool material will keep your feet at an optimal level of warmth. Designed for extreme weather conditions, great cold weather gear for outdoor activities and sports like skiing. Terry-loop cushioning throughout the entire foot, making the socks suitable for hiking, mountaineering, outdoor camping, cycling and longtime outdoor work. The package contains 4 pairs of multicolored socks.They are elastic and perfectly make it suitable for your feet.
Pros
High quality materials
Very warm
Cozy
Cons
Can be very soft after a few washes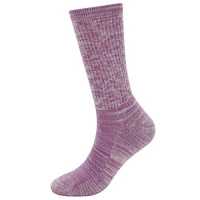 Our Take
Socks need to be very comfortable in the feet because they serve as an additional cushioning that absorbs the pressure when hiking. That is why the EnerWear socks are one of the best socks in the market. They are cute and they look exactly as pictured. They were cozy out of the package and after washing several times, they look a little shrunken but stretch right back out upon wearing. I've had no trouble with holes or unraveling, as you normally would with other socks. They're also very warm, which was of particular import to me. They are more comfortable than other, thicker wool socks that I have, and they are just as warm. They are definitely warmer than any other socks or slippers that I own. You should consider these socks as they are value for your money. It could be the best $17 you spend in your whole life!
$21.99


DearMy 5Pack of Women's Multi Performance Cushioned Athletics Hiking Crew Socks
These socks are designed to keep your feet warm and dry during the rigors of trekking the earth's wild place. They are strong and durable socks. Moisture wicking | Y-type heel with ribbed arch and reinforced cushion makes the socks comfortable, providing perfect foot comfort during hiking, walking or any other outdoor activities. Elegant color and attractive design provide an amazing level of comfort. Makes your feet look slimmer yet feel wholesome and sturdy. This also reduces the risk of injury because it improves oxygen delivery to your muscles, minimizes muscle oscillation and micro-tearing, hastens the removal of cellular waste, prevents cramping, helps prevent Spider Veins/ Varicose Veins and they protect your legs from small scratches.
Pros
Good cushioning in the heel
They don't leave marks
Vibrant colors
Cons
Can be longer than normal socks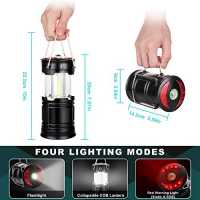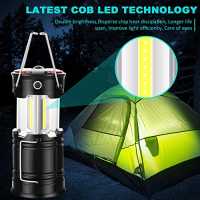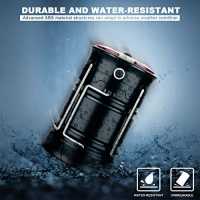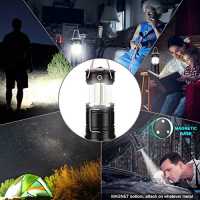 Our Take
Right off the bat, I would say that these socks have very nice quality and pretty colors. Love the padded foot and even so, they are not too bulky in my shoes. About 2" higher on the leg than the similar Yuedge brand but I it works perfectly for a tall person like me. They were so comfortable, no rubbing or bunching. I love the way they hug my feet, lots of support. They stay up and don't constrict your ankles and leave marks. They have so far held up to being washed and dried several times. They aren't super thick but not thin either, so they fit with my everyday shoes too. I only wish they made them is less vibrant colors for more everyday wear. These socks are value for your money and you should get them now!
$23.95


MIRMARU Men's 5 Pairs Multi Performance Outdoor Sports Hiking Trekking Crew Socks
The Mirmaru Crew Socks are made with blended materials for strength and durability. It is made of 55% Combed Cotton, 40% Polyester and 2% Spandex. Socks are designed to keep your feet warm and dry during the rigors of trekking the earth's wild place. They are strong and durable socks. Socks are reinforced with high-density fibers and pile cushioning in the underfoot area for added comfort when hiking, walking, or during any outdoor activities. It protects the foot from shear and prevents painful blisters. Socks are designed to feature a med-compressed & elasticity to gently support and protect the arch, ankle, heels and stay up, compressed top holds the sock securely on the calf.
Pros
Comfortable
No fluff
Breathable
Warm but not sweaty
Cons
Can be long for short people
Slightly more expensive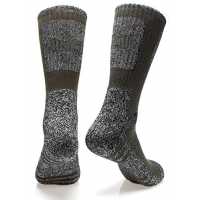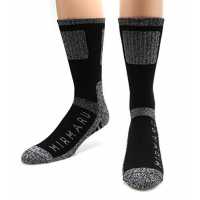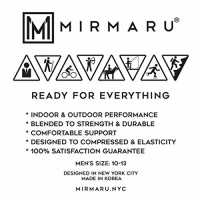 Our Take
These gray colored socks are great. They are very comfortable and breathable. On top of that they have a good ankle and heel cushioning that absorbs pressure as you walk, preventing trauma and fatigue in your feet. Up, down, went, dry, muddy, clean, hot or cold, these socks were very helpful and there are no blisters. Another that stands out is that these socks looks and feel durable, unlike so many socks the wear down in the heel or toe so easily. They also are magically warm, but not sweaty. These socks also fit very well. I don't like wearing bad-quality socks and especially don't like spending $5-$6 per pair of socks, but these things are definitely worth it.
$24.99


Danish Endurance Merino Wool Hiking & Walking Socks
These socks are made of high-quality and breathable Merino wool fibers that optimize sweat transport to keep your feet fresh and dry. The natural heating and cooling properties of the merino wool blend ensure that your feet will be warm in the winter and fresh in the summer. Ventilation mesh lanes wick away sweat. Cushioning and padding reduce the risk of getting blisters, aching and jarring shocks. These unisex socks are great for hiking, trekking, outdoor adventures, walking, travelling or everyday wear as a thermal sock in the cold season.
Pros
Comfortable
Thick but breathable
Classic color
Cons
The top is too tight and long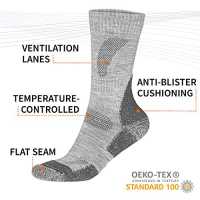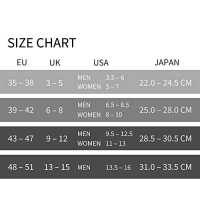 Our Take
The thing about Merino wool socks is that they are very thick without compromising the breathability of the fabric. The kind of socks like the Danish Endurance Merino Wool Hiking & Walking Socks is perfect if you are the type of person who always get your feet some shear and painful blisters. They are very nice - soft, cushy, not scratchy at all, very comfortable. The only criticism I have so far is that the tops are very tight, but if you want to get away with it, you can fold it downward. In fact that would even be helpful when you're hiking because that's another layer of padding against your feet. Win-win!
$29.95


FEIDEER Multi-pack Outdoor Recreation Socks Wicking Cushion Crew Socks
Feideer Crew socks are fully cushioned with thickened towel bottom design to make the hiking socks more soft and comfortable, which reduce foot friction and relieve foot fatigue, effectively protecting your feet from shear and painful blisters. Elasticized arch brace and good flexibility, avoids the rotation of the sock during the movement. Elastic ribbed cuffs, not tight or loose are durable and comfortable. You will not worry about the moisture when walking all day long due to the Exclusive Moisture Wicking Management that is breathable and fast drying. These socks are made of 78% cotton, 20% Polyester fibre and 2% Spandex.
Pros
Cute and lovely colors
Good cushioning
Anti-sweat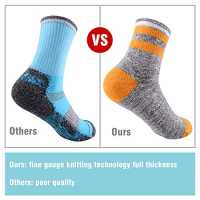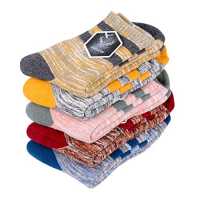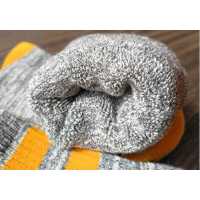 Our Take
Right off the bat, let me tell you that these socks are really cute and the colors are really lovely. But that is not the most important thing about it. They provide a lot of cushion and my winter boots that tend to irritate my toe were even comfortable for a change. They have a bit of compression as well which I like and it seems to help with achy feet from standing a lot or walking long distances.They are warm, but not too thick, and very comfortable. I generally have really sweaty feet, but I haven't noticed the moisture while wearing these! The designs are cute and the fabric is high quality. It's fashion meets practicality! Great buy!
$19.99


Alvada 80% Merino Wool Hiking Socks Thermal Warm Crew Winter Sock for Men & Women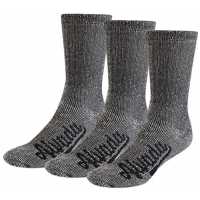 These Merino wool hiking socks are built to provide you with total support and comfort during your hiking trips, no matter the weather. Each pair of these hiking socks is ideal for the rugged terrain, allowing these to be great men's or women's hiking socks. These wool hiking socks come blended with nylon to promote a comfortable, itch free experience. Ultra comfortable, these hiking socks won't cause you to pause in your step to scratch at your foot or readjust the calf height sock. Its materials are 80% merino wool, 15%Polyester, 4% Nylon and 1% Spandex. With these hiking socks, women and men alike can enjoy the comfortable warmth that these cozy socks provide. Especially good for the colder months, each winter sock in the pair of men and womens wool socks will keep out the cold and moisture that wintertime often affords. These hiking socks offer a shaped cushioning in their footbed to promise a more comfortable trek up the mountain. Through the use of these mens wool socks, women and men can enjoy less fatigue and pain in their feet after a long day of hiking in these ladies wool socks.
Pros
Breathable and made with Merino Wool
Thick but comfy
No fluff and annoying strings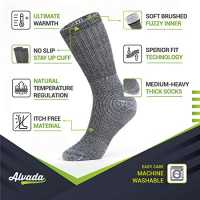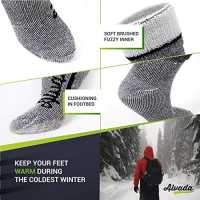 Our Take
As I have already mentioned earlier, Merino wool makes the perfect socks. Similar to the one above, the Alvada 80% Merino Wool Hiking Socks Thermal Warm Crew Winter Sock for Men & Women is very comfortable, high-quality, and breathable. These socks aren't like the cheap cotton socks you get at the big box stores. These are very thick socks! They wear well and do not get the annoying strings inside that catch your toes when you are putting them on. I just completed a side by side of another brand in the same price range. The Alvada Socks are still in my fleet and the other brand is in the trash. However, please be weary as others claim that this socks can have some durability issues, but I think if you take care of them, these socks will last a long time.
$19.99


ACTINPUT Compression Socks
Actinput socks are changing the landscape in the field of compression socks by matching quality, quantity, and pricing. 8 pack simple and durable compression socks are designed to meet your needs beyond a week even if you change socks everyday. It is carefully constructed with comfortable materials and no stitches in places where they would rub or rip together. These are made with 85% Nylon, 10% Polyester and 5% Elastane. These leg socks feature a compression design that enhances and stimulates circulation in the lower leg, thereby increasing oxygen to the blood. Increased oxygen, means better performance and faster recovery. With lightweight, breathable fabric makes you comfortable regardless of activities. The anti-odor and anti-static fabric prevent foot odor while wicking moisture away from your feet, which keeps you dry even with longer use. Perfect for a variety of outdoor activities, such as marathon, running, hiking, gym fitness training, basketball, cycling, weightlifting and more.
Pros
Good compression
Well-made (good stitching)
Comfortable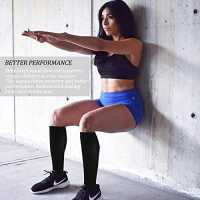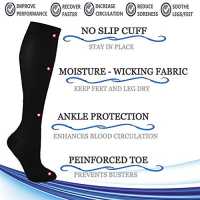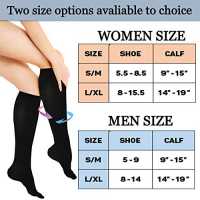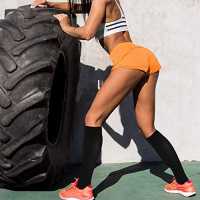 Our Take
These socks are great! Not only are they extremely affordable, but they are very comfortable and well-made. The stitching looks high-quality and they are very warm on the feet. I honestly expected to have to return these seeing as they were about two dollars a piece. However, the socks are very bit as good as more expensive ones and I like that they are not as long as the others we own. The toe box is loose, which is expected in a good compression sock, and the top band sits nice and flat on your leg. I used to use compression calf sleeves, but the socks work better for me. I have been wearing these for a month and they are holding up nicely...no holes or stretched out areas. I am very happy with these socks and I highly recommend them!