9 Best Winter Hiking Pants
Clothing is not just a way for campers to look the part. In fact, the clothing that campers and hikers wear serve specific purposes - especially during the winter. Take, for example, the baggy, not-so-flattering, pants that they usually wear. They are designed not only to express their sense of fashion but to protect them from the elements during a strenuous hike. They typically are made of thick fabric to protect the legs from injuries like cuts, bruises, and snake bites.
On top of that, they also usually come with a lot of pockets so they can serve as storage for small things that are essential during the hike like flashlights, GPS devices, smartphones, etc. A suitable hiking pant, though, is also long-lasting. Together with all of these functional, the perfect winter hiking pants are also chic, stylish, and fashionable.
So if you are looking for the best winter hiking pants in the market, we got you covered!
9 Best Winter Hiking Pants

Outdoor Ventures Men's Lite Waterproof Windproof Fleece Lined Warm Hiking Ski Snow Pants with Expandable-Waist
The outer shell of this pants is waterproof, windproof, breathable, durable, wear resistant, anti-pilling and scratch resistant. It is 94% Polyester and 6% Spandex, and the lining is 100% Polyester. It is available in 2 styles in dark denim, the High waist with bootcut leg and natural waist with straight leg. High-waisted pants are more comfortable to wear and provide more free movement. Bootcut leg opening fits over boots. Adjustable waist with Velcro. Waist with belt loops. Four-ways stretch fabric providing you good activities. Dart on knee giving much-needed flexibility around the knee area. Two zippered security hand pockets and back pockets. Zipper pullers have reflective elements for low-light visibility. These pants are suitable for casual wear, work out or winter outdoor activities like skiing, snowboarding, hiking, mountaineering, camping, climbing, fishing, travel etc.
Pros
Thick fabric
Waterproof
Windproof
Has adjustable waist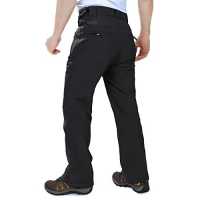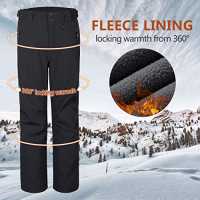 Our Take
If you are looking for a winter hiking pants that will protect you from the cold during your trip, the Outdoor Ventures Men's Snow Pants is perfect for you! It is made with a comfortable mixture of delicate yet thick fabric that will surely not let the cold penetrate your lower body. It is very protective as it can protect you from scratches because of the thickness of the material. It is also waterproof and windproof so you will have no problem wearing it during rainy or snowy hikes.

When your waist gets bigger, you will still be able to wear this pants as a velcro adjustment can be made make sure that it hugs your waist perfectly. It has two security pockets but it would really be awesome if it also comes with more pockets. Nonethless, this pair of trousers are very stylish and effective during the cold. Highly recommended!

Jessie Kidden Mens Waterproof Hiking Pants
This Hiking Pants is made of 100% Polyester, quick dry fabric and machine wash safe. This hiking pants inner layer made of warm polar fleece give your skin a soft touch and effectively lock the heat. The fleece lining is warm and anti-static, suitable for outdoor activity. This outdoor pants adopt lotus leaf bionic technology, effectively prevents the water molecules from penetrating, and accelerates the water droplets from sliding off the fabric. Keep you dry during the rainy day and humid environment. The classic shell pants surface layer using windproof fabric block the cold air, stretch, wear-resisting, breathe freely, wrinkle resistant, stylish, keep you warm all season long. 3D cutting of the knee position makes it more comfortable for the leg to stretch. Sides elastic waist with belt loop provides comfortable fit, Zipper pockets keep your value safe. Fashionable soft shell pants are perfect for winter outdoor sports like hunting, hiking, mountaineering, travelling, skiing, walking, camping, fishing, climb kayaking, biking etc.
Pros
Very stylish and with flattering cut
Comes in different colors
Easy to wash
Waterproof
Warm and delicate in the legs
Cons
Fit can be an issue
Waist is not adjustable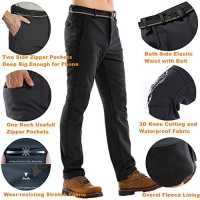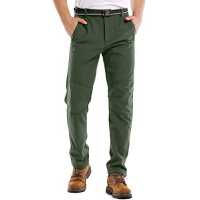 Our Take
Keeping warm while staying chic and fashionable are two goals that are hard to achieve together. However, you should know that it is not impossible. Hiking pants like the Jessie Kidden Mens Waterproof Hiking Pants makes this pursuit totally achievable. When looking at the pants itself, you will see that it is very fashionable, chic, and in-the-now. It comes with a variety of colors so you can get one in the colors that you want. The cut of the pants is also very flattering as it makes you look taller, thanks to the taper cut that the designers have thoughtfully incorporated.

But more importantly, this pair of pants is also very functional as a waterproof hiking pants. It is made of high-quality polyester fabric with warm polar fleece lining which allows the exterior to be waterproof and wind proof while the inside is soft, delicate, comforable, and has the ability to lock in warmth. These functionalities are important when you are hiking in a snowy mountain as you don't want your legs to feel numb because to the cold. Amidst its materials, this pants is surprisingly very easy to wash, which is a huge plus.

All in all, this pair of pants is perfect for hikers who still want to look stylish and cool while keeping their legs warm. You should get at least one of these because you will not regret.
$38.99


Gash Hao Mens Snow Ski Waterproof Softshell Snowboard Pants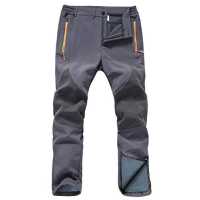 Gash Hao warm cashmere hiking pants have excellent warmth, using the warmest quality fleece under the same weight, scientific cashmere structure, lock the air to keep warm and keep body heat. The shell is made of breathable high-tech materials that keep you dry during outdoor sports or hard work. All key seams are reinforced and sealed to create a truly windproof and waterproof garment. These are designed with a linear motion flow. Under the premise of keeping warm in winter, the weight of the pants is lighter than that of the general warm pants. The inner material uses polyester fleece to increase warmth and reduce weight. The waist 2 measures an elastic waistband, 2 large-capacity zip pockets, and a hidden zip pocket at the back to ensure that you can carry large items and protect valuables. Have Men's Winter Outdoor Pants suitable for daily wear, hiking,cycling, skiing, climbing, traveling, camping, mountaineering, hunting, fishing, snowboarding, etc.
Pros
Very warm
Has knee protection
Lightweight
Fits as expected
Cons
There are only few pockets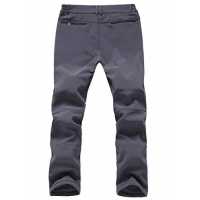 Our Take
The main purpose of a hiking pants during the winter is protection and for that, the Gash Hao Mens Snow Ski Waterproof Softshell Snowboard Pants deserves a shout out. First of all, it is made with a high-quality cashmere fabric which is very effective in keeping the body warm as it is locks the air to maximize body heat. It also has protective knee stitching which reinforces the knee part of the pants to protect your knees from sustaining cuts, bruises, and lacerations during the hike or when snowboarding.

Despite all that, this pants is surprisingly not heavy. In fact, it is one of the most lightweight in this list. It is very comfortable to wear especially if the fit is perfect for you. It's as if you're wearing a well-tailored trousers with extra protection. It would have been nice if there are more pockets but that is just a minor concern. Very impressive, nonetheless.
$41.99


TBMPOY Men's Outdoor Quick Dry Hiking Pants Waterproof Climbing Camping Pants with Belt
This is made with 85% Polyamide, 15% Spandex, that is light, breathable, and stretchable. It has zipper closure and quick-dry fabrics that will make you feel cool and comfortable in outdoor conditions. Zip pockets at sides and back for convenient and secure storage, allows you to comfortably enjoy the exercise time. The belt is included and the elastic waist is stretchy that allows maximum comfort. There are thin & quick dry and thick & fleece types available, Inner comfy fleece in Thick 01 and Thick 02. Water repellent windproof outdoor pants with fleece lining,keep you warm and dry in the cold and windy weather. Slim fit hiking pants for men, perfect for mountain climbing, camping, skiing, hiking, running, cycling, traveling, walking the dog, fishing, hunting, taking a walk and other indoor & outdoor sports.
Pros
Stretchable
Comfortable
Easy to wash
Comes with adjustable belt
Cons
Not very durable, easy to rip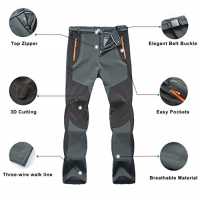 Our Take
Fit is one of the most important things that you need to look at when buying for any type of pants. The importance of right fitting is even more highlighted when buying for waterproof hiking pants. It is the fit that dictates whether your pants will be effective in keeping your legs warm during the duration of the hike. When it's too big, the cold could creep in. When it's too small, it's hard to move. That is why the TBMPOY Men's Outdoor Quick Dry Hiking Pants Waterproof Climbing Camping Pants with Belt is a really good hiking pants.

It is made of 85% Polyamide and 15% Spandex, that is light, breathable, and stretchable, ensuring the right fit for any type of body structures. It also comes with a belt that is adjustable so that the pants can hug the waist perfectly and to secure the pants in your body. It is a very comfortable pants and it is lightweight. Easy to wash too. The pants is prone to ripping tho, but it depends on how rigorous the activity you are participating in is. Overall, this is a comfortable, stretchable pants that you can rely on for your next winter hiking trip!
$36.99


Arctix Men's Regular Snow Sports Cargo Pants
These pants feature a 100% Polyester Dobby shell with ThermaLock W/R + W/P 3000mm Coating, offering a maximum degree of durability and protection from the elements, while allowing a full range of motion. 85 grams ThermaTech Insulation offers warmth in a lightweight, low bulk garment, keeping you warm at temperatures from -20° to +35° depending on your level of activity. DWR finish (Durable Water Repellent) helps repel water from fabric surface. Articulated knees allow for a more unrestricted range of motion and comfort as you climb, hike, or ski/snowboard. The adjustable waist ensures a comfortable fit, while boot zippers make them easy for on and off access over boots. Boot gaiters with grippers form a seamless integration with the boots to keep the warmth in, and the moisture out. These relaxed fit pants also include 600 Denier Ballistic reinforced ankle, scuff and hem guards to hold up against daily wear & tear, and conveniently has cargo pockets for extra storage and an O-ring for keys, gloves and/or lift tickets. The pants provide zippered hand warmer style pockets, a zippered fly, and belt loops. They are water and wind resistant, and are machine washable.
Pros
Affordable
With extra pockets
Comfortable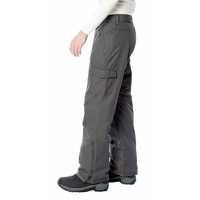 Our Take
Pockets serve a lot of purpose during a hike. You can put all handheld devices inside to protect them from water. You can keep your wallet, phones, GPS devices, and other gadgets that you need to bring with you during the hike. That is why a good hiking pants need to have a lot of pockets (or at least deep ones). This is why the Arctix Men's Regular Snow Sports Cargo Pants stands out among the rest. It has two main side pockets with zippers to prevent the contents from spilling out. It also has two more cargo pockets in the sides that are deep enough to keep your valuables inside without the fear of losing them as they went out of the pocket without you noticing it.

Aside from that, this pants also has an elastic bottom to fit into your boots so that water and snow will not get inside. It also prevents the heat from escaping the material, which keeps you warm and comfortable all throughout your journey. Overall, this is a very affordable pants with awesome features! Worth every cent!


$44.99


Camii Mia Women's Windproof Waterproof Sportswear Outdoor Hiking Fleece Pants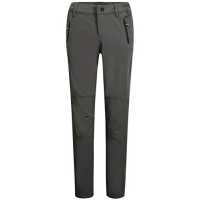 This pants is made with 97% Nylon and 3% Spandex. This is a hiking pants with no stretch and also has 2 front slant pockets, 2 back pockets and 2 knee patches. The surface layer is weatherproof with an inner layer fleece that keeps you warm. This is great for outdoor sports like camping & hiking, snow skiing, traveling, climbing, cycling, hunting and etc. Hand wash and machine wash safe.

Pros
Warm and comfortable
Tapered cut
Not too expensive
Cons
Can have occasional wears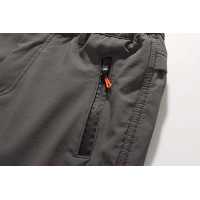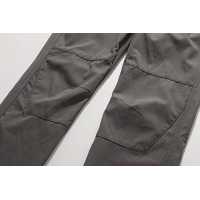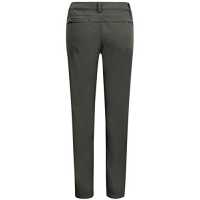 Our Take
Camii Mia is very known for quality,simplicity and delicate. For that, the Camii Mia Women's Windproof Waterproof Sportswear Outdoor Hiking Fleece Pants, is a perfect example of the brand's commitment to quality. This pants will work perfectly on a 3 day hike, walking behind waterfalls, going hours through sporadic rain, even hiking on a glacier with crampons. And all of that while looking stylish with the tapered leg. Most of the other waterproof pants in the market are wide leg or even have a slight bell-bottom, which works great when going over your boots, but it also means that they'll sometimes catch on your shoes. After awhile, they'll wear in certain spots. But you will be able to pull awool socks over these pants so the wear will never happen! It definitely will look so much better too. The fleece lining is so warm and comfy, even during the evenings when it was only about 30 degrees F, your legs will still be toasty. Highly recommend.
$36.00


BenBoy Women's Outdoor Waterproof Windproof Fleece Slim Cargo Snow Ski Hiking Pants
The hiking pants are made of 92% polyester and 8% spandex, which are waterproof, windproof, warm, abrasion resistant, no pilling and comfy. Multi zipper pockets keep your phone, keys,credit cards and other personal belongings secure. Slim fit hiking pants featuring adjustable waistband with belt, patchwork knees, esoteric knee darts and unique zippered cargo pockets on thigh part. This is also water repellent, windproof outdoor pants with fleece lining, keep you warm and dry in the cold and windy weather. Stylish snow pants for women,perfect for winter outdoor activities like hiking, mountaineering, camping, skiing, snowboarding, climbing, ice sports.
Cons
Not waterproof
Sizing could be an issue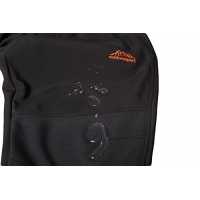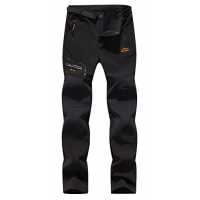 Our Take
There is so much to love about BenBoy Women's Hiking Pants. The material is flexible, durable and high quality. The inside fleece lining is just the right amount with plenty of room for leggings or jeans underneath. Slim fit without being tight, and loose without being boxy like snowboarding pants. I was able to cover my snow boots as well. You can choose from a variety of colors that are available too!

This may not be perfect for a hiking pants, but it serves its purpose. All you need is to make sure that you get the right size and you wash it carefully.
$39.99


INBIKE Winter Fleece Windproof Thermal Pants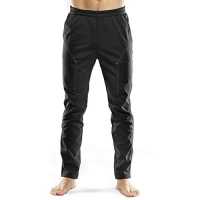 The Inbike Thermal Pants is made with 100% Polyester, quick-dry moisture-wicking fleece pant is made of 100% polyester, high stretchy and breathability, soft and comfortable to wear. Lining of the fabric adopts high density polar fleece. Surface fleece fibers were combed time after time, so that being soft and textured. Inner of the fleece adds warm-lock film to prevent heat from running off. Special cutting for outdoor activity,the expanded knee space makes sure your movement freely. The band at waist part is wide and of high elasticity, no worry about that it is too tight or loose to your body. Applicable for temperature between 20 degree to 50 degree, keeping you warm for fall or cold weather outdoor activities, such as cycling, running, jogging, hunting or fishing.
Pros
Good fit
Very warm
Easy to wash
Inexpensive
Cons
Too long (designed for tall people)
Can't be worn casually as it can be very warm
Our Take
Made with 100% polyester fabric, the INBIKE Winter Fleece Windproof Thermal Pants is very comfortable and warm, making it a perfect pair of pants to hike during the winter. This product is very warm as it is designed as an effective "thermal pants." So if you're planning to buy this for casual wear, that would be a bad idea. Overall, however, I found the pants to be comfortable and well-made, just too warm and too long. No pilling or loose threads- looks more expensive than they are by a mile. With the elastic waist and the pre-articulated knees, you really feel like you're wearing something built for you. The fit is fairly slim, and compliments your backside fairly well. Its price is also the most impressive part of this offering. For the 20 something dollars I spent, I thought that they performed unbelievably well, and reminded me of some much more expensive companies.
$31.99


Columbia Women's Anytime Outdoor Boot Cut Pants, Sun Protection
Built with comfort stretch, these mid-rise boot cut pants will quickly become your go-to pants for every activity. Protection rain or shine with rain-and-stain repellency and UPF 50 sun protection make these pants ready for any adventure. This women's casual pant features a bootcut leg for comfort and style. Crafted of 96% nylon and 4% elastane they yield a comfort stretch fabric perfect for active wear. It features a drawcord adjustable waist, two side pockets and a single back pocket to secure your small items.
Pros
Comfortable
Good fit
Waterproof
Cons
The pants can sometimes pucker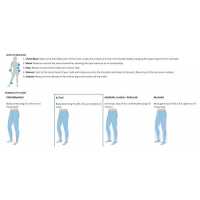 Our Take
If you are a woman with particular interest in both the outdoors and fashion, then this pair of pants is perfect for you! You can longer days outside knowing you're protected against sun damage thanks to the built-in UPF 50 material, along with its water and stain resistant material that will keep you clean and dry. This women's casual pant features a bootcut leg for comfort and style and has a drawcord adjustable waist, two side pockets and a single back pocket to secure your small items. They may appear a bit lumpy on the hanger, but after putting them on, the lumps disappear and they look smooth and nice. In other nylon pants, after machine drying sometimes the nylon will draw up and they become too short for me, but these have retained their length!

However, they have a zipper, a snap and a string tie at the waist. Sometimes to get the waist snug enough (they tend to get looser throughout the day), so when you tie the drawstring so tight that the pants pucker underneath. Other than that, this is a brilliant pants that you should check out for your next winter hiking trip!
$41.37