9 Best Backpacking Chair
If you have been on a camping trip with your friends and family, you know that comfort is not really something that you can expect in the different camping locations. That is why it is important to bring as much stuff as you can into your trip so that you can feel a home-y breeze even if you are out and about in the wilderness of the mountains or other terrains.
One of the most important things you can bring with you is a backpacking chair. These chairs are usually foldable and lightweight, allowing you to carry it in your trips without causing trauma and exhaustion. For me, there are different things that you need to consider when you are buying a backpacking chair for your next camping trips. You need to ask yourself: Can I fit this in my luggage? Can this withstand my weight? Will this chair last a long time? And is this affordable?
If your answer to these questions is a YES, then you might have found the perfect backpacking chair in the market. So if you are looking for one to buy, check out our list below to guide you on which one's are the best for you!

MOON LENCE Outdoor Ultralight Portable Folding Chairs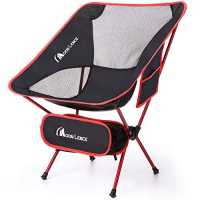 This is a highly durable seat made of 600D Oxford cloth with high-strength aluminum alloy frame. Our heavy duty camping chair weighs only 2 pounds which can hold up to 242 pounds/110kg. Unique and ergonomic seat design gives you the best seat experience allowing you to relax. Breathable and soft seat net makes you feel comfortable while you sit. Both the mesh and the holders can be folded into small pieces.This portable chair is compact enough to put into your backpack or your carry-on luggage. Foldable mesh and metal poles make it easy to set up and fold down. It is super easy to clean: just sweep off or clean by soap water. The ideal choice for Backpackers, Tailgaters, Hikers, Concertgoers, Campers, Adventurers, and anyone looking for comfort without the bulk.
Pros
Durable
Lightweight
Easy to clean
Inexpensive
Cons
Slightly shaky when installed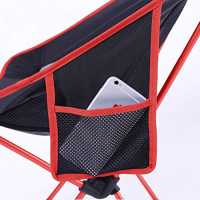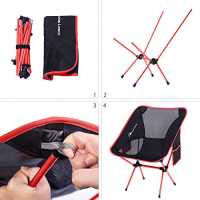 Our Take
One of the most important functions that a good backpacking and camping chair must possess is portability. You don't want to be carry heavy metal rods and bulky chairs as you walk a steep hike, do you? That is why I believe that the MOON LENCE Outdoor Ultralight Portable Folding Chair deserves a spot in this list.

First of all, it is definitely lightweight. In my conservative estimate, it only weighs around 2 lbs which is a weight that is slightly higher than that of a usual powerbank. This foldable and collapsible chair is well-made and is can carry the weight of a huge person. It also looks sturdy and will most likely last long if taken care of.

Another thing that got me into this chair is that it is easy to clean. We all know how dirty our stuff gets when we are in the mountains and it starts to run. With this chair, all you need to do is just sweep it off or clean it by soap and water. Awesome, isn't it?

MARCHWAY Ultralight Folding Camping Chair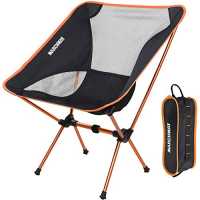 The Marchway Ultralight Folding Camping Chair weighs only 2 pounds that can be picked up with a finger, and folds down to a 14.20 x 5.20 inch stuff sack that can fit into a carry-on. It is made with foldable aluminum poles with shock-cord structure enabling quick set up and fold down. Within one minute you can finish the assembly process. Velcro straps can hold the frame together easily. Ergonomic seat design gives you optimal seat experience. Breathable seat net brings you comfort when in hot weather. It is ideal for tailgating, mountaineering, motorcycling, hunting, music festival, concert party, park, BBQ, road trips and adventuring.
Pros
Inexpensive
Breathable mesh back
Easy to dis/assemble
Cons
Poor balance
Very lightweight so the wind can blow it away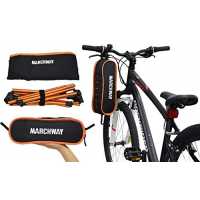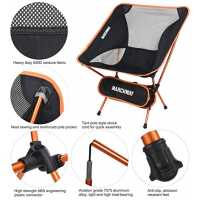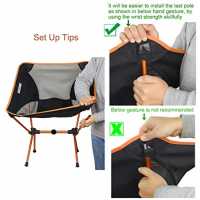 Our Take
Much like the other chairs in this list, the MARCHWAY Ultralight Folding Camping Chair is foldable and lightweight. But what makes this chair stands out is it that the mesh in the back of the chair makes it very comfortable to sit in. It is very sturdy, so that's a plus. But whenever you sit on it, there is enough air that circulates in your back preventing you from sweating too much.

It is also very compact. Since it's foldable, it is easy to collapse and can fit right into most backpacks. When it comes to it, this chair is also easy to set up and put down. The poles have stretchy connectors and snap into place making it easy to assemble and disassemble. Getting the seat cover on the frame is a minor challenge, but it's really not that bad.

As compared to other chairs with similar style, you definitely can't beat this price. Real snatch!


Trekology YIZI GO Portable Camping Chair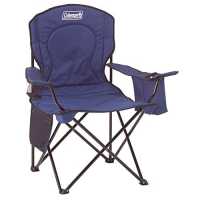 The new YIZI GO design is 1cm higher and 15% lighter and prior version. Experience superior lower back support from the new deeper seat fabric. It has breathable side Mesh Panels allow for increased Air Flow in hot and humid environments, helping to keep you cooler. Designed and Engineered with the same High strength aluminum alloys used by Aircraft manufacturers. The frame provides sturdy support with a weight capacity of up to 300 pounds. Engineering Grade 600D polyester seat fabric with double reinforced V stitch is durable, flexible and Machine Washable for ease of care. Designed with "daisy chain style" multiple tie downs and end handles. The chairs versatile design allows you to not only attach the bag to the chair, but also your backpack, motorcycle, etc. When you're done the Yizi Go stores back inside the included storage bag.
Pros
Has lower back support
Has mesh panel for extra air flow
Easy to set up`
Our Take
If comfort is what you're looking for in a camping chair, then you would not be disappointed with the Trekology YIZI GO Portable Camping Chair. The way it is design is very ergonomic that it allows for superior lower back support. It also has mesh panels in the sides to increase air flow and prevent sweating in your back. It is so lightweight I don't even notice it in my pack (weighs just a bit more than a 20oz bottle of water) and is small enough to not take up excessive room. Setting it up takes maybe 1-2 minutes, and that includes getting it out of my pack. And yes, it is comfortable.

In conclusion, if you want utmost comfort, then go for this chair!

GigaTent Blue Folding Camping Chair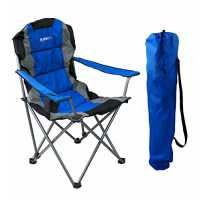 The GigaTent Blue Folding Camping Chair is a comfortable outdoor chair that offers maximum comfort and optimal relaxation. With a powder coated steel frame, and 600D padded polyester material, you're guaranteed a long lasting chair to enjoy outdoors all year round with peace of mind. You can fold and unfold it in seconds because it collapses down to just 8″ x 38″ and can be stored almost anywhere. Open, it's 40″ high (16″ back height), 21.5″ wide and 15″ deep. Whether you're in your garden, at the beach, camping or hiking, this quad chair is super comfy. It even has a beverage holder in the arm rest for drinks, cups or bottles. It is also super light and easy to carry that it weighs only 7.85 pounds, ideal to hike with or carry. Its weight capacity is 250 lbs and it can be carried with one hand or tossed over your shoulder.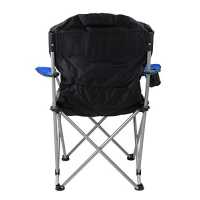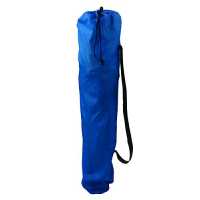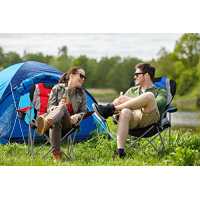 Our Take
Whether you're miles away from home on a camp site near a lake or right in your backyard heating up some burgers with your buds, relaxation is imperative. After a long day of working up a sweat, it would be ideal to a have somewhere you can kick your feet up and chill. With our camping chair, you're getting everything you need if you're looking to relax. For that, the GigaTent Blue Folding Camping Chair is a perfect chair to bring with you!

The quality of this chair is amazing. The base carries some weight which is great for stability. However, for some reason, the lead edge of the canvas seat bottom is too high relative to where you posterior settles down into the chair. I am six feet tall of average weight and my legs are propped up so high because of the pressure of the lead edge beneath my knees. Some adjustments could correct this tho.

GCI Outdoor Freestyle Rocker Portable Folding Rocking Chair
With portability and durability built in to each chair, stool, and table, it takes less time to pack, carry, set up, and fix gear–that's more time spent on what truly matters. GCI Outdoor prides itself on solving ease-of-use issues through innovation, ensuring relaxation. Designed with patented Spring-Action Rocking Technology, the GCI Outdoor Freestyle Rocker camp chair delivers a smooth rocking action on any surface in the outdoors. Featuring padded arm rests, built-in beverage holder, and a convenient carry handle, folding a camp chair open and closed has never been easier or safer with GCI Outdoor's patented Eazy-fold Technology. The Freestyle Rocker is constructed of lightweight and sturdy powder-coated steel, supports up to 250 pounds, and has a limited lifetime warranty.
Cons
The seat angle is kinda uncomfortable
Slightly more expensive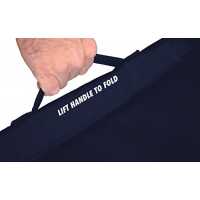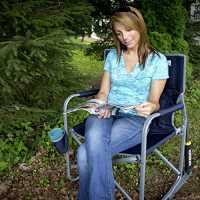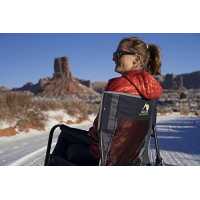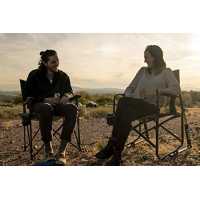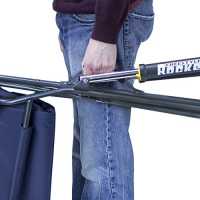 Our Take
To be honest, this is chair has a lot of potential. However, there needs to be a little more redesign. Nonetheless, it still does the job well and is very portable. It is still comfortable. It folds flat super easy and is light enough to pack one handed across the RV park to neighboring BBQ, rock in uneven ground, grass and gravel and store flat in the underbelly of our trailer for travel.

One major critic on this chair, though, is the angle between the chair seat and back is too upright and steep. This needs to be relaxed some. If the chair is on an uneven surface with the rear higher than the front it is very uncomfortable and you have to work against the shocks to get a somewhat comfortable position.

Sportneer Camping Chairs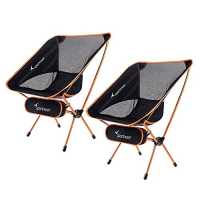 The frame of Sportneer Camping Chair is made of heavy-duty aluminum ensures stability and durability of this camping chair. These portable chairs can be folded into a small piece of 14.25" x 5.25" including the carry-on bag and still weighs 2 lbs. It is extremely easy to carry during outdoor activities such as hiking, camping and backpacking. The aluminum shock-cord pole structure makes for quick intuitive setup. This chair's height is 13.8" with a back height of 26". But it may not be suitable for people with back pain problems or those who can't get up from low positions. This robust chair is capable of taking weight up to 350 lbs. This heavy duty chair is a necessity for campers, hikers, backpackers, adventurers and anyone who loves outdoor activities.
Pros
Very durable
Well-balanced
Portable
Cons
Slightly more expensive than others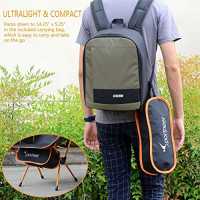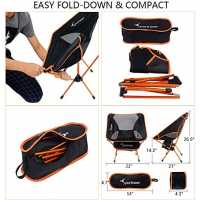 Our Take
When other backpacking chairs in this list focus on the fact that they are comfortable and lightweight, the Sportneer Camping Chair pride itself for its durability. It same of heavy-duty aluminum which ensures stability and balance. However, don't get fooled because this is also a very comfortable and lightweight chair like much the others, making it one of the best in this list.

The unit seems really good and of really good quality materials. For those who said it takes over a minute to put together we're clearly doing something wrong. Just know that the lettering is on the left side of the chair and you will have it together in about 20 seconds. And to disassemble re-wrap and zip about 40 seconds. When you're sitting in the chair and you look at the aluminum poles they seem to flex slightly but not actually bend or stay in that shape once finished using. There is a slight amount of give and movement to the unit and I am by no means at maximum capacity for this chair.


Cascade Mountain Tech Compact Low Profile Outdoor Folding Camp Chair with Carry Case
This is the perfect low profile, lightweight chair for camping, the beach, outdoor concerts, sporting events and much more. It is made comfortable with breathable mesh fabric and cushioned armrests. . Reinforced feet allow it to stand on various grounds. Just 21" high and 20" wide, meeting requirements for most outdoor music festivals. Sits 9" off the ground allowing you to easily snuggle up by the campfire. Folds up fast and stows easily at 26" x 8". This can be stored in the bag with the shoulder straps included. The strong steel aluminum frame holds up to 250lbs. Carry it anytime, anywhere!
Pros
Sturdy
Comfortable to sit in
Inexpensive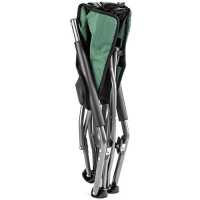 Our Take
To be perfectly honest, this is not the best chair there is, but it definitely is not bad for its price tag.

It is really comfortable to sit in and unlike a normal bag chair, my legs don't dig into the front of it. I can stretch my legs out or keep them bent. The arms of the chair have a nice padding so it is not just metal bars. Some people have said they wish this had a higher back to help support their lower neck, but I disagree. It serves its purpose and I have not had that issue. Scoot down on the chair if you want to rest your neck.

The only problem that I experienced in using this chair is the fact that it is pretty difficult to get out of. I pretty much have to roll out of the chair to stand up. Nonetheless, it is still worth mentioning in this list.

FBSPORT Lightweight Folding Camping Backpack Chair
These camping chairs are made of 1000D Oxford cloth with high-strength aluminum alloy frame. Our heavy duty backpacking chair weighs only 2 pounds which can hold up to 242 pounds/110kg. It has a Unique and ergonomic camping chair design gives you the best seat experience allowing you to relax. Breathable and soft camp chair net makes you feel comfortable while you sit. Aluminum shock-cord pole structure makes for camp chairs easy to assemble. Ergonomic design provides extra stability. Velcro strap to hold the frame together when collapsed. This weighs only 2.2 lbs. Additional storage bags and a carrying bag are included, which are easy to carry and take on.
Pros
Sturdy
Very compact
Well-made
Cons
Not for someone who is very tall or wide
Can be slightly expensive depending on size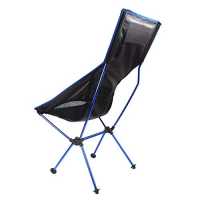 Our Take
First of all, I am very much impressed with how compact this chair is. This is a very comfortable chair that collapses into a very small bag, maybe the most compact of its class. It's easy to put together and take down. There's no guessing what goes where. The internal shock cords mean that the structure practically assembles itself when you take it out of the bag. All you do is secure the joints that suggest themselves, and then stretch on the fabric.

However, this chair is definitely not made for someone with a wider body. I will say that this chair is better suited for smaller people.So, for anyone over 200 pounds, I would consider getting something a little bigger. Part of this is because this chair is really low to the ground, so the legs don't provide as much support as some other camping chairs. But as a short person who likes hike and camp, this was a great buy.

ENKEEO Camping Folding Chair
ENKEEO's camping folding chair with extended backrest allows you to fully relaxed and your head can be supported thanks to the add-on sponge pillow. This collapsible camping chair features high-density 600D Oxford fabric and rust-resistant 7075 aluminum alloy frame and it is capable of holding up to 330 lbs. This chair weighs 2.7 lbs that can be folded to 17 x 6 x 6 inches. This camping folding chair comes with 3 mesh pockets for convenience, it frees your hands by fitting in cellphones, keys, wallets, cards, and more small items. This portable outdoor chair features integrated foldable aluminum pole which ensures quick set up and folds down; you can finish the whole assembly process in seconds.
Pros
Stable
Compact and portable
Sturdy
Cons
No armrest
Slightly more expensive than others in the list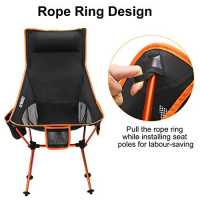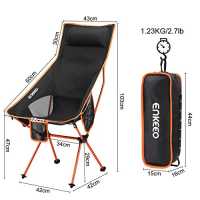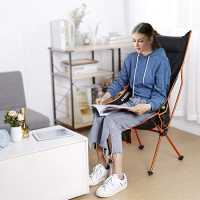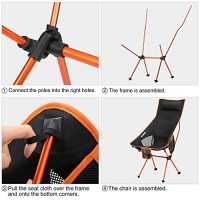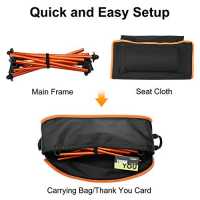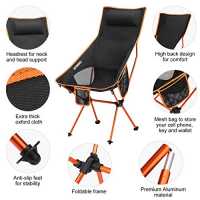 Our Take
Probably one of my favorite things I have bought on Amazon lately. I bought this chair for my camping trips. I am not a back packer but I car camp at camp sites. I was looking for something comfortable and something that pack in my car better. You come use this chair for backpacking but it would be a luxury item for sure. It is very light and very comfortable to sit on.

The only thing I wish this chair has is an armrest, but other than that, this is a definite steal!