10 Best Camping Backpack
Camping backpacks are not only for aesthetics or look. They are also very essential to carry as many tools and stuff you can without compromising your convenience.
A good camping backpack must have enough storage space to fit all your clothes, gadgets, devices, etc. It also has to be durable to carry all the camping essentials you've prepared for your trip.
Waterproofing is an extra function that you may want to look for when choosing for the perfect camping backpack. With such features, you're confident that the contents inside are protected from the elements, especially from rain or snow.
On top of that, specialized pockets must be present to help you organize your luggage. The backpacks' ergonomic design must secure an effortless carry, especially in rough terrains and long walks.
If you're looking for a camping backpack that suits your needs, this list will help you choose the one that fits you perfectly.

TETON Sports Scout 3400 Internal Frame Backpack
The TETON brand continues to be the top-selling internal frame backpack with included features that suit every man and woman. Its waist belt is adjustable 26-60 inches, and the torso length is adjustable up to 15-19.5 inches. It is a versatile, quick trip pack that's just right for the youth as well as adults for light backpacking trips. This backpack is best for 2-4 day adventures as it has a capacity of 3400 cubic inches (55 L) capacity and weighs 4.5 pounds (2 kg). The multi-position torso adjustment fits a wide range of body sizes and has a durable open-cell foam lumbar pad and molded channels that provide maximum comfort and airflow. This backpack features good quality and design, a well-thought-out sleeping compartment, compression straps, and some exterior pockets for strategic packing.
Pros
It fits any body frame
Light and versatile
Has many space and pockets
Cons
Has some manufacturing flaw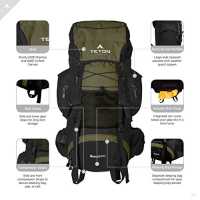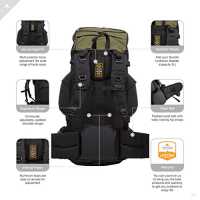 Our Take
This pack fits most skinny people; that's why it is an excellent choice for you no matter what your body type is. Whether you are young or an adult, there will be no issues when fitting in it. The shoulder strap assembly is adjustable to a shorter frame and comfortable to carry. The bag is built with high-quality materials that make it durable and versatile. Furthermore, it features a bigger storage space that could fit all the things needed for scouting and other activities. There's plenty of room available, and it can even contain a three-liter hydro pack. It is comfortable and easy to put on. Overall, this backpack is undoubtedly good quality, durable, and very ergonomic. Highly recommended!
$79.99


Loowoko Hiking Backpack 50L Travel Camping Backpack with Rain Cover
This backpack can fit women and men and has eight adjustable straps for tying up your pack or hanging sleeping bag, mat, hammock, tripod, and other gears. It also features mesh side pockets to keep your stuff separated and organized. It is fitted with breathable mesh shoulder straps that help relieve the stress from your shoulder. On top of that, it has widened and thickened S-type shoulder straps and high elastic, breathable back support for best ventilation. The rip-stop polyester material used in making the bag can prevent the water from slipping into the bag and making its contents wet. A rain cover is also included for added protection. This bag fits a person 5'-6'5 (90lb-250lbs) and meets the size requirement for most airlines.
Pros
Provides much space
Keeps your things dry
Durable
Ergonomic shoulder pads
Cons
Not recommended for heavy packing
Our Take
This pack is incredible! It is sturdy, durable, and it offers great value. It keeps the items very dry and distributes the weight very well, which makes it not so hard to be carried. The zippers are excellent, and the pockets are located in the ideal spots - making it not hard for you to reach out for your stuff while hiking.
The storage space is perfect and provides you a considerable pack where you can store everything you need for your trip. As the description says, it meets the size requirements for most airlines, so you will have no problems when you travel by airplane.

It is well- designed, and the material is water-resistant. The straps made it easy to attach some stuff in place. On the front of the bag is a zipper pocket with a fantastic covered zipper that keeps them dry and rust-free. It has room for emergency or everyday supplies that you might need on the trail or the campsite. It is comfortable to wear, allows easy access to small items.
$49.99


G4Free Lightweight Packable Hiking Backpack
This packable hiking backpack/rucksack is lightweight but is still very durable to carry for your trip. It is roomy enough to carry what you need on your weekend camping adventure like hammocks, clothes, towels, food, etc. This can carry up to 40L when fully packed and includes one main compartment, 2 top pouches, one front spandex pouch, two sports bottle holders, and padded backpack strap with a chest clip. This hiking backpack has bungee elastic ropes and straps for hanging trekking poles, fishing rods, sleeping bags, or other camping accessories for extra space. Chest straps are also fitted for a secure lock, and it comes with a whistle, which is essential in helping you find your companion when in distress. There's also a large side mesh pocket to hold the big bottle. The backpack is made from high-quality water and tear-resistant Nylon fabric, providing a durable and long-lasting performance with minimal weight. Adjustable and breathable padded shoulder and strap are fitted to meet different requirements for both men and women. It is also foldable and fits into an ultra-compact pouch. It is versatile, ultra-light, ultra-durable, impressive, and is perfect for hiking and other outdoor activities.
Pros
Lightweight
Large capacity
Comfortable
Padded shoulders for ergonomic and comfortable carrying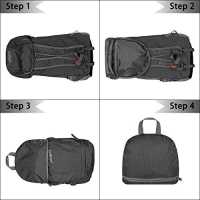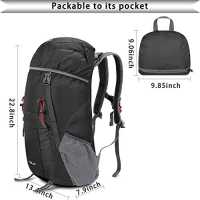 Our Take
There is so much to love about the G4Free Lightweight Packable Hiking Backpack. You will be surprised how you would be impressed by its perfect size, color, and excellent materials used. They are roomy and was designed thoughtfully. For example, it has packing cubes, which makes it easy for you to keep everything organized. It is comfortable to carry even if you put heavy stuff in it. You can carry the pack with just one strap or with both shoulder straps if you want to spread the load. It is an excellent and long-lasting backpack. The shoulder straps have a nice amount of padding to help you with keeping your back and shoulders from feeling too uncomfortable. Overall, it is a great pack for its price and certainly highly recommended for campers, hikers, and everyone who loves the outdoors!
$21.99


Venture Pal 40L Lightweight Packable Waterproof Travel Hiking Backpack
Venture Pal offers kaleidoscopic colors and patterns for this packable hiking backpack that ranges from classic Black to stylish camouflage to colorful leaf pattern. Whether you are passionate about essential fit or is a trend-setter, there is still a style and design that suits your taste. It features zipper closures, one waterproof wet pocket added to the main compartment, and a zipper on the back leadings to the internal wet pocket to better separate sweaty clothes, towels, or other personal things after swimming or some exercises. This backpack is made of high-quality tear- and water-resistant Nylon fabric, heavy-duty metal zippers, and is enhanced by bar-tacks at major stress points that provide long-lasting durability against daily wear and tear. The extra strength provided by the double-layer bottom piece makes it possible to carry more stuff without compromising its lightweight-ness. It weighs only 0.7 pounds and can be easily folded into its own pocket for storage. The breathable mesh shoulder strap is also fitted with a lot of sponge padding to help relieve the stress from your shoulder. The chest clip with a whistle buckle works perfectly in distributing the pack's weight and keeping it steady and centered. A must-have for sports, hiking, camping, and traveling!
Pros
Trendy colors and patterns
Lightweight
Not bulky
Cons
Some stitching isn't done well
Our Take
If you are a stylish and fashionable camper, then this one is perfect for you! The Venture Pal Backpack is one of the favorites because the fabric seems to be best designed for long-term durability. All of that without compromising its aesthetic value where you can choose a design/style that fits your taste!
It is a compact and easy to fold backpack. The color is excellent and humane and is definitely perfect for hiking and short trips. It also has many pockets in it plus the fact that it can be stored easily and a waterproof pocket on the inside, which can be a lifesaver for protecting sensitive items during rides that tend to splash a lot of water all over. This backpack looks like how it is advertised. It is not bulky, like a regular backpack. The only bad thing is that some of the stitching has come undone on one of the small inner pockets, but it's probably a manufacturing defect. Overall, it still works as it should be, making it a perfect choice for a fashionable, trendy, and stylish campers like you!
$22.99


WintMing 70L Camping Hiking Backpack
This 70L large-capacity camping backpack has a main storage bag with elastic drawstrings that can expand by demand. It is roomy enough for you to put in a sleeping bag, mats, hammocks or shoes, and other luggage. It also has one laptop compartment, one front zipper package, and two side pockets for a water bottle or umbrella. It features a waterproof fabric made of a tactical military rucksack made of 600D oxford fabric, which is more durable and anti-scratch than traditional hiking backpacks. It also has a high-quality zipper that is non-tearable and reliable. This camping backpack is ergonomically designed to protect the spine. Furthermore, it is fitted with adjustable and breathable mesh shoulder straps with plentiful sponge padding to help relieve the stress from your shoulder. Widened and thickened S-type shoulder straps and high elastic, breathable back support for best ventilation and easing burden are also great features of this bag.
Pros
Large storage spaces
Waterproof
Cons
Does not fit someone with a petite body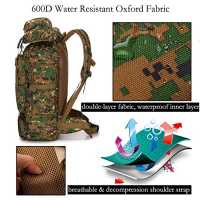 Our Take
This backpack is much better than other ones in the market. It fits everything needed for a trip but also provides some extra room. It seems to be sturdy, and the material is heavy-duty. The thread of the bags appears high-quality and not something that will tear off quickly. This bag is more of a lightweight overnight camping/hunting pack. You can load this pack down with a hammock, a quilt, a camera bag, two tripods, and a tree tent. It all fit with ease with some room to spare as weighed in at 20 pounds. The main compartment on the bag has a waterproof ripstop liner that appears to do an excellent job of keeping the contents dry. There are multiple pockets and straps around the pack that are very handy for carrying additional accessories, including a pocketed hood, which is very convenient for accessing your gadgets like a go pro or phone.

MOUNTAINTOP 40L Hiking Backpack
The Mountaintop 40L Backpack is one of the perfect backpacks in the market. The main compartment is the size of the whole bag; you what you see is what you get in terms of its storage capacity. There is a compartment that can be used for a bladder and a holding place for the tube but no specific bladder space. This backpack is fitted with an adjustable hip belt that fits waist sizes 25–55 inches; however, the belly strap is not removable. An adjustable sternum strap, breathable molded foam back panel, and S-shaped shoulder straps are also added features in this bag to ensure that you can properly carry the weight of your gear. This backpack is impressively practical for shorter treks, and there's a full-color selection to fit any hiker's style.
Pros
Has many compartments
Has comfortable back support
Meets the size requirement on plane
Cons
Too big for average size vehicles like buses and cars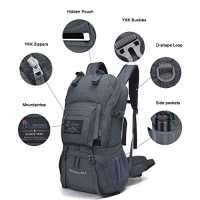 Our Take
This is a perfect backpack for your personal items when flying. But the best part about it is that It passes all of the measurement requirements to be a carryon bag on almost any airline. It has a perfect size that fits below the seat in an airplane while managing to hold many clothes, gears, and tools. While hiking, it feels like you weren't carrying anything at all. The straps are of high quality, and the back support is fantastic! It is also a lifesaver during rainy days! The bottom of the pack opens up to an attached rain fly that fits comfortably over the bag when you are in a hurry to stay dry. In general, this one highly recommended for frequent flyers and campers and hikers alike.
$39.98


PANS Large Military Expandable Travel Backpack
This travel backpack is multipurpose and is suitable for different people or occasions. It is a general daypack and has some Molle system fitted in it. You can add a small pouch or Velcro on it to make your backpack different from the others. This 3-day travel backpack has four main loading spaces: the front compartment can hold the cell phone wallet, the key, and so on; the middle compartment can put a flat plate and a book; the main compartment can put some clothes and so on. There is plenty of room for a lot of stuff and plenty of separate chambers for maximum organization. There is two walkie-talkie pouch on the backstrap of the bag, an adjustable chest belt that can disperse the pressure, which allows you to carry it more comfortably, and adjustable belt, which lets the whole tactical backpack fit your body. Additional straps around the chest and waist are also included to distribute the weight better. This is an expandable backpack, which can be expanded by zipper on the side to allow it to hold more things. The side buckles also make it easy to secure and reduce its size. This backpack is waterproof, making it very suitable for outdoor activities like camping, trekking, and fishing in all weather conditions.
Pros
Expands larger size
Secured zippers
Cons
Waterproofing is not guaranteed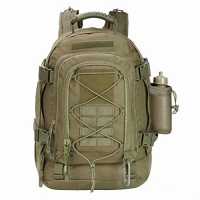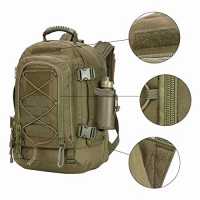 Our Take
This is a great bag that expands to a larger size and still fits in overhead bins when not overstuffed. Some of the little tactical loops were unnecessary but they don't get in the way. Some of the things are removable and so it was nice to take off the more hiking straps etc. You will love that the waist belt comes off, but is still held firmly in place with Velcro. The zippers seem sturdier than other similar backpacks, so that's another plus. The main compartment zippers have holes that meet up so you can lock them closed. But the only issue is that the water resistance is not that much guaranteed because it gets wet easily inside. Overall, this is an excellent backpack for short trips. Highly recommended.
$37.99


NEEKFOX Lightweight Packable Travel Hiking Backpack
The Neekfox Backpack/Daypack is ultra-durable and comfortable because it is made from quality thickened nylon fabric, which can stand up to heavier loads when you travel or hike. The S-shaped breathable shoulder straps are adjustable to fit any body size, and it features one main zip compartment, two front zip pockets, two mesh side pockets, and several inside pockets, guaranteeing many organizing options. The main compartment can hold a 13" laptop with spare space. Two mesh side pockets can even hold a 40 oz water bottle. Easy to use and easy to store; all you need to do is to fold this backpack into its zip pocket for storage and unfold it when required. Perfect for airport carry-on to avoid overweight charges. This lightweight, packable daypack provides enough room for traveling, overnight trips, camping, day hiking, and vocation. It's unisex too! The ripstop nylon construction sheds rain and resists wear better than cheaper polyester, providing extra strength and long-lasting performance with the lightest weight possible.
Pros
Waterproof
Lightweight and tough
Our Take
Durability-wise, the backpack performs well. The material used was lightweight while being tough. The pockets, straps, and loops were adequate, and you have endless options on how you want to pack your gear. It is perfect for the plane and easily fit under your seat or the overhead compartment without any issues. Although using it as a carryon is not really advisable as it is heavier and uncomfortable. The material is made out of a water-resistant material that repels water and unless it is being submerged in the water, regular water splashes and rain won't get into it. It's easy to store as it can be folded and fit into a small part of the bag which is the front pocket. You might wanna check this one out for value for your money!
$22.99


Oakley Men's Kitchen Sink Backpack
This utility-designed backpack is made of Nylon and Polyester and has padded shoulder straps with accessory pockets, sternum and waist straps. The padded storage sleeve with side access is attached to accommodate a 17-inch laptop and brushed media pocket at the top for protective storage. The abrasion-resistant bottom panel that comes with it is excellent for enhanced durability. Structured top lid with D-ring tie-downs and compression molded eyewear pocket is awesome additional features too. It also has a waterproof bottom shoe compartment that provides spacious storage.
Pros
Versatile and well constructed
Heavy duty
Large space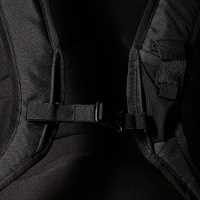 Our Take
You will love the style of this backpack! It is larger than you can see in the image and it fits perfectly even if it has lots of extra space. The interior pockets are nice and all of the exterior hardware is without fault. The metal parts are perfectly cast/milled/sculpted and the plastic parts are high-quality, high-density plastic instead of being cheap. You definitely can use this backpack for different ways and in different activities. For loading up for travel, it is great and versatile. Shoes in the bottom, laptop in the back, and everything else you want in the main pockets. Sunglasses are nice and safe in the armored top section. And as big its size, you wouldn't have any issues bringing it on a flight as hand-carry baggage. Great investment! You need to check this out.

seenlast Hiking Backpack 50L Camping backpack with Rain Cover
The materials used for the seenlast Hiking Backpack 50L Camping Backpack with Rain Cover are very high quality and weatherproof. A unique feature that comes with it is the mesh on the back, which prevents direct contact between back and backpack. This ensures the best possible ventilation. It scores not only with a sleek design in trendy colors but also with a specially designed for men, shortened back, which promises grandiose comfort. It is also equipped with a divided main compartment, chest, and hip belt. It has a high capacity that is enough for 3 to 5 days trips and a powerful plug-in system with eight adjustable straps. This 50L hiking daypack provides several pockets for handy storage and convenient organization. Also, the backpack is equipped with adjustable compression straps that hold your equipment securely in place and prevent objects from slipping around. It is made of high-quality fabric that effectively prevents it from being cut by sharp objects during use.
Pros
Durable
High quality
Lots of pockets
Our Take
Using this hiking backpack is one of a kind experience. It has breathable mesh shoulder straps with a sponge padding, so it's very comfortable and not hot. Hiking is a physically power-consuming activity, so we need a backpack that can reduce our stress, and keep our shoulders healthy without strain. Well, this one is perfect for it.

In addition, it has precision stitching and reinforced button, which makes it highly durable and can withstand even rigorous use. All seams and zippers are in place and looked like a reliable backpack. The construction of the pack is excellent, with high-quality materials and hardware. I would recommend this to anyone in a heartbeat!
$46.99