10 Best Camping Canopy for Rain
Camping canopies are supposed to make you feel the rain without getting yourself wet. That is the beauty of camping. However, we all know that experiences like such do not come without a price. Because you will inevitably have to spend on one, hence, it is wise that you invest your hard-earnt dollars on a canopy that will not let you down.
It always pays to be critical of the equipment you are about to buy. We have curated the list of camping canopies for rainy seasons to give you the top 10 best ones. Based on their quality, price, waterproof capacities, and durability, each of these has something to put to the table. Scroll down to see for yourself!
Camping.org does thorough research on your behalf, so you make only the best choices.
10 Best Camping Canopy for Rain

The Original-Authentic Standing Room Family Cabin Tent
This tent features 8.5 feet of headroom so you can stand up, walk around, and stretch out without hitting your head on the ceiling. It is built with a full waterproof fabric ceiling that is durable. With this 10x10 straight leg canopy, you will not have to curl up like a ball just to fit inside. Its easy setup feature reduces the setup time to only 10 minutes. When all set, it features two massive doors and two wide-zippered windows. The 2-door feature allows you to connect to other tents. There are four convenient storage pouches on the walls of the tent for extra storage. This product comes with a storage bag for extra protection when not in use.
Pros
Has a lot of room
Versatile
Waterproof
Our Take
This tent comes in different colors, so you can choose which one suits your vibe. Standing room tents are great both for children and adults. It has multifunctionality and versatility that allows many activities to take place in it. This product is ridiculously easy to set up. The only hard part was waiting for its arrival, which also did not take long. It was just the excitement making the wait seem long. I like this tent because it is very roomy. If you plan to sleep in it, a queen-sized mattress will be effortless to fit in this tent.

Indeed, this tent is waterproof. Do not worry about using it outdoors during the rainy season. However, the seams of this one were not sealed upon production. Although it did not show any signs of leakage, I would recommend that you seal the seams with weatherproofing tape as a preemptive measure for extra protection. This will lengthen the life of the tent, and will not give you unexpected problems. Overall, it is a good-quality tent that is worth its price.

$139.99


E-Z UP Ambassador Instant Shelter Canopy
This canopy has a straight leg design, featuring 100 square feet of shade from the sun and rain. The headroom capacity is increased by 9'5" through its clear-span ceiling structure. The interior frame does not follow a cross bars formation, giving more space vertically inside. It takes a few minutes to set up with no tools needed. The fully assembled frame can just be taken out from the bag and extended outside, and it is done. Breaking down is as fast as assembling it. There are three different height settings for versatility. This canopy is fire-resistant and has 99% UV protection.
Pros
Waterproof
Easy to set up
Lightweight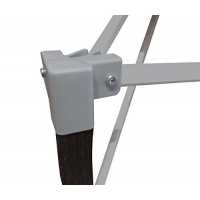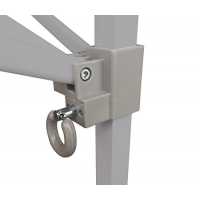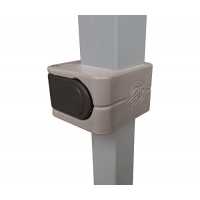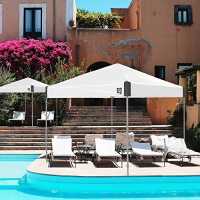 Our Take
This canopy is very easy to set up. You can do it by yourself without any tools and still finish in 5 minutes. I highly rate this canopy for the convenience it offers. Whether it is for camping, garage sale, garden parties, or pop-up markets, users will never have a hard time erecting this. On top of that, it is very lightweight and easy to carry around.

When it comes to rain, this canopy does not disappoint. There were no leaks at all. The Velcro at the sides helped a lot in keeping the roof in its place despite the weight of the water. You could do some help by occasionally pushing the ceiling during the rain to prevent water from collecting. The frame does not rust despite exposure to water, as long as it is not submerged. It retains a sturdy stand even months after the purchase. It is a neat-looking tent, and a durable one also. I would recommend this for people who always stay outdoors.
$149.00


Leader Accessories Pop Up Canopy Tent 10'x10'
The Leader Accessories Pop Up Canopy Tent with straight legs provides 10x10 ft. of coverage. It can accommodate 15 people in an outdoor event. With a fully-assembled one-piece frame made of high-grade sturdy metal, no tools are needed to set up this whole thing. One person may be able to set it up, but four working hands make the work faster. It features reliable protection from the sun, harsh winds, and heavy rains. The powder-coated steel frame does not rust nor corrode overtime. Its entirely silver back coated roof offers UPF 50+ UV Protection. With its four tie down lines and eight steel stakes, this canopy can withstand any weather.
Pros
Good packaging
Sturdy
Carry bag makes it convenient to bring
Cons
Needs two people for setting up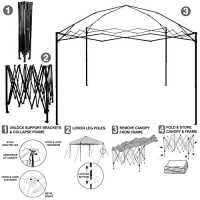 Our Take
The package came on time and came double boxed upon arrival. I was happy they took this action because it surely did a lot of help in protecting the product. Undoubtedly, the canopy had all the accessories and parts without any damages. The bag has rolling wheels, which is great for transporting the product. Most places where this canopy is used is not along the road, nor beside a parking lot. Outdoor spaces and camping sites would usually have hundreds of meters of walking distance, so it is a good feature to have wheels on the bag. This way, all you have to do is to drag, which takes less effort.

It is easy to put up, and it did not require any constant adjustments throughout the day. However, at least two people are needed. The Velcro material puts everything in its place, making it neat and snug. Ropes are unnecessary unless strong winds are hitting the area. The frame is sturdy enough to hold the canopy on a regularly windy day. Rain does not pose a threat to this product as it is waterproof. Staying underneath it will keep you dry unless the winds blow the raindrops in your direction. All it needs is draining now and then, especially when the rain is heavy. Small areas on the roof collect water that can be easily removed by a push on the ceiling. Everything else is excellent. Trying this canopy out will not disappoint you.
$115.99


Quick Set 9879 Escape Shelter
This Quick-Set Escape is a six-sided screen shelter that has sparked the Quick-Set Series. It changed the entire dynamics of campers, outdoor enthusiasts, and backyard party-goers through its features. It is ready to use out of the box, with no complex assembly processes. After only 45 seconds, you have a steady standing canopy in front of you that can protect you from rain and harsh sunlight. It comes with an oversized carry bag that has shoulder straps for easy transportation. You can also improve sun and rain protection by purchasing wind panel accessories.

Pros
Waterproof
Mesh walls keep insects out
Sturdy
Durable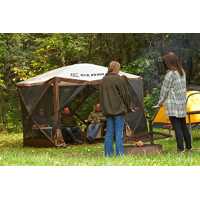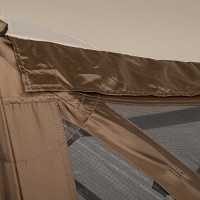 Our Take
I have to commend this product because of how fast it gets set up. It takes one person and two short minutes to have this thing standing and ready to accommodate people. Another good feature is, the sides are composed mostly of mesh fabric. The reason why that is ideal is that it allows winds to get inside your tent while leaving out insects like mosquitoes. Therefore, you can spend your nights sleeping comfortably without getting insect bites. I also like that material because it stops rain drops from getting inside. You can spend your days and nights in camping trips enjoying fresh winds but remaining dry.

The durability of this tent is also noteworthy. Its frame does not seem easy to break, and it has been in the same shape since the day I purchased it. The poles do not easily move even when there is movement inside the tent. I like the structure of the roof because rainwater flows off smoothly. It does not accumulate on top, which other roofs allow. The overall performance of the tent is impressive. It is a great choice for children and adults.

ABCCANOPY Pop up Canopy Tent Commercial Instant Shelter
This canopy has coverage of 10x10 ft., which can cover four average-sized garden tables. It can give shade to 10 people at the same time in any outdoor activity or event. Made with heavy-duty fabric, it has UV blocker, UPF 50+ features, and is 100% waterproof. It can be utilized both for sunny and rainy days. Setting this up takes only two people and a few minutes. The package comes with four canopy sandbags, four stakes, and four ropes for extra stability and sturdiness. It has smooth buttons on its legs for easy disassembling.
Pros
Best quality
Sturdy
Four free canopy sandbags
Waterproof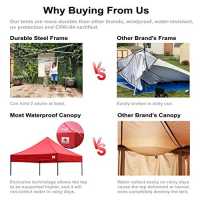 Our Take
This canopy changes the game. It has a good-quality construction, and it has features that solve all potential problems even before they happen. First, let us talk about the cover. It has velcro corners to prevent dislocation and movement. No adjustments are necessary throughout the day despite strong winds. The inner linings help to protect you against UV rays. Certainly, it is waterproof. It does not have puddles of water on the roof whenever it rains. That is also made possible by the frame. The frame has the best quality. It is engineered to assure a strong base in the center of the canopy. Because of this, you have a very sturdy setup that stays neat throughout.

Now, the additional feature. I like that comes with the purchase when people would usually try to do it themselves using alternative products that hassle them. This canopy comes with four sandbags, which you can tie on each leg for support. That eliminates all possibilities of the canopy being blown away by strong winds. No other canopy has this offering, making this one stand out. It surely makes the canopy stay in place in any weather. I would highly recommend this.
$178.45


ABCCANOPY Canopy Tent 10 x 10 Pop-up Instant Shelters
This canopy tent has a 10x10 ft. shade coverage. It also features an extra big awning that adds about 23 square feet of ample cooling shade to the surrounding areas of the tent. A single person can set up the whole thing within a few minutes without using any tools. You have three height options to choose from depending on your needs. It has a sturdy rust-resistant frame with black powder-coated steel for additional protection. The thick square-shaped legs are 20% more durable than other types in the market. The roof and side walls are waterproof and windproof for maximum comfort inside the tent. Velcro tabs are in place to ensure that each side stays in its place.
Pros
Has 3 walls
Waterproof
Sturdy
Cons
Relatively expensive
Needs two people for setting up
Our Take
Setting up this tent is fairly simple. It takes around 5 minutes for two people to have it standing and fully-assembled. You can even go faster if you have mastered the instructions. What sets this canopy apart is the 3 walls it has. Usually, canopies are just composed of roofs. This product offers more protection from the sun and stops the rain from going in your direction. It is a common choice for carnivals, garage sales, pop-up markets, and the like. I think it is because your things inside are easier to monitor when only one of the four sides is open. However, you can also roll up the other sides if you want more wind to get inside. It is a versatile product.

When the rain comes, you are surely safe underneath this canopy. The roof is waterproof, and so are the walls. This thing can withstand even heavy rains. Although, you might need to give the ceiling some pushes in order for water that has accumulated on top to flow down. With the sides of the tent in place, you will have no problem with splashes. For its versatility and functionality, the price of this tent is reasonable. This is highly recommendable.


EliteShade 10'x10' Commercial Ez Pop Up Canopy Tent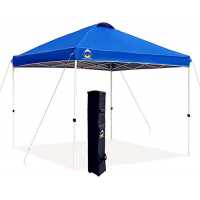 The EliteShade canopy is the most reliable canopy brand based in North America. This model features a 10x10 ft. shading capacity. It has a durable full truss structure paired with straight legs to provide better performance compared to other brands at the same price point. Its powder-coated high-grade steel frame is rust-resistant, corrosion-resistant, and is protected from chipping and peeling. The walls and roof are made of high-quality 500D polyester fabric. In order to assure a waterproof experience, the seams are sealed. This tent blocks off 99% of UV rays as well, making this product great for sunny and rainy days. A carrying roller bag made of 1680D polyester fabric with wheels and a durable handle protects the package during storage and transportation. It also comes with four sandbags for weight support.
Pros
No setting up needed
High-quality
Sturdy
Waterproof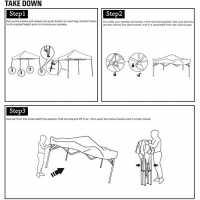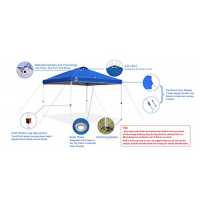 Our Take
There is no room for mistakes with this product because you have nothing else to do to set it up. It comes out of the box fully assembled and ready to use. Its compressed version is impressively small, taking up minimal space in your car and in storage rooms. The height of this canopy is also adjustable. Its Thumb Lock Height Adjuster feature allows for this to happen conveniently and can be performed by one person. All you have to do is adjust the height of each leg one at a time. Undoubtedly, the frame is sturdy as it is made of high-grade steel.

The fabric used for its roof is of high quality. I am certain that it does not tear easily unless intentionally pushed against a sharp object. It offers waterproof protection, and can also protect you from the sun's UV rays. The interior lining stops the heat of the sun from getting through on a sunny day because it is thick enough. However, the product is not as lightweight as others. The bag it comes with helps with transportation, but a healthy adult must be the one to drag it.

Nonetheless, the overall quality of the product merits a recommendation.
$115.77


CROWN SHADES Patented 10ft x 10ft Outdoor Pop up Portable Shade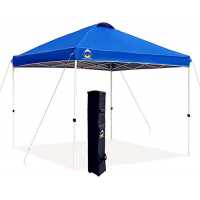 This pop-up canopy features a straight leg design with 10x10 ft. top and base. It provides a total of 100 square feet of shade, which is enough to accommodate ten standing individuals and six sitting ones. The central hub system assures an easy lift. By opening the frame, pushing the central hub system up, and lifting the canopy, the work is done. The height of this product is adjustable. Its three different height settings are made possible by the pushbuttons at the legs. It has a sturdy steel frame made of 0.5mm high-grade steel and a water-repellent canopy top from150D oxford fabric. The fabric offers UPF 50+ of sun protection. A roller bag with four guy ropes and eight stakes come with the package for storage and transportation.
Pros
Easy to setup
Easy to pack
Waterproof
Sunproof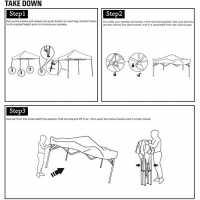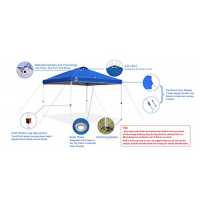 Our Take
While some canopies require 2-3 persons to set up, this takes one person to do it effortlessly. It comes out of the box with the fabric already attached to it. No tying, unfolding and sticking needed to put it in its right place. The legs have easy to use toggle lever that makes extending the legs to 1 of 3 different positions a no-brainer. For me, the hardest part was getting it out of the box. A feature that makes the breaking down of this canopy as easy as its set up is found in the middle of the frame. It is a button that you can press with your palm, and everything will go back to its compressed shape with a little assistance.

The roof of this canopy comes in different colors, and they all have the same quality. It is 100% waterproof, and the seams are sealed. This makes water slide off instead of penetrating the seams. Even on a sunny day, this canopy will be useful because its fabric is heat-resistant. The rays of the sun do not penetrate as well. Overall, it looks like a very professional canopy. It is affordable and performs beyond the dollars you spend.
$115.77


Quick Set Escape Screen Shelter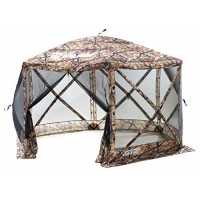 This Quick-Set Escape Screen Shelter sets up in 45 seconds because it is ready to use right out of the box. It has a total of 94 total square feet of interior space, and a 90″ center height clearance that can surely fit eight people. It is made with a no-see-um mesh screen to prevent insects from getting inside, but still allowing wind to penetrate for coolness. With its water-resistant roof with taped seams, you will not be wet inside when the rain comes. It is built with 210 Denier poly-oxford fabric, and 600 Denier fabric in the center section for maximum durability. Even the sun can't harm you because it is also capable of 50+ UV guard protection. An oversized carry bag with seven deluxe tent stakes and tie-down ropes inside are included in the package.
Pros
Easy to setup
Protects campers from insects
Waterproof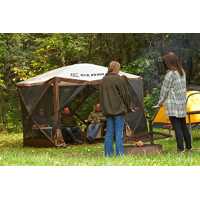 Our Take
This product is fast and easy to set up. Even just one person can complete the whole task, but it would make the process faster if more hands are helping. After a few minutes, this product will be ready to fit 6-8 adults that are sitting down. The mesh fabric used in its side walls makes this tent a comfortable equipment to use. Firstly, it filters out insects so that they cannot get in the tent. When compared to open canopies, you certainly have more protection with this one. Secondly, raindrops that are blown by the wind would not directly go to your skin because they will be halted by the mesh screen. It stops all the bad elements from getting inside, but you still get to have the presence of a cool breeze entering your tent.

It is waterproof in all other areas. The durability of this tent justifies its price. With its sturdy frame made of high-grade steel, this is less likely going to deform anytime soon. Rusting and corrosion do not also seem like a problem for this on because the coat is thick and protective. The structure of the tent does not accumulate rainwater on the roof. That is because the frame supports the shape in a way that water simply slides off the sides. This is a good quality tent that can be used for camping.


Caravan Canopy Camouflage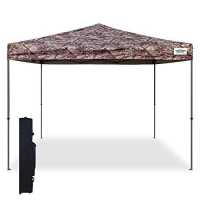 This fully-assembled straight leg pop-up canopy is the most convenient choice for you. It has a cathedral style steel frame for maximum headroom to accommodate all heights. The durable 150D polyester canopy top offers 99% UV protection and is water-resistant. It provides 100 square feet of shade from rain and sunlight. The soft press slider brackets allow for 3 leg height settings. Its frame is made of high-grade steel covered with a grey powder coat for rust prevention and anti-corrosion. Peeling and chipping are also prevented because of the top coat finishing. The package includes a 420D roller bag and 4 stakes. A 2-year limited warranty covers the product.
Pros
Lightweight
Easy to setup
Adjustable height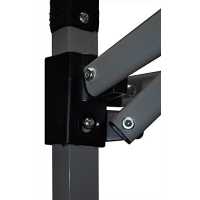 Our Take
This is an ultra-lightweight canopy that is designed for a regular sunny day at the beach, in your backyard, or anywhere else. The frame of this canopy is one of the lightest weighing ones in the market. It can be set up by two people without needing extra tools at hand. When it has been set up, even just one person can adjust the height of the legs. It is very easy to take apart as well, just like the way it was set up. The parts fit perfectly in its storage bag.

When it comes to winds, this canopy is not the strongest choice. It can still withstand winds, but I would recommend that you use the stakes it comes with if you can. That is if you are situated in an outdoor space with soil in the ground. With this, you can prevent the canopy from being blown away. The roof is waterproof and will keep you dry as long as it is not windy. This product is a good choice for light rains, as it is not hard to set up yet it can still stop you from getting wet in those instances. I would recommend that you buy this for nonrainy days.
$109.13