9 Best Camping Coolers
Coolers are not merely for our desire for cold beverages; they are particularly essential for survival when you go outdoors. They keep your food, both cooked and uncooked, edible for the next few days, even in the absence of electricity.
That being said, it is great to invest in a cooler that you can rely on, especially when you are away from commercial establishments.
We have sorted out and critiqued different coolers in the market to give you a curated list of the best deals you can get with your budget. Below are the best camping coolers of 2020.

Coleman Cooler
This Coleman Cooler is a high-capacity and heavy-duty equipment that you should bring with you on your next outdoor adventure. It has a 54-quart capacity that can accommodate up to 85 cans. The premium insulation feature it has can retain ice for four days even when its surrounding temperature is as high as 90 degrees Fahrenheit. It is designed to withstand years of rough activities with its rust-resistant stainless steel hardware. The comfort-grip steel handles offer easy, controlled lifting and transportation to give users a hassle-free experience. Its retro design seals everything!
Pros
Heavy-duty
High-capacity
Can withstand warm surrounding temperatures
Cons
Its inner glues may melt if exposed to the sun for too long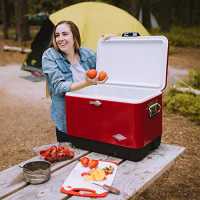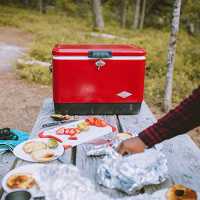 Our Take
If you are a fan of heavy-duty coolers that are not very bulky, this cooler will serve you well. It is ideal for camping and most outdoor activities as it is not as heavy as other coolers. You will not have any issue with insulation when you use this. 3-day camping activities will surely be taken care of by this one. In fact, it can last for about five days if its lid is not frequently opened, with remaining ice until you reach home. However, if you put it under the sun for long hours consistently, it may melt off the glue in the inner cover in the lid. While that was very easy to fix, it is best to keep it under the shade when you bring this in your outdoor activities. I also like the charming retro design it has in its finishing. It is easy to clean and maintain. The handles are pretty sturdy and reliable. You will not have a problem transporting and moving this cooler around when you need to. Overall, it is an excellent deal for below $70.
$129.99


OlarHike Large Cooler Lunch Bag
An OlarHike Cooler Bag can contain 30 liters or 8 gallons by volume and has a load capacity that is more than 50 pounds. This holds 40 cans that measure 330 ml each, or 20 bottles that measure 500 ml individually. Its exterior is made of 600D Oxford Fabric that dries fast for easy storage. The interior walls are made from eco-friendly PEVA foil and 5mm EPE foam for thermal resistance. It also features a premium food-grade aluminum foil that is water-resistant and dirt-proof. The latest Anti-Snap technology this cooler has offers a more durable model. You can now pick up light loads with the padded top handles and use the side handles for heavier loads. It is designed to be stored easily with its foldable materials. Keep your food and beverages cool for up to 12 hours! With its lightweight composition, this cooler lunch bag is multifunctional and is suitable for everyday use.
Pros
Affordable
Lightweight
Non-bulky
Spacious
Cons
Not for camping activities that last several days
Our Take
If you want a lightweight product that can keep your food and drinks cold for the day, this cooler lunch bag is the best option for you. It is highly affordable, with its retail price of only $22. This cooler has a lot of room inside and has side pockets for additional storage. It is also water-proof and dirt-resistant, which makes it very easy to clean. This is a useful feature, especially if you plan to use it outdoors. The shoulder strap it has makes carrying easier and hassle-free. I like this cooler a lot because it is not hard to carry around. Other models are very bulky and heavy, which need at least two people to move around. However, this is not ideal for camping activities that last for more than a day as its insulation feature is designed for short-lasting adventures. This can also be used as a lunch box, which means it does not only maintain cold temperatures but hot ones as well. It can be used for grocery shopping and storing drinks when you go to the gym. I can say that it is truly multifunctional. For $22, it is a good purchase that will last you long.
$23.99


Coleman Xtreme Wheeled Cooler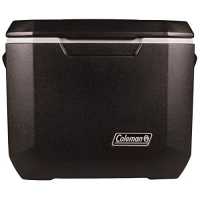 The Coleman Rolling Cooler features the latest Xtreme Technology. It has an insulated lid and maximum wall insulation that can keep ice up to 5 days despite being surrounded by temperatures as high as 90 degrees Fahrenheit. This model is high-capacity, holding up to 84 cans. It has heavy-duty wheels that allow effortless rolling over any trail or terrain. The lid can support up to 250 pounds of weight when closed. There are also cup holders molded into the lid to prevent spilling. The telescoping handle takes care of the easy pulling and compact storage.
Pros
Affordable
Convenient to transport
Easy storage
Heavy-duty
Cons
The telescoping handle does not have the best quality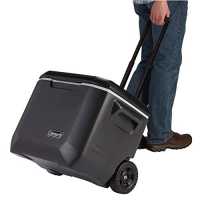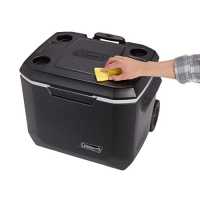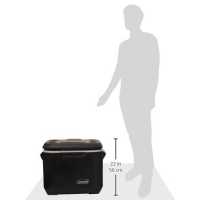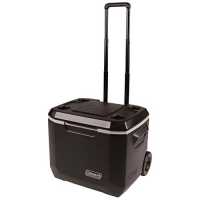 Our Take
This is a heavy-duty cooler that is highly portable for an affordable price. It has roller wheels and a collapsible handle that offers convenience amidst a tiring outdoor adventure. I would say it is designed well. The lid was built with cup holders that utilize the cooler when it is not opened. Its handle is telescoping so that it is not difficult to store in tight places. However, you must be careful in taking care of the handle because it is the first part to wear off usually. Because it is heavy-duty, you can stack up items on this cooler that weigh up to 250 pounds. This can keep ice intact for four days, which is ideal for camping activities. It is because the lid perfectly sits on top of the body, which results in an airtight seal. This makes insulation better and centralized. The cooler also has an easy drain feature at the bottom side to make cleaning and draining convenient for the user. I will highly recommend this one for those who keep a tight budget when going on camping adventures. This rolling cooler will not let you down.

Coleman Xtreme Portable Cooler
This Coleman Portable Cooler is built with the latest Xtreme Technology. The insulated lid and extra wall insulation will keep ice for 5 days in environments with temperatures as high as 90 degrees Fahrenheit. This cooler can hold up to 100 cans, perfect for large group settings. When the lid is closed, it supports up to 250 pounds of weight on top of it. The lid has cup holders molded into it to maximize functionality. It features comfortable grip handles with no-crush design for pinch-free carrying. The smoother surface is easy to clean and the leak-resistant channel drain feature drains the content without tilting.
Pros
Sturdy
Spacious
Multifunctional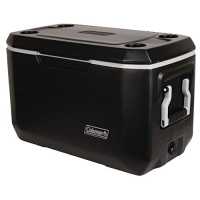 Our Take
You will have no problem with insulation with this cooler as it will surely keep ice solid for more than 4 days when kept close. If frequently opened, you can expect it to last for 2-3 days. This is ideal for campers who usually take on long-lasting camping activities. With this cooler, you will be able to fit food and beverages that will suffice your needs for the entire duration. It is durable and very sturdy when it comes to the walls and the lid. You can put things on top of the cooler up to the weight of 250 lbs. without worrying. However, the hinges are not as durable as the rest of its part so you do have to be careful in dealing with them. They are very easy to replace and a little maintenance now and then will make the usefulness of this cooler longer. Just like other models, this one also has cup holders on its lid which fit most cup sizes. The handles are in the perfect size. It does not slip from your hand even when the cooler is filled. This cooler is best for group camping because it is spacious enough to fit a lot of necessities inside. Overall, it is something worth repurchasing. Try it out!
$63.99


Igloo Polar Cooler
The Igloo Polar Cooler has an insulated body and lid that can keep ice for five days at temperatures up to 90 degrees Fahrenheit on the outside. It has reinforced swing-up hands that have a tie-down loop feature for hassle-free storage. To secure lid closure, this cooler has dual snap-fit latches that keep every part in its place. This also comes with a threaded drain plug so that water filling and draining will be effortless. It can keep 188 cans cold at the same time with its length measuring 38.1", its width at 17.38", and its height at 17.75". UV inhibitors are present in the lid for protection against sun damage. This cooler is built to take on the challenges of the outdoors.
Pros
Spacious
Durable
Good insulation
Cons
Hinges are not durable and they will eventually need to be replaced.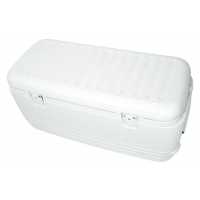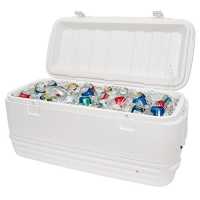 Our Take
This cooler is pretty spacious inside. Just imagine, you will be able to fit 188 cans of beverages inside. It is truly built for long-haul adventures. I would highly recommend this for camping because it also offers premium insulation. It costs slightly a little more, but that is because it will not fail your expectations. For five long days, this cooler will be able to retain a sufficient amount of coolness that will protect your food from spoiling. Moreover, it has an easy drain feature that will not require any tilting. That feature also doubles as a hose hook-up. My only concern is, the hinges and latches are made of plastic. After a few years of using, they will be the first to come off. I was about to purchase replacements as they are easy to find around, but Igloo gladly sent me replacements when I called customer service. These new parts were metal, and they will certainly last for a longer period. For a cooler that is this spacious, this actually can be considered as lightweight. It is also pretty sturdy and doubles as a table even for heavy-weighing things. This is highly recommendable.
$69.99


Igloo BMX 25 Quart Cooler
The Igloo BMX 25 Quart Cooler has a heavy-duty blow-molded construction with a reinforced base. This increases durability and protection while being lightweight. It has a proven 4-5 days of ice retention, depending on how frequently the lid is opened. The UV inhibitors protect the cooler from being damaged with the sun's rays. It has rust-resistant, stainless steel hinge rods for a strong performance. This also features a Cool Riser Technology in its base to elevate coolness away from surrounding hot temperatures to maximize cooling performance. The handle is comfortable to grip as it is designed to lessen slipping. The lid also comes with an integrated ruler that is great for measuring your catch, or other things. With a simple hand wash after using, this cooler will be good as new again.
Pros
Affordable
Durable
Excellent insulation
Cons
Not very spacious
Not lightweight
Our Take
This cooler can keep your drinks and food cold for four days. It offers great insulation for its price. Other coolers with this capacity usually only last for three days at best. This is also pretty solid and sturdy. Even just from the looks of it, you can already tell that it is built to withstand challenging adventures. You can even sit on this one without having to worry about it not holding up. The handle is also very comfortable to grip because it has a foam construction on the lower side to protect your hands. Its latches are securely installed, and unlike most affordable coolers, these will not be the first to break. Since the wall of the cooler is thicker for improved insulation, it is not very spacious. This is designed for small groups. I also like the integrated ruler on the lid because it comes in handy at certain times. You can use it to measure your catch when you go fishing. The UV inhibitors are crucial because coolers are usually situated in areas where there is sunlight. Without that feature, the material of the surface will surely suffer, and the glues used to attach the parts might melt. The price is low, considering all of the benefits this cooler offers.
$60.99


CleverMade Collapsible Cooler Bag
The CleverMade Collapsible Cooler Bag is built to be lightweight yet durable at the same time. This can hold up to 50 cans of your beverage and still have space for ice. It is suitable to be used for outdoor activities for the day. Its patented SnapHinges found on both sides offer structured support when it is wide open. A simple push on the side hinges will fold the bag flat. This can be used for packed lunches, daytime picnic, and trips to the grocery store. It is small and will fit any vehicle, which makes it highly portable. This bag only weighs 2 pounds when empty. It can hold up to 30 L or 8 gallons by volume and has a load capacity of 50 pounds.
Pros
Ultra-lightweight
Easy storage
Structured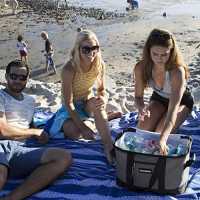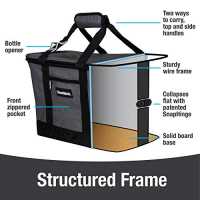 Our Take
This is lightweight cooler bag that has a lot of multifunctional features. Unlike most cooler bags, this one is structured and stands firm on its own. You might think that because it is structured, you will not be able to fold it. I was wrong too. Its SnapHinges on the bottom of both sides can be folded with one simple push. This allows for structure when needed, and also easy storage after use. this bag is certainly non-bulky and can be used by any person. It can be carried by kids as well because it does not have any hard edges and parts. This cooler bag is suitable for everyday use as it does not only maintain cool temperatures, but hotness as well. I would recommend this for short-time activities that last for a day or overnight. My only concern with this cooler is it is not completely leak-proof. If filled up, water can leak from the bag. This is great to use with cooling packs that do not melt. With these, you will not have any problem with leakages. They are also reusable, which saves a lot of water. This bag is a great substitute to coolers when you only plan to stay for a short time.
$39.99


SuperHandy Rotomolded ENHANCED Ice Cooler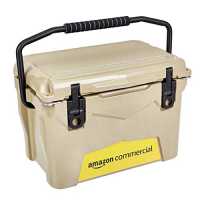 This Rotomolded enhanced ice cooler by SuperHandy can keep ice retention for at least seven days. If pre-cooled and held in low temperatures, it can go beyond that. It is built with food-grade materials and is compatible with dry ice. Its walls measure 3" thick as they offer premium insulation. The all-around UV protective shell protects it from the rays of the sun coming from any directions. It features a commercial-grade 360 degrees D-Seal style 15 mm gasket that traps the coolness inside. This also has a zero-leak drain plug to protect your vehicle from any dripping. A dual built-in stainless steel lock-plate bottle opener maximizes the functionality of this product. The airtight seal feature improves its insulation and prevents any leakages.
Pros
High-quality
Sturdy
Durable
Excellent insulation
Cons
Expensive
Not lightweight
Our Take
SuperHandy never lets its users down! At first, I was thinking twice if I should purchase it as it can be expensive for a cooler with its capacity. I am glad I pushed through with this cooler because it offers the best quality. This is true insulation. You can store your drinks in it with ice packs or ice, and it will retain its coolness for more than a week! It is highly recommended that you pre-cool this, but it will work perfectly fine without it. Dry ice is usually not compatible with most coolers because it can damage their surfaces, but this cooler is compatible with it. This is designed for a small group since it can contain 23 cans at a time. It may be a little heavy, but that is because its walls are built to be thicker for better performance. This is very sturdy and durable. The hinges and latches are of high-quality. Although they are usually the ones to give up first, this cooler offers high-grade latches and hinges that do not need replacement in the first few years. You will not regret buying it because it is a great investment, especially if you are an avid camper.

RTIC Cooler, 45 qt
This cooler is made with roto-molded construction. It features heavy-duty T-latches for a worry-free experience. The insulated walls measure 3" for maximum insulation inside the cooler. Its bottom part features non-slip feet that put the cooler in a stationary position all the time. This also has an integrated locking system to assure an airtight seal. A rapid V-drain system is in place for convenient draining and cleaning. This cooler is multifunctional as it can be used as a bench, a non-slip step stool, and a tabletop while keeping your goods cold. It can be lifted by one person and is easy to store.
Pros
Non-slip
Firm handles
Airtight seal
Sturdy
Cons
Cooling lasts only 2 days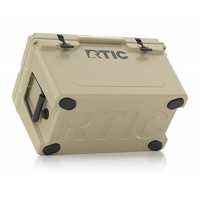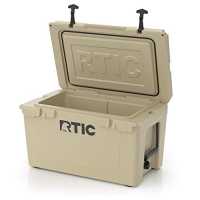 Our Take
If you want to keep your perishables edible for a 2-day camping trip without hurting your pockets, this cooler is for you. It can even last longer than that if you do not go to areas with extreme temperatures. For half the price of your regular coolers in the market, this cooler does the job well. Of course, you cannot expect it to last a week like other heavy-duty coolers out there, but it will not fail your 2-day trip either. I like its multifunctionality because there are lots of unforeseen circumstances in the wild. Having a piece of equipment that could perform the jobs of other things is always a win. It is pretty sturdy and does not easily move around, even when the ground is wet. I would recommend you get a dark-colored version so that you will not have a hard time cleaning the outer surface. The handles are high-quality and reliable. They do not bend even when the cooler is being used in its full capacity. I also appreciate the airtight seal as insulation can only work well if coolness does not escape. This also prevents water from spilling during transportation. The product could be compared to other, more expensive coolers in the market. It is a great offer.