7 Best Camping Flashlight
Roasting marshmallows on a campfire and falling asleep under the stars are some of the joys of camping. However, the great outdoors can be quite overwhelming after the sun goes down. Whether it's finding a warm pair of socks or peeing at night, finding your way around camp in the dark can be quite a challenge. In moments like these, you need a good camping flashlight to light up the night.
A flashlight for camping is essential for any overnight outdoor adventure. Since there's a wide variety of flashlights on the market, with a little bit of research, you can find the best flashlight for your next big trip.
Let's delve into the best camping flashlights of the year.
Light output
Brightness is one of the most important aspects to consider when shopping for flashlights for camping. The amount of light that it produces is measured in lumens. It ranges from 20, which is good enough for reading a book in the dark, to 3500, which is enough to light up an entire path towards a campsite. Simply put, the higher the number, the brighter the flashlight.
If you only intend to use a flashlight for reading or finding socks in the dark, the number of lumens won't be much of a concern. However, it's always ideal to carry one with a high-light mode in case of emergencies.
Beam distance
In case you have to pee in the middle of the night, you might want a flashlight that illuminates an entire path so you can find your way back to your tent safely. This could mean the difference between life and death when you're out in the wilderness. A low-beam flashlight impedes your vision. You're better off using it inside the tent for playing card games or telling ghost stories.
Size and weight
The size of a camping flashlight affects the amount and duration of light you get. It also influences portability. A small unit can fit in a pack without any problem and only requires minimal charge. However, a small flashlight often has a weaker light output and shorter beam distance. Larger models, on the other hand, can illuminate a campsite.
Like its size, a flashlight's weight affects portability. Bulkier ones are inconvenient to carry around, especially on hikes. The best flashlight for camping will balance powerful illumination with a compact, portable design.
Material
Some flashlights are made with aluminum, while others are made with plastic. Although the latter improves portability, it's not as durable. Flashlights with an aluminum build are sturdier and more ideal for traveling off the beaten path. Although heavier than their plastic-based counterparts, they ensure long-term usage.
Battery type
Depending on how you plan on using your flashlight and how long you intend to camp in the wilderness, you can choose between models that allow rechargeable batteries or ones that only require disposable packs.
Disposable
Most flashlights that require disposable batteries need AAA or AA sizes. Often, CR123A is an option, but it's more expensive and harder to find. The upside to using disposable packs is the light output. They deliver higher voltage output, making a smaller-sized flashlight deliver powerful lighting.
Rechargeable
A more cost-effective and eco-friendlier alternative is a rechargeable flashlight. It comes with lithium-ion batteries that can be recharged via a USB port. You can connect it to a computer, AC outlet, or solar panel. Certainly, the upfront costs can be higher. But in the long run, it can save you money, especially if you enjoy camping a lot. It also helps reduce a lot of waste that the planet doesn't need more of. For all of these reasons, we'd recommend rechargeable models as the best flashlights for camping.
Renewable
If you don't have a place to recharge your batteries but want to stay eco-friendly, you can pick a solar-powered flashlight. Others can be powered using a hand crank. Either way, it's more affordable than using disposable batteries.
Run time
Flashlights that provide the brightest lighting tend to have shorter runtimes. Led flashlights are ideal for camping since they provide consistent lighting over longer periods. Not only that, they require less power. An incandescent bulb emits brighter lights that reduce runtime. Although the upfront costs are more expensive, a LED light can help you save money in the long run.
Modes
General-purpose flashlights usually come with a single mode, but camping flashlights have two or more. Having the option to switch between low, medium, or high beams can help you save some batteries. It can also make campers feel safer and more comfortable when they're roaming outdoors in the middle of the night.
Water Resistance
Nature can be unpredictable. If it rains, it helps if you have a water-resistant flashlight. Check the IPX rating to determine a unit's water resistance. The higher the rating, the more suitable it is for wet conditions. The lowest rating is an IPX1, while the highest is an IPX8. Slight rain showers won't damage an IPX1-rated flashlight if water seeps into the device. Meanwhile, an IPX8-rated flashlight can be submerged underwater.
7 Best Camping Flashlight

GearLight – LED Tactical Flashlight S1000
The GearLight S1000 comes in a set of two. Both models offer five different light modes: high, medium, low, strobe, and SOS. The last two modes, strobe and SOS, can be used for emergency situations. Having high lumen LED bulbs, these models are 10 times brighter than traditional incandescent bulbs. The flashlights can focus on objects that are 1000 feet away. Not only that, you can conveniently change the beams from wide to narrow.
Measuring 6.1 x 1.6 x 1.6 inches, a GearLight S1000 flashlight is small enough to fit in a pocket or a backpack. Each one also has a carrying holster and a lanyard strap for added convenience. Made from high-grade aluminum, the flashlights are built to survive the roughest conditions and can help you out during blackouts, floods, typhoons, and other natural disasters. Even when submerged underwater, they will continue to light up your way. Three AAA batteries or one rechargeable battery can power one GearLight flashlight. The downside is that the bright lights may take up too much power, lasting only up to five hours on three AAA batteries.
Pros
LED camping flashlight
Comes in twos
Water resistant
Our Take

Streamlight – 88301 ProTac 2L Flashlight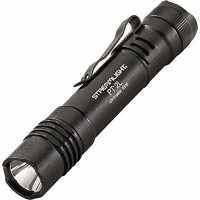 One of the best led flashlights on the market is the military-grade Streamlight 88301 ProTac 2L. Measuring 4.77 inches in length, with a barrel diameter of 0.77 inches and a diameter of 0.90 inches, this model is compact and easy to carry. It might be small, but its C4 LED bulbs can produce bright lights. This model has three built-in modes: high, strobe, and low. The highest setting provides 260 lumens, lighting up to 150 meters, while the lowest setting offers 13. In high mode, the flashlight can last for up to three hours. It can last for six hours on strobe and 50 hours in low mode.
The Streamlight 88301 ProTac 2L is made with an aluminum case and an impact-resistant O-ring seal. Designed for longevity, the LED flashlight boasts an IPX7 rating, which guarantees protection in water up to one meter in depth for up to 30 minutes. It can also survive a drop from two meters. The flashlight requires two three-volt CR123A batteries and comes in three different colors: black, blue, and pink.
Pros
IPX7 rated, one-meter full immersion in water
Two-meter impact resistance
Lightweight and compact
Cons
Small-cap O-ring
Lacks low battery warning
Expensive
Our Take

ThruNite – Archer 2A V3 Flashlight
Another compact flashlight that can serve as a powerful light source is the ThruNite Archer 2A V3. It's often used for security, emergencies, camping, and self-defense. The flashlight is designed to be durable, made with an aerospace-grade aluminum casing and a military-grade anti-abrasive coating. Thanks to its non-slip design, you never have to worry about it falling on the ground. But if it does, its sturdy build can protect it from drops of up to one mater. For added protection, you can secure it on your wrist or your bag using its lanyard. It also has a stainless steel clip, so you can fasten the flashlight on your belt.
The ThruNite model features a dual-button interface that prevents it from accidentally turning on when placed in your pocket or your bag. A Cree LED flashlight, it features five modes: high (500 lumens), medium (75 lumens), low (17 lumens), firefly (0.5 lumens), and strobe (500 lumens). The Archer 2A V3 measures 6.8 x 3.9 x 2 inches and weighs 2.08 ounces. Two AA batteries are required to power this flashlight.
Pros
One-meter impact resistance
IPX8 rated, 1.5-meter full immersion in water
30-day free replacement
Aircraft-grade material
Cons
Not rechargeable
Lacks low battery warning
Our Take

Anker – Rechargeable Bolder LC90 LED Flashlight
The Anker LC90 flashlight is equipped with Cree LED lights that can reach the length of nearly two football fields or 200 meters. Thanks to its adjustable focus, you can easily shift from wide to narrow beams. It features five different modes: high, medium, low, strobe, and SOS. On the highest setting, the flashlight provides powerful lighting at 900 lumens. When placed on medium mode, it can deliver up to six hours of non-diminishing brightness. Built with a smart illumination control chip, the flashlight offers worry-free charging. It prevents wear and tear, as well as overheating.
The flashlight is equipped with a rechargeable 3,350 mAh battery, which can be fully charged within six hours using a 1A adapter and micro USB cable. Meanwhile, its LED bulbs boast a 50,000-hour lifespan. Made with an anodized-aluminum build, the LC90 resists chips and scratches, maintaining its sleek design over the years. With an IPX5 rating, it can survive a heavy downpour. It can also endure freezing temperatures of up to -10°C. The LC90 measures 6.2 x 1.6 x 1.6 inches and weighs 6.2 ounces.
Pros
IPX5 rated
Shock resistant
Worry-free charging
Anti-slip design
Rechargeable batteries
Our Take
The best camping flashlight of 2022 is the Anker Rechargeable Bolder LC90. Despite its size, it can provide powerful beams of light that reach about the length of two football fields. For its price, the two-cell 900-lumen flashlight offers long-lasting battery life, reaching up to six hours on a single charge on its medium mode. You can charge the battery by plugging it in a computer or a solar charger to give it more juice.
The Anker LC90 has more light modes than the Streamlight 88301 and the J5 Tactical. All you have to do is press the power button to switch between its five modes. With its sturdy aluminum build, it's resistant to a few bumps and scrapes along the way. And thanks to its IPX5 rating and extra-long handle, it can be very useful in emergencies and can survive heavy rain. One can even use it for striking purposes.
Each purchase of an Anker LC90 flashlight comes with a wrist strap, a welcome guide, and an 18-month warranty. Although it's not on the lower end of the price range, it's worth investing in. Whether you use it at home or outdoors, it can deliver the lighting you need.
Not all camping flashlights are made equal. What works best for us, might not for you. Thus, when you're looking for a flashlight, remember all the factors that matter as you weigh your options. Last but not least, pick one that actually meets your camping needs. Invest in a flashlight that you can use in the years to come. As mentioned, there's no shortage of options on the market. With this as a guide, you can significantly narrow down your choices and purchase your ideal flashlight before your next big adventure.
Why we like Bolder LC90 better than the others:


Six hours of battery life




Long handle for emergencies




IPX5 water resistance rating



ELMCHEE – Rechargeable Headlamp
Another excellent flashlight that can brighten up a trail when you're outdoors is the ELMCHEE rechargeable headlamp. Designed with eight working modes, it can fit all of your lighting needs in any environment. The modes are grouped into key and auxiliary lights. The key lights are: all bright, high beam, low beam, and strobe. Meanwhile, the auxiliary are: low beam, high beam, red light, and SOS red strobe. Whether you're indoors or outdoors, you can adjust it to fit the kind of lighting you need.
The highest setting reaches 12,000 lumens, which can illuminate up to 500 meters. Its 1,500 mAh Li-polymer battery can last up to five to six hours, while it takes around four to five to get it fully charged.
This ELMCHEE unit measures 10.7 x 10.7 x 2.4 inches and weighs eight ounces. It features a stretchy strap for easier adjusting. With hands-free lighting, you can conveniently use it for reading, working, or exploring the wild at night. Since it features an IPX4 rating, it can survive light rain showers and snow. ELMCHEE's headlamp has six bright LED lights that have a 100,000-hour lifetime.
Pros
IPX4 rated
Hands-free lighting
Rechargeable batteries
100% refund
Two-year warranty
Our Take

Vont – LED Camping Lantern
For a set of two, Vont's powerful LED camping lanterns are quite affordable. It is built to be sturdy and long-lasting, with aircraft-grade materials. It can survive a 10-foot drop or a full immersion in water.
The Vont LED lantern is equipped with 30 bright LED bulbs, which illuminate the darkest nights. Offering 360-degree lighting, a single lantern can light up a large tent or an entire room. It lasts up to 30 hours on a single charge, which is nearly twice as long as its competitors. A Vont lantern measures 7.6 x 5.4 x 3.8 inches and weighs just over a pound. However, when collapsed, it can easily fit a backpack or an emergency kit in the home. While it lacks multiple modes, you can tweak its brightness by manually adjusting the lantern's height.
Pros
360-degree lighting
Water resistant
Impact resistant
Long battery life
Cons
Lacks multiple modes
Not rechargeable
Our Take

J5 Tactical – V1 Pro Flashlight
One of the best budget flashlights available is the J5 Tactical V1 Pro. It measures 3.7 x 1 x 1 inches and weighs 0.8 ounces. It comes in five designs: black, blue aqua, desert camo, forest camo, and pink. Although it's compact, the J5 Tactical V1 Pro is designed to survive a nine-foot drop. It can also be completely submerged in water for a limited time without incurring damages.
The J5 Tactical V1 Pro comes with three adjustable light modes: high, low, and strobe. You can change the beam from wide to narrow to fit the environment you're in. Its maximum number of lumens is 300, which can cover a massive space, nearly the length of two football fields. The flashlight can be powered by one AA battery or a 14,500 rechargeable battery, which can provide an hour's worth of consistent lighting.
Pros
Water resistant
Impact resistant
Our Take