7 Best Camping Generator
We all know how important it is to have a power source during a weekend-long camping trip with your friends and family. While many of the things we bring to the campsite are already rechargeable or solar operated, it still pays to have a reliable camping generator.
When you say reliable, it means that your generator is powerful enough to maintain proper power and continuous power throughout the entire trip. You also want a generator that is easy to set up, safe to use, does not emit too much sound, and of course, affordable and fuel-efficient.
If you are looking for the perfect camping generator, then you have come to the right place. We have listed our top picks for the best generator we can find in the market to help you decide which one fits your camping needs.

Jackery Portable Power Station Explorer 500
The Jackery portable power station features the standard Pure Sine Wave AC outlet. This provides stable power to a wide range of AC-relied devices, from TVs, projectors to small blenders, a pellet smoker, etc. It can be quickly recharged under the sun with a Jackery SolarSaga 100W solar panel within 14 hrs while living outdoors. But it can also be recharged from a carport within 16 hrs while on-the-road or from an AC wall outlet within 8hrs. The Pure Sine Wave Inverter ensures safely powering sensitive devices like laptops and other gadgets without damages while it reduces audible and electrical noise. The BMS system also manages over-voltage protection, over-current protection, and over-temperature protection, safeguarding you and your devices during usage.
Pros
Portable
Efficient
Easy and fast charging
Cons
Can only last up to 500 charging cycles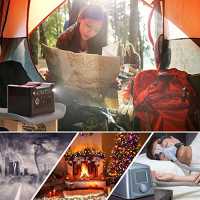 Our Take
When you go camping, you want a power source that is not only portable but is also energy-efficient. That means that one of the priorities you should have when choosing which generator to bring to your weekend camping trip is its energy storage capacity. That being said, the Jackery Portable Power Station Explorer 500 is superior in this aspect. There are several ways that you can charge this generator. You can charge it through its built-in solar panel (perfect when maintaining power supply for the entire trip), or you can load it in your car during your drive from your home to the campsite. On top of that, charging this power station doesn't take so much time as well, making it a generator on-the-go!

Amidst its charging efficiency, this power station is also mighty. The unit can run as many devices as you can plug-in at a time in the 12V, 120VAC, and USB sockets, as long as it doesn't go over the 500W max. The price is on-par with other portable power units at about $1 per watt-hour. As mentioned, the battery is lithium-ion, which has only 500 use cycles vs. LiFePo cells in 2000. Nonetheless, for its price, this is still a great buy!

ROCKPALS 300W Portable Power Station
Compared to most similar power stations, Rockpals 300W has upgraded the AC output to 300W. It has higher capacity as camping or home backup battery as it is powered by 280WH lithium batteries and only weighs 7.3lb. It is powerful enough to charge smartphones (2000mah) 26 times, laptops (56wh) 4-5 times, mini-fridge(45W) about 6-18 hours. This battery-powered generator is also very handy to be put on your RV, campervan, or wherever you need power. Rockpals portable power station can be recharged from the sun with any compatible 60W or 100W solar panel. It can be fully charged in 6-7 hours by being plugged into the wall outlet and can be fully charged in 6-7 hours by car charger. Better than modified sine waves and clean power like utility-supplied electricity. And it is a gas-free source of portable power supply, it runs quiet and no exhaust fumes.
Pros
Fast charging
Has 300W AC output
Sturdy and durable
Cons
Doesn't come with a USB-C port
No data display for remaining hours/charge levels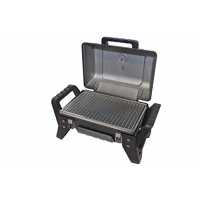 Our Take
There are several notable advantages when you decide to get the ROCKPALS 300W Portable Power Station for your next camping trip. First of all, Rockpals has already made a name and a good reputation in the industry so you can be assured that the quality is nothing less than it advertises. However, more importantly, this specific model of the power station from the brand is one of the most high-powered generators in the market. Unlike other portable power supplies, this one has a maximum power output of 300W, making it more potent than the standard 280W generators from different brands and models. Overall, the charging capabilities of this unit is excellent, the price is fair, and the built is sturdy and durable. This is a highly recommended camping generator!
$128.00


Rockpals 250-Watt Portable Generator
Rockpals 250W portable power station is a perfect power source for both indoor use and outdoor activities such as camping, hunting, fishing. It can also provide an emergency backup power source during power outages. An MPPT controller is built into the RP250W, and it optimizes the source to maximize power, allowing up to 40% faster charge times from solar panels than other models without MPPT technology. With a sizeable 64800mAh power capacity, this portable generator can charge devices for a much longer time. The 250W AC output is compatible with most electric appliances.
Pros
40% faster charging
Small and very portable
Compatible with most devices and appliances
Cons
Only has 250W power output
Our Take
If you are looking for a small yet functional power station to bring to your camping, fishing, and hiking trips, or if you don't need a generator that has huge output capacity, then this one is for you. It is very portable and lightweight, making it perfect for outdoor trips and is comfortable to carry especially during hiking or long walks. It has a 250W AC output, which is still compatible with most electronic devices that needs charging or is power-dependent. Because of this smaller output capacity, charging this generator is faster as well. In fact, on average, you can charge this through solar energy or through electric utility 40% faster than other similar generators and power stations. With its quality and the price it comes with, this is definitely one of the best!
$189.99


SUAOKI Portable Power Station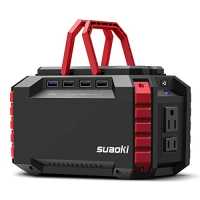 Suaoki Portable Power Station is not only the most compact power station in the market, but it also features as the most output ports as well. Around the size of two coffee mugs, this unit holds 150wh capacity and ten various outlet ports. It also very convenient to carry as this 2.90 lbs weight portable generator for outdoor activities or camping has two hideable handles. Suaoki S270 emergency battery supply provides three recharging methods. It takes about 7-8 hours to be fully recharged by AC 110v wall socket. You can also use a SUAOKI 60W or 100W solar panel kit to recharge it under direct sunlight. The built-in MPPT solar charge controller enables quick and smart charge, too. Lastly, it can also be recharged through a 12V/24V car cigarette socket.
Pros
Very compact, portable, and lightweight
Has many (10) output ports
Can be charged via solar, utility, or car
Our Take
One of the most important things that you need to consider when looking at a power station or power generator to bring to your camping or hiking trips is its portability. The generation must be as portable and lightweight as it can be so that you won't have a hard time transporting it from one place to another. On that note, the SUAOKI Portable Power Station must be the most excellent choice. It is one of the most compact power stations in the market, and it's not heavy at all. Handling it is also very convenient as it has hideable handles for ergonomic grasp. Despite its size, this unit also has one of the most numbers of output ports as well, allowing you to charge as many devices or to power as many appliances as possible. Highly recommended!
$125.99


NusGear Portable Power Station
This portable solar generator provides larger power capacity, which means this camping power station supply can efficiently power up more electronic devices longer. The mini generator can fully charge a phone for 20 times, a laptop three to four times, power CPAP machine for about four hours, energize led lights for 40+ hours, and power a mini-refrigerator. The rechargeable power station weighs only 3.52bs and a compact handle design makes it easy to take it outdoors. There are multiple ways to charge the portable power station. On the wall, you can recharge the power supply by the AC outlet. When driving, recharging is super-easy by 12V cigarette lighter for 8-9 hours and the built-in MPPT helps it recharged under the sun with solar panels.
Pros
High-capacity
Not as expensive as others
Energy-efficient
Cons
Can have issues with solar charging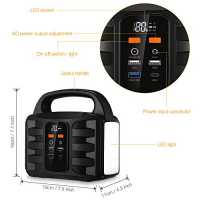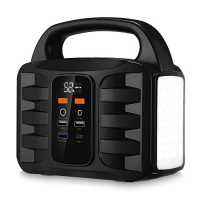 Our Take
There is so much to admire about this portable solar-powered generator. The NusGear Portable Power Station is one of the most efficient units in the market as it can power multiple devices and appliances for an extended period of time. The NusGear Generator Portable Power Station can handle charging cellphones, tablets, vape mods for vaping, and even my gaming laptop. The flashlight and solar panel charging capabilities just makes this an incredible item for any outdoor enthusiast. It's 42000 mah capacity is excellent. In general, there's not a lot of negative things to say about this one. Great buy!

A-iPower SUA2000iV Ultra-Quiet 2000-Watt Portable Inverter Generator
The A-iPower SUA2000iV Ultra-Quiet 2000-Watt Portable Inverter Generator is a gas-powered generator that is perfect for emergencies or other outdoor activities like camping, hiking, or fishing as it provides clean and quiet power. It produces 2,000 watts of starting power and 1,600 watts of running power. At only 46 lbs., you can take this portable power wherever you go. At 58 dB, you get ultra-quiet operation. The Inverter technology produces pure sine wave power, meaning it's safe for electronics such as televisions, tablets, laptops, and other sensitive equipment. The SUA2000iV also has the parallel capability. With parallel cables (cables sold separately), two generators can be combined for nearly double the power, eliminating the need for and expensive parallel kit. A built-in fuel gauge helps remind you when it's time to refuel.
Pros
Has parallel capabilities
Quiet
High-powered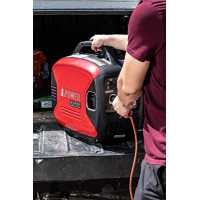 Our Take
If you are looking for the best gas-powered generator and inverter for camping or hiking, then this one is for you! The A-iPower SUA2000iV Ultra-Quiet 2000-Watt Portable Inverter Generator is a power supply that produces huge powers for your needs. On top of that, it also very quiet and does not produce a lot of sounds unlike other similar generators in the market. Another incredible feature in this power station is its parallel capabilities that reduces the need for parallel connection kits! You definitely will save a lot of money on this one. Highly recommended!
$386.00


WEN 56200i Super Quiet 2000-Watt Portable Inverter Generator
The WEN 56200i Super Quiet 2000-Watt Portable Inverter Generator is extremely quiet when operated. Its 79.7cc 4-stroke OV engine operates at an extremely quiet 53 decibels at quarter load, comparable to the sound of a normal conversation, providing non-invasive power wherever it's needed. This generator produces clean power to safely operate and prevent damage to sensitive electronics such as phones, tablets, televisions, and computers. You can double your authority by linking together any of the two WEN inverter generators with a WEN Parallel Kit to increase the total wattage that can be pulled from the parallel kit itself and the individual outlets on either connected generator. The compact form and carrying handle make it easy to move the generator from one job site to the next.
Pros
Very quiet
High power
Compact and portable
Cons
Has parallel capacity but you need to separately buy a parallel kit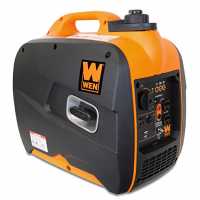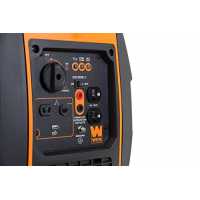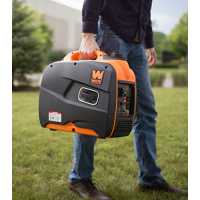 Our Take
This inverter generator is another one for the books! As have been consistently mentioned in this list, the sound that a generator produces has to be considered when choosing the best one for your needs. On that aspect, the WEN 56200i Super Quiet 2000-Watt Portable Inverter Generator definitely excels! It only produces a very faint sound as it is used, which is almost negligible. This will help you sleep through your night at the campsite without disturbances and with the total power as well. This very compact generator is also energy-efficient, safe, and produces clean energy that protects your devices, gadgets, and appliances when connected to it. All in all, this is a great buy! You should definitely consider this.
$420.39