10 Best Camping Gifts
Do you share a passion for camping with your wife? How about with your dad? Or some of your friends? If yes, then what else to give them as gifts on their birthdays or other celebrations? Anything related to camping!!
There is a lot of stuff you can get your loved ones that are related to camping, and it could really be overwhelming sometimes. It is true that the gift doesn't really matter, and the thought is what counts. But if you're going to spend on gifts, you might as well spend on something that they can use.
So if you're looking for the perfect gift for your family and friends, you've come to the right place! We have curated the best products in the market that you can get your loved ones as a gift - and all of these are essentials when you're out on a camping trip! Excited? Me too!

12-in-1 Survival Kit by Veitorld
Looking for a perfect gift for your dad this father's day? Or for a fishing/hunting gift for your boyfriend? This survival kit is perfect for you! This Survival Kit 12 in 1 will surely bring a smile to their face and they are sure to love. The kit includes all the must-haves for outdoor lovers such as Upgrade Survival Knife, Pocket Bellow,Wire Saw, Water Bottle Clip, Emergency Blanket, Flint Stone Scraper, Flashlight, Credit Card Knife, Multi-use Spoon Fork, Carabiner, and Waterproof Box. This camping accessories are the perfect combination to help keep you safe and have peace of mind while you are hiking, camping, hunting, fishing, backpacking, travel or outdoor adventures. This kit is made ultra-durable, waterproof and with an easy to carry case that is the size of a small book.
Pros
Heavy-duty
Complete set
Stylish
Budget-friendly
Compact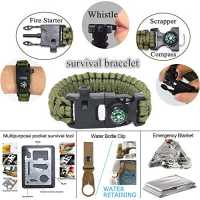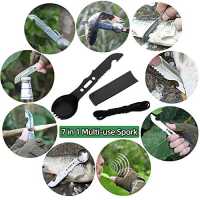 Our Take
If you are thinking for the perfect gift to your dad, husband, boyfriend, or boyfriend, this 12-in-1 survival kit by Veitorld is the one! Not only that it is very masculine, sleek, and awesome, it is also budget-friendly and stylish.

This kit is a good alternative for easy travel with little bulk. I feel I have everything I need order to keep my family and I safe. Great product for a better cost. I highly recommended this purchase. You'd Pay way more trying to individually put a kit like this together on your own.

Your loved ones will definitely love this one!

$36.99


Extendable Rotating Marshmallow Roasting Sticks
Having problems about making perfect roasts during campings? These portable roasting forks are perfect for you! These are super sturdy and safe for kids around campfires. It cooks evenly with its rotating handle that does not break or bend. Cheap fire pit skewers don't last, it's time to finally own this exclusive roasting stick that will stand the rest of time and safe enough for the whole family. For the cost of dinner the last retractable smores sticks you'll buy. Isn't that worth it alone? Real stainless steel skewer with wood handle heat resistant bag! You should enjoy eating by the fire without hassle or getting sick, that's why this is perfect. The smirk on your face when you watch your family enjoy these is worth far more than the price you're paying.
Pros
Cute
Not expensive
Durable and high-quality
Doesn't look cheap
Cons
The prongs can be a little closer to each other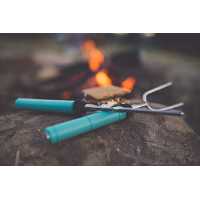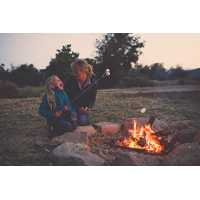 Our Take
What else is a better gift for campers other than food? Things that they can use to make food with! These rotating marshmallow roasting sticks are a simple yet very thoughtful gift to any camper. Why? Because camping is always fun with some smores and some barbecue.

I personally love that this come in a nice bag, and each skewer has small tips on each piece to help prevent anyone from getting hurt while being stored or removed from the bag. I love the color! The roasting sticks extend nicely and far enough away from the fire. We had no problems roasting marshmallows with these! I do wish the prongs were a little closer to each other. I was able to roast more than one at a time though.

Trust me, your camper friend would deffo love this too!

RoverTac Multitool Camping Tool and Survival Gear
The RoverTac Multitool Hatchet is strong, reliable and easy to handle. This is designed to tackle almost all the jobs in almost every situation. Featuring an ergonomic design, durable stainless steel construction and a secure locking system, this lightweight multi-tool integrates 14 convenient tools that will make a huge difference. The Hammer and Axe are the core of this tool. The Hammer can be used as an emergency escape tool too. The Axe and Saw can cut branches and wood for your campfire or snares, and even marshmallow roasting sticks. This all-in-one tool includes axe, file, saw, hammer, knife blade, wire cutter, regular plier, flat jaw plier, fish descaler, bottle opener, assorted wrenches, philips screwdriver, slotted screwdriver, and large slotted screwdriver. It has heavy duty stainless steel construction, with a durable black oxide finish. Strong enough to cut, saw, pry, drive screws, open cans and bottles, open faucets, and the pliers can do many jobs. This is a perfect gift you can have!
Pros
Made of durable stainless steel
Comes in 14 different tools
Portable and compact
Cheaper than similar products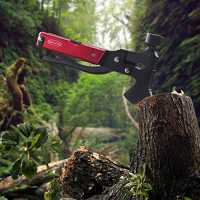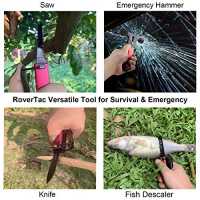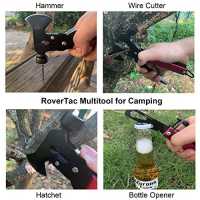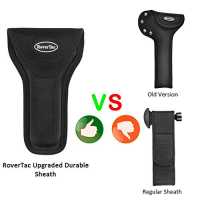 Our Take
The best gift you can give to anyone is the gift of survival. That is why when you give them the RoverTac Multitool Camping Tool and Survival Gear, you are basically telling them "I want you to survive." And I think that is very thoughtful and sweet.

But why this product over other survival kits? Well, this is easily one of the best in the market. It is highly durable and very compact (comes in the size of a normal hatchet). It comes with multiple tools in just one object which makes it and easy to bring.

As a camper, I would really love to receive this as a gift *wink*.
$25.99


lcfun Waterproof Lighter Outdoor Windproof Lighter
This is with a metal-ring sealed lighter cover and locking clasp where water does not seep inside. You will never be afraid when the rain comes which makes the lighter more great for outdoor, camping, travelling, hiking, an emergency fire starter tool, survival gear, etc. it also comes with a comfortable lanyard which is thick, and durable rope that you can hang on the neck and is not easy to lose. It is windproof and flameless, usb rechargeable arc lighter, no gas or butane required, no more refilling, clean, can save you money and convenient. It is about 2 hours to fully charge. This is a fashion and cool lighter perfect for different situations.
Pros
Reliable fire
Waterproof
Comes with a lanyard
Cons
Can be more expensive than other lighters in the market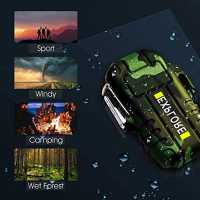 Our Take
As we all know, the first thing that is necessary in survival scenarios in the wild is to create fire. That is why this lighter is perfect gifts for adventurous campers who are always in the deepness of the forest to enjoy their commune with nature. But don't get me wrong, this lighter is not only for survival. It's also for cooking, for bonfires, or even to just light your cigarettes.

I have tried several brands of plasma lighters and this one is the most all-around reliable.

I'm out in the woods a lot and my equipment has to stand-up to the elements. I dropped the lcfun Waterproof Lighter in 3 inches of water three times for 5 seconds each. I inspected the lighter. There was no moisture inside the cap and it lit immediately. The charging port is inside and protected by the cap. I dropped the lighter from about 3 feet onto a wood floor and then on concrete. No damage and it lit immediately.

The lighter also comes with a lanyard so it can be attached to a belt loop or worn around the neck. Awesome, right?
$15.79


Delicacy 10 PCs Camping Kitchen Utensil Set
This Kitchen Utensil Set neatly organizes and holds your utensils in one convenient place. It is compact and has just about anything and everything you could possibly need. This 10pcs set includes cutting board, rice paddle, tongs, scissors, chef knife, ladle, spatula, 5-in-1 folding stainless steel spoon + fork + knife with bottle opener and corkscrew. It has compact and durable design with tough woven cotton, it can avoid getting smeared, scratched or damaged. Each utensil has its own designated pouch, so flatware stays sturdy and does not clatter during transportation. All of the utensils are dishwasher safe or easily cleaned. These are high quality stainless steel reusable utensils so these are more healthier and not be broken easily. This portable camp cookware utensils organizer travel kit is the perfect camp kitchen accessory, and it holds all your essential outdoor cooking utensils.
Pros
All pieces are durable and well made
High-quality organizer bag
Not very expensive
Easy to clean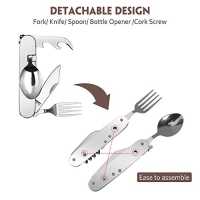 Our Take
I know, I have included a lot of stuff related food in this list. But that is simply because food and things used to make and eat them is ALWAYS a good idea for a gift. Like this 10-piece camping kitchen utensil set which is not only convenient to carry and organize, but are also very cute and useful.

I was really amazed by the quality of the chef knife based on being a whole set, since normally sets tend to have lower quality items. Also the tongs are the nice ones, they are not like the cheap ones that are sharp on the edges, these ones are super soft and safe. I loved that it comes with a ladle too! The scissors will be very helpful for the hard to open charcoal bags, yellow is my favorite color and lemon is my favorite fruit so I absolutely love the cutting board!, and the color for the fabric was great since you cannot see the stains!

All in all, excellent buy, and I believe that whoever receives this as a gift would not be able to thank you enough!
$25.99


CQQKS Survival Gear Kit for Men
You never know when you'll find yourself in a situation needing a multitool including screwdriver, pliers, a can opener, etc. So it's always best to be prepared. This premium survival gear includes all important tools such as a multitool, tactical flashlight, survival bracelets, emergency blanket, wire saw or water bottle clip, that meet all needs of outdoor activities. If you are looking for a premium emergency survival kit that's as tough as you are, then you will love this survival gear. This is made from strong 420 high carbon stainless steel with 14 integrated. It is easy-to-access tools that are ready to handle in any situation. Plus, it easily folds and snaps into a compact pocket size for easy storage.
Pros
Includes a multi-tool which is very durable
Comes with a heat blanket
The storage box is compact and lightweight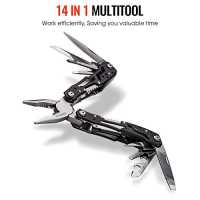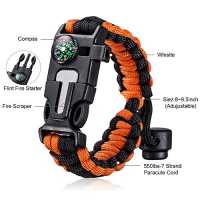 Our Take
Are you looking for a great birthday or anniversary gift to your brother, dad, boyfriend, or husband? If so, then check out this CQQKS Survival Gear Kit for Men as it includes everything that men loves and need - all in one highly portable storage box!

This is a really nice kit to have in my camping gear or just in the back of my car for general use. It contains an essential multi-tool, which is probably the most useful out if all of them. But it also has a heat blanket that can be nice in the winter if you break down somewhere cold and need to wait for help.

Isn't it awesome? What are you waiting for, get your loved ones this for their next birthday!!

Grilljoy BBQ Grill Tools Set with Grey Insulated Cooler Bag
Each BBQ tool has been designed for ease of use and comfort. Ergonomic grips and exquisite balance will make them feel like an extension of your arm. With these tools, you can flip, skewer, and drag food like a real barbecue master. This BBQ grill set contains almost everything needed for grilling such as a cooler bag, steak fork, grill gloves, meat tongs, cutting board, serrated knife, barbecue fork, slotted spatula, bottle opener/corkscrew, 2salt/pepper shakers and 1 meat thermometer. Cooler bag dimensions are 15 х 9.5 х 9 inches, great for packing all of your food and drinks for the BBQ party. This reusable cooler bag comes with a detachable and adjustable shoulder strap which makes it easy to carry by hand or greatly tied to your backpack with lightweight design.
Pros
Sturdy and spacious cooler bag
Comes with all necessary grill tools
Made with high-quality materials
Not very expensive
Cons
It's better if it comes with more shake and pepper shakers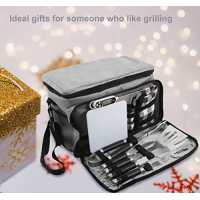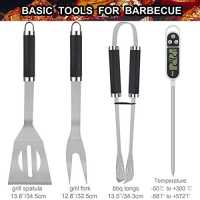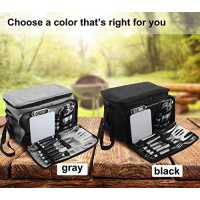 Our Take
If you ask any campers and camping enthusiast out there about what they look forward the most when they go on a trip, I bet they would unanimously say: Barbecue! So if you are looking for a gift for one of them, it is only intuitive to give them something that they can use when they do what they love to do the most in campsite. Like the Grilljoy BBQ Grill Tools Set with Grey Insulated Cooler Bag!

Fantastic cooler for our trips to lake, integrated 3 things in one for 1/2 the space and now only one thing to carry. The compact cooler bag is particularly awesome as it is very spacious and sturdy. If there is something I want this package to include is more salt and pepper shakers so I can bring more spices, but all in all, this is a great product for its price. Highly recommended!
$35.99


iunio Camping Axe Multi-Tool Hatchet Survival Kit
iunio is Latin for youth, and is about experiencing total wellbeing and leading an inspiring life. iunio designs and develops products that make a real change to your outdoor experience. Its focus is to provide the best equipment for the outdoor enthusiast. This has several uses in one survival axe that can be used for splitting small logs, preparing kindling as well as procuring, extracting yourself or others from vehicles, breaking glass/windows, wilderness navigation, building shelters, starting fires and engraving, and more. The usefulness is limited only by your imagination, skills and training; although you do not need to be an expert survivalist to benefit from the multiple uses of this survival axe. The tube sections each have available space for small first aid kit components, fishing gear and tackle, survival gear or anything else you can imagine. This survival axe can be assembled or disassembled smoothly. It also comes with a carrying bag and protective sheath which can be attached anywhere you are comfortable with.
Pros
Sturdy and made with high-quality materials
Durable
Sharp
Easy to clean
Cons
Cannot be used as an axe or for chopping logs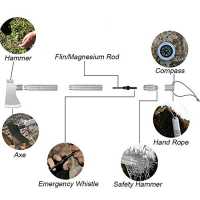 Our Take
When choosing for a birthday (or other occassions) present for my friends and family, I always make sure that I get them something that is both a novelty but useful at the same. I look for an item that they would not purchase for themselves but will help them when they have it. That is why I believe the iunio Camping Axe Multi-Tool Hatchet Survival Kit is one of those that meet this criteria.

It is novelty enough but is not useless. It is less likely to be purchased when you're looking for something for yourself, but that's only because you don't realize that you need one until you had one.

It's a nice hatchet but it's definitely not an axe - you can't chop logs for the fire place with it; it just doesn't have the heft. It's great for chopping smaller limbs for a camp fire or sharpening stakes and such though. It has O-rings so you can store items in the handle without them getting wet; like matches. The ferro rod works REALLY well if you know how to use one. Just be sure to get the black off the rod (like all ferro rods) or you won't get any sparks.

I would be very happy if I receive something like this as a gift. Hello, there, friends!
$43.99


SULKADA 9 In 1 Survival Gear Kits
This is a 9 in 1 professional emergency survival rod that contains a Fishing tool, Fire Starter, Compass, Survival knife, Flint stone, Whistle, Glass breaker, Bottle opener and Paracord all in a gift box. It is all made with aircraft grade aluminum, and the glass breaker is made with high hard Tungsten steel that can easily leave traces on glass or steel plate and also can easily break glass windows to escape. It is equipped with unique functions, with its own fishing function, while you don't have any food in the wild ,it can be used as a food supply tool. It comes with superior strength, a smooth surface, and a comfortable grip. With a length of 7.6 inches (the fishing line length is 98 inches), a diameter 0.6 inches, and a weight of only 0.16 lbs there's never a good excuse to be without this wonderful device. It can easily be taken in a backpack, car, and on a hike or camping trip.
Pros
Very compact
Can be used in nine different ways
Can be used as a self-defense weapon
Not expensive
Cons
Non heavyweight enough to break glass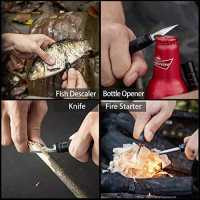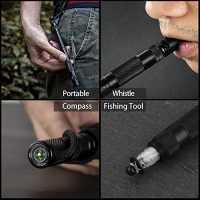 Our Take
If you are looking for a gift that will not only surprise your friends and family because of its uniqueness but is also very helpful during their camping trips, then this SULKADA 9 In 1 Survival Gear Kit is a great contender. It is simply a small rod - but lo and behold - it can do at least nine things! Cool, right!

I would use this for camping as well as a last resort mainly because when I go camping, I typically tend to bring my own matches and fishing poles. But this is a great little tool that will give you multiple options in a very small package. I think that this could be also used as a self-defense and window breaker but it's not as heavyweight as I would have expected. It still is fairly heavy and it can do some damage but I am not sure if it will break the car window. Nonetheless, I really want to have one!


$18.98


Legit Camping Double Hammock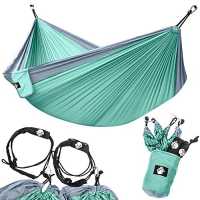 You'll have everything you need to relax in complete comfort on your next camping or hiking trip with this Double Camping Hammock. This portable hammock redefines grab-n-go camping. No need to take along a bulky pad and heavy sleeping bag, just stuff the hammock into the small attached sack, put it in your pack and off you go. When you've found the best camp spot, setup is a breeze with the included steel carabiners, rope and tree friendly straps. You'll be swinging in utter bliss in no time. The first time you unpack your travel hammock, you'll be blown away by just how simple it is. There's plenty of room for two, and the military-grade 210T nylon fabric makes both a durable and comfortable bed.
Pros
Way cheaper than similar products
Comfortable and stable
Cute color
Cons
The suspension system is not up to par as other brands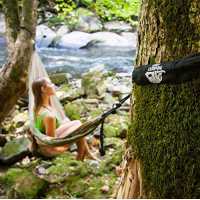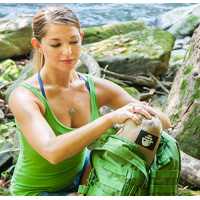 Our Take
The gift of comfort and relaxation is always a good idea Hence, a hammock can never go wrong as a present to anyone who enjoys being out and about. When it comes to hammocks, though, a good quality one will always be the best gift.

This is a really good, more affordable, alternative to more expensive hammocks. This is comparable in size and quality to the expensive ones. It's about the same weight, same size, same load bearing limits as that made by Eno. It is just as comfy, and to be honest, for mine, the material even feels a bit softer than the other hammocks do. And I won't feel as bad if it gets torn up camping.

Awesome gift! Trust me.
$29.97