7 Best Camping Headlamp
If there is one thing humans, unfortunately, cannot train themselves for, it is the ability to see in a pitch dark environment. We always need a source of light when the sun sets, and the sky goes dark.
Why would we let this daily phenomenon stop us from exploring the outdoors? With these headlamps, you will not have to worry about not having a night vision. You can go on trails and pursue your adventures any time with the most reliable headlamps in the market this 2020. We have laid out every detail for you.
Here at Camping.org, we curate all the recommended products -- both by experts and consumers -- to help you make smart choices.

EverBrite 2-Pack Headlamp Flashlight
This head flashlight was built to last. Eight LEDs power each of the lightbulbs with 30 lumens of visible light emissions. You will be able to see everything within the 20m range. They are expected to last for more than 100,000 hours. There are four different lighting modes that you can choose from. You set it to 2, 4, or 8 light bulbs turned on at a time. The product is lightweight, comfortable, and adjustable so that you will be able to focus on your escapade. It is simple to use and suits both children and adults.
Pros
Affordable
Comes with batteries
Lasts long
Cons
Not rechargeable
Batteries need to be changed eventually
Our Take
It is great that the batteries already come with the purchase. At first, I thought it was not functioning well. When I tried to inspect the insides, I figured out that there are thin pieces of plastic at the end of the batteries, and you have to remove them to activate the lights. I like this product because it lasted for a long time before I had to replace the batteries. The straps are easy to adjust, and they go at the sides of your head and at the top. This assures that it stays in place despite your head movements. If you are not the type that is comfortable with straps on, you can also remove them altogether. This detachable feature makes cleaning more convenient as you can simply load the straps inside the washing machine. I would highly recommend this to people who are in for a low budget! For less than $10, you will not have to worry about getting your hands full for holding a flashlight.
$9.99


Energizer High-Powered LED Headlamp Flashlights
This headlamp illuminates up to 85 meters with its 360-lumen beam of LED light when placed in the highest mode. It features a durable composition that stood through a 1-meter drop test. The lens is shatterproof, and its IPX4 rated body is water-resistant. You can set it in 7 different modes such as high, low, wide, wide low, red, flashing red, and green. This makes the product versatile and reliable in any situation. It can last up to 50 hours in low mode. With 3 Energizer Max AAA batteries included, you will be completely ready for any night adventure!
Pros
High-quality
Versatile
Long battery life
Comes with batteries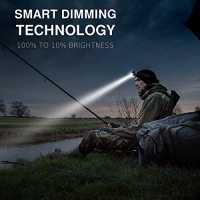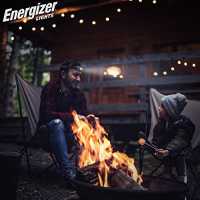 Our Take
In my take, Energizer headlamps are one of the most underrated headlamps in the market. They are lightweight and simple to use. I would also say that their prices are always reasonable, based on how they perform. What I like is the two-button feature that allows you to turn them off quickly instead of going through the entire cycle. On top of that, these buttons are bulging buttons, not ones that are supposedly touch-sensitive but are hard to use when you are wearing gloves.
The batteries are also long-lasting. This saves you a few dollars that you would have spent on replacements. I like the overall fit around my head. There are also three different angles that the light can be adjusted to, which makes your job more efficient. Overall, this is a great product.
$24.99


Energizer LED Headlamp
This Energizer LED headlamp projects 100 lumens of light for camping, running, hiking, and all other night outdoor activities. It is also a reliable product to be placed in survival kits. Its powerful light beam is up to to 35 meters. You can adjust the light mode between high and low. The band is comfortable, easily adjustable, and washable. It is durable, resisting damages from a one-meter fall. It comes with Energizer max batteries upon purchasing. They will not need replacements for quite some time. Users of this headlamp may be kids or adults.
Pros
Affordable
Comes with batteries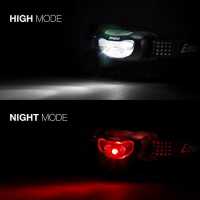 Our Take
If you are one of those people who like to go on camping trips without spending too much on equipment, this headlamp is perfect for you. This is a cheaper version of the Energizer HD+ Vision headlamp. Although that one is 50 lumens brighter, this version performs decently well. I like this headlamp because, for its affordable price, you get the most necessary functions that you would commonly need. It has a dimming option, and also a high setting if ever you need to see farther. Of course, it is not as bright as the other models of Energizer headlamps, which are more expensive. However, as long as you do not go for the most challenging trails, this would be enough. Everything else is pretty much comparable. The straps are also washable, which allows for convenient thorough cleaning. The fit is customizable to the size of your head. Batteries are included in the package as well. It is a good deal for its price point.
$6.72


GearLight LED Headlamp Flashlight S500 [2 PACK]
The mighty U.S. developed XPG2 LED light radiates a beam that resembles daylight color and definition. It can work for 45 hours straight on low and 3 hours on high. This is ideal for runners and outdoor enthusiasts because it is lightweight, weighing only 3oz with batteries included. The straps are removable and adjustable for comfort and easy washing. To assure durability, this headlamp was built to withstand unpredictable outdoor conditions. It is water-resistant and shockproof. There are seven modes to choose from. The 45-degree adjustment makes things more comfortable when you are working. This package includes two headlamps for less than $15.
Pros
Affordable
High-quality
Brightest in its price point
Cons
Does not come with batteries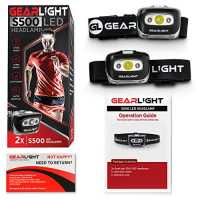 Our Take
I am impressed with this product. When it arrived at my house, I was surprised that the package had two products instead of one. For less than $15, that is absolutely a steal! Beyond that, I did not expect that headlamps this cheap could perform as well as more expensive ones. It is lightweight, allowing you to go on your adventure without having to worry about straining your neck. When it comes to comfort, it also does not disappoint. You can wear it without a hat underneath and would not feel discomfort. This is an essential feature because sweating is a natural consequence of outdoor activities, so you must find the most comfortable product. In its price point, this is the brightest headlamp that I have tried by far. It is inexpensive and does the job very well. Although it does not come with batteries, the price is still impressive. I highly recommend this!
$13.99


Elmchee Rechargeable headlamp
With this Elmchee rechargeable headlamp, you will not have to worry about purchasing so many batteries now and then. You save up dollars on replacements! It has eight different working modes, making it a versatile headlamp that you could always rely on. The High-Quality 1500mAh Li-polymer battery power the six bright LED lights. These lights are expected to deliver 100,000 hours of brightness. Its lamp swivels can rotate 90 degrees for your convenience while working. The product is also water-resistant and weather-resistant. A 100% refund will be given to any unsatisfied customers.
Pros
Brightest lights
Rechargeable
Has a battery indicator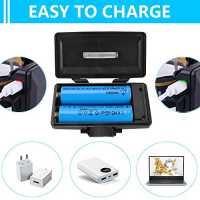 Our Take
The lamps indeed offer the brightest lights. It is because of the high-powered battery that can be recharged. You can change the focus of the side and center lights, depending on whether you can see something near or far. The battery indicator is a significant feature, as you will know if you need to recharge soon. I like the fact that you do not have to remove the batteries to charge them as you can do so through inserting a USB chord. This protects the battery, prolonging its useful life. The battery lasts long before it needs recharging. You would not have to worry about running out of power on your night adventure for sure. However, it is not the most lightweight headlamp. That is the trade-off that comes with these extra powerful lights. As long as you are okay with wearing a headlamp with a little more weight, this product will impress you. Considering everything you get, I would still highly recommend this.
$14.98


Foxelli USB Rechargeable Headlamp Flashlight
This rechargeable headlamp requires only 4 hours of charging in any USB port for it to provide 30 hours of uninterrupted bright light. It offers 160 lumens, which translated to 200 feet beam. That is a heavy-duty performance. With two separate buttons, you can choose from a wide variety of light options to provide your needs. The 60-degree tiltable body allows for varied angles that will give you much convenience. This headlamp was built to withstand any weather. With only 2.4 ounces of weight, you will not be bothered by any neck strains at all. The ergonomically structured elastic headband assures a comfortable fit.
Pros
Heavy-duty
Brightest lights
Rechargeable
Cons
May not ship to your area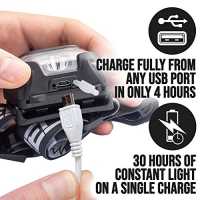 Our Take
First of all, the bright light feature it promises materializes in real life. You will never be disappointed with the beams that come out of the headlamp. To say that you can see things that are 150 feet away from you in a completely dark setting may sound like an exaggeration, but it is not. Given the light mode options you can choose from, you can use this product in a wide variety of activities. I like the fit it has around my head because it is neither too tight nor too loose. It simply does not fall off. Another remarkable feature is the fabric used in the headband. Even if you sweat excessively, it will not cause rashes on your skin. This is important because sweating is inevitable. It also suggests that when rain unexpectedly comes, the headlamp will have no problem when it comes to staying firm around your head. Recharging this is a no-brainer as it is effortless to charge using the USB chord it comes with. At three hours maximum, the headlamp can withstand up to 3 nights of camping adventures. This is an impressive product.
$11.97


JLANG Headlamp Flashlight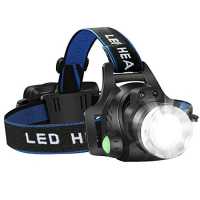 This USB rechargeable headlight could knock off a few dollars from your expenses by not needing battery replacements. When fully charged, it can work up to 6 hours nonstop. The headlight is encased in a premium aluminum casing and plastic, making it water-resistant and weatherproof. It features four different light modes to suit your preferences. The head of the lamp has a 90-degree adjustment to make the situation easier for the user. It has a zoom focus and a zoom out option to cater to your needs up close and afar. The detachable headband allows easy and thorough cleaning.
Pros
Brightest lights
Lightweight
Rechargeable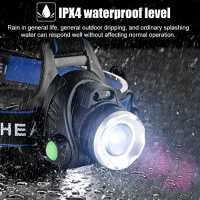 Our Take
This is a pretty impressive headlight! It offers such a bright light, especially in its maximum capacity. I would dare and say that it beams up to 200 ft. in front of you. It is great not only for camping but also for hiking and biking at night. It feels as if you brought a lamp post with you. The rechargeable feature allows for the most potent beams to take place. The battery it has is powerful enough to sustain the bulbs for around 4-6 hours continuously. Although that is a shorter time compared to other rechargeable headlamps in the market, it is compensated by the robust light that it projects. It wraps around the head and on top of it comfortably. It is also lightweight and would not strain your neck. This is an excellent investment for those who regularly go on night activities. Not only will you save up on batteries, but you also do not need to replace this product for years to come as it is durable. I am impressed.
$13.99