8 Best Camping Knife
In any outdoor adventure, one of the most useful tools that you can bring is a knife. Knives are not only great for cutting through different materials; they can also save your life during an emergency. Moreover, knives are an integral part of the camping experience. With their many uses and capabilities, camping knives can help maintain a convenient and hassle-free outdoor adventure.
There are various types of knives for different functions. Some people believe that they need to carry at least two different knives to cover their needs. However, there's no doubt that there can be a single knife out there that's right for you. Finding it can ultimately save you a lot of space, money, and time.
In this article, we'll review five of the best camping knives, answer frequently asked questions, and list features to consider to help you make an informed decision when buying the ideal knife.
From the type of activity to the weather condition, there are a number of things to think about when buying a knife.
Camping Knife Set
Most campers prefer using their knives for all-around work, including cutting rope, hunting fish, and chopping wood. While that's fairly acceptable to outdoor work, many prefer a separate knife for cooking. For this reason, traditional cooking knives evolved into an appropriate indoor and outdoor tool. Camping knife sets are a compact collection of kitchen knives for travel and outdoor use. Lightweight and compact, these are generally easy to clean and can perform without compromise.
While camping knife sets of quality materials optimize outdoor cooking, they're also highly functional for everyday indoor use. Campers are less reliant on these knives' grip as they're typically designed without one, causing less fatigue when holding the knife. This compact feature even allows users to stack three knives all in one space. Camping knife sets typically include a compact chef's knife, small paring knife, and serrated blade knife.
Folding Camping Knife
Typically discreet, a folding knife is easier to conceal. You can place it in your pocket, and no one would even notice that you're carrying a survival tool. Also called pocketknives, folding knives are easy to transport and carry around. Because of this, they're more suitable for urban environments. When constructed well, they're as tough as fixed blade knives.
Another notable advantage of this type of knife is its array of blade choices. Many folding knives have more than one blade, which makes them popular among average campers. More than that, they also pose no danger to campers after use, as the knife folds away effortlessly. They have a locking system which keeps the blade in place when closed and makes sure that they open in one swift motion.
Fixed Blade Camping Knife
Compared to their folding counterparts, fixed blade camping knives are heftier, stronger, and more comfortable. Known for its reputation as a serious tool, a fixed blade knife would also require you a sheath for safer carrying. They come in different sizes, from small, handy tools to crocodile Dundee-sized equipment. They're notably heavier than folding knives and can take up more space as well.
One thing that's common among fixed blade knives is blade strength. Blades are usually twice as long as the blades on a folding knife. As a survival knife, they're far more versatile and superior when it comes to tactical use. Aside from cutting and hunting, people also use them for digging, hammering, and preparing food.
Fixed blade knives are also easier to maintain. Unlike other knives, they're simple and straightforward. There's no need to worry about cleaning the hinges. Affixed in an open position, these knives don't have moving parts or stress points that may cause the blade to break or bend. They're the ideal tool for hunters and outdoorsmen who engage in high torque cutting, building shelters, or butchering work.

Smith & Wesson Extreme Ops SWA24S 7.1in S.S. Folding Knife
The Smith & Wesson Extreme Ops SWA24S 7.1in S.S. Folding Knife is a serrated clip point blade knife with an aluminum handle that is perfect for camping, outdoor activities, and other tactical purposes. Its dimensions are at 7.1 inches (18 cm) overall length with a blade length of 3.1 inches (7.9 cm) and a weight of 3.5 ounces. This portable serrated knife is made of reliable 7Cr17MoV Black Oxide High Carbon Stainless Steel with a black, aluminum handle with a convenient pocket clip, finger flipper, and ambidextrous thumb knobs making it ideal for everyday carry.
Pros
Made of durable metal
Foldable
Has ambidextrous knobs and a pocket clip
Cons
Needs consistent sharpening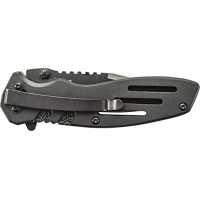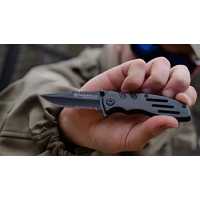 Our Take
When camping, a sharp knife can be a lifesaver. You need one that will remain sharp despite continuous use and is easy to sharpen when it starts to become dull. In this aspect, the Smith & Wesson Extreme Ops SWA24S 7.1in S.S. Folding Knife takes the lead. It is a high-grade tactical serrated knife that is well crafted and designed. It is created in a way that it is safe to handle, knowing that knives are hazardous for clumsy people. This knife exceeds all expectations as it is made with very durable metal with a handle that is ergonomically designed to prevent injuries and to maximize ease of use. Overall, this knife stands out among the rest. It is definitely worth it.
$13.74


Morakniv Companion Fixed Blade Outdoor Knife
The Morakniv Companion Fixed Blade Outdoor Knife is a versatile fixed-blade outdoor knife with a 4.1-inch hardened Sandvik 12C27 stainless steel blade that is ideal for camping, carving, and food preparation. It is made of high-quality Swedish steel which is received razor sharp. It is fitted with high-friction grip sits comfortably in the hand which allows for greater control, safety, and performance, especially during wet and cold conditions. The blade length measures to 4.1 inches (104 mm) and the thickness is around 0.1 (2.5 mm). Together with the handle, it is 8.6 inches (218 mm) long and can weigh up to 4.1 ounces together with the sheath that comes with it.
Pros
Made with rust-proof Swedish stainless steel
The handle is ergonomically designed
Very sharp and thin blades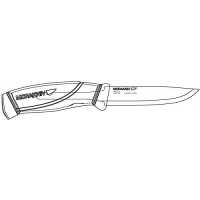 Our Take
The Morakniv Companion Fixed Blade Outdoor Knife is an incredible camping knife. This Swedish-made knife is very sharp and is easy to handle, which makes it very safe and accurate. This is very important when choosing a knife because a dull one is very prone to accidents. On top of that, this knife comes with a sheath that prevents untoward incidents from happening. Its size is perfect for the pocket and is made with high-quality stainless steel. The materials used for this unit is very durable and rust-proof as well. Its handle is ergonomically designed so that it is easy to control and maneuver while preventing it from slipping off your grasp. Overall, this knife is an excellent tool for camping as we recommend that you get one of these for your future trips and camping adventures!
$17.99


Morpilot Pocket Knife & Fire Starter Set
The Morpilot Pocket Knife & Fire Starter Set is a five in one tactical folding knife that is multi-purpose and high-quality. The product is made with durable and high-grade stainless steel with a length of 7.87''. It comes with a glass breaker, Seat belt cutter, Knife, saw, and a necklace fire starting, perfect for campers and outdoor enthusiasts and survivalists. This pocket tactical knife can also be tied to the branch with rope to catch fish. The fire starter neckless is also multi-use. It is also a magnetic compass, a 120 dB emergency whistle, and the neck rope can be repurposed as a tying implement. This pocket tactical knife adopts an anti-skid handle design to prevent the knife from slipping from your hand. It has a safety lock design to ensures the knife blade locks into place when fully deployed, which must be manually unlocked to fold away, providing much safer user experience.
Pros
Comes as a package (knife and fire starter)
Multi-use knife
Has security and locking mechanisms
Cons
Not as durable as others in the list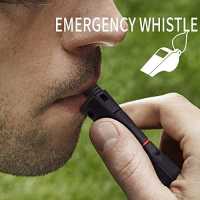 Our Take
If you are looking for a multi-tool camping knife, then the Morpilot Pocket Knife & Fire Starter Set is one of the best that you can find in the market. The blade itself is a five into one device which can be used as a knife (for cutting), a glass breaker, a seat belt cutter, and a saw. The fire starter that comes with it has many purposes too. It can be used as an also a magnetic compass, an emergency whistle, and a rope. Definitely perfect for camping and hiking.
In terms of quality, this one is auspicious as well. If we're going to judge the knife itself, it is one of the blades that works perfectly with a lot of safety mechanisms to prevent injuries. The knife may not be as high-quality as other knives in this list, the fact that it comes with many extra other tools compensates for what it lacks as a knife. For its price, this one is undoubtedly a steal!
$18.99


Mossy Oak Survival Knife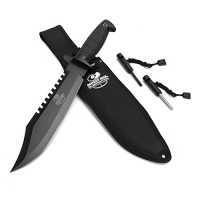 The Mossy Oak Survival Knife is a 15-inch fixed blade hunting bowie knife that comes with a sharpener and fire starter. The blade of the knife is 10-inches long and 3.8 millimeters thick. The entire knife weighs at about 16.8 ounces. It is made with 440C stainless steel and features saw back, and black anodized surface. It is fitted with a full-tang rubber handle that sports a classic design made with rubber, which increases friction for better grip and control. This stainless steel fixed blade knife comes with a heavy-duty nylon sheath for easy and safe carry.
Pros
Heavy-duty and durable
Ergonomic handle
Comes with sharpener and fire starter
Long blade
Cons
Bigger than other knives in the list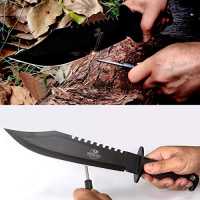 Our Take
If you want a long knife to bring with you on your next camping trip, the Mossy Oak Survival Knife is a perfect one for you! It is a very long knife with a very secured rubber handle, so your hands are protected from accidents caused by slipping. When looking at it, you will immediately know that it is durable, high-quality, and heavy-duty. It is very well made, and you will be sure that the unit will last you a very long time. You also don't have to worry about getting your knife dull because it comes with its own sharpener to make sure that it is always ready to use. Overall, this knife is perfect for avid campers and traditional hikers who want to experience survival camping—highly recommended!
$25.99


Gerber Bear Grylls Folding Sheath Knife
The Gerber Bear Grylls Folding Sheath Knife is a folding knife with a serrated edge that is the forefront of innovation. With a 3.6-inch drop point blade, a textured rubber grip, dual thumb studs, and a sturdy lock-back design, you are never unprepared. It comes with a military-grade sheath that is durable and lightweight that allows you to carry the knife wherever you go safely. It is fitted with dual-sided thumbstud, ergonomic textured rubber grip, and a locking mechanism that securely locks it in place to maximize safety while it is closed. The entire knife is 8.5" in length and weighs up to 5.3 ounces together with the high-quality sheath that comes with it.
Pros
High quality and military-grade
Can be opened with one hand safely
Has lock-back features
Ergonomic rubber handle
Cons
There are friction issues with its folding mechanism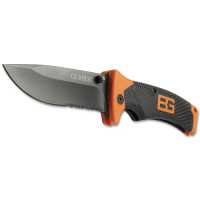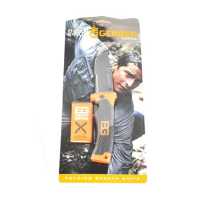 Our Take
For people who want a serious blade, yet compact, foldable and able to fit neatly into a sheath, on a belt and out of the way, the Gerber Bear Grylls Folding Sheath Knife is the ultimate camping knife. This tactical-grade folding knife with a serrated edge is very durable and well-made, making sure that it will last with you for a very long time. There are other things that you can be excited about this one. It has a dual-sided thumbstud, which allows you to open it with one hand without the risk of getting injured in the process. It also comes with an ergonomic textured grip handle, which maximizes ease of use and reduces slippage. It has a lock-back mechanism that automatically locks and secures the knife when closed to prevent it from accidentally opening and cutting you. Overall, this knife is very impressive. The quality is on par with much expensive camping and tactical knives, and the price is not pretentious. You should definitely get one for yourself!
$48.87


RoverTac Multitool Camping Tool
Strong, reliable, and easy to handle, the Rovertac Multitool Hatchet is designed to tackle almost all jobs in almost every situation. Featuring an ergonomic design, durable stainless steel construction and a secure locking system, this lightweight multi-tool integrates 14 convenient tools that will make a huge difference. The Hammer and Axe are the core of this tool. The Hammer can be used as an emergency escape tool too. The Axe and Saw can cut branches and wood for your campfire or snares, and even marshmallow roasting sticks. This all-in-one tool includes: Axe, File, Saw, Hammer, Knife Blade, Wire Cutter, Regular Pliers, Flat Jaw Plier, Fish Descaler, Bottle Opener, Assorted Wrenches, Philips Screwdriver, Slotted Screwdriver, and Large Slotted Screwdriver.
Pros
Multi-tool (with 14 different functional tools in one)
Sharp knife
Well made and durable
Cons
The knife is not easy to use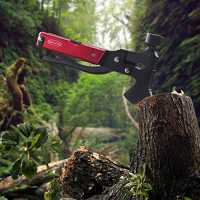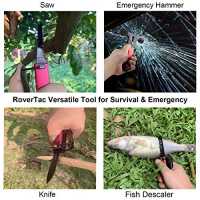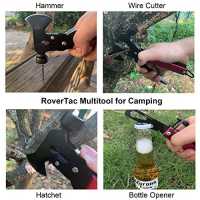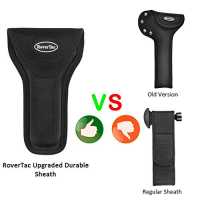 Our Take
There are at least fourteen things to be excited about the RoverTac Multitool Camping Tool. But for the purpose of this review, let us focus on its knife component. The overall device is high-quality and is made with heavy-duty stainless steel with a durable black oxide finish. The knife that comes with it is very sharp and works as it should. The only problem is when you use this tool like a knife, handling it can be hard because it's bulky. However, it has to be understood that this is a multitool, and this little hassle is compensated by it being multi-function. If you are looking for a knife that is easy to handle, then this one is probably not for you. However, if you are looking for a multi-tool that can do a bunch of stuff while you're camping, then the RoverTac Multitool Camping Tool is a perfect choice!
$25.99


KINGMAX Pocket Knife
The KINGMAX Pocket Knife is a durable, sophisticated, compact multi-tool pocket knife with a folding design. It can be used as a knife/saw, pliers, can opener, opener, and a screwdriver with a 9-in-1 bit set. It is a perfect compact multi-tool for projects at home, at work, or at campsites. It is made with 440C stainless steel with premium hardness and rust resistance and is finished with black oxide. It is designed for safety as it has a blade locking feature that locks it when closed and ergonomically designed grooved handle for easy grip. The multi-tool knife weighs 7.7 ounces.
Pros
Multitool (10 functions, 9-in-1 bit set included)
Made with high-quality stainless steel
Very compact and safe
Cons
The grip can sometimes be weak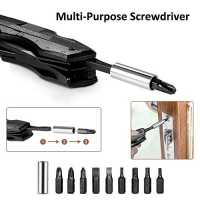 Our Take
Multitools can be very helpful especially when you are camping. At the campsite, you will definitely need a lot of tools. You can opt to buy each tool one by one or simply get the KINGMAX Pocket Knife that serves five purposes in the price of one. In terms of quality, this one doesn't disappoint. It is made with high carbon and high chromium 440C stainless steel, with the treatment of 55 HRC hardness. It's coated with black aluminum that promotes corrosion resistance. It is also very sharp and efficient in cutting. All in all, this multi-tool pocket knife is all you need. Travel safely with this knife and you will have every functionality a camping set requires. Great buy and complete money-saver!
$19.99


KA-BAR Full Size US Marine Corps Fighting Knife
The Ka-Bar USMC fighting knife is a legendary blade that was first designed to serve US troops during World War II. Now, more than 50 years later it still offers the same high-quality design you can depend on. It boasts a 1095 carbon steel blade that is epoxy powder coated and a stacked leather handle. Its blade is constructed with edged angles of 20 degrees and is sporting a 7' straight-edge blade. Overall, the length of the knife together with the handle is 11.875 inches. It comes with a 100% leather sheath for a luxurious and safe carry.
Pros
Luxurious sheath (100% leather)
Made of 1095 carbon steel with leather stacked handle
Very sharp
Our Take
If you are an experienced camper with advanced knife-handling skills, the KA-BAR Full-Size US Marine Corps Fighting Knife is perfect for you. This is a very sharp knife made with 1095 carbon steel blade powder-coated epoxy. The brand that produces this knife has been in the industry for more than 50 years, and their longevity is a reputable promise of their quality. This knife, in particular, does not disappoint. It is very well-made. You'll know right when you see this that it is a high-grade military and tactical knife. Its handles are very luxurious as well. It is made of leather that is stacked up to prevent slipping. The experience of using this knife is fantastic. There are many good words to be said about it. But all in all, it is a perfect knife for someone who has advanced skills in knife-handline. It quite a big knife and a very sharp one at that so it is a perilous one when mishandled.