10 Best Camping Lights
A weekend camping trip is always a fun and exciting adventure. But during your commune with nature, the most important thing you need to have packed up in your luggage is a stable and reliable light source. Lighting during camping is not only helpful during the night when you want to see what's around you. It is also needed when preparing food, looking for stuff, among others. An accessible light also helps during the time of emergencies as it can pave your way to safety.
There are different kinds of light sources that you can bring with you to your next camping adventure. There's flashlights, lamps, torches, and what have you. You can also depend on the moon for illumination sometimes, but it's not reliable, is it?
So if you are looking for the best camping lights, you have come to the right place. We have come up with a comprehensive list of the most impressive products in the market that you can choose from to serve as your light on a chilly night at the campsite. Here are the best camping lights in the market:

Tough Light LED Rechargeable Lantern
Tough Light LED Rechargeable Lantern with emergency cell phone charger has 400 super bright lumens with a premium 6000mAh Li-ion battery. This unit holds a charge for 9 months or more when it is not used. It should be charged twice a year and it's always ready for you in case of emergency. It also charges cell phones and cameras for emergency/convenience while enjoying the great outdoor activities. This is made with military grade rubber and plastic molds with built-in rubber O-rings that provides IPX water resistance to handle wet conditions. This tough light is durable and can handle a drop from 5 feet without any damages. Superior to a solar light, Tough Light can be charged from your car's battery through a 12-volt DC charger. This is great as hiking light, flashlight, work light and emergency light for home, auto and marine.
Pros
Very bright
Good quality
The battery has long life
Cons
Doesn't come with a charger block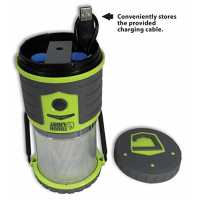 Our Take
There are different things that you should be excited this rechargeable lamp. First of all, this lamp is very bright. It can basically illuminate an entire tent during the night without feeling that it is still dim. On top of that, this is a really good emergency light as well. If not in use, the lamp can actually retain its battery for up to nine month. However, please note that even so, you still need to charge it at least twice a year to maintain the battery in good health.

Furthermore, the same USB charger that you use for your smart phone, tablet or digital camera will also work to charge the Tough Light. You can charge it in your car using any USB 12-volt DC charger or from your laptop's USB port. All in all, this lamp is one of the best among similar products in the market. And with its price, it definitely is a good deal.
$64.95


DealBang Compact LED Camping Light Bulbs
The lightbulb exterior of DealBang LED Camping Light Bulb is made of ABS material which is a firm and durable structure with good crash resistance. It is also handy-size and lightweight (75g) that makes it easy to carry and grip even for kids. This is perfect s mini decor with flashing mode or reading lights with the steady light. It has 3 built-in LED beads that made the bulb's maximum bright to 150 lumens to offer a moderate light and illuminate a much larger area around it than a flashlight. This is powered by 3x AAA batteries and you can hang this LED bulb on backpack, tent or other pensile places steadily with the D-clip hook. Great for emergency hurricane, outdoor activities such as fishing, camping, backpacking and so on.
Pros
Small, portable, and practical
Safe as it is operated with AAA batteries
Inexpensive
Our Take
If there is one thing you can't do with this awesome portable and battery operated light bulb, that is to underestimate it. The DealBang Compact LED Camping Light Bulbs is one of the most compact lighting solutions that we can find in the market for campers and emergency situations. This light bulb is battery operated and a complete set of AAA batteries also come with the package. Once the batteries run out of juices, you can always head to the closest convenience store and buy more.

When it comes to brightness, this portable lightbulb also doesn't disappoint. It can emit up to 150 lumens to offer a moderate light and can illuminate a much larger area around it than a flashlight. It may not be the brightest among the ones in this list but it is one of the safest and the most portable. In fact, the bulb itself is smaller than a regular palm of the hand. There is also a hook on top of the bulb that you can use to hang it in an elevated area to maximize brightness.

This lighting has only minimal cost and you can choose to buy a lot of it if you really want your campsite to light up really well. All in all, this is a great deal.
$13.49


LE Rechargeable LED Camping Lantern
LE focuses on creating the best lighting experience. This camping lantern is equipped with CREE T6 LED lights that provides 1000 lumens brightness and 5 light modes. Moreover, irradiation distance is up to 1650ft. IP44 certification ensures the searchlight can prevent splashing water in all directions. Though it has an enormous size, it weighs only 29.98 ounces which makes it easy for children to use it. The camping light can also serve as a 3600mAh power bank for smartphone or mobile devices in emergency. The front light has 2 brightness levels, 1000 lumens and 400 lumens. The left side mode (70-130lm) and right side red flashing mode, making it applicable to more scenarios making it applicable to more scenarios, such as running, camping, jogging, fishing, bicycling, reading, repairing cars, etc.
Pros
Brightness can be adjusted (400 lumens & 1000 lumens)
Works as a flashlight and a lantern
Long battery life
Cons
Kinda heavy
Made with plastic exterior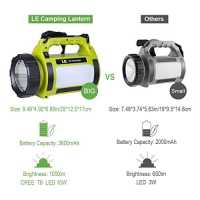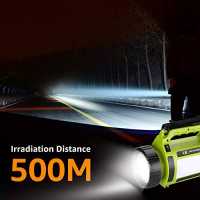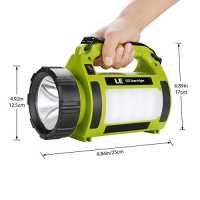 Our Take
Having an emergency lighting source is very important when you are out in the mountains during a camping trip. It allows you to always be mobile and ready when danger comes and it also enables you to perform regular tasks like preparing for food, brushing teeth, taking a bath, whatsoever. Thus, it is important that the lantern you brought with you to the campsite is not only bright enough to illuminate majority of your station but is also reliable and has long battery life. The LE Rechargeable LED Camping Lantern is one of the camping lanterns in the market that lived up to its promise.

First of all, this lantern works in two basic ways: (1) it can serve as a flashlight with focused and long distance illumination, and (2) it can serve as a desk lamp that has wide illumination. You can shift from one way to another just with a slide of the button. Eitherway, the lantern can emit a powerful and bright light. In fact, it can be adjusted between 400 lumens and 1000 lumens depending on the amount of light that you need. This controlability allows the device to conserve as much battery it can. Based on experience, the battery life of this lantern is enough to sustain you in one weekend camping trip, provided that you exercise reasonable caution on when you use the light. Nonetheless, the overall verdict is that this worth every money you spend for it and it is highly commendable.
$37.99


SUBOOS Gen 2 Ultimate LED Rechargeable Tent Lantern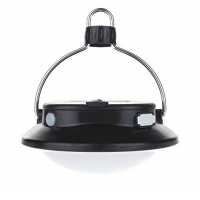 The Gen 2 LED light applies SMD LEDs, which deliver maximum 280 lumens with wide light radius. Its frosted finishing on light makes it tender and sexy. The metal hooker can be fixed with 5 angles so there would never be a problem moving it around. It has three work modes namely the super bright, bright and red. You just have to push the transparent front button to switch from super bright to dim, and red. The button is also an indicator of battery level that is red for low and blue for normal power level. There will be no worries if you only have 1 battery because it would still turn on but 2 batteries would achieve peak brightness and even last longer. The light maximum radius is 65 ft. No matter where you hang it, it will always face you.
Pros
Inexpensive
Portable
Long battery life
Bright enough for indoor use
Cons
Not bright enough for outdoor use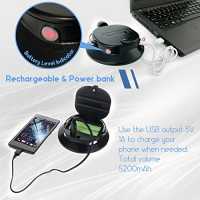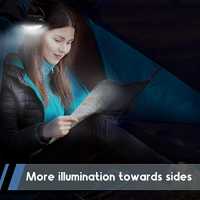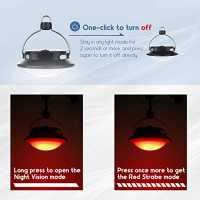 Our Take
Before we discuss the SUBOOS Gen 2 Ultimate LED Rechargeable Tent Lantern, it has to understand that this lantern is designed to illuminate the interior of a tent when the light is controlled inside a small area. This is not meant for outdoor use but it can still be used when you really have no choice. Now, with regards to its capacity to illuminate the inside of a tent, this product is pretty marvelous at the job. It is bright enough to be used inside a tent for 10 people. With a maximum brightness level of 250 lumens, this tent lanterns can also be adjusted in three modes: bright light, red light, and dim light. These modes are perfect inside the tent as you can still be illuminated with a dim light while you sleep soundly during the night.

The illumination radius of this lantern is also quite wide. As earlier mentioned, it can be used to illuminate a 10-person tent. Furthermore, the batteries are rechargeable and can last a very long time. In fact, it comes with a power bank that stores extra batteries for itself that is not used so you can use this tent lamp over an extended period of time without the need to consistently charge it during the day. One pro tip, though, is that you hang the lantern in the highest peak inside the tent to achieve maximum illumination.
$19.97


Odoland Portable LED Camping Lantern with Ceiling Fan
Having light at night plus the comfortable fan that keeps the air circulate well is the best thing you could ever have when camping. Odoland is versatile with its ultra bright 18 individual low powered LED bulbs. The fan has high and low settings to provide nice air circulation and lit up the tent evenly. It is 20 ½ inch around, has fan blades 4 inch across that is made with military-grade material. This ensures that it will surely be durable and long lasting wherever you go. It is extremely lightweight built and allows you to take it on the go with ease. When not in use, you can simply collapse this into a smaller size and effortlessly store it. It could light up to 37 hours of regular and continuous use with enough battery capacity.
Pros
Comes with light and fan
The fan is powerful enough inside the tent
The light is bright enough to illuminate the tent
The fan and the light can face opposite directions
Cons
Not always available
The plastic seems not very durable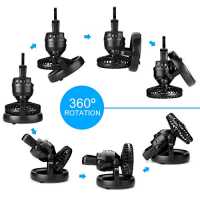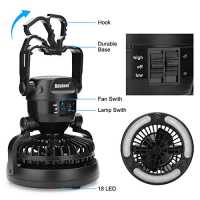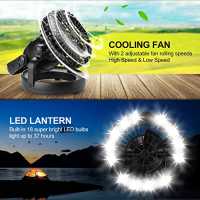 Our Take
We have to face the fact that sleeping inside a tent is not very comfortable. However, it has to be understood that when out for camping, comfort isn't necessarily the priority. But why compromise some of your comforts when you can maintain it using one device? Yes, you heard that right. The Odoland Portable LED Camping Lantern with Ceiling Fan is the ultimate ceiling tent lamp that is perfect for camping and other outdoor activities.

This rechargeable LED camping lantern is bright enough to illuminate an entire tent. On top of that, it comes with a ceiling fan to keep the inside of the tent cool and ventilated for an extra comfort during sleep. But don't expect that the fan is going to be a very powerful one. It is not. It is only 20 ½ inch around, has fan blades 4 inch across that is made with military-grade material that is just enough to make add more ventilation inside the tent. When it comes to battery life, the fan itself only lasted two and a half nights (about 20 hours) on the high setting, but it lasted longer than the description said it would. On the low setting, the fan only created a faint breeze, but on the high setting you could feel the air on your face from 6-7 feet away. Having two hinges made it easy to point the fan and light in separate directions is also a plus. This is a must have for all campers and outdoor enthusiasts!
$18.99


EZORKAS 2 Pack Camping Lanterns
The Ezorkas offers ultra-bright COB bulbs that cover 360 degree coverage lighting. It also has a high visibility to meet large area brightness. Offers four lighting modes and is rechargeable but also can be battery operated. There is a built-in 18650 battery, so you can recharge the lantern via USB charging cable. You can also place 3*AA batteries to use it. By using these two ways of battery supply, you will never l be left in a sudden darkness. The compact lamp boy prevents it being damaged from collision. The rechargeable lantern is water-resistant due to its ABS military material and COB bulb. The Camping lamp can adapt to all kinds of severe hurricane and rainstorm weather. It has collapsible design (by pushing and pulling the handle) can turn on or close the lantern. The metal portable lantern can be used as a flashlight, vertical lift as a lantern and can be hung on a tree or others. 3 Strong magnets on the base can be adsorbed on any metal surface to free your hands, a perfect camping light for your indoor or outdoor activities.
Pros
Magnetic bottom to attach to metallic surfaces
Works as a flashlight and a lantern
Has an SOS signal
Comes with a back up AA batteries
Cons
Not as bright as others in the list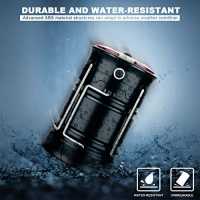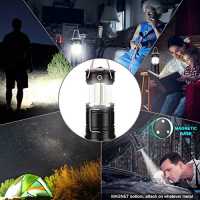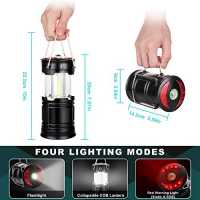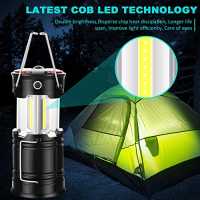 Our Take
The EZORKAS 2 Pack Camping Lanterns is extremely lightweight and pretty bright. Being powered with an 18650 battery is always a good sign, you know it'll be bright. Also having two USB cables come with it, which was a classy move. it also works in two modes: flashlight and lantern. However, the flashlight mode isn't really impressive. It was okay. The lantern setting on the other hand worked perfectly when you want to go for a walk after dark. It put out a ton of light and you would not feel like there is an issue seeing at all. It works into the night as well for less practical reasons.

It is also important to mention that this package comes with an internal 18650 battery and also uses backup AA's at the same time. The metal bottom is also a brilliant addition to its design as it allows you to stick the lantern to metallic surfaces without the fear of it falling off. All in all, this lantern is worth the price!


$23.95


AYL Starlight
The AYL Starlight uses LED bulbs with an output of 1000 lumens, guaranteeing you crystal clarity and over 100,000 hours of use. The battery can be used for up to 6 days straight on a single set of fresh 3 D batteries. It is lightweight, shockproof and water resistant that is designed with a hook at the bottom that makes it easy to set it up anywhere. The three light modes can be switched to any of your needs (low, high, flashing strobe) by simply cycling the switch button. It has 360 degree lighting that creates the ideal amount of light for working, cooking, reading, camping, during power outages or when your car breaks down. It also comes with a removable convex reflector cap that provides the 360 lighting and that can also be removed for more focused lighting.
Pros
Very bright
Lightweight
Can last up to six days
Not expensive
Cons
The battery covers can be hard to reinstalled once there are batteries inside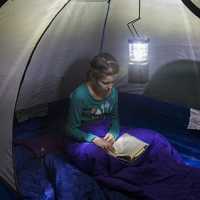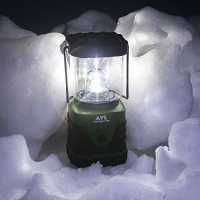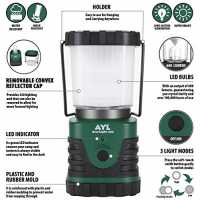 Our Take
Right of that bat, let us say that this lantern is one of the brightest and the most long lasting among the ones in this list. That in itself is a reason why you should purchase this, but there are other things that you need to know.

First of all, these lantern can be bright up to 1000 lumens. It is definitely perfect when you want to illuminate an area outside your tent because it also has a wide illumination radius as well. Furthermore, when the ads claimed that this lantern can last up to six days, they are not lying. With fresh 3 D batteries, you can rely on this lamp for the entire trip. If your trip is longer than six days, you can also bring with you some spare batteries.

The only aspect of the AYL Starlight that we found as a minor inconvenience was getting the battery compartment cover back on after a set of batteries were installed. The inside compartment requires 3 D cell batteries and although the inside of the compartment adequately shows you how you should configure the +/- directions of the batteries, getting the battery cover realigned so that it can be screwed back into place can take a little practice. Nonetheless, this minor issue is not enough to dim this lanterns light - no pun intended.
$17.95


Etekcity 4 Pack LED Camping Lantern Portable Flashlight
The Etekcity LED Camping Lantern includes 30 individual energy saving LED bulbs that are designed for a longer lifespan. Constructed with military grade materials promising long-time durability no matter where you go. This is extremely lightweight that allows you to carry it easily. It could be collapsed when not used into a smaller size to be stored taking only small spaces. This could light up to 12 hours with continuous use and battery capacity. It is made in the USA or imported and FCC certified. You could carry it as a flashlight or 360° of luminous light while saving energy. Hang the lantern or inside your tent using the foldaway handles, or while exploring hiking trails, free your hands.
Pros
Compact and collapsible
Battery operated
Cons
Not very bright
High battery consumption
Slightly more expensive than most in the list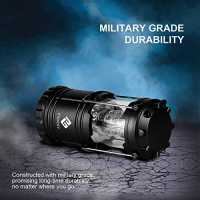 Our Take
As reiterated over and over in this site, the portability of the things you bring with you to your camping trips should always be a priority. Like this Etekcity 4 Pack LED Camping Lantern Portable Flashlight which is a collapsible and battery operated lantern that is perfect for those who are always on the go.

When you order this lantern, it already comes with batteries. The package also includes four lamps which you can scatter around your camping area to maximize the area of illumination. It also seems like these lanterns are very durable and powerful. You can collapse it too into smaller cylinders which could easily fit in you backpack. It doesn't heat up as well. The only problem that comes with this lantern is that it is not very bright and it drains the battery pretty fast. Other than that, this lantern does its job!
$27.54


GearLight High-Powered LED Flashlight S2000
The tough, high-strength aluminum body makes it suitable for extreme conditions both indoors and outdoors. You can count on it during storms, floods, power outages, earthquakes, and any other natural disaster. This is the biggest and the brightest GearLight on the market. With a solid build and blinding brightness, the S2000 delivers up to 1200 real lumens. This mid-size flashlight is big on power but still compact enough to fit in your backpack, survival bag, or car glove compartment. Ultra wide beam effortlessly illuminates a whole room or backyard. It is 20 times brighter than old incandescent lights. It can focus on objects up to 1000 feet away or zoom out to sweep a large area. Rain and snow will roll right off the all-weather aluminum body. Designed to be virtually indestructible, this flashlight can survive a 10-foot drop or being temporarily submerged under water. Its durable and weighty feel delivers a sense of quality that smaller flashlights simply can't offer.
Pros
Durable and lasts long
Very bright
High-quality
Cons
High battery consumption
Kinda heavy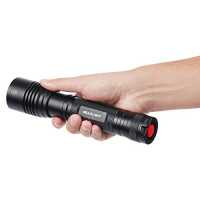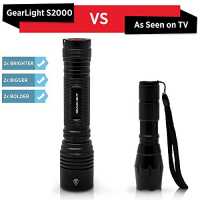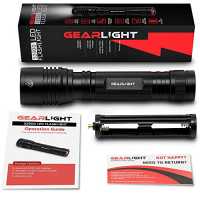 Our Take
We all know that flashlights are very important not only during emergencies but when we participate in outdoor activities like hiking, trekking, camping, and fishing during the night. Flashlights are efficient in way finding as it usually illuminates long distances because the light is focused in a small radius. However, not all flashlights are created equal. Some are simply better than others. Like the GearLight High-Powered LED Flashlight S2000 which is probably one of the brightest camping flashlights you can find in the market right now. This flashlight prides itself for being able to reach a brightness level of 1200 real lumens. That is very bright and concentrated that you will not have a hard time seeing your path and everything along it.

Fit, finish and performance of this flashlight is amazing. The entire unit is aircraft aluminum and built to last. This brightness and high performance however, comes at a cost. Although the battery life is not horrible, the output is so intense, that something has to give....and its usually the battery. Nonetheless, this is a very durable and bright flashlight and you should definitely consider this when you're looking for the perfect flashlight for you!
$18.99


YIFENG XML T6 Ultra Bright LED Flashlight with Adjustable Focus
The Yifeng XML T6 has high brightness that can come to above 1000 lumens. Featuring adjustable focus that it can have the intense spotlight for long range up to 600 feet. The five light modes which are high, middle, low, strobe, SOS with on and off button allows you to use it easily. With a lifespan of up to 100,000 hours or more, no need to consider replacing the cap for the whole life The advance design is made with aircraft grade alloy, premium type 3 hard anodized. It is skid-proof and water-resistant designed for durability. This flashlight is small enough to fit in your pocket, handbag, or car compartment, so you can take it with you wherever, whenever.
Pros
Durable
Small and compact
Has strobe and SOS mode
Cons
The head can be detached easily as it is not reinforced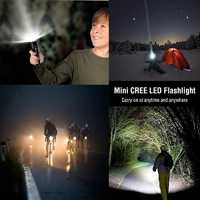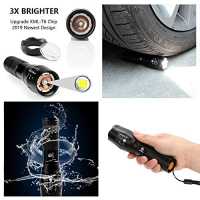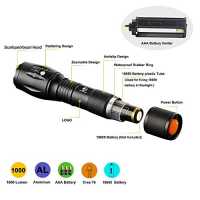 Our Take
Contrary to popular beliefs, tactical flashlights are not only good for battle, they are perfect to bring during camping, trekking, fishing, and hiking. They are small and compact without compromising the quality of light they emit. The same is true with the YIFENG XML T6 Ultra Bright LED Flashlight with Adjustable Focus.

This flashlight is fairly bright. The zooming feature can be pointless for some but it works. The head is secured only through friction, however, so you can be skeptical if it can retain itself at different positions after many uses. After testing, the head did not budge. It shines well in the distance and is very clear. It also has strobe and SOS modes as well. One tip that you should consider is to not throw away the plastic tube thing that comes with each flashlight. That's an adapter for if you don't want to use 3 AAA batteries.
$14.99