10 Best Camping Shovel
Whether you are camping in a wooded area, a mountainous site, or even in a geo reserve, shovels are an essential part of your camper kit. They are used in so many ways, from digging the pits for your tents to scraping off the grass so you can lay your cot on to sleep at night. That is why the shovels you bring with you must be not only high quality.
Different factors come into play when determining whether a shovel is high-quality. Durability is one of them. Of course, you don't want your shovel to give up on you in the middle of camping adventure, right? Another thing that you should look at when buying a shovel is its weight. Since camping usually involves a lot of treks and hikes, your tools must be as lightweight as possible so that they are convenient to carry when you are ascending a mountain, for example. And lastly is the price. Who wants an extremely expensive shovel to begin with?
So if you are planning to go on a camping trip with your family and friends soon and you are looking for the best shovels to bring with you, you are in the right place. We have put together a comprehensive list of the best shovels in the market that are not only high-quality but are also very affordable. Check them out!

SOG Folding Shovel Survival Shovel
The size of this Entrenching Tool is the size of your hand when folded. This camp shovel, snow shovel, and sand shovel for gardening shovel works as a small shovel for big jobs. This is a foldable military shovel and hunting shovel with a wood saw edge and a rotating spade shovel blade to use as a pick or hoe; versatile E tool with strong shovel handle. Hand shovel collapses into a portable outdoor shovel, emergency shovel and hiking shovel; a compact E tool for your camping gear that's not as bulky as other shovels for digging. It is super durable for a mini shovel; pack it into its small shovel case and carry it on your back pack or belt.
Pros
Very compact and portable
Inexpensive
Cons
Made more of aluminum rather than carbon steel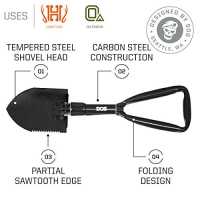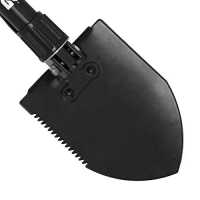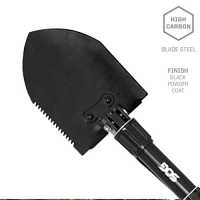 Our Take
There is a lot to say about this multipurpose shovel. Not only is this shovel ideal for camping, it is also ideal in different types of ground and soil. It can be used in soil, in snow, and even in sand, which makes it a multifunctional shovel. Furthermore, I have to mention how portable this is. First of all, it only measures a little bigger than the palm of my hand when folded. It was so awesome that it was able to find the right balance of making the shovel as small and as portable as possible without compromising its compliance to military entrenchment tool standards.

It's small, lightweight, and does what it's intended for. Although I'd remove the pick-axe section of the product and use stainless steel washers to take up the extra space that pick-axe had been occupying - that's just me though. Nonetheless, for the quality of this product and the price that you can buy it for, this is definitely a steal!

Rhino USA Folding Survival Shovel w/Pick
Rhino USA Folding Survival Shovel with Pick is a compact and portable tools which includes 23" long extended but only 9" 6" when folded into the FREE Carry Case. It is a multifunctional Shovel equal to great garden tools, Backpacking Gear and Metal Detector Accessories. Has sharp reinforced sawtooth side for wood cutting. Adjust shovelhead 90 degrees to use as a hoe and a pickaxe and fold shovel for quick and convenient storage. This product is a military style tool 2lbs of Powder Coated Steel, Tough Pickaxe and Sharp Rugged Saw Teeth. This is also supporting a family from a Father/Son Business in California and you can have a lifetime warranty! Rhino USA is a small family business founded by a father and two sons from Temecula, California. Its mission is to design and distribute Superior Powersports Accessories across the US and make a name for themselves in the country. Whatever adventure you choose, the Rhino team is 100% committed to helping you blaze your own trail with confidence and safely adventure where you want, when you want!
Pros
Has rugged saw tooth
Made of durable carbon steel
Very portable - can fit in pockets of camping bags
Cons
The pickaxe can be a little low quality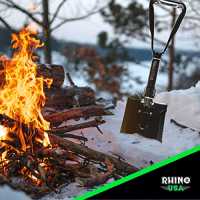 Our Take
Shovels need to be very durable as they are used to dig into surfaces. That is why it is important that the shovel you bring with you when camping is something that is made of high-quality materials. The Rhino USA Folding Survival Shovel for one is made of a very durable Coated Carbon Steel which makes it easier for you to put pressure on the surface you are digging. On top of that, it also has sharp rugged saw teeth that provides a more ergonomic digging experience - making the digging more smooth as the saw effectively cuts through the soil while digging.

This is also a great tool to keep on hand for emergency issues. Great for trail riding in the mountains. It's also good to keep on hand in your car, especially when you live in the areas of rough and switch back roads, where rain runs off and can get muddy with down timber brush. It can be used as a multi tool as well and can still be effective when digging through soil, snow, sand, and other rough grounds.

And of course, this foldable spade is very portable and can fit perfectly in pockets of camping bags. All in all, this camping shovel is highly recommended as it has great quality for a very affordable price.
$20.97


FiveJoy Military Folding Shovel Multitool (C1)
This is made with high-Quality Solid Carbon Steel and Aerospace Grade Aluminum. It is an all-in-one survival tool that includes heavy duty shovel, sharp axe blade, serrated saw edge, hammer, and paracord. This got all the must-haves for surviving outdoors covered. Conveniently dig trenches with this versatile multifunctional tool with a hidden rescue knife and saw, emergency whistle, fire starter (magnesium rod), bottle opener and more! It is a compact, portable multitool. Lightweight for only 1.2lbs and this is an essential gadget to add to your outdoor first aid survival kit/gear. Easily fit this foldable entrenching tool in your backpack or the trunk of your vehicle. Dig your car tires out of snow, mud, or ice, or use the shovel head as a glass breaker in an emergency. Attach the included carrying case to your belt for convenient access while on the trail or hunt. Forged from heat-treated High-Quality SOLID Carbon Steel (Blade and Knife) and Aerospace Grade Aluminum (Knife), for maximum strength and lifetime durability. Rust, water, and fracture resistance. Unlike other shovels, you can adjust the shovel angle with its special screw locking device, making it simple to alternate functions and positions. Spade can be used at 30°, 85° or 180° angles as hook, hoe or shovel. Thoughtfully engineered handle optimizes comfort and control for all glove types to minimize hand fatigue. Slip-proof foam cushion on the aluminum handle is water-resistant, quick to dry, and perfect for recreational gardening or on your back country hike or cross country trips. Always be prepared with this tactical folding tool!
Pros
Multifunction
Made with sturdy materials
Cons
The extension piece can easily be unscrewed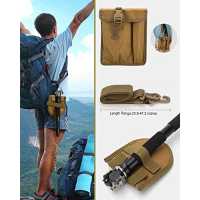 Our Take
If you are looking for a survival tool that brings many functions in just one object, then this product is for you. Not only is this a camping shovel, it also has a sharp axe blade that can cut through wood, a serrated saw edge that can slice through roots when digging, a hammer, and a paracord. When you look at all the tools you can turn this tiny little product into, you will know how much value it is for your money!

I was surprised by how light and versatile it was considering the quality and sturdy feel. The shovel blade is pretty solid when you tighten it and lock down- no wiggle when extended to shovel position. (I really hate the super loose blades on these kind of products.) The shovel blade is freaking tough and well made- I have no complaints. If I want to be nitpicky about it, I would say that the extra extension piece is an extra weight and unscrews too easily during usage. But that's ok because you can just discard it and put the end cap directly into the handle, so that's fine.

All in all, I am very satisfied with this product. It's inexpensive and it does the job really well!
$58.99


BAALAND Military Folding Shovel
This multitool is versatile and includes camping shovel, axe, hoe, hammer, screwdriver, rescue knife, fire starter, bottle opener, bow, ice-axe, hexagon spanner and even nail puller! This got almost all the essentials that can help you camp survive the outdoors; dig trenches with this multifunctional folding shovel you can even make an omelette. It is durable and lightweight camping survival shovel is forged from heat-treated SOLID carbon steel, (blade and knife) and aerospace grade aluminum (knife), for maximum strength and lifetime durability; rust, water, and fracture resistant, pretty sturdy and only 2 lbs lightweight for carrying. This is also compact and portable since this foldable shovel, with all the multitools, was put in a carrying bag and is very convenient to carry for all kinds of outdoor activities, such as camping, hiking, backpacking, fishing. It's even an emergency tool bag for your car. Also features easy locking adjustments because the camping shovel can be adjusted to 45°hook, 90°hoe or 180°shovel with its special screw locking design, making it easy to alter positions and functions accordingly, thoughtfully engineered handle optimizes comfort and control for all glove types to minimize hand fatigue.
Pros
Can be used as different tools
Comfortable handle
Screw locking design
Cons
Not ideal when it hits hard surfaces like rocks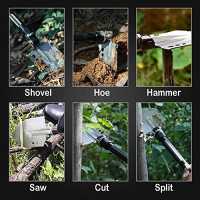 Our Take
There is just so much that you can do with the BAALAND Military Folding Shovel, Entrenching Tools Camp Survival Shovel and it definitely is the best companion for your next camping adventure with friends and family. This multifunctional tool can be used as a camping shovel, axe, hoe, hammer, screwdriver, rescue knife, fire starter, bottle opener, bow, ice-axe, hexagon spanner and even nail puller! Imagine how many stuff you don't need to bring in your backpack if you have this tool!

But what impresses me the most about this camping shovel is that it is thoughtfully designed. It has a screw locking configuration that makes it easy for you to change the positions of its parts while still being able to function accordingly. It also has an ergonomic handle that is very comfortable in the grip that minimizes hand fatigue.

In conclusion, this product is one of the stars in the hall of fame of camping shovels. You should give it a try!
$27.68


IUNIO Military Portable Folding Shovel and Pickax with Tactical Waist Pack Army Surplus Multitool
The IUNIO Military Tool is portable for it is designed and produced according to self-driving experiences of many experienced outdoor sports lovers and any kind of outdoor enthusiasts: Off-roading, 4-Wheeling, SUVing, Backpacking, Expeditionists, Tent Camping, Pop-up Camping, RV Camping, Cadets, Hikers, Hunters, Fisherman, Gardeners, Gold Digger, Motorcyclists. This folding shovel is assembled with practically, functionality and security in it. It is versatile and features regular shovels that it doesn't even have, all in this convenient folding shovel: Shovel Board, Saw, Bottle Opener, Nail Extractor, Hoe, Emergency Whistle, Compass. Ideal for camping, hiking, backpacking, self-defense, backpacking, fishing, hunting, gardening outdoor activities. Also great for anyone to use: gardeners, survivalists, hunters, hikers, campers. This Folding Shovel is also an ideal entrenchment tool for Field Survivalists, Disaster Recovery Staff, Truck drivers. The shovel blade and handle are made of high-carbon steel which is high-strength and wear-resistant. The grip on the handle is made of rubber. This shovel has passed the durability tests and our destruction tests. This shovel folds up and fits in a convenient carrying pouch with a belt loop to carry at your side. It's easy for you to hang it on your belt to carry after shovel folds up to a small part. Iunio folding shovel lasts for life: Our shovels are built to last!
Pros
Affordable
Sturdy and well-made
Multifunction
Wear-resistant
Our Take
This product should be proud of its quality. First of all, it is made with highly durable carbon steel, which means that it can withstand even the hardest surfaces - soil, roots, rocks, pebbles, etc. I have not much of a problem using this product and I believe that it will last long because of how sturdy it is built.

There are a lot of things that need to be mentioned in this review but let me focus on how this product is designed - which is nothing shy of good quality. The most impressive part of its design is that it is foldable, meaning you can put it inside a small pocket in your camping bag and you're ready to go. Another one is its handle which is made of high quality rubber that prevents the shovel from slipping which in turns protect you from getting injured. It is also thoughtfully made as it is not only high-strength but is also wear-resistant that makes sure that it will last for a long time and can join you in more camping trips.

There's really nothing bad to say about this shovel. For less than $20, this product is definitely a great deal.
$21.99


ANTARCTICA Military Folding Shovel Multitool Compact Backpacking Tactical Entrenching Tool
Conveniently dig trenches with this versatile camping shovel with a hidden rescue knife and saw, emergency whistle, fire starter (magnesium rod), bottle opener, and more. Easily fit this folding camping shovel in your backpack, or the trunk of your vehicle. Dig your car tires out of snow, mud, or ice, or use the shovel head as a glass breaker in an emergency. Removable magnesium rod, replaceable after use. The detachable protective cone can break windows, screwdrivers and whistles in case of emergency. Thoughtfully engineered slip and sweat proof handles optimize comfort, control, and leverage all glove types to minimize hand fatigue. Comfortable and ergonomic to use as a recreational garden shovel, camping shovel, or on your backcountry and cross country trips. Built of quality material of high carbon steel and aviation aluminum alloy, durable and lightweight.
Pros
Multifunctional
The interchangeable pieces fit together very snuggly
Cons
Not heavy duty
More expensive than other similar products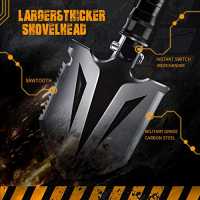 Our Take
One thing: Do not go camping without this awesome piece of art. It's design is really impressive and very thoughtful. It can also be transformed into a rescue knife and saw, emergency whistle, fire starter (magnesium rod), bottle opener, and more. With this shovel alone, you can survive during your entire camping trip as it can be almost anything that you need it to be. The interchangeable pieces also go together very snuggly and create a sturdy shovel. Each piece has a rubber gasket at the male thread end.

This is not a heavy duty item but it is a perfect utility tool. I put it together in 5 minutes. I tested all the components and lubricated all the threads and exposed metal. Furthermore, it won't rust when rained upon and has many appreciated items screwed inside the handles. The only problem I encountered when using this product is that the shovelhead tightening ring started loosening at some point, but I guess that's a matter of usage and not of design.

Make your next camping experience more convenient and awesome with this one of a kind product! Highly recommended.
$34.99


TABOR TOOLS J35A Folding Shovel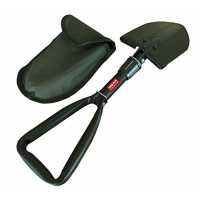 This super-compact e-tool is suitable for camping, hiking, adventure, garden, and other outdoor activities. Can be used as an extraction shovel for SUV 4X4 off-road vehicles. The military-style entrenching shovel can be used either straight or at a 90° angle. It comes in a convenient carrying pouch with a loop, so the shovel can be attached to a belt or backpack. Weighs only 1.3 lb. It has serrated edge design with sharpened edges for digging and the serrated saw edge cuts through roots, compost, mud, sand and snow. This tool can dig tires out of dirt if your car becomes stuck. Overall length when unfolded is 19" providing plenty leverage for tough digging. This is also lightweight and portable, you can fold up the shovel twice into a small portable package. When completely collapsed, this shovel fits into a 6" by 8" green carrying bag. It fits in the glove box, so you can keep it in your car, backpack or toolbox; this tool will get you out of any tight situation. This is made with durable materials both hardened steel shovel and the pouch are made of durable military-grade materials which are long lasting.
Pros
Inexpensive
Compact and portable
Sturdy
Cons
Not ideal for hardpan digging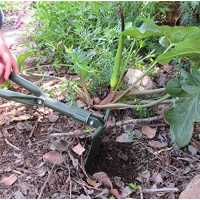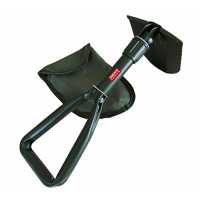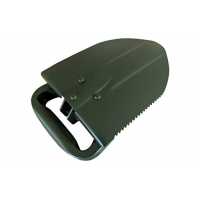 Our Take
If you are looking for a camping shovel that can be carried up and around conveniently then you must look at this camping shover from Tabor Tools. It is very lightweight and can be foldable to fit a convenient carrying pouch. The pouch fits perfectly in small pockets of your camping bag and comes with an attachment for your belt or backpack. This way, you can carry the shovel in your person at all times when you are in the wild.

It is well made and appears that it will last a long time. The blade measures 6-5/8" long x 4-13/16" wide. Unfolded the shovel length measures 18-5/8" in length. It is very sturdy. I think it would be great for digging out snow or sand but not sure about hardpan. I think it would be great for backpacking as it is very compact and comes with a sheath that could be carried on a belt. Although the special forces shovels look sturdy, they're ridiculously expensive and not as compact. This is a very well-built and compact shovel for the money.
$15.99


Lifeline Aluminum Sport Utility Shovel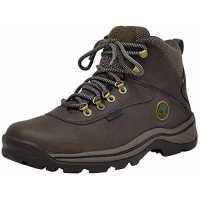 This collapsible aluminum shovel is ideal snow shovel for car, SUV, RV or snowmobile and is lightweight shovel that breaks down into small pieces for easy storage and is the ideal car safety accessory to go along with your road emergency kit. The compact size and light weight of this aluminum sport utility shovel makes it the ideal camping shovel or backpacking shovel, and should be on everyone's list of essential backpacking or camping accessories, as the applications are endless. The compact size and light weight of this aluminum sport utility shovel makes it the ideal camping shovel or backpacking shovel, and should be on everyone's list of essential backpacking or camping accessories, as the applications are endless. This shovel adjusts from 26" to 32" to give you the best leverage when using our metal shovel depending on your needs. Weight just 1.6 pounds, makes our sport shovel easy to use for all, regardless of size and strength, and easily packs away when not needed. Unlike other knock off brands, when you buy Lifeline product you know you are getting quality. As an ISO certified company, all of these products undergo stringent quality control processes, and this shovel is no exception.
Pros
Very compact
Detachable and can be stored conveniently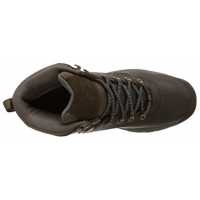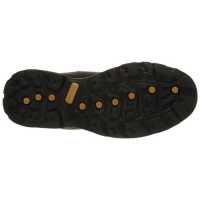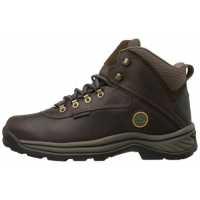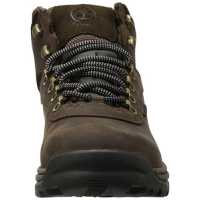 Our Take
Amazing little shovel! While it's a bit smaller than a standard shovel-both the scoop and the arm, it's aluminum and extremely sturdy! I was able to lift lots of wet, heavy snow with no problem at all. The fact that it comes apart and can be easily stored makes it convenient to keep in the trunk or in a closet in your home (I live in an apartment and lack storage space so this is huge!). I'd highly recommend this to anyone without any reservation at all!

Furthermore, This shovel will have no problem digging through snow. Just understand that it will not move a huge amount of snow at a time. For serious ice digging, this is not going to cut it. keep this in your car as an emergency tool and use the proper tool when the situation calls for it. So if you are really looking for high powered shovels, you need to look away. But all in all, this serves its purpose and you really need to check it out!
$99.99


Gerber Gorge Folding Shovel [22-41578]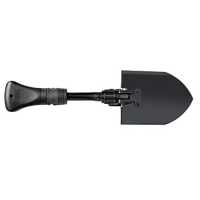 Designed with an easy push-button slide mechanism, the Gerber 22-41578 Gorge Folding Shovel is a must-have for outdoor excursions and around-the-house chores. Versatile, powerful, and easy-to-use, the Gorge includes a nylon drawstring bag and features a telescoping joint on the handle for folding down to a perfectly portable and compact size. This also features a fold-down design for space-saving portability and folds down from 16.25 inches to just 9.25 inches, it won't take up too much space and is easily packable. At 28 ounces, it's small enough to toss in a bag or backpack without weighing you down. For added convenience, it comes with a nylon drawstring bag for storage and portability. Also has the fast push-button slide mechanism for easy use.
Made to be responsive and easy to use, the Gorge features a fast push-button slide mechanism, as well as an ergonomic, fiberglass-filled nylon handle with rubberized overgrip for a secure, comfortable hold. Its durable blade is crafted from carbon steel for extraordinary durability, no matter what the conditions. To extend its usability, this blade can also be sharpened.
Pros
Value for money
Serves its purpose
Portable and compact
Cons
Slightly smaller and weaker than earlier models from the brand.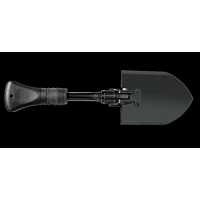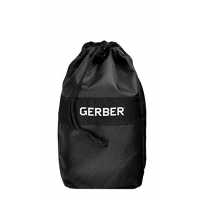 Our Take
This well-built shovel is exactly what I wanted for my car emergency kit and for my camping tool set! It is a tough, versatile shovel that wouldn't take up much room when it wasn't needed. It could also do double duty for my many camping trips, digging where needed, and pounding in tent stakes. The hammer function in particular is indispensable when trying to drive stakes into hard ground. This thing folds up and collapses into a really small form factor, but is rugged in design and will probably last "forever." However, this particular model is a little smaller and weaker than the earlier models . But nonetheless, it still works as it should so that little bump in the road doesn't really bother me that much.

There is really much to say about this shovel but you have to experience it to know how awesome it is.
$22.99


Bond LH015 Mini D Handle Shovel
Bond Mini D Handle Shovel is designed for efficient moving and lifting in any kind of work. It has durable heat treated head for durability. It also features a comfortable soft non-slip grip for it is designed to be used in any time of the year. The Bond Mini D Handle Shovel is a strong and lightweight tool for all the works that relates with lifting and moving. Also manufactured rust resistant powder coated paint to prevent rusting as the time passes with its 5-year warranty.

Pros
Handle is fiberglass
Sturdy
Perfect for digging in tight quarters
Cons
Not ideal for heavy job
Not collapsable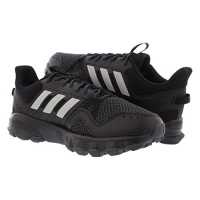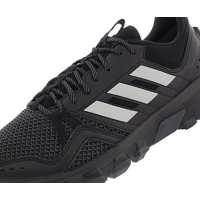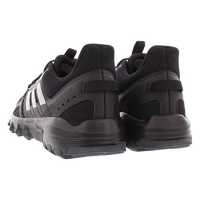 Our Take
This product deserved all the five stars it got in different marketplaces online. I purchased this shovel to keep in my Jeep Wrangler to help people stuck in the snow and for a general use camp shovel. It is the perfect size for this purpose. It is small, but very strong and well made. It isn't really big enough for any major jobs, but is perfect for a portable shovel or for small gardening jobs. In one of my trips, I only had 27" of clearance between the ground and the sub floor above. This shovel proved to be the perfect tool for digging in tight quarters.Tempered shovel blade is the perfect size and doesn't bend easily.. very rigid and a great prying size if you encounter rocks or roots.

The handle is fiberglass, perfect diameter and does not flex, even when prying or using the shovel for leverage. The grip is a polymer, comfortable to grip and feels snug in hand with no movement... though, IF I would suggest an improvement, it would be to make the grip out of wood with metal attachment. Though it has not failed me yet.

I would definitely recommend it to anyone needing to do tough small scale digging or trenching.
$65.05