10 Best Camping Shower
There are many things you can do with a camping shower. Aside from what the name suggests, it could be a versatile product that will benefit most of your outdoor activities. Because of this, you must consider the features of each one before purchasing so you can get your money's worth.
You do not have to spend so much so that you can have a good warm bath when you go camping. Trust me; there are good deals out there that can lessen your expenses in the long run. The following diverse Amazon products top the list of the best camping showers in 2022.

Advanced Elements (SS761) Summer Solar Shower - 3 Gallon
This camping shower is ideal for camping, hiking, hunting, fishing, and other outdoor activities. It has a 3-gallon capacity and is built with materials that help heat water fast under the warm sun. a water temperature gauge allows you to measure the warmth of the water inside. The extra-large filling valve with a twist-off cap makes refilling effortless. It also has Velcro straps for soap and shampoo. Wide carrying handles are in place to make transportation convenient. This product is covered by one-year insurance.
Pros
High-quality
Durable
Solar-powered
Our Take
This shower bag has lots of useful features. One of them is having a see through material so you can see how much water is inside. This helps with controlling your water usage while taking a bath. The 3-gallon capacity is perfect for one bath, making it not too heavy. You also do not have to wait for too long for the water inside to heat up. The Velcro pouch acts as a convenient storage for shampoo and soap. While you can still take a bath without that feature, it helps with keeping your necessities together in one place.

The water thermometer is a great way of gauging the heat inside. In the absence of sun, you can also heat up water and place it inside this water bag. The material used is durable enough to withstand hot water temperatures, and it also does not leak. This is great for saving water for future uses. I would recommend this.

Ivation Portable Outdoor Shower,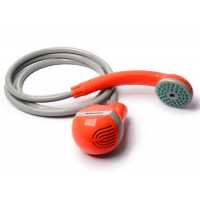 This camping shower transforms sink or bucket water into an instant warm shower stream. It has a waterproof one-touch on/off switch for convenience. It has a rechargeable battery that can be charged in any outlet with a 5V adopter or less. The shower-head sticks to smooth and flat surfaces through its suction cup. Its S-style hook allows you to hang it anywhere while you take a bath. Its one simple flow rate feature makes bathing more comfortable and gentle to people of any age. When fully charged, this camping shower can last for more than one hour.
Pros
Works instantly
Convenient to use
Battery-powered
Rechargeable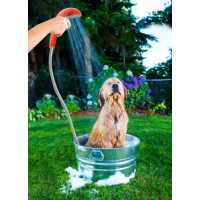 Our Take
The hose is long enough to reach all parts of the body without the user having a hard time. It is useful not only for camping trips but also as an emergency replacement if your shower at home malfunctions. Using this is pretty convenient as you do not have to depend on the sun for power. As long as you charge it at home, you will be able to have good baths outdoors. The charger chord is compatible with a USB port, which means you can charge it through your laptop or a power bank. Surely, it gives produces warm water almost instantly. The on/off button works sensitively, which also makes things easier for you. I am surprised that it does not malfunction despite the button being submerged in water.

If you are going for an RV camping or the like, this shower is going to make your experience so much better. However, if you are backpacking, you should make sure that you have extra power supply so you can have warm baths throughout. Overall, it is a good working product.
$39.99


RISEPRO Portable Camping Shower
This shower is conveniently easy to operate. Just by putting the shower pump into the water and turning it on, warm water will instantly flow out the showerhead. Its water flow is fast enough, comparable to your shower at home. It pumps approximately 2 liters per minute. This allows for fast bathing, which saves both time and water. There are three charging methods for this shower. You can do it through a mobile charger and an outlet, through a USB output from a laptop, and through a USB output in a car. It is compact and portable, ideal for camping, hiking, and most outdoor activities.
Pros
Affordable
Rechargeable
Good water flow
Cons
Non-solar
Consumes more water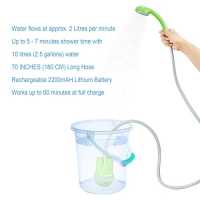 Our Take
This portable shower does everything well. it is very basic, but it is ultimately functional. The battery gets fully charged quickly and it lasts long on a single charge. The water flow is not exceptional, but it lets you bathe without any hassle. It consumes around 5 gallons of water in 10 minutes' time. You must take note of that if you want to save on water. The on/off button is found near the pump, so it is underwater all throughout the usage. Despite this, the device does not malfunction. However, it would be great if the button were in the showerhead.

For its price, the performance is satisfactory. It is a good deal for people who want to spend less. It is portable and easy to pack. This is ideal for camping and other outdoor activities. If you plan on using it for many days, it is best to bring an extra power source for recharging.
$32.90


Nemo Helio Portable Pressure Shower with Foot Pump
This high-capacity shower heats up water using sunlight. It can retain this heat for hours so you can simply store while you are finishing your other tasks. The capacity it has is 11 liters, which makes it capable of accommodating a good bath without running out of water. Its hands-free foot pump makes the pumping easier, resulting in a steady flow of 5-7 minutes. This shower is not just for bathing; it can also be used for washing the car, bathing pets, watering plants, and other outdoor tasks. The entire Helio system weighs only 1lb and 6oz.
Pros
Affordable
Durable
No batteries needed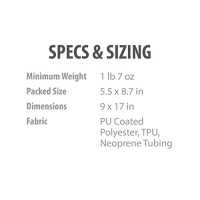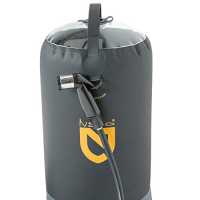 Our Take
What is amazing about this Helio portable pressure shower is the versatility it has. Although I bought it for camping, it is also a good device for doing other things. Since the water is pressurized, it comes out strongly. This removes dirt and other stains effortlessly. The amount of water it stores is just enough for one bath. It retains the heat well, even when it is not under the sun anymore. It is also fairly simple to operate. Without needing a power source, you still get a good warm bath. The handless pumping system is a good feature as it does not tire your arms. Leg strength is certainly more powerful than the arms, so it is almost effortless to pump.

This is a handy investment for avid campers. The price is reasonable, and it will last you for years. It is reasonably lightweight and packs well also. Bringing this to any type of camping activity will make outdoor baths warm and better.

Upgraded LUOOV Portable Camping Shower
This compact camp shower package is built with a strong shower pump, a showerhead, a suction cup, an S-hook, and a 1.8-meter hose. It also comes with a rechargeable battery, which makes it portable. The showerhead sticks to any flat surface because of the provided suction cup. Its S-style hook allows you to hang it overhead while you take a bath. Your hands are free while taking a bath with this shower. By submerging the pump in your water source, you can instantly take a bath with warm water. It is lightweight and easy to pack.
Pros
Rechargeable
Portable
Easy to use
Convenient on/off button
Cons
Needs a power source for recharging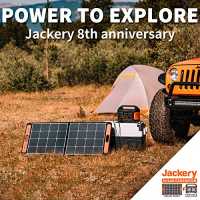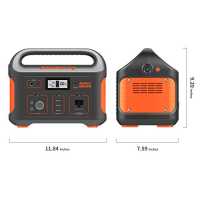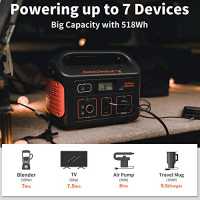 Our Take
What makes this portable rechargeable shower different from other ones of its kind is its structure. Firstly, its motor is more of a long tube than a bulky one. This may seem minor, but it comes in handy when the water container available has a small opening. Other motors will not be able to fit, but this can still be utilized for those kinds. I also like the way that the on/off button is not submerged in the water. Although it is water-resistant, it is more convenient to control the shower when it is near your reach. It also lessens the possibility of electricity flowing through the water.

The water flow is strong enough to have a hassle-free, comfortable bath. It consumes almost 3 liters of water per minute, which is a reasonable amount. Its hose is long enough to reach the top of your head without bending. It can last up to 70 minutes of uninterrupted flow. Once it is starting to slow down, you must recharge it to get a steady flow again. This is a high-quality product that gets the job well done.

Equipt Streamline Portable Camping Shower with Expandable 4 gallons Bucket
This portable shower comes with a foldable bucket that can store up to 4 gallons of water. That amount of water can accommodate two people. The shower has a hassle-free design for convenient transportation and easy setup. It is suitable for indoor or outdoor showering, pet bathing, car washing, garden watering, and camping. You do not need to hand the shower on a tree or somewhere higher because the motor is strong enough to pump the water upwards while it is on the ground. By simply filling in the bucket with water and turning on the switch, you can enjoy a warm bath. The whole package is lightweight, and the foldable bucket makes everything less space-consuming.
Pros
Easy storage
Convenient to use
Rechargeable
Long battery life
Free foldable bucket
Cons
The foldable bucket may spill the water when filled in full.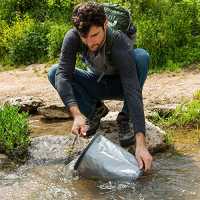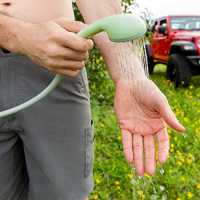 Our Take
I am impressed with the performance of this shower, particularly because of its long battery life. It can last up to 6 baths without the water pressure getting slow. The water flow strong enough to give you a decent bath without hurting your skin. The suction cup comes handy when you are taking a bath because both your hands are free. It has a high overall performance.

The bucket it comes with is an additional feature that is underrated. When camping, it is ideal that you travel light and compact. Bringing a traditional bucket is space consuming and defeats the purpose of traveling light. The foldable bucket allows you to bathe anywhere without compromising your space. I would recommend that you not to fill the bucket all the way to the top as water may spill since the edges are not tough. Nonetheless, it can still accommodate baths for two people. When you are done, you can simply fold the bucket and keep it in your bag. You won't even feel that it is there.

All this being said, this is a great product that makes everything more convenient.

Camplux 5L 1.32 GPM Outdoor Portable Propane Tankless Water Heater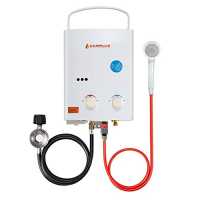 This Camplux portable propane water heater can produce 1.32 gallons per minute of hot water output. It has a compact size with a foldable handle that occupies less storage space. You can use this outdoors as long as you have a fuel source. It is also suitable indoors, as long as the area is well ventilated. To ensure a safe experience, it has an overheat protection feature, a flame failure device, anti-freezing protection, and an oxygen depletion safety shutoff protection. This shower requires just 3.0 PSI of water pressure to start working. That is the lowest requirement in the market. You can now have warm outdoor baths without manually heating water.
Pros
Lowest water pressure requirement
Good safety features
Good water flow
Cons
Needs existing water systems
Needs a fuel source
Our Take
I would recommend this product because it is versatile and simpler to use than you think. For starters, you can use this shower even when you have low water pressure. Typically, propane showers need a level of water pressure to operate. This model has the lowest requirement in the market, which is only 3.0 PSI. The water comes out warmer with low water pressure. Of course, it can still warm up water on high-pressure levels. If you want a cold bath with a functional shower, you can always use this by just turning off the propane gas. The batteries are there only to start the fire, so they will not need frequent replacements.
The safety features in place make this a safe product to use. Even when kids are using it, you will have nothing to worry about as it will not produce scalding hot water. When the temperature comes to the point where the human skin could not handle it, the automatic shutoff feature will put a stop to the heating process. However, this is suitable for outdoor activities that have an existing water system in place. As long as you can find one, using this shower will give you comfortable baths.
$129.99


KIPIDA Solar Shower Bag, 5 gallons
This solar shower bag heats water to 113°F (45°C) in 3 hours with direct sunlight. It is built with environmentally friendly and leak-proof materials that do not pose a threat to human health. With 5 gallons of water, 2 persons can enjoy a good warm shower. It comes with an upgraded shower head offers an easy on/off switch and a low to high water flow so you can take control of the water flow. A built-in thermometer helps you determine the water temperature. With a little help from gravity, you will be able to take a bath outdoors without needing electricity, batteries, or propane gas.
Pros
Ultra-lightweight
Low-maintenance
Affordable
Solar-powered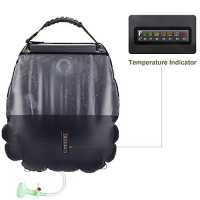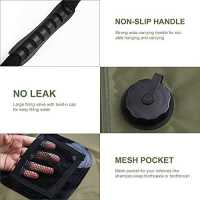 Our Take
This is a low-maintenance outdoor shower that helps a lot when you are away from home. It can hold 5 gallons of water, which is great for group settings especially. It is ultralightweight, as the materials used in the bag are made of different types of plastic. Despite this, the stored water does not have any chemical odor to it.

Heating water will not be a problem as long as it is a sunny day. Just by putting this bag under direct sunlight for approximately 3 hours, you will surely have warm water towards the end. You can also use the thermometer to see if the temperature suits your preference.

When going to the beach, you can use this to remove sand off of your body. It is a versatile product which you can use not just for camping, but also for watering plants and cleaning things outdoor. You save much more water using this shower bag because the showerhead is easy to control, and so is the speed of the water flow. I would highly recommend this for people who like traveling light and are low-maintenance.

$19.99


Iron Hammer Portable Shower Camp Shower
This portable electric shower has a built-in 4800mAh rechargeable battery. It has a low battery light indicator to signal users that it needs charging. Featuring a two-mode water flow conversion button, you can adjust the showerhead to have a water flow that suits your preference. It has a battery charge and discharge protection circuit for the safety of the users, and a charging indicator light to check if it is charging. With its compact, lightweight, and easy to carry structure, you can bring this anywhere you go.
Pros
Rechargeable
Multipurpose
Easy to pack
Cons
No bucket included
Needs a power source for recharging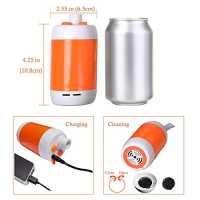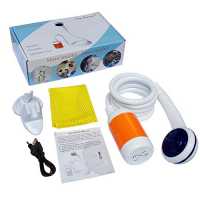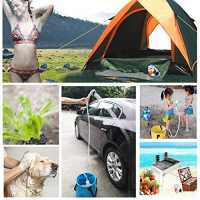 Our Take
This product is easy to use and always comes in handy in different situations. It is pretty useful for camping, but it can also be used for washing dirt and sand off of your body. It has two settings, which are low and high. The low setting is good enough for children's use and when taking a bath. Setting it on high makes the water come out faster, but it also consumes water more quickly. Turning the showerhead upsidedown raises the water up to 5 feet on high.

Because it is rechargeable, you save a lot on battery replacements. It is also compatible with any car that has a USB port. In one single charge, it can last for up to three full baths without running out of battery. The little pouch it comes with dries quickly and makes the whole thing easy to store. Just by placing it at the back of your car, you can use it at any time.

Overall, the battery life and the performance of this product make the price reasonable. It is recommendable to anyone who has lots of outdoor activities.

KEDSUM Portable Camping Shower
This upgraded version comes with two detachable rechargeable 2200mAH batteries which are separated from the pump. You can now control the on/off button without submerging your entire hand in the bucket as the controller is separate from the pump. You can use the showerhead or the hand-held shower, depending on your needs. It is easy to assemble and use. Just by placing the pump inside the water-filled bucket and turning it on, you will automatically have a nice flowing shower. Charging this takes only 45-60 minutes, while it can last for twice that long. The overall weight of the product is below 2 lbs., making it ideal for outdoor trips. A one-year warranty covers the product.
Pros
Low-maintenance
Extra-long battery life
Good hose length
Cons
Does not come with a free bucket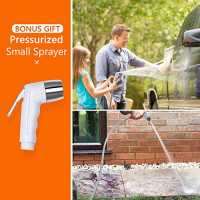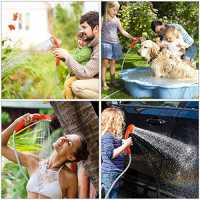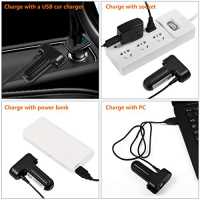 Our Take
The most impressive thing about this shower is the longevity of battery life. Upon tallying, I have noted that one battery pack can last up to 6 baths. Since it comes with 2 battery packs, it can last for 12 baths before it needs recharging. That does not only allow you to save money for battery replacements, it also lessens your electricity expenses.

The water pressure is not impressive, but it gets the job done decently. By that, I mean to say that it does not blast the dirt and soap off of your body, but the water flow can still remove it. The length of the hose is long enough for the showerhead to reach my head, without the pump leaving the bucket. With the suction cup, this product can act as a regular shower like the one you have at home.

I am highly recommending this product for people who are into saving their dollars. Its battery life and overall performance make it a good deal.
$42.31