10 Best Camping Table
Whether you are at home or somewhere far, indeed, you do not like eating on the ground. Not only does it make eating harder for you, but it also exposes your food to dirt, which makes it less inviting. Moreover, families have more fun when they can eat together in one place.
Camping tables must be considered as investments as they are one of the camping necessities that supposedly have longer expected lifetimes. Choosing one that best responds to your needs could be a tough job. The more choices you have, the more confusing it is for you to weigh the pros and cons of each.
Here at Camping.org, we curate the best deals on Amazon to guide you on choosing the right product for the job.

Coleman Camping Table
This Coleman camping table can accommodate four people at a time. It is easily portable as the snap-together design sets up and disassembles effortlessly. The frame is composed of steel, which makes it durable. Its dimensions are 27.6 x 27.6 x 27.6 in. for convenient storage since it follows a regular shape. The carry bag makes transportation easier and adds a layer of protection for the parts of the table. A one-year limited warranty covers the product.
Pros
Sturdy
Fire-resistant
Easy to clean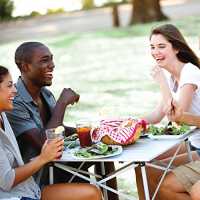 Our Take
I have used this table on a few camping trips; hence, I will base my thoughts on those experiences. There are other variations of this table. The other one has a wooden top, while this one has a metal top. The reason why I think this version is better is that camping usually involves fire and hot objects. Having a wood top makes the table susceptible to burning, and stains are harder to remove.

Typically, the best repair option when it comes to discoloration is repainting. With metals, stains are less likely to be absorbed, and they are easier to wipe off. It is still as sturdy as the other one because its base does not wobble. It can carry up to 100 lbs. of distributed weight without the legs deforming of breaking apart. You must always make sure to put your camping table to the test to avoid any unforeseen circumstances.

The table is just in a perfect size, fitting a group of four. It can be used for different purposes, whether it is eating or merely playing games. I am happy with this purchase overall.
$56.84


REDCAMP Small Folding Table
This folding table is adjustable to three different heights. You can set it up as 10",1 9", and 24". The storage size is at 16"x12"x3" when folded in half. It features an easy setup design that can be assembled within just a few seconds. It can quickly be disassembled, like how it was set up. Using a paper towel or cloth, cleaning this table is such an easy task. It weighs 6.5 lbs. but can hold up to 70 lbs. of weight. To assure stability and sturdiness, this table has a U-shape side support and secure latch. You can use this for camping, fishing, BBQ parties, and other outdoor activities.
Pros
Highly portable
Multipurpose
Easy to fold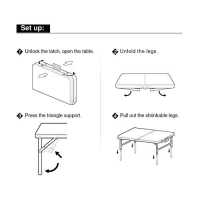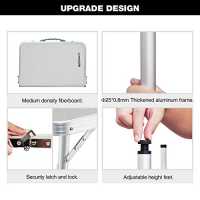 Our Take
I was impressed with how the whole thing was packaged upon delivery. It did not seem like it costs less than $50. The table itself is simple to set up. One does not need external help for setting it up. I like the fact that it is multipurpose because you get your money's worth. It is undoubtedly great for camping, but it can also be used within the household. Unlike other collapsible camping tables, this one can be adjusted to three different heights. This is a valuable feature, as different campers have different needs. There is nothing to lose and everything to gain when purchasing a versatile product. Another feature that I like is its portability. With just a few snaps, the whole table transforms into a thin folded piece of metal that you can bring anywhere. It fits the back of your car, inside your storage room, or even in a corner in the house. If you are looking for a multipurpose table that will not hurt your pocket, this is a great choice for you.
$49.99


Lifetime Height Adjustable Craft Camping and Utility Folding Table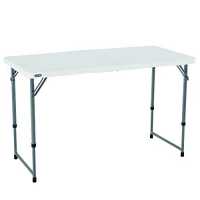 The Lifetime 4 ft Adjustable Height Fold-in-Half Table is the perfect companion for all of your hobbies. It adjusts to three different heights such as 24 in., 29 in. and 36 in. (61 cm, 74 cm and 91 cm). The tabletop measures 48x24 in., making it wide enough for group settings. Cleaning will not be a problem as it is dirt-resistant. It is easy to store and carry around because it can be folded into a flat version. The materials used are lightweight, adding up to the convenience of your trip. Its steel frame is powder-coated to be rust-resistant. The top is made with UV-Protected High-Density Polyethylene. Therefore, this table can withstand any weather outdoors.
Pros
No assembling needed
Folds easily
Suitable for groups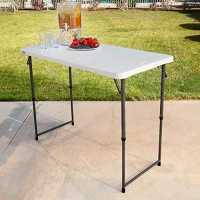 Our Take
The package was easy to unpack, and it uses up a limited amount of plastic that would end up in the trash. I loved it immediately because it did not need to be assembled upon arrival. The folded version was easy to open, and the lock did not have any problems getting to its place. Its legs smoothly opened and made a clicking sound, which signified that everything was in the right place. Once the table was already standing, I wanted to change the height to suit my body size. Initially, I thought this was going to be a problem as I did not have anyone to help me. However, it is pretty doable alone. Just by adjusting it one side at a time, the process is fairly simple and easy. I like the size of the tabletop because you can do so many things with it. Whether it is for a single person's use or group activity, the table accommodates around four people at a time. For something below $50, this is an awesome deal for me. It also has a smooth finishing, allowing you to write smoothly on paper that is on top of the table. While this is a minor detail for camping tables, it speaks of the multipurpose function of the product. The material used can surely resist rain and heat. Unlike wood, it will not absorb liquid that takes up hours to dry. With a quick wipe, the tabletop will be dry and ready to use again. This is a good deal.
$37.99


Ledeak Portable Camping Table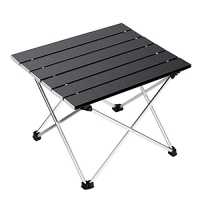 Light as a feather, this table weighs only 1.8 lbs. Made of heavy-duty aluminum alloy, it is strong and durable to use with a maximum capacity of 50.7 lbs. The tabletop is composed of a durable aluminum material that is smooth and easy to clean. Its unique stable leg caps design allows for quick folding while retaining the sturdiness of the table when in use. No tools are needed to assemble and disassemble this product. This is ideal for outdoor activities such as camping, hiking, picnic, BBQ, summer escapades, as well as indoor usage. The manufacturer offers a hassle-free 12 months replacement guarantee.
Pros
Sturdy
Easy to clean
Cheap
Easy storage
Portable
Our Take
This table is perfect for outdoor activities that aim to travel light. It is lightweight and compact, having only two detachable parts. One is the stand; the other is the flat tabletop. The height is just tall enough to accommodate the height of typical, portable camping chairs. I like the smoothness of the top because it makes dirt easy to remove. The aluminum used is also ideal for camping because it does not melt or burn in high heat environments. I am confident when it comes to durability because the table seems pretty sturdy. The parts coincide perfectly, making the pieces stay in their specific places. For most people, assembling and disassembling is a tiresome task. Since this product has only two parts, setting up is a no-brainer. It also comes with a carrying case for portability and protection. The reason why this table is better compared to other ones of its kind is it offers the same features and convenience while being cheaper than the rest.
$24.99


Folding Table by Preferred Nation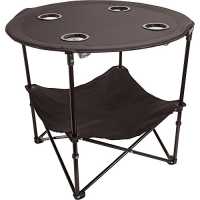 This portable table is an excellent alternative to bulky tables for any outdoor activity. It has four built-in mesh cup holders to hold your drinks all the time securely. The bottom layer acts as another tier for extra space. After assembling once, there is no need to disassemble this product again. Its tabletop is foldable and opens up flat. It is lightweight and effortless to carry around. A carrying bag comes with the package to keep things compact and protect the pieces when in storage.
Pros
Lightweight
Portable
Has cup holders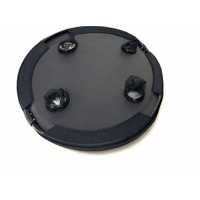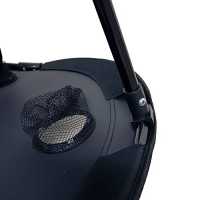 Our Take
This table is impressive as it is the most convenient to set up and carry around. It is ultimately lightweight, does not have hard edges, is foldable, and can do the same job as other camping tables. The bottom is as easy to fold as a folding chair. By just pushing the legs to the middle, it compresses altogether and minimizes in size. The top part is made with a nice thick fabric that is sturdy enough to act as a tabletop. Of course, I do not expect it to be able to carry weight as much as wooden or metal camping tables. I like the idea behind built-in cup holders that have different sizes. This lessens the chances of your drinks spilling, especially when there are kids around.

If you are looking for a camping table that does not need to be heavy-duty, but can still accommodate your needs decently well, this is the right choice for you. It does not get more convenient than this one.
$37.89


Outry Lightweight Folding Table
The Outry Lightweight Folding Table has two detachable parts composed of the tabletop and the frame. The tabletop is made of ripstop 600D nylon fabric that makes it flat and firm. It has four bottle holders with two different sizes. Its frame is made of aluminum alloy to retain the lightweight feels while assuring sturdiness. This product has anti-slip rubber feet to increase its hold even on wet surfaces. It weighs below three lbs., and is easy to set up – even kids can do it! You can use this while camping, beach swimming, BBQ partying, or other outdoor activities.

Pros
Lightweight
Sturdy
Portable
Has cup holders
Cons
You cannot place your legs under the table because of its leg structure.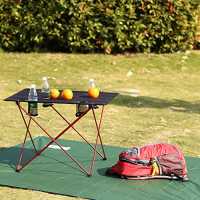 Our Take
The main thing that caught my attention is the fact that the fabric tabletop does not sag. This exceeded my expectations because camping tables of this kind would usually have that problem. It is undoubtedly lightweight and sturdy. Therefore, you can put your food or drink on the table without them spilling at all. The bottle holders also double as cup holders, which is a smart way of preventing them from spilling. Another noteworthy thing is how easy it is to assemble the parts. It takes just one person to assemble everything from start to finish. However, you have to be careful with each part because losing one would result in a malfunctioning stand. Also, you cannot put your legs under the table because the structure of the legs forms an X. this could be something the manufacturer can look into. Considering everything, I would still recommend this because its other features offer amazing performance. It's been with me for months, and it is still good as new.
$39.99


Trekology Portable Camping Side Tables
Unlike wooden or nylon-top camping tables, aluminum tabletops are weatherproof and easy to clean. It is built with an aerospace-grade aluminum alloy that has various metallic colors on its finishing. The frame is sturdy enough to support heavy outdoor tasks such as cutting, cooking, and carrying heavy objects. It is light, allowing for convenient transportation anywhere you go. No tools are needed to set up the table successfully. It is designed to fold and pop up quickly and easily. The rubber feet feature helps the table stay in place in any terrain.
Pros
Sturdy
Weatherproof
Easy to clean
Free storage bag
Cons
The storage bag would be better with straps.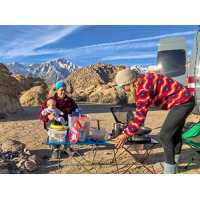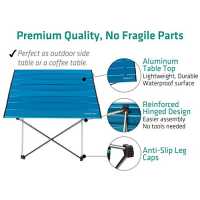 Our Take
When the package arrived, I immediately loved that it comes with a bag because it keeps all the parts together. Another thing that I like about this table is that it does not wobble at all. Most tables with this top are unstable and are of low quality. It is as sturdy as tables with hard surfaces that are heavy and non-portable. You can set up the whole thing within one minute. The tabletop has a nice finishing because the wine bottles or anything cold does not slip despite the presence of water. Since it comes in two sizes, you have the option to choose which size suits your needs best. If you regularly come out as a group, I would recommend that you purchase the bigger size. If it is just for a few friends or personal use, the smaller one will do just fine. I am impressed with the performance of this table. If there is any need for improvement, it is to put a strap on the bag it comes with. That will make the portability aspect better.
$29.99


Lifetime Folding Tailgate Camp Table
The Lifetime 4-foot tailgate table is suitable for outdoor activities like camping, barbeque, picnic, or tailgate party. It is made of UV-protected, high-density polyethylene and powder-coated steel to withstand the unpredictable weather outdoors. With this composition, it is stain-resistant and well-protected against rusting and corrosion. These materials also make the table lightweight. This product also features a heavy-duty grill rack that is tucked underneath when not in use. It can also function as a garbage bag holder, paper towel holder, and built-in utensil hooks. There is no better addition to your next adventure but this one!
Pros
Comes with a rack
Multipurpose
High-quality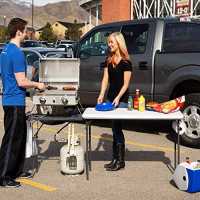 Our Take
This outdoor table does not disappoint! The materials are high-quality, and every part is well-made. It is not hard for me to say that this product is engineered wisely and well thought of. No other table in the market has a kind of setup that can accommodate grilling and cooking while also retaining a sufficient space for eating and other things. I like it for the minor features it has that all add up to make your outdoor experience significantly more convenient. You can now organize your grilling essentials in an orderly manner because of the rack. What more, you do not need to bring extra things to make all this happen because it comes with the table. Basically, you get twice as many benefits for paying the same price. It is also easy to keep your garbage in one place because of the garbage bag holder. This is important to keep our surroundings clean, which is something all campers should strive to do. I love the unique features of this product. Overall, it is worth the price if not better!

REDCAMP Outdoor Picnic Table with four chairs
This 4-foot folding table is adjustable and customizable to fit your own needs and preferences. It comes with four low stools that perfectly suit the table. Its tabletop measures at 1.5 inches, just the perfect thickness for assuring durability while being lightweight. The table leg tubes have a diameter of 25 mm. This table has an extra U-shape side support and secure latch in the corner to make the setup sturdy. Cleaning is also easier since the tabletop is dirt-resistant. It is easy to assemble and disassemble after a tiresome day. The carry handle is in place to make you feel comfortable while carrying.
Pros
Good combo
Sturdy
Can be used as an umbrella
Our Take
The table is in the perfect size to accommodate four adults. Of course, it is not suitable for backpackers, but it is certainly effective if you have a vehicle for transportation. The chairs are comfortable and can surprisingly carry the weight of 200 lbs. individual. At first, I doubted its capacity as chairs of this kind are usually nondurable. I am impressed because any member of the family can use the stools. It is also a good combo to have a complete set because it could be challenging to match the tables with portable seats if they are not manufactured together. The table itself is sturdy enough to support regular camping activities such as cooking, eating, preparing food, and the like. It is also adjustable so that you can change it according to what you need at a specific moment. Another feature that came in handy is the umbrella pole hole in the middle of the table. It allows you to insert one if you need to use the table on a sunny day. It keeps your food and drinks away from the sun's rays. This is also great for indoor uses because of its versatility.

G4Free Camping Folding Table
This camping table is lightweight and convenient to bring wherever you go. It is ideal for outdoor activities like picnic, barbecue, hiking, camping, travel, fishing, and even BBQ parties. The tabletop was designed to be tear-resistant and waterproof. Its fabric is not saggy and is expected to last for years. It has a sturdy and rust-resistant aluminum frame. This material allows for a lightweight feature while retaining its durability. A unique feature is the robust plastic hinge design to make the table more stable. Underneath the tabletop is another layer that can be used for additional storage. It has four built-in bottle and can holders that prevent rolling and spilling. The two mesh side pockets give more space for other valuables.
Pros
Ultra-lightweight
Multi-functional
Has lots of pockets and extra storage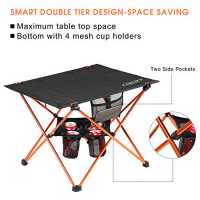 Our Take
I enjoy using this table because it is lightweight and multifunctional. You can bring it almost everywhere without worrying about the space it is going to take up in your car because it is compact. The fabric material used in the tabletop and the layer underneath is effective in beating the odds of the outdoors. Sometimes, it could be a sunny day, and then rain will suddenly pour down. With this design and materials, drying the table is never a problem. It dries up pretty quickly as water simply falls through the fabric. I also like the cup holders because you are assured that your drink would not spill. The extra mesh pockets make your valuables safe from water as they are placed on a different spot. These are features that you do not usually get on other camping tables. It is ideal for a day on the beach and a light camping activity because it can hold up to 44 lbs. only. Overall, this is a recommendable camping table because it is a great deal for its kind.
$36.99