9 Best Camping Toilet
In camp, one thing is for certain; you will need to go. A lot of campers don't have a problem relieving themselves in the woods. But others naturally find it messy and overwhelming. The worst feeling at camp is wanting to go home just so you can use the residential toilet.
For this purpose, camping toilets are cleaner and more convenient. Lightweight, compact, and durable, camping toilets make for easier transport and provide quicker ways for waste disposal.
In this article, we'll provide a rundown of the five best camping toilets for your next camping holiday.
Tent
On a multiple-day camping trip, it's best to pack a toilet shelter to provide much-needed privacy. Privacy shelters have the same versatility, durability, and height of regular camping tents. They can even protect campers from rain showers.
Toilet tents are often separate from portable toilets themselves. However, some portable toilets like Cleanwaste GO Anywhere System include tents in their package.
Toilet Paper
Generally, there are two types of toilet paper: standard and true biodegradable. Standard toilet paper is made from trees and will likely require water to break down. They also have additives and fragrances that could irritate the skin. However, they're cheaper than true biodegradable toilet paper.
True biodegradable toilet paper breaks down more quickly. It comes from wood fiber, cotton, sugarcane bagasse, bamboo, and African hibiscus. These are more eco-friendly and safe for septic tanks and sewers. They don't contain additives, which make them ideal for sensitive skin.
Choose a toilet paper that's absorbent and uses less sheets but doesn't fall apart when in use. The ideal size should easily fit inside your backpack.
Toilet Seat
Contrary to simply squatting on a bucket, a toilet seat helps ease the back. A full size seat helps support large weight capacities and works best for all ages and sizes. Before purchasing a portable toilet, test your size on the seat by shifting your weight around.
Disposable Bags
Portable travel toilets usually include disposable toilet bags. However, they come in single pieces rather than in bulks, so buying extra bags would be handy. Choose biodegradable waste disposal bags, as these can be buried into countryside grounds with the permission of local regulations.
Standard disposable bags and wag bags are two types of waste bags. A standard disposable bag works best for the pack-out method, as it's simpler and hassle-free.
On the other hand, wag bags neutralize odors and inhibit intrusion. These are usually two-bag systems that use a powder formula to convert liquid wastes into solids. This prevents messy accidents and breaks down toilet paper quicker.
Bucket
Buckets may either be basic open-lidded cans, complex bowls with lids, or seats with collapsible legs.
Simple buckets and collapsible camping toilets are easy to manage and less likely to break down. They also require disposal garbage bags, which rings or seat covers hold in place during use. These are generally low-maintenance and don't require a lot of fancy chemicals for cleaning.
On the other hand, complex bowls may need a bit more maintenance. They consist of two detachable tanks and a lid to keep the odor away during travel. These bowls use a flush system, which eliminates the need for containment bags but requires stronger chemicals for cleaning.
Toilet buckets with large waste and water disposals are ideal, especially for families on a long camping trip. Some complex bowls include a function that notifies users when the waste disposal tank is full.
Chemicals
Chemicals maintain, disinfect, and deodorize camping toilets. They usually come in liquid or tablet forms, which are both biodegradable and easy to use. Specific camping toilets use specific cleaning chemicals. Use only the recommended solutions for the toilet, as commercial cleaners may contain additives that are abrasive to the product's material.

Reliance Products Luggable Loo Portable 5 Gallon Toilet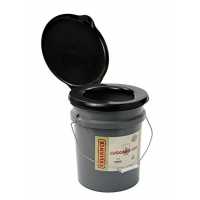 This portable toilet by Reliance Control Corporation is economically priced and comfortable to use. It features a seat and cover combination that is easy to snap on and off. Its lid prevents the odor from coming out once it is shut off. This has a 5-gallon or 20-liter capacity. The lightweight materials make it weigh only 3 pounds. It also comes with a metal handle for secure transport. This is not only for the outdoors but also for disaster preparedness. You will have no worries as this is entirely compatible with Reliance Products Double Doodie Toilet Waste Bags.
Pros
Affordable
Low maintenance
Our Take
This affordable alternative to taking a loo in the woods is a great purchase. For the most secure experience, you can double bag the inside. The inner layer should be replaced daily, while the other one could simply be changed in a week. It is just to make no room for any leakage if the inner lining would have problems. You can use cat litter inside to absorb liquids and also minimize odor.

If you plan to use this at home, you can use the by-product as a compost. Cleaning it daily is pretty simple and easy to do. When camping, it is ideal to use it on flat ground. Its round base is unstable on lumpy or uneven ground. To ensure stability, you can use a square-shaped milk crate and put the portable toilet in the middle. Its height is also right for you to sit for a while without numbing your legs.

For its price, it is a very functional and low maintenance product that will answer your outdoor needs with comfort.
$19.99


Camco (41541) Portable Travel Toilet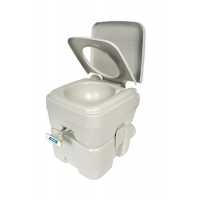 The Camco portable toilet is designed for camping, boating, or any other recreational activity outdoors. It features a detachable 5.3-gallon holding tank with a sealing slide valve that acts as leakage protection and locks in odors. The two side latches securely connect the tank to the toilet. Its bellow type flush and pull slide valve make flushing effortless. When empty, this portable toilet weighs 10.8 pounds. In its maximum capacity, it weighs 32 pounds. The carrying handle makes transportation secure and convenient. A packet of Camco's TST biodegradable toilet chemical comes with the purchase.
Pros
Odor-free when sealed
Can be used for several days without draining
Comfortable to use
Cons
Draining is challenging with solid waste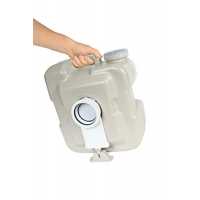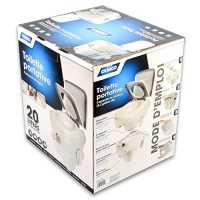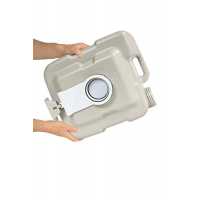 Our Take
What is impressive about this portable toilet is that it does not produce any odor at all. Unlike other units, this one can go on for a few days without being drained. It functions like a residential toilet as it also has a water sprinkler that flushes down the waste. I would recommend that you take extra water to wash it down every after use because the sprinkler is not strong. It is enough to drain the waste, but it will not clean it off completely. Using sanitation wipes will help a lot too.

When it comes to draining, you will not have a hard time as long as you do not have solid wastes inside. If you do, I would recommend that you empty it in the earliest time possible. Using tablets or chemicals that lessen the odor will help a lot too. Doing it in a waste site is ideal so you will not have to worry about clogging your septic tank at home. It also lessens the possibility of soiling your comfort room. The smell will never be pleasant when you are draining, so you will have to be ready with your equipment.

It tells so much how effective the product is because none of these odors will come out when they are in your vehicle or camping site.

$61.64


Drive Medical Steel Folding Bedside Commode
The Drive Medical Folding Steel Bedside Commode has snap buttons that easily open for convenient setup and folding. Its elastic cord enables legs to be folded up to reduce size for storage and transport. It features a durable plastic snap-on seat with a lid that is grey powder coated for fast cleaning. The steel welded construction increase strength and durability. Its 7.5-quart commode bucket with carrying handle assures easy disposal and cleaning. Plastic arms on both sides add comfort to the user. A cover and splash shield is also included for convenience upon disposal. This commode can accommodate weight of up to 350 pounds.
Pros
Sturdy
Multipurpose
Comfortable to use
Cons
Needs draining every after use
Does not seal the smell
Our Take
This commode is comfortable to use and very sturdy. Sitting on it actually feels more comfortable than sitting on a residential toilet because the height of this product resembles a chair.

It is spacious and can support up to 350 pounds. This is great for people who have medical needs, especially those who have gone through surgeries and cannot leave the bed for long. It is also suitable for people who want to have a comfortable experience when spending days and nights outdoors.

When you are camping, you can bring this along with you as its frame can be collapsed for easy transport. It can be folded as a thin piece and then carried in the car. However, it is not the smallest portable toilet on this list. It is the most comfortable to sit on, but you also have to do manual draining and cleaning after every use. If you are looking for a portable toilet that will give you the closest experience to your residential bathroom, this is the best product to use.
$32.29


SereneLife Outdoor Portable Toilet with Carry Bag
The Serene Life portable toilet is ideal for getaways as it is easy to bring around. It has a 5.3-gallon tank, which holds more compared to other models. This allows you to get on the day without emptying it often. To make things convenient for the user, a wastewater tank level indication is in place so that you will be guided. The splash-free rotating pour spout makes draining and emptying quick and discreet. Odor-resistant materials were used in the manufacturing process to lessen smell retention. A durable travel toilet bag makes transportation easy.
Pros
Sturdy
Convenient to use
Can be used for several days without draining
Odor-free when sealed
Cons
The toilet bowl is small
Draining is challenging with solid waste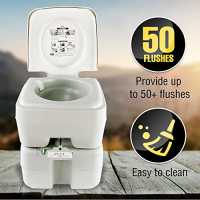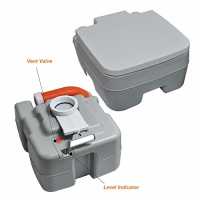 Our Take
This is one of those toilets that do not allow any smell to escape at all once it is sealed. It does not leak at all. Sitting on it is comfortable as the height is about as tall as a residential toilet. Although it is not very wide, this is very sturdy and can accommodate up to 400 pounds. You will have no problem using this in a reasonable amount of time.

I like this product because it can go on days without being drained. If you use it for a weekend getaway, you can survive the whole trip in a group of 3 without being bothered by the capacity. Using chemicals will ease the draining process, but it cannot completely eliminate all the odor. Solid wastes are hard to deal with, but it is not impossible. After a few tries, you will know how to drain this properly without any struggles.

I would recommend that you close the lid when you are flushing because there could be some splashbacks. This also seals the odors inside even when you are opening the drain as you flush. The lid acts as another protective layer. Overall, it is a convenient product to use when answering nature's calls.
$98.72


Reliance Products Fold-to-Go Collapsible Portable Toilet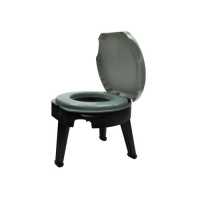 The Fold-To-Go is a compact and lightweight, portable toilet designed for outdoors and emergencies. It features an integrated handle to make carrying easy. The innovative leg locking system makes the toilet sturdy and will not wobble when you sit on it. When not being used, this toilet can be folded away and stored inside a plastic carrying case. It can support up to 300 pounds of weight. This model is compatible with Reliance's standard Double Doodie bag, making disposal very easy. A 5-year warranty covers the products against manufacturer's defects.
Pros
No draining needed
Easy disposal
Sturdy
Wide seat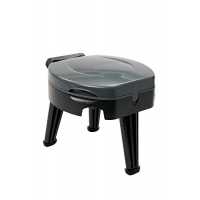 Our Take
It takes a few seconds to set this thing up. All you need to take note of are the clips that lock and unlock. After that, folding and setting this product will be a no-brainer. It has a very sturdy construction that can accommodate anyone that weighs up to 300 pounds. The toilet seat is as wide as a traditional one, making it comfortable to sit on. It has a low profile so that you can situate it between some shrubs for a dose of privacy and nobody will see you.

When transporting, it does not take up much space as other portable toilets as it is compact when folded. However, it is not as lightweight as a loo bucket.

Cleaning this is very easy because all you need to do is tie the waste bags and dispose of them. There is no need to drain and wash. Dealing with the toilet seat is also quick as you can simply wipe it down or wash them with soap. You can fill the bag with cat litter so that the liquid wastes can be absorbed. With this, you do not have to replace the bag every after light usage.
$41.86


Reliance Products Hunter's Loo Portable 5 Gallon Camouflage Toilet
The Hunter's Loo Portable Toilet is an affordable portable camouflage toilet that is specifically designed for hunters who need to blend in with their surroundings. It is a bucket-style toilet with a traditional snap-on hinged seat and cover for all-time sealing and protection. Its capacity is 5 gallons/20 liters. The cover is replaceable to make the useful life of the product longer. This toilet weighs just 2.65 pounds and has dimensions of 13.5x13x15.39 inches in length, width, and height. It is compatible with Reliance's standard Double Doodie for easy disposal. A 5-year warranty covers the product against manufacturer's defects.
Pros
Low maintenance
Affordable
Sturdy
Our Take
This is a low maintenance yet functional off-grid toilet. The camouflage design is a great cherry on top designed specifically for hunters who need to blend with the leaves, but it can be used by anyone actually.

Firstly, I like this loo bucket because it does not have to be changed every day. You can go on 2-3 days without replacing the bag, as long as you put organic cat litter inside. It is quite impressive how the smell does not come out when the lid is closed, even on a warm day. For a price this affordable, I did not expect it to hold up well.

Its sturdiness is also reliable. It weighs below 3 pounds, yet it can support up to 300 pounds. That is an outstanding performance. The lid and seat may be the first to break after years of usage, but you can simply replace them and use the bucket again. Overall, the functionality of this product exceeds its price.

Palm Springs Outdoor 5 Gal Portable Outdoor Camping Recreation Toilet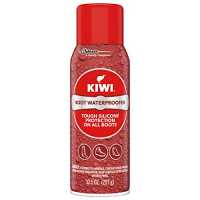 This is suitable for camping sites, boat activities, RV camping, and other outdoor getaways. It is a self-contained portable toilet that features a 3 - gallon fresh water tank and a 5 -gallon holding tank for wastewater. Each container is made of high-density polyethylene in a one-piece design that is leakproof. They can be emptied completely hassle-free. It also features a double-sealed drain valve to protect against leaks and odors. The side latches are heavy-duty and corrosion-resistant to securely hold the tanks together. This portable toilet feels like the one you have at home as it flushes like one and has a comfortable, sturdy full-size seat with lid. The matte finish prevents scratches on the surface. Transportation is easy as it arrives fully assembled with a built-in handle.
Pros
Sturdy
Convenient to use
Odor-free when sealed
Can be used for several days without draining
Affordable
Cons
Pressure can build up inside resulting in splashing.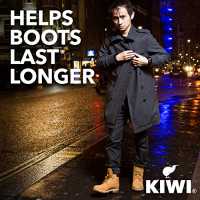 Our Take
This product works just as well as other brands, but it is more affordable. It allows no smell to escape when it is sealed. It has the height of your toilet at home, so it does feel comfortable when you are using it. This is a sturdy product that can support 400 pounds of weight. It is big enough to leave space for a five-day trip, but I would recommend that you drain it as early as possible because the chemicals can only lessen the smell for about four days. Beyond that, you will have a hard time dealing with the odor when draining. Going on for four days is an impressive run.

When unused for a long time, pressure can build up inside because of all the chemical reactions going on inside. You have to loosen the seal a bit if you are about to use it so that the pressure will not result in splashing. It is also recommendable that you close the lid before flushing so that all the splashbacks will be sealed inside.

For a relatively lower price, this portable toilet offers you a lot of conveniences. I highly recommend it.
$6.94


Cleanwaste Portable Toilet
This Cleanwaste portable toilet weighs just 7 pounds and folds to a size that fits a standard briefcase. It is comfortable to use as it features the height and ease of a residential toilet. The materials used in this product are of high quality. It is constructed well, making this toilet sturdy and safe to use. The weight capacity of this unit is 500 pounds, which exceeds all other portable toilets. No messy chemical waste storage tanks or dump stations required because a waste bag kit makes disposal easy. The product does not require any assembly as well.
Pros
Durable
Can support up to 500 pounds
Packs well
Easy to use
Cons
No flushing system
Not lightweight
Our Take
If you are looking for an easy to pack portable toilet that allows you to sit comfortably, this is the deal for you. Firstly, it is a good product for campers because it packs light and compact. It comes with a solid briefcase that makes transportation very easy. Folding and setting up the product is a no-brainer because no assembling is required.

The height is amazing. It stands about as tall as your residential toilet. This makes your sitting position comfortable and allowing you to answer your needs with ease. Since the seat is wide enough, anyone can use this without hurting their buttocks. The legs are very sturdy and, once locked in place, never move around. It can accommodate up to 500 pounds, by far the sturdiest one of its kind in the market.

Cleaning up is not a problem as you can simply dispose of the waste bag every 2-3 days. Using a cat litter, you will not have a problem with odors as long as the lid is sealed properly. This product will last you for years.

Camco 40075 Rhino Toilet Flush Valve Prop
The Camco 40075 Rhino Toilet Flush Valve Prop holds the RV toilet valve open while you are rinsing it. The cleaning process of the waste tank is made easier because there is no need to hold down on a foot pedal. This also prevents the waste valve from being damaged. It has a tapered design to avoid splashes and the ridges on it to retain the position of the prop in the right place. This unit fits all tank rinsers and comes with all necessary hardware for convenient installation.
Pros
Affordable
Makes cleaning easy
Anti-splash system
Cons
Made of plastic which is not very durable.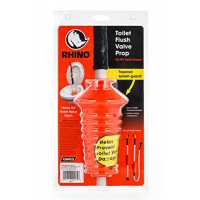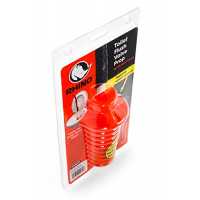 Our Take
This product is not a portable toilet per se, but it is pretty instrumental in making sure that your RV toilet is working well. Clogs are a common problem, and while it is a dirty job, someone has to do it. This item solves the problem without too much work.

It is well-designed and well-made. The handle is comfortable to grip onto, which makes cleaning a bit easier. Its length is long enough to reach the insides of the tank without it being excessively long. What came in handy is the built-in, tapered splash guard feature because splashes commonly take place while cleaning. With this product, it is significantly minimized.

For its affordable price, this product can be disposed of after use without it feeling heavy on your pockets. If you prefer that for hygienic reasons, you may do so. However, the quality it has can actually withstand several uses without malfunctioning. It is a good purchase.
$13.43