10 Best Camping Water Filters
We all know that having access to potable water is a basic need for survival. When going to remote areas, water sources may be unreliable. You also cannot get sick in the middle of a camping trip.
That is why it is beneficial for every camper to have a trusted water filter. You have precisely nothing to lose if you filter water before drinking it. It takes away any chances of getting sick, and it gives you comfort, knowing that what you are drinking is safe and clean.
In this article, we've reviewed the most recommended Camping Water Filters -- both by experts and consumers. We've based our verdicts on a couple of factors: usability, price, and features.
10 Best Camping Water Filters

Sawyer Products MINI Water Filtration System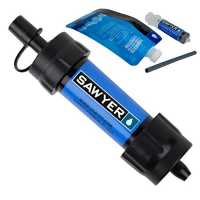 The improved second-generation Sawyer Products MINI Water Filtration System is lightweight and easy to carry around as it weighs just 2 ounces and fits your hand. It features a 0.1-micron absolute filtration ability, filtering out bacteria, minute organisms, and microplastics. It removes 99.99% of bacteria like Salmonella, E. coli, and other protozoa. Although the EPA policies allow ten times more organisms left in the water, this MINI filter assures that it filters out the most common ones that make you sick. It comes with a pouch and a straw for convenience. This water filter is great for a wide variety of outdoor activities.
Pros
Affordable
Lightweight
Compact
Fits your hand
Cons
The original bottle needs upgrading for bulk filtering.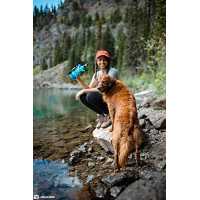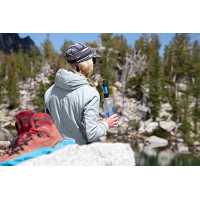 Our Take
This is a great option for those who are looking for a water filter that is portable, compact, lightweight, and easy to use, without spending loads of cash. Since purchasing this several months ago, I have put it to the test several times, and it does not disappoint. Of course, I had some degree of skepticism in me because I am very careful with what I put inside my body. Surprisingly, this small gadget that fits your palm can turn awfully dirty water to clean, potable drinking water in a few minutes!

To maximize convenience, it is ideal for you to replace the original bottle with a Platypus Plastic 2L Water Bag so you can filter 70oz of water instead of 16oz. It costs less than $10, and it saves you so much hassle of refilling a few times more. However, if the water source is close to your camping spot, the original bottle will do just fine. Tying the corners of the water bag and hanging it anywhere will shorten the filter time as gravity helps with water dripping. In order to extend the usefulness of this water filter, it is a must that you regularly clean the filters. The package comes with a syringe to make the process easier for you. For only $18.97, this water filter is such a great deal.
$19.97


Purewell Water Purifier Pump
This water pump can filter water up to 1400 ml per minute. It features anti-skid rubbers on the side and bottom of the pumps to keep the surface steady when pumping. This property also increases the overall durability of the product. The filter is replaceable, but it only needs replacement after 3000L or 793 gallons of filtering dirty water. It can be used directly from the water source and can be pumped directly to any cup or storage devices. A detailed instruction manual comes with the package to help users with the processes and installment. In case of any dissatisfaction, a money-back guarantee is offered by the company.
Pros
Filters greater quantities of water at a time
Compact
Lightweight
Great for groups
Cons
Needs 2 persons to operate well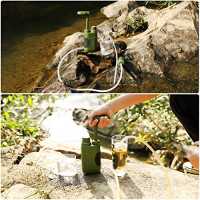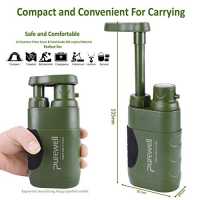 Our Take
This water purifier pump is ideal for group outings or family trips as it can filter great quantities of water at once. Other types of water filtering devices cannot suffice the needs of a group of 5. This pump filters water well, and it does it pretty quickly. It does not rely on the power of gravity, so you have more control over how fast you want to go. On top of that, it is also very compact and occupies only a limited amount of space in your bag. It weighs below a pound, making it an excellent replacement for other smaller water filters that filter small amounts of water at a time. What amazes me about this filter is that it makes the water extra clear and potable after filtering. The reusable carbon filter needs low maintenance and should be replaced only after 3000 L. That can cover so many group adventures before it needs replacement. However, you might need another person to hold the tubes while one is pumping to prevent it from moving. Considering that this is essential for group activities, that does not sound like a problem at all!

Overall, this device is not just great for outdoor activities, but for individuals as well that do not have a clean water source at home.
$55.98


LifeStraw Personal Water Filter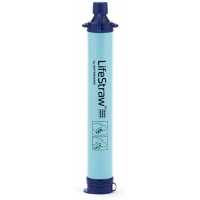 No disaster kit is complete without this award-winning LifeStraw water filter. It is a hiking, camping, and travel essential for everyone. Without using iodine, chlorine, or other chemicals, this can filter up to 1000 gallons or 4,000 liters before the filter needs replacement. It does need batteries to function. There are also no moving parts, making it very easy to store in your constant travel kit. Weighing only 2oz, this is the most lightweight water filter in the market. It can remove 99.99% if water bacteria as it can filter up to 0.2 microns. The fast flow rate allows for drinking from the source. This product comes in a bag for easy storage and additional protection.
Pros
Ultra-lightweight
Easy to bring
Cons
May be challenging to use at first
Not for groups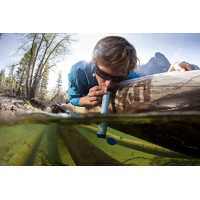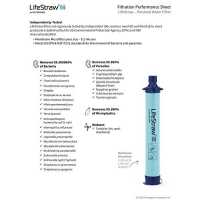 Our Take
I completely agree that no water filter is easier to pack and lighter to carry than this LifeStraw. You can drink straight from any water source and not get sick. It is almost unbelievable how one small device can save you from life-threatening diseases. It is a personal belonging that is good for the use of one person. Its filtering capability can provide 4000 liters of clean drinking water, which is good enough for a single person's average annual water consumption. That being said, purchasing it is worth the price. However, it could be tricky to use at first, as water may not pass through right away. It is highly recommended that you soak the whole thing in potable water before bringing it to any of your outdoor activities. If you still struggle, you can try to blow in it to release any blockages. After that, your LifeStraw will be easy to use anytime. If you plan on storing water, this may not be the ideal water filter to use as it is not designed for bulk filtering. It is suitable for places that have many water sources since you can drink directly from them. Every purchase of this product also helps provide clean drinking water for the company's beneficiaries.
$16.39


Katadyn Hiker Microfilter Water Filter
This water filter features an easy-to-use design that suits beginners and well-experienced backpackers. It has a 0.2-micron glass fiber filter that takes out all particles, most bacteria, and protozoa usually found in water. The activated carbon in the middle of the filter improves the taste of the water and minimizes the presence of some chemicals as well. It is an ideal choice for any challenging escapade because it requires the lowest maintenance. With this water filter, there is no need for constant backflushing. You can purify 11 ounces of water at a time. The package comes with the pre-filter and a deluxe carry bag.
Pros
Easy to use
Can be used for bulk filtering
Cons
Filter needs replacement when clogged
Handle not durable
Our Take
I am highly satisfied with the ability of this water filter to produce clean water out of a foul source. Water comes out clean and safe to drink every single time. Its size and weight, although slightly bigger than other filters, is reasonable enough for convenient packing. It is easy to use and may be used by campers in groups. Cleaning this device is not hard at all. The manufacturer recommends that you wash off the filter after the trip and rinse it with bleach and water mixture before storing it for assured cleanliness. However, I had observed that the filter gets challenging to use when it gets clogged. Even after cleaning it, the performance is not the same as when it was brand new. Nonetheless, it could still be functional. The handle may eventually need repair after years of usage, as it is not very durable. These are some improvements that the manufacture may look at for the general improvement of the product. I would give it extra points for its structure as the tubes are in the positions for convenient use. Putting everything into consideration, this water filter does the job well but is not as low maintenance as they say.
$52.39


MSR MiniWorks EX Microfilter Water Filter
The MSR MiniWorks EX Microfilter Water Filter has a proven capability of excellent filtration for water sources found in camping sites, hiking sites, international travel, survival situations, and emergencies. It has a Marathon EX ceramic element that removes bacteria, such as E. coli. Shigella, Salmonella, Cholera, and protozoa. Its carbon core gets rid of unpleasant tastes and odors caused by organic compounds such as iodine, chlorine, and pesticides that are commonly present outdoors. Its filter should be replaced after filtering 2,000 liters of water. The AirSpring Accumulator makes pumping a liter of water per minute possible. This makes the product suitable for group setups. Weighing less than a pound, this filter is lightweight and comes in a storage bag. It is covered by a limited lifetime warranty.
Pros
Easy to pump
Reusable filter
Affordable
Cons
Filter needs cleaning every after use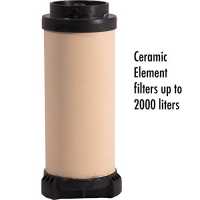 Our Take
The reusable ceramic filter makes it long-lasting and worth the price as compared to other products that are one-and-done. This gadget does not fail to provide clean water, even from various sources. It is undoubtedly easy to use because pumping does not require too much effort. I would also commend the quality of the handle as it is very durable. Another good thing about this filter is that its screw fits most bottles that come from different brands. Shall you experience the filtration slowing down, there is a simple remedy which I found useful for it to work like usual again. By simply unscrewing the filter housing and light scrubbing the element, it will be like new again. This procedure usually needs to be done after two full Nalgene bottles of clean water. That, to me, is a pretty fair trade-off for the price that I paid. You are assured of a clean, good tasting water with this filter. I never experienced getting sick after using this filter. Therefore, it is also something that I would recommend to my fellow campers.
$66.95


Sawyer Products Squeeze Water Filter System
Sawyer's Squeeze Water Filter ensures access to clean water wherever you plan to go around the globe. It as a 0.1-micron absolute filtration that removes all bacteria such as salmonella, cholera, leptospirosis, and e. Coli. It also filters out all protozoa, such as giardia and cryptosporidium, which was proven by an independent laboratory's report. No microplastics will ever go to your body with this water filter. It is effortless to use and easy to clean. Two squeeze bags are included in the package. For versatility, they come in two different sizes, and both are BPA-free. A limited lifetime warranty covers this product.
Pros
Effortless to use
Fast filtration
Durable
Cons
Relatively more expensive than the mini version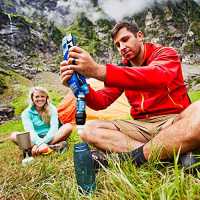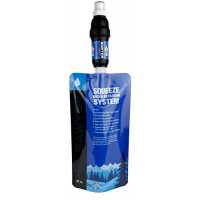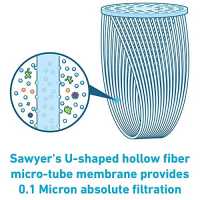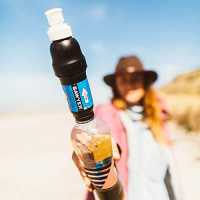 Our Take
This product is great for those who are not into pumping water for filtration purposes. Using the squeeze pouch, filtering water takes up so little time now. Unlike other products, you do not have to wait for long or put out so much effort sucking the bottle for water to come out. The screw fits many standard bottles out there, so you do not have to worry about looking for a compatible one. Another method that you can use is hanging is putting holes on the edges of the squeeze pouch and then hanging it somewhere. Gravity helps a lot in this method, making water filtration pump-free and effortless. Although relatively expensive as compared to the Sawyer mini, this one is significantly faster and more durable. The squeeze bags may need replacement eventually, but the filter device lasts long. I would recommend this for group setups. The product is something you would not regret buying. I had never gotten sick with this one. Just like me, you will most likely purchase it again.
$29.97


Platypus GravityWorks water filter
The Platypus GravityWorks 4.0 Liter High-Capacity Water Filtration System requires no pumping, batteries, electrical source, or chemicals to produce safe drinking water. It has a replaceable hollow-fiber microfilter cartridge filters that can filter 1,500 gallons of contaminated water. It qualifies all the EPA and NSF guidelines for removal of 99.99% of bacteria and 99.99% of protozoa. Water gets filtered at a rate of 1.75 liters per minute. That is ideal for group and family settings. The 4-liter bag where you will place the dirty water will take after two and a half minutes to filter. Cleaning the filter takes a simple rinse. It is compact and lightweight, weighing only 11 ounces.
Pros
Effortless
Filters quickly
High-quality
Cons
Needs to be hung somewhere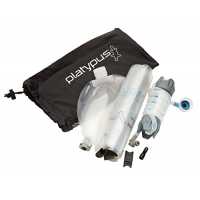 Our Take
What makes this stand out is its ability to filter 4 liters of water at once without putting any effort. On top of that, it surprisingly drains fast, unlike other dripping water filters. It is an excellent choice for backpacking because it weighs less than a pound. It is expected to filter 1500 liters of water before it needs replacement, which is a steal for its price and the effort it saves you. What's impressive is that its tubes and storage bags are not of inferior quality. They usually do not deform and tear. Its hoses are long enough to cater for versatile settings. The maximum amount of water you can store in these bags total to 8 liters. After you have filtered the first 4 liters, which are now stored in the clean bag, you can refill the container for the contaminated water again and drain it anytime you need to. Overall, it is the most convenient form of water filter because all you need to do is refill the bag and wait for 2 minutes. There is no set up that is as effortless as this. I would highly recommend this to campers who would like to channel their energy on camping activities, not on getting access to clean water.
$82.95


Etekcity Water Filter Straw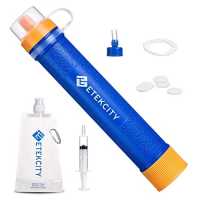 The camping water filter by Etekcity can filter up to 1,500 liters of dirty water from any lake, river, spring, well, and even rainwater. It has three different uses other than filtration, such as filter extension, portable water storage, and prefiltration. The Personal Water Filter removes 99.99% of E. coli bacillus, legionella, organic and insect contaminant, chemicals, and heavy metal ions. Just by hooking the filter straw to the pouch filled with any water, you will have access to potable water immediately. The product comes with all the necessary accessories.
Pros
Affordable
Lightweight
Has storage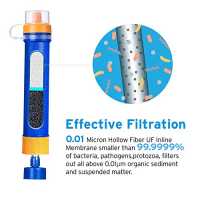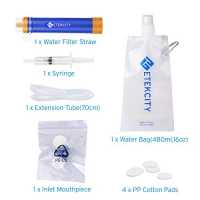 Our Take
This product stands true to almost everything in its advertisement. It can transform green colored river water to clear, clean-tasting, odorless water. I would say it works better than other brands that are on this price point. The bag comes in handy because you can squeeze water out of it. This way, you do not have to wait for the water to drip because the additional pressure you put on it will result in gushing water. Most straw filters do not come with bags or bottles, so storing is not an option. With this product, you can bring water to a remote location. However, it could be challenging to fill the bag fully because of external water pressures. Therefore, it cannot collect water in its maximum capacity. While that is not completely bad, it would be a significant improvement if the manufacturer can work on some changes. It is not as convenient as other types of filters, but it does the job in its department. You might need to put out some effort to filter and drink the water. The price is highly affordable, and it lasts longer with proper care and maintenance.
$18.43


Survivor Filter PRO
The Survivor Filter PRO has a triple filtration to 0.1 microns to remove viruses, bacteria, parasites, and eliminate unpleasant taste and smell. It features Dual Hollow Fiber Membrane (Ultra Filters) and Carbon Filtration that are 20 times more effective than other products in the market. The flow rate of this water filter is 500 ml. per minute on average. Additionally, it is versatile as you can pump water to any container of your choice. It is ideal for large groups because of the amount of water it can process at a time. This product is made only with the best materials. It does not contain any harmful chemicals. For any dissatisfaction, you may contact the manufacturer for a money-back guarantee. A limited lifetime warranty covers the Survivor Filter PRO.
Pros
Can mass filter
Excellent filtering ability
Lifetime warranty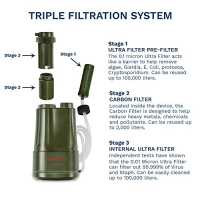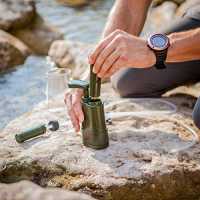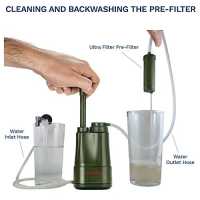 Our Take
I commend its filtration ability as water looks, tastes, and smells clean after it has gone through the pump. What more, it is great to be able to drink as much water as you want when you are outdoors. Unlike most small capacity products, this one can process enough water at a time to satisfy your thirst. That is essential in camping trips because it prevents dehydration. This kind works well for group adventures as you are able to mass filter. Pumping is also not a problem, especially if there are several of you who can take turns. It is easy to clean with quick rinsing. I am impressed with the way the tubes were situated because they are not wobbly, unlike other brands of this model. The tube is long enough to reach bodies of water while the pumping part is on a flat, stable surface. This is a great investment because the lifetime warranty covers all the possible repairs. I recommend you to try this out. If you end up not liking it, the money-back guarantee will serve you well. There is nothing to lose.
$64.95


LifeStraw Go Water Filter Bottle
With its 2-stage filtration, the LifeStraw Go provides safe drinking water in a refillable water bottle. You can always store water wherever you go. It has a carbon capsule that reduces chlorine and eliminates terrible tastes. The filters get rid of 99.99% of waterborne bacteria and 99.9% of waterborne protozoan parasites. Its bottle is built with BPA-free materials to assure the safety of the drinkers. It uses a replaceable filter, and a replaceable activated carbon capsule as well. Both are expected to last for years. The hollow fiber membrane has the capacity to filter 1,000 liters of contaminated water. The LifeStraw Go is suitable not only for outdoor activities but for everyday use as well.
Pros
Has storage
Easy to bring
Sturdy
Our Take
Upon arrival, I was skeptical about the bottle as the tip is not as big as I expected it to be. With filters that require sucking, it is a common concern that it is quite challenging to let the filtered water out. At first, little to no water was coming out despite me continually trying. When I meticulously checked the tip, I figured out that there is a layer of cellophane that wraps around it. After removing that plastic, everything turned out perfectly well. I like this product because it does not require tiresome efforts to drink the water. The bottle is also pretty sturdy and in high quality, making the price worth it. What sets this product apart from merely straw filters is the fact that you can store water before leaving the source. This is an essential feature as you can never be sure of the next time you will have a water source. The size of the bottle is just right to store a sufficient amount of water, while it is also still easy to bring in your backpack. Generally, it is ideal for outdoor activities. It could also be used every day, especially by people who want to save up. Buying water can add up to your expenses. All you need to do is purchase this bottle once, and you can filter up to 1,500 liters eventually. It is a great deal.
$74.95