6 Best External Frame Backpack
If you are a keen hiker or spend a lot of time exploring outdoors, a backpack will be one of the most important bits of kit you buy. A backpack is essential for carrying all of the kit you will need, from your tent and sleeping bag to clothes and food. Choosing the right backpack can make your hikes more comfortable and allow you to travel further. Here we're going to consider the benefits of an external frame backpack, and some of the options available.
Backpack Frames
Backpacks used for overnight or multi-day hikes are larger than a pack you might use if you are just setting out for a day hike. They need to carry much more kit, and therefore weight, meaning they require some kind of frame to help them keep their structure.
There are two main types of backpack frame – an internal frame or an external frame. An internal frame backpack is the more common choice, as they have a large capacity to store all of your kit, keeping it protected. They are usually lightweight and compact, which is handy for air travel. Internal frame packs sit flush against your back to keep your centre of gravity close to its natural position, which is useful if you're on an uneven trail, when your body weight is shifting from side to side. If you often venture on adventurous hikes, involving rough terrain or rock scrambling, you may want to look at the best internal frame backpack to suit you.
However, there are areas where an external frame backpack is the better choice. Firstly, they tend to be more affordable than internal frame packs. They can also take more kit, as items such as your tent or cooking gear can be strapped to the frame. This gives you more flexibility and easier access to items you might need at hand during the day.
If you have ever hiked with an internal frame pack, you will know that the pack sitting directly against your torso can result in a very sweaty back. External frame packs avoid this as they are lifted away from the back, providing ventilation. They also give a better weight distribution, as they can transfer some of the weight to the hip belt which reduces strain on the shoulders. If you're on a long expedition or carrying kit for several people, this makes for a more comfortable experience.
Weight & Size
One of the main considerations when you are purchasing a framed backpack is the size of pack you need. The size of a backpack is usually measured by the capacity, i.e. how much it can hold. Product descriptions typically give this as a measurement in litres or cubic inches.
To choose an appropriate size, you will need to think about the type and duration of trips you will take. If you usually hike for a weekend in warm weather, you probably won't need as big a pack as if you are going for a week in winter. If you are hiking as a family and need to carry gear for your children, you may also need a larger pack.
When thinking about the size, you need to pay attention to the fit of the backpack and how it sits on your back. Packs will have adjustable straps, but you want to ensure the pack isn't too long for your torso. You should also check that the waist strap is a suitable size for you, as this will help distribute the weight and stop the pack moving around too much when you walk.
The specifications of a pack will tell you how much it weighs when empty. An external frame pack is generally the heavier option of framed backpacks, but there are ultralight external frame backpack options, as we'll look at next.
Materials
The material used for a metal frame backpack is important both in terms of performance and weight.
The most commonly used material for an external frame pack is aluminium. An aluminium frame backpack gives a robust and rigid construction which makes for a durable pack. However, this does add weight.
One lightweight material which can give the same durability is titanium. A titanium framed pack is more expensive than aluminium, but if keeping your pack weight is low is a key consideration, you may consider it a worthwhile investment.
Types
There are several types of external frame backpack. As we've covered already, some of the main users of backpacks are hikers using them to carry camping equipment and supplies.
Another popular type is an external frame hunting backpack. These can be used to carry camping gear and supplies for a hunting trip over several days, and the frame can also be used to help transport game back to a campsite or vehicle. A backpack with multiple outside pockets gives quick and easy access to ammunition or snacks and leave the carrier 'hands free' whilst they are hunting. A robust hunting backpack with frame can carry a good amount of extra weight, so it can be useful even for a simple day trip if you want an easy way to transport your kill.
Many of the considerations for a hunting pack frame will be the same as for a regular external frame backpack, such as size, weight, and multiple storage compartments. There might also be specific considerations, for example choosing a pack in camouflage print to help blend in with the surroundings, or a pack in a material which doesn't make a loud rustling noise that could startle potential prey.
Frequently Asked Questions
Q: How to Pack An External Frame Backpack?
A: When packing an external frame backpack you need to think about how the best distribution of weight in your pack, and also how you need to access items. The first step is to list out all of the kit that you need for your trip and bring it all together ready to pack. It's a good idea to put clothing into waterproof bags, so they will stay dry if your pack gets wet. Ziplock bags are useful for liquids that may leak, such as toiletries or bug spray.
Some packs have one main compartment and others have several. A benefit of external frame packs is that items can be attached to the outside. If the backpack design allows for it, attaching your sleeping bag to the bottom of the pack will help save space in the main compartment. Otherwise, you can place it inside, or there may even be a separate compartment for this. Remember to put the sleeping bag inside a waterproof sack.
Lighter items like clothes can also go in a low compartment, or in the bottom of the main compartment. Heavy items such as cooking supplies should be placed further up the pack, where the weight sits closest to your back, as this will help you to keep your balance. Keep heavy items you'll need to set up camp near the top.
Items you might need to access on the move can be placed in side or front pockets. This might include a first aid kit, sun cream, compass, map, flashlight or other essentials.
Q: How To Adjust An External Frame Backpack?
A:External frame backpacks are often adjustable to give the best fit. Always follow the instructions for your specific pack, but there are some general modifications to bear in mind.
External frame backpacks often have 'load lifters' which can be adjusted which changes how weight is distributed. Tightening these will take some weight off the shoulders and transfer it to the waist belt.
The waist belt should also be adjusted and should ideally sit on top of your hip bones.
Many waist belts have a wide range so the belt can help distribute weight, and also keep the pack stable as you move over varied terrain.
Many packs have a sternum or torso strap. This doesn't affect the weight distribution, but it does help to keep the pack in place.
Some packs have the option to adjust the length of the back panel. The way this is done differs for each model, so it's worth checking the details for your own pack to give you the most comfortable fit.
6 Best External Frame Backpack

ALPS Mountaineering – Red Rock
This is a compact and well-priced pack with some handy features.
The capacity of this pack is 34 litres, or 2050 cubic inches, making it ideal for a short trip or for a child going camping for a night or two. The pack offers vented lumbar support, and the suspension is adjustable so the pack can be adapted as they grow. It weighs 3lbs 11 ounces.
There is a padded waist belt with a range of 20-40 inches which is simply pulled forward to tighten. There's also a removable sternum strap with a range of 13-18 inches. The pack is made from lightweight polyester with compression straps on the sides and front to help keep the contents compact. The pack loads from the top and there are side pockets to store smaller items for easy access.
Pros
Compact size ideal for children on a short trip.
Telescoping frame can be adjusted.
Adjustable waist belt and sternum strap.
Lightweight polyester fabric.
Easily accessible side pockets.
Cons
Small size suitable for children, teens or those with a smaller build.
Our Take

ALPS OutdoorZ – Commander + Pack Bag
This hunting backpack offers a robust frame for heavy loads plus a removable pack.
The pack offers a capacity of 90 litres and multiple exterior pockets to help your gear organised. There's a pocket for a spotting scope, a drop down rifle holder as well as a hydration pocket and port. The nylon ripstop fabric makes this a durable pack for use in all types of weather conditions.
The pack can be detached, leaving a sturdy aluminium frame with a unique lashing system designed for hauling meat. Heavy loads can be secured using the freighter shelf, by lashing the load to the frame and adjusting straps on either side of the shelf. Three extension straps are included for extra large loads.
A waist strap helps hold the frame secure in place and torso adjustments in a range of 17-23 inches give a custom fit. The waist strap also features zipped pockets which are useful for small items you want to keep at hand.
Pros
Offers both a detachable pack and robust frame.
Large capacity pack.
Multiple pockets to keep your kit organised.
Freighter shelf for heavy loads.
Durable fabric for all weather conditions.
Cons
A pack with this many features weighs more than a more basic pack.
Our Take
The type of camping trips you take and their duration are important considerations when you're deciding on the best size of pack to choose, but the ALPS OutdoorZ – Commander + Pack Bag is our top choice, for these reasons:


It gives the versatility of a strong frame and detachable pack in one product.


The large capacity pack can carry all you need for a trip of several days.


There are multiple pockets to help keep your kit organised and accessible.


The pack is made of a durable fabric for use in all kinds of weather conditions



Kelty – Tioga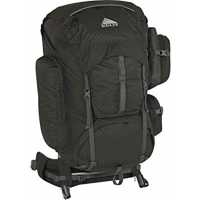 This pack offers a large capacity with the flexibility to adjust the fit to suit you.
The capacity of 5500 cubic inches gives enough space for longer trips. The pack is top loading and there are many useful features such as a sleeping bag compartment and a top lid pocket. There are multiple zippered side pockets to keep gear organised and give easy access to items you might need on the move, plus a mesh water bottle pocket. There are lash points to attach other items to the exterior.
To help with comfort and stability, this pack has a fully adjustable suspension system to give a secure fit. An adjustable waist belt helps to transfer pack weight to the hips for better weight distribution. Comfort is improved with a ventilated back panel and padded shoulder straps.
This is a hardworking pack for longer trips with the capacity to pack all the gear you might need.
Pros
Large capacity.
Multiple compartments and pockets.
Lash points to attach further items to the outside.
Fully adjustable frame.
Padded shoulder straps.
Cons
The large capacity of this pack can result in you packing too much weight.
Our Take

Kelty – Yukon 48
This is a smaller pack, perfect for scouts or teens, which doesn't compromise on features.
It is a great option if you are looking for a small adult pack, or step between a kids pack and a full-size adult backpack. The capacity of this pack is 48 litres, with an optimum load weight of 20-60lbs.
It is easy to organise your gear, with zippered side and front pockets, including a mesh pocket for a water bottle. There are also plenty of places to tie on further gear, with loops for trekking poles or an ice axe. Side compression straps help keep the load compact.
The suspension is adjustable for a comfortable fit, with padded shoulder straps, a foam waist belt and a sternum strap. A great all round option in a compact size.
Pros
Excellent option for young adults with all the features of an adult pack.
Plenty of pockets for easy organisation.
Extra gear can easily be tied on.
Adjustable suspension for a comfortable fit.
Cons
Best suited to teens or smaller adults.
Our Take

Vargo – Exoti 50
An ultralight titanium alloy external frame is just one of the benefits of this pack.
The 50 litre capacity gives enough room to store gear for a weekend trip, or longer if you plan to travel light. This pack is constructed to help efficiently transfer weight to the hips, thanks to the frame and lumbar support plate. There are also compression straps in an X formation across the main bag to keep the load high, tight and stable.
This sleek pack uses high quality material and the build quality is excellent. The lid is removable and contains a pocket for storage. There are also mesh side pockets and mesh pockets on the waist straps for small items you want easy access to on the move.
The titanium frame and lightweight material make this an ideal ultralight external frame backpack option.
Pros
Ultralight titanium alloy frame.
Efficient weight distribution.
Excellent build quality.
Compression system to keep load stable.
Lumbar support plate.
Cons
Main bag does not have dividers so organisers will help you pack efficiently.
Our Take

TERRA PEAK – Adjustable Hiking Backpack
This high capacity pack with an internal frame is functional and versatile.
This model is available in three sizes of pack – 55 litre, 65 litre or 85 litre. The largest capacity can provide enough storage for trips of a week or even more. An internal lid pocket and sleeping bag compartment with divider will keep the contents of your pack organised, and there are multiple external pockets. Two expandable zipped pockets at the side of the pack can give easy access to extra layers of clothing or a towel.
There is a mesh side pocket for a water bottle, front pocket divided for easy organisation and a small zipped pouch on the waist belt. Compression straps keep the load compact. There are extra loops to secure other items such as trekking poles. This pack is compatible with a hydration system, with a loop inside of the main compartment to fix a bladder sleeve.
The back panel of this pack is padded and breathable and adjustable to give the best fit. You can adjust the back length based on the length of your torso. There are padded shoulder straps and adjustable waist and sternum straps to keep the pack in place.
This backpack has the added benefit of being supplied with a rain cover, which is stored in the top compartment.
Pros
Large capacity pack with several sizes available.
Multiple external pockets for easy organisation.
Adjustable padded back panel to give the most comfortable fit.
Rain cover included.
Hydration system compatible.
Cons
Water bladder is purchased separately.
Our Take