5 Best GPS Watch For Hiking
Having a quality GPS watch for hiking isn't just a "nice to have" accessory, it can be a necessity and even a life-saver.
A GPS watch isn't just for telling you where you are and where you want to be. While the GPS signal may be the reason you bought the watch, there are other features that will be important. That can include technology that monitors temperature, high altitude, pressure and more.
And when you're looking at hiking watches, you'll also want to watch for ones that match your budget, or maybe you also want to use it running or swimming.
There's a lot more to think about with GPS watches than simply the GPS. So, here's what to consider when choosing the best GPS watch for hiking.
Global Positioning System (GPS):
Sounds obvious that GPS is a consideration on a GPS hiking watch. But that doesn't mean the technology is the same on every device. If you plan to hike alone, you'll want to ensure the watch will determine your location accurately and relatively quickly. GPS watches can support location services of 1, 2 or 3 different satellites; if the technology supports all 3 satellites, the GPS will be more accurate and work more quickly.
Extra GPS Data:
You may want a GPS that tracks your progress during hikes. If so, a watch that shows distance traveled, duration of the hike, and hiking speed may be important to you. Some of the other data you can opt for include speed, distance, duration, and your total hiking ascent, if you want to keep track of your progress.
Compass:
Having a GPS doesn't mean that's the only feature on a GPS watch. Using GPS drains battery life. Sometimes the signal doesn't work. So it's important to have a watch with a digital compass as a backup. Some hiking watches have 2D compasses and some have 3D compasses. The 2D works when you hold the watch horizontally, and a 3D compass works however you hold the watch. Don't forget to carry a map to go with the compass.
Altimeter:
An altimeter will measure air pressure and use this information to track your altitude. Since they use air pressure and not a satellite signal, they are more accurate than a GPS. This can be helpful when used in conjunction with a topographic map or when hiking in the mountains Your altimeter can help you navigate if your GPS signal is lost.
Barometer:
A barometer measures the atmospheric pressure to forecast the weather, in particular incoming storms. Knowing whether a rain storm is on its way is useful when you do long hikes.
When considering the features of your GPS watch, the most basic ones are known as "ABC watches." That's because besides GPS, the basic ones include an altimeter, a barometer and a compass. You decide if you want extra features beyond these, whether you actually need them, and whether you know how to use them.
Here are some additional features for you to consider.
Thermometer:
For an accurate reading, you'll have to take the watch off your wrist, but it can be helpful to know the outside temperature when deciding whether to add a layer of clothing, take one off, or make camp for the night.
Maps:
Choosing a GPS watch that has preloaded maps can be a bonus if the GPS is draining the watch's battery or you can't get a signal. Sometimes you download additional maps. The savvy hiker will stay safe by knowing how to use a map and a compass if the GPS fails.
Water Resistance or Waterproof:
If you plan to use your watch for swimming, you'll want to ensure you get a waterproof watch, and understand how deep you can go for it to remain waterproof. Otherwise, water resistant may be sufficient, to ensure your watch keeps working in the rain.
Heart Rate Monitor:
Those who wish to use their outdoor watch for running, or just for improving their fitness or challenging themselves, may want one that displays and even records your heart rate.
Connectivity:
Having wi-fi connectivity and/or bluetooth connectivity on your watch is a personal preference. If you want to connect your watch to your smartphone, you can download your hiking data, or use apps for various other functions. The same is true with bluetooth capacity, which also allows you to sync your watch with a smartphone, tablet or computer. It's up to you, and with either option, having the ability to turn off connectivity can help with battery life.
Design and Durability:
This may be one of the most important considerations of your GPS hiking watch. Preferences like how it feels on your wrist, what the strap is like, and the overall durability of the watch and strap are all vital pieces of the decision about which hiking watch you want. A choice like a sapphire glass lens will make your watch more scratch resistant. Even the size of the watch can be important. If you have a small wrist, or plan to use it every day, you may want a lighter watch, which could sacrifice long-term durability.
5 Best GPS Watch For Hiking

Casio – Pro Trek Outdoor GPS Resin Sports Watch
The Pro Trek has full color mapping functionality and location memory to go along with its GPS, giving you the ability to navigate and track your route. You can also download maps to use offline. Beside the basic ABS of altimeter, barometer and compass, the watch also has a built-in suite of apps for tracking sports such as cycling. You can download additional apps from the Google play store.
There's also sunrise, sunset and tide information, a music player, and a "moment setter" that allows you to customize notifications, reminders or targets on your hikes. The watch will connect to your phone via bluetooth or wi-fi.
Pros
Color mapping and location memory make it ideal for tracking routes.
Download mapping capability is great for offline use.
Built-in apps are nice additional features.
Cons
Good for those who like Google Play apps but limited app functionality with iPhones.
Our Take

Garmin – Fenix 6 Pro
Garmin Fenix has a few different variations of its GPS watch, and we chose the 6 Pro as a fitness focused GPS watch with some features for those who want to track their performance.
A wrist heart rate monitor and "Pulse Ox" system provides heart rate, sleep monitoring, and high altitude acclimation. There's also a training function called "PacePro" that adjusts for the grade and guides your pace throughout your activity.
The display is readable in the sun and is "always on," with the choice of bezels in stainless steel, titanium or diamond-like carbon (DLC) coating.
In terms of navigation capacity, this watch comes with preloaded topographic maps, as well as ski maps for over 2000 worldwide ski resorts, giving you run names and difficulty ratings. It has support for 3 GPS satellites and also includes a 3-axis compass, a barometer, altimeter and gyroscope. Music storage is also a feature as well as notifications.
Battery performance is listed as 14 days in smartwatch mode, 10 hours in GPS and music mode, and up to 48 days in battery saver watch mode. Adjust settings using the power manager mode, which tells you how the different sensors and settings impact the battery.
Pros
Extra fitness features are great for those tracking performance.
Preloaded maps including ski maps are a bonus features for skiers.
The power manager mode is great for adjusting settings to preserve battery life.
Cons
The multiple options and technology may be too much for some people to manage.
Choose carefully to ensure you get the options you want, like an upgrade to a scratch-resistant sapphire lens.
Our Take
You can't go wrong with any of these watches, but we like the Garmin Fenix 6 Pro as the top GPS watch for hiking.
Here's why:
Covers the Basics: GPS plus a 3-axis compass, a barometer, altimeter and gyroscope.
Performance Tracking: For those who want to challenge themselves and improve their fitness level, with heart rate tracking, sleep monitoring, and high altitude acclimation, along with a pace tracker.
Customization: You can choose from stainless steel, titanium or diamond-like carbon (DLC) coating.
Reliability: Compatible with 3 GPS satellites.
Bonus features: Preloaded topography maps and ski maps for over 2000 worldwide ski resorts, along with music storage and notification capability.
Power Management: You can monitor and adjust the settings to save battery life.

COROS – Pace GPS Watch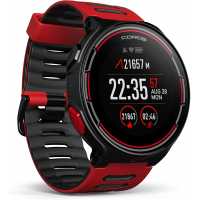 This watch is ideal for the hiker who is also an outdoor sports enthusiast. The features that are ideal for running, swimming and cycling are also ideal for hiking.
It has powerful battery life, up to 30 days in standard mode and 25 hours in GPS mode, making it perfect for long hikes. It also has capacity with 3 GPS satellites, and a built-in barometric altimeter to give you accurate elevation readings.
Athletes will appreciate the wrist-based heart monitor and the performance metrics for running, cycling and swimming. And, get notifications to your watch from your phone.
Pros
This watch is lightweight and reliable, ideal for hiking.
GPS is accurate.
Cons
Best for hikers who also run, swim or cycle.
Our Take

Suunto – Traverse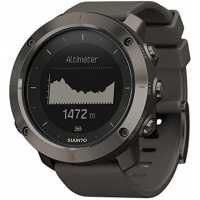 The Traverse is compatible with two of three GPS satellites, giving you better route and point of interest navigation than watches with only one satellite capacity. It will track for speed, distance and altitude and give you a real-time view of your recorded route. You can upload routes to the watch, save points of interest, and re-trace your route.
It also has the ability to wirelessly transfer your hiking data to your watch using an app that's compatible for iOS and Android, and allow for push notifications from your smartphone. You can even make a Suunto movie, which is a recreation of your route on a 3D map.
Has the ABC components of an altimeter to track altitude, a barometer for storm alerts, and a compass. The watch will provide sunrise and sunset times to ensure you aren't hiking after dark. There's a backlight, an alarm, and step tracking, and it's water resistant to 330 feet.
Pros
Up to 100 hours of battery life.
The Suunto name is known for its innovation in sports watches, dive computers and other sports instruments.
Has just about every feature you can imagine
Cons
May be too many features for those who don't want all the bells and whistles.
Battery life is impacted when using GPS, or connecting to a smartphone.
Our Take

SoonCat – GPS Watch
This watch is good hiking and many other outdoor activities, with a GPS capacity combining 3 satellite systems, as well as a 6-axis compass, a barometric altimeter and a temperature and humidity sensor.
It's also rated water resistant to 100 meters (328 feet), and has a coated screen to make it resistant to scratches and dust.
For fitness enthusiasts, the watch tracks 11 different sports, including hiking, mountaineering and rock climbing. It will give you performance data like heart rate, time and distance. You can also receive notifications from your smartphone. Choose from 6 different watch faces to customize the watch to your liking. Battery life is listed as 14 hours in GPS mode with settings for battery saver mode.
Pros
Great for fitness enthusiasts who want to track a multitude of performance data.
Uses 3 satellites to track GPS.
Cons
Style is designed for men.
Our Take