9 Best Hiking Poles
For many years, Hiking poles have been essential equipment for many hikers, walkers, trekkers, and backpackers. They provide support on all types of terrain and can help by enhancing stability, especially for those carrying heavy loads. In choosing the perfect pole, many factors should be taken into consideration, like the length, features, material, locking mechanism, and many more, to fit your needs. There are tons of brands and types to choose from, and here, we list down our top choices of poles for the best hiking experience.

PEAK WALK Trekking Poles
The Peak Walk Trekking Pole is made of 3k Carbon Fiber, known to be applied to aircraft casings, car shells and protective bodies of high-tech products to achieve lightweight and high strength. This reduces the load of legs and knees at least 30%, especially going downhill, it's very helpful to reduce muscle pain. This pole's height can range from 36.4" to 76.4", perfect for kids and tall adults. It also can be disassembled down to 19.7 inches to fit in your backpack. It has a tungsten carbide tip, known to be very hard and durable. Upon purchase, the pole comes with rubber tips, a snow basket, and a mud basket.
Pros
3k Carbon Fiber
Ultra-light at 7.5 oz
Tungsten carbide tip
Cons
Attachments may come loose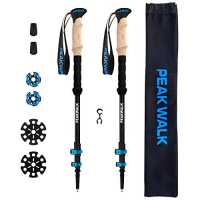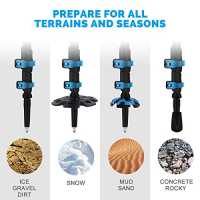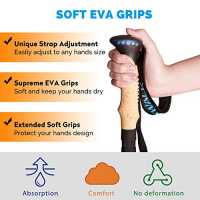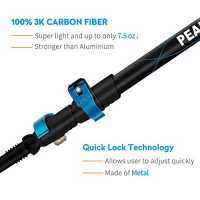 Our Take
I love being able to bring all the things I need in my backpack and it is very important for me that everything I bring is lightweight so that the lesser the weight the more I could bring my essentials anywhere I go. With the help of a sturdy hiking pole like the PEAK WALK pole, I am sure that I could keep my balance even if I'm bringing so much weight at my back.

Since its body is made with a 3k carbon fiber, I am sure that it won't break in the middle of my trip since this technology had been used for heavy-duty technology like airplane bodies and so on. It is height is adjustable making it very versatile and at the same time it is easy for me to adjust to the length that is perfect for me and because it comes with many different kinds of tips, I feel assured that no matter where I go, whether it may be on a muddy path of a rocky trail, the PEAK WALK pole will come in handy.

TheFitLife Nordic Walking Trekking Poles
The Fitlife Nordic Trekking pole is made from high quality 7 series aviation aluminum with an anti-shock mechanism. It is sturdy with only about 0.6 lbs per pole with a strength that could carry up to 440lbs. It has a twist quick-lock that offers secure fastening to fix the length, the measuring scale is in centimeters and clearly labeled for quick and accurate positioning. Its handle is made from rubber and EVA foam that provides the best grip by adjusting excellently to your hand and absorbing sweat in a natural way, thus keeping your hands cool and dry all the way. Its anti-shock mechanism noticeably reduces damage from impact force.
Pros
Affordable
Made from 7 series aviation aluminum
Lightweight
Great customer service
Our Take
As a consumer, it is very important for me that the products I purchase are of course in the best quality. While these trekking poles by The FitLife comes in a very sturdy and strong body, they also offer great customer service.
Off the bat, the poles are sturdy because of the 7 Series Aviation Aluminum Material that has a shock-absorbing effect which can strongly reduce damage from any impact force. Since its collapsable, worrying about it failing to hold on is no issue because it has a strong quick lock that helps hold your pole in places while offering you a wide range that spans from a 26" to a 53" length quickly. They are handy enough to fit your backpack once collapsed and they are strong and light. You'll feel 100% satisfaction from the moment you received the trekking poles. They come with a carrying bag and a full set of rubber accessories for trekking, hiking, nordic walking, and backpacking, etc. We are quite sure that you will be super-impressed with the durability, portability, versatility and high quality of our trekking poles.
$24.98


TrailBuddy Trekking Poles
This pole is made from aircraft-grade aluminum 7075 known to be about 4 ounces lighter than the typical 6061 Aluminum. It can withstand pressure and impact better than carbon fiber; this is crucial most especially if hiking on rocky terrain or supporting heavier weight. For this adjustable pole, lever locks are used for easier adjustments and you can lengthen or shorten within seconds. Its handles are made from cork that are comfy to use in both hot and cold temperatures, are moisture-wicking, and mold to the shape of your hand while the strap is padded to avoid chafing your skin.
Pros
Strong and durable
Easy to adjust
Lightweight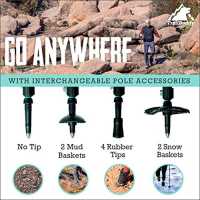 Our Take
Having sweaty hands while being on a hike is very much a bummer because I used to have a pair of poles that would just slip out my hands. It is important for me when choosing a pole that it has a handle that is both comfortable and can absorb moisture, especially on wet weather, and this is where the Trailbuddy Trekking pole comes in handy.

The handles on these poles are made with a cork grip that gives maximum comfort and has an awesome grip to it and not to mention, it has a moisture wicking handle that absorbs sweat and can keep my hands dry, exactly what I need for my sweaty palms.

Because of its Aluminum 7075 body, these poles are surely strong enough and durable enough to support you and the good thing about these is that they don't add up weight to your essentials because they are lightweight and are up to 4 ounces lighter than other types of aluminum, like that of the 6061 aluminum. Don't miss out on these premium quality poles!
$34.99


Cascade Mountain Tech Aluminum Adjustable Trekking Poles
With a body weighing 10.4 oz, this "aircraft grade" aluminum pole by Cascade Mountain Tech provides hikers, walkers, backpackers, campers and many more the best option for a lightweight strong pole, the difference you would feel most when on long hikes or daily walks. The pole can extend from 26" to 54" while being only 21" when disassembled. It has a 4-step easy quick-lock mechanism that is sure to firmly secure your locks before using. The poles are packaged with 4 sets of additional tips perfect for any occasion and comes in 2 handle variants; cork and EVA foam, for you to choose from.
Pros
Lightweight
Easy 4-step quick-lock
2 handle variants to choose from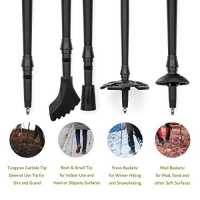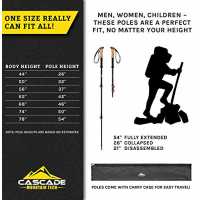 Our Take
Retailing at only $19.99, these affordable hiking poles offer more value than how much you have paid for. It is with no doubt that Cascade Mountain Tech lives up to their claim of offering high-quality poles at a cheap price point. Imagine paying for hundreds of dollars when you could only get hiking poles at a more affordable price for the same quality!

These poles are extremely lightweight as weighs less than a pound while providing strength. The locks on these poles are remarkably easy to use and long-lasting too. What makes this product a great choice is that the brand offers 2 handle types to choose from, whether you are a cork guy or a foam gal, never feel left out because they have something in store for you.

Grab these hiking poles now and make the most out of your money.
$22.99


Cascade Mountain Tech Twist Lock Trekking Poles
Another Trekking pole from Cascade Mountain Tech offers the same lightweight aluminum body, with a twist locking mechanism. Made from aircraft-grade aluminum that provides a more durable option if you are planning a more challenging hike or aren't concerned about the weight of the pole. The tips are made from durable Tungsten Carbide. Tungsten Carbide tips will hold up for long treks on all types of terrain. Additional tips such as caps for paved surfaces, baskets for snow and rubber tips for asphalt are included. For better comfort, the poles come in both EVA foam and cork grip options to meet your personal needs.
Pros
Lightweight
Durable
Offers handle options
Affordable
Our Take
These specific Cascade Mountain Tech poles are the same affordable, lightweight and durable poles as the previously mentioned version except that these have the twist-lock mechanism. What's great about the poles offered by the brand is that they give consumers the choice as to which type of pole they prefer, whether it be with a twist lock or the quick-lock mechanism, and offer the selection of a cork handle or EVA foam handle, all of which share the same strong aircraft-grade aluminum body.
$20.99


Foxelli Carbon Fiber Trekking Poles
These poles are made from 100% carbon fiber material, which is known for its incredible lightness as it also is shock-absorbent and can significantly minimize the impact on joints. Each pole weighs only 7.6 oz, allowing you to move quicker and faster while exerting less energy. Durable and sturdy, these walking sticks are designed to withstand even the most challenging hikes or backpacking trips. With a quick-lock technology, these hiking poles are incredibly easy to use and effortless to adjust. Retractable from 24" to 55", they work for a wide range of different heights. The handles are made from an anti-slip natural cork grip that absorbs sweat and moisture and will keep your hands cool and dry. It also offers extra-padded, fully adjustable, breathable wrist straps to make sure that you don't accidentally drop your poles and provide you with the maximum comfort throughout the day.
Pros
Lightweight at 7.6 oz per pole
Quick lock
Carbon Fiber material
Cons
Maybe too long for shorter people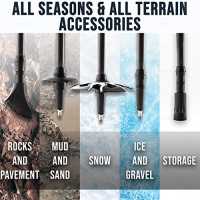 Our Take
On an almost daily basis, I always carry with me many of my work essentials on my back and it feels excruciating especially with less support. When I'm on a hike the feeling is worse because my hiking essentials are way too much and heavy. It is very dangerous for me to go on a hike with no support at all, and this is where a hiking pole is important and just like these Foxelli Carbon Fiber poles, I am sure that I get the support that I need.

These lightweight Carbon Fiber poles are really durable and because of its shock-absorbing feature, it helps in giving support especially when backpacking. Its cork grips are comfortable and absorb moisture.

These poles come with 5 tips and baskets which are perfect for any kind of terrain, especially snow, mud and even for asphalt. The Foxelli poles are highly rated and recommended by many consumers, thus making it a great choice for you!
$59.97


Foxelli Folding Trekking Poles
These poles foldable poles by Foxelli can be folded down to only 14.6 inches, allowing you to fit them into most bags and suitcases with ease. They weigh only 11.6 oz. each, not only are they light, but they are incredibly sturdy as they are made of aircraft-grade aluminum alloy 7075. From challenging ice mountain climbing to casual wandering around the neighborhood - our included heavy-duty accessories and tungsten carbide tips will not let you down, whatever the terrain or the season it may be. The handles are made from anti-slip natural corks that absorb moisture, making sure that your hands stay dry throughout your hike.
Pros
Collapsible and easy to store
Strong locks
Lightweight
Cons
May be too tall for shorter people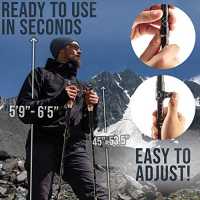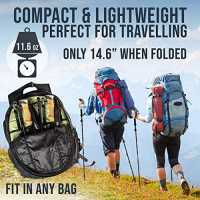 Our Take
This version of the highly rated Foxelli line of on Trekking poles offers a collapsible functionality that makes it easier to store. There is no need for disassembly as storing it only requires you to loosen the safety locks and then fold. It is very easy especially for those who are joining trail runs. Because time is of the essence for trail running athletes, these poles are perfect and for sure they will have no problem in assembling these poles.

They offer the same high-quality and durable aluminum body, sure to hold your weight and provide great comfort on your hiking journey. With 5 sets of tips and baskets, you are sure to be able to use these anytime and anywhere.
$39.97


Covacure Trekking Poles Collapsible Hiking Poles
This Covacure Trekking Pole offers a unique folding system that can be folded up from a 14" easy to store pole to a 43" and up to 51" real quick. Made from 7075 Aluminum Alloy that can withstand pressure and impact better than carbon fiber poles. The handles are made from an ergonomic EVA foam with wrist straps for moisture absorption and skid resistance. The upgraded trekking pole tips made from carbide tungsten use up more material so that it becomes more resistant to wear and slip.
Pros
Lightweight
Easy to assemble and fold
Can fit in small carry-ons
Cons
Rubber tips wear fast
Uses cable that may break over time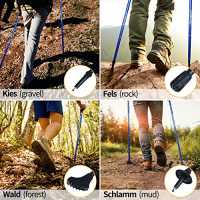 Our Take
Going on a Nordic Walking trip offers so many health benefits. It helps with weight loss while improving stamina and your immune system, but with that in mind, bringing the right tools is very essential for Nordic walking is very important, especially when it comes to choosing the right walking/hiking poles, and I think the Covacure Trekking pole is a perfect example of the right tool. They are known to be standard equipment for many hikers, trekkers, backpackers, and snowshoers. These poles do enhance stability and can be used in many terrains. This versatile product is not only best for Nordic walking but all-around use.

What's great about these is that these poles can adjust even for shorter people (5'1 minimum) while it can also adjust for tall people with the help of its telescopic adjustability. These poles are also great for traveling as they can fit in small carry-on bags. While the rubber tips aren't Covacure's greatest suit, They offer a free replacement service as soon as your current ones wear off.
$29.99


Bafx Products 1 Pair (2 Poles) Adjustable Anti Shock Strong & Lightweight Aluminum Hiking Poles for Walking or Trekking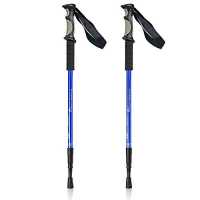 These affordable hiking poles are made of lightweight 6061 aluminum weighing in at approximately 12.4 ounces per pole. They come with ergonomic grips, extra-wide padded wrist strap and an anti-shock feature in each pole to help make our hiking poles the most comfortable poles you will use. Each pole has a carbide tip and is packaged with 4 spare tips and 2 mud baskets; the essentials that you need.
Pros
Anti-shock feature can be deactivated
Great for different heights of people
Cons
Not very compact for storage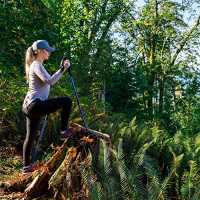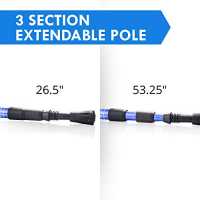 Our Take
I wasn't sure about this product at first because it looked very simple, but that's where I am wrong. As they say don't judge a book by its cover because they offer more than it looks, they may look simple and uncomplicated like the rest of the hiking poles and their locking mechanisms. I am really glad I got these - the support and the anti-shock made the hike more manageable and they're very easily adjustable. Although they don't come in a folding or disassembling body, they provide the essentials that I need from a hiking stick.
$20.99