9 Best Hiking Shoes for Men
Be it scaling up a rocky mountain, walking past muddy paths or strolling some famous mountain trail, wearing the right pair of hiking shoes is one of the most important decisions you wouldn't want to miss out on. Hiking on the wrong pair of shoes may cause serious damage to your trip, not to mention, your feet! You may be more vulnerable to strained muscles, blisters, and some injuries.
Compared to early hiking shoes that were heavy and usually made of leather, modern hiking shoes give you a more light-weight and comfortable option while providing maximum support and, premium durability and water protection.
We have collated and reviewed the best hiking shoes in the market. So, for your next hiking trip, refer to our list and choose the best shoes for you!
9 Best Hiking Shoes for Men

CAMEL CROWN Men's Hiking Shoes Low-Cut Breathable Leather Casual Style Hiking Boots
This hiking shoes by Camel Crown is made of 100% suede leather and an advanced polymer webbed mesh. Its midsole is constructed of lightweight Techlite material that provides superior cushioning for impact absorption and maximum comfort for navigating both aggressive terrain and urban landscapes. The shoes' soft insoles are deodorant infused to dissipate smell while providing extra cushioning. Featuring a unique fabric lining and Omni-tech sealed membrane seams, these shoes keep moisture and water out. It also keeps your feet warm and dry while sporting a ruggedly handsome look. The Omni-Grip Traction, a multi-terrain system matches specially formulated compounds and treads to specific environmental conditions with waffled rubber outsoles providing a secure grip for all occasions. Men's hiking boots have high strength hard protective pieces for toe cap and heel, crash-proof play, preventing bugs and snakes bite.
Pros
Quality materials
Value for price
Removable insoles
Our Take
What's worse than going on a leisure hiking trip only to have the need to stop once in a while because your feet are hurting? That is a total bummer for me. I couldn't enjoy the experience of breathing fresh air and seeing the wonderful view for a time because of my time resting; that is why it is very important to choose the right shoes to wear

What's very impressive about these CAMEL CROWN Men's Hiking Shoes is its versatility. The shoes are not made only for hiking but also for daily and heavy-duty wear, and because of the materials used in production, your feet are sure to feel comfortable in every step.

Low quality tends to go hand in hand with cheap products, but not in the case of these shoes. These shoes have a premium feel to it and not only are they functional, but they are also great looking with 3 colors that you could choose from to match your outfit in your next hiking trip.

CAMEL CROWN Hiking Shoes Men Breathable Non-Slip Sneakers
Camel Crown Men's Outdoors Non-Slip Cross Trainers, for Walking, Hiking, Camping, and Climbing is wear-resistant and slip-resistant. It has a heavy-duty non-slip grip outsole that is resistant against small puncture and has a reinforced collision dispersion system for improved field performance. Made from strong leather and mesh upper protective layer built with reliable workmanship won't fail on any long treks to provide improved endurance and foot support while allowing airflow in the shoes and wicking moisture away. The dynamic shock absorbing Ortholite insoles help support the ankle for a more comfortable feel. The shoes come in 3 different colors to choose from.
Pros
Ortholite insoles
Great for all seasons and outdoor activities
Cons
Tend to have a narrow fit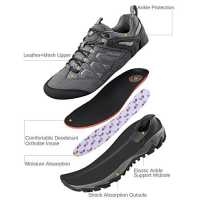 Our Take
In any outdoor activity I do, I always want to make sure that I am well prepared for it. I make sure that everything I need with me is well prepared and ready for transport, but considering that it is an outdoor activity, where is the fun in it if the weather does not cooperate? One minute it's sunny, and the next, it's already showering. For the perfect footwear on a hiking trip, I need something that is versatile and would stand any weather and any season. With this, The Camel Crown Men's Outdoors Non-Slip Cross Trainers is a perfect choice as footwear.


Made from leather and a large are mesh and an inner mesh lining, I am sure to have cool dry feet even on a rainy day. The workmanship on this product is very evident with its clean construction and without a doubt will last long. As this was made for cross-training, it is expected that these shoes are durable and reliable with any outdoor activity, may it be hiking, climbing or even just going for a walk. They look really fashionable too!

Go and try this great pair of shoes, you surely will not regret this choice!
$58.99


TFO Hiking Shoes Men Waterproof Air Circulation Insole Ankle Support Non-Slip Lightweight for Outdoor Trekking Walking
This pair of shoes features a unique 4th-generation FIRST-TEX waterproof and breathable membrane lining, which keeps your feet dry and breathable even in Rainforest. It has a soft padded tongue and collar that has a perfect fit to the ankle, can absorb impact and help protect the joints. Its lightweight EVA midsole is perfect for a long-distance cushioning. The durable rubber outsole with multifunctional nails can provide reliable traction and grip even in complex terrains. Dig in your heels and keep your balance on steep terrain by premium heel brake. It comes with a great anti-collision toe cap, Tear-resistant suede leather, and round durable shoelace. TFO boasts its unique patented respiratory system that promotes air circulation as you progress, which alleviates the fatigue and reduces your feet temperature.

Pros
Multiple cushioning
Protective toe cap
Tear-resistant Suede leather
Patented Air Circulation Insole technology
Cons
Breaking-in may take time
Our Take
Having sweaty feet is a problem for many people, and for some, maybe its the disgusting feeling of having wet soaked shoes after a walk on the snowy ground or a rainy day. For whatever it is, having shoes that protect you from outside moisture while at the same time cools your feet to avoid sweaty feet is a premium -- that is a promise made by these TFO Hiking shoes.

It boasts its unique patented respiratory system that promotes air circulation, it helps relieve fatigue and reduces your feet temperature. They have been proven to be waterproof while at the same time comfortable. The shoes' soles are thick and heavy-duty, perfect for that rocky path that seems scary to hike through, also since it is slip-resistant, you are assured that you won't slide even if you stepped on that slippery boulder.
$53.98


Skechers Men's Afterburn Memory-Foam Lace-up Sneaker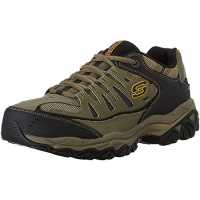 This Skechers classic is made from a smooth leather upper, a lightly textured durable synthetic overlay and mesh fabric front and side panels for cooling effect. It has reinforced synthetic overlay at toe and heel for superior protection. Its collar and tongue are padded for support. The After Burn - Memory fit shoe sports a Memory foam full length cushion comfort insole and an Articu-Lyte shock absorbing supportive flexible midsole for increased comfort.
Pros
Memory foam insoles
Affordable
Comfortable
Cons
Insoles may wear off faster
Sizes may be larger than normal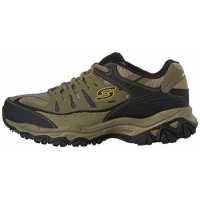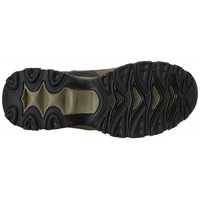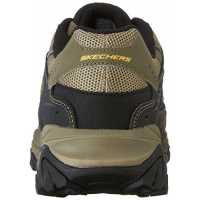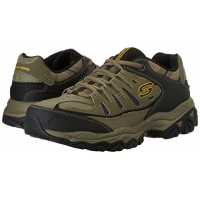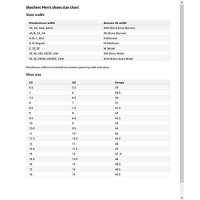 Our Take
For many of us who have wide feet, it is a struggle to find a pair of shoes that wouldn't scrunch up our feet at the sides and squeeze them till it feels extra uncomfortable, especially for hiking shoes. The Skechers After Burn Memory fit shoes is the perfect shoes for wide feet men who need more space at the sides and a comfortable inside. Because the insoles are made from memory foam, it gives maximum comfort in every step you take, while the body is made from leather and mesh that promotes better air circulation and cooling effect.

However, the memory foam insoles tend to flatten out after about 2-3 months of rigorous usage, especially with constant use. This issue could be resolved by changing and investing in insoles like the gel-type.

Overall, these shoes provide decent comfort and durability at a very affordable price.
$45.50


Merrell Men's Moab 2 Waterproof Hiking Shoe
For over a decade, the Merrell Moab has been the choice of hikers around the world. Famous for its comfort, and respected for its durability, no hiking boot is trusted on more trails. This pair of shoes features M Select DRY barrier impermeable membrane that seals out water and lets moisture escape and a pigskin leather-and-mesh upper. Its closed-cell foam tongue keeps moisture and debris out while having a protective rubber toe cap with a breathable mesh lining. The Kinetic Fit ADVANCED removable contoured insole with enhanced heel and arch structure and integrated cushion pod provides medium support with a molded nylon arch white its Shank Merrell Air Cushion in the heel absorbs shock and adds stability. Its midsole is made from EVA foam for stability and a Vibram TC5+ 5mm lug depth.
Pros
Waterproof
Durable
Comfortable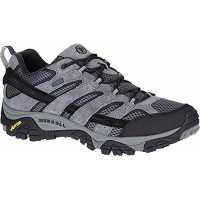 Our Take
A versatile pair of shoes like the Merrell Moab 2 should be one of your choice of shoes for your next hike! One of the reasons for buying these shoes is that they last a long time. It is also essential to note that the soles are made with a Vibram TC5+ with a 5mm lug depth, this means they do not wear out whether you are hiking mountains or just doing the daily urban hiking of a walking city like New York. The shoes also feature the M Select Dry technology. You are assured that water is sealed out and that moisture can escape from the inside to keep you dry especially when you're on the move.
$119.95


ASICS Men's Gel-Venture 6 Running Shoe
Designed to take on rugged terrain, the redesigned GEL-Venture 6 completely comes with a trail-specific outsole and high-abrasion rubber for confidence-inspiring traction. The Rearfoot GEL technology cushioning system attenuates shock during the impact phase and allows for a smooth transition to midstance, while the removable sock liner lets you insert custom orthotics for an even more personalized fit. It also is designed with reversed lugs that provide uphill and downhill traction on all types of terrain. ASICS High Abrasion Rubber a.k.a AHAR is placed in critical areas of the outsole for exceptional durability.
Pros
Rearfoot Gel technology
Removable sock liner
Specialized ASICS High Abrasion Rubber outsoles
Cons
Mesh material may fray easily
Our Take
Being always on the go and spontaneous, I love buying products like shoes that serve greater than its purpose. I prefer shoes that I could wear not only casually but also in a range of physical activities. As a heavy-duty user, this Asics Venture 6 is made as trail running shoes, which means it is durable and can handle rigorous usage. You could run in these shoes and climb trails and mountains with these bad boys. While it retails at a cheap price you get great quality with it. A must-try for your next climbing activity.
$59.95


Adidas Men's Rockadia Trail m Running Shoe
The Adidas brand has been associated with a deep-rooted connection with sport. A relentless pursuit to innovate with years of accumulating sports science expertise, the brand has long been providing great comfort with style through a wide range of consumers. The Rockadia Trail Running shoes were created to offer agile off-road performance in a light, comfortable package with its rugged traction. It features an air mesh upper to keep your feet cool and synthetic overlays for added support and a rugged toe cap to add extra protection for downhill routes, and a sturdy outsole grips uneven surface. This trail running shoes offer great flexibility and versatility while rendering premium cushioning.

Pros
OrthoLite® sockliner
Cloudfoam midsole
Traxion outsole for maximum grip
Cons
Smaller than normal size
Tendency to squeak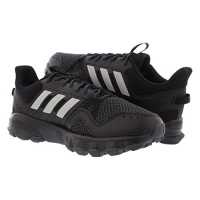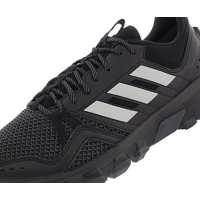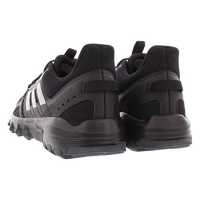 Our Take
When I hear the name "adidas" what immediately comes into mind is mainstream sporting wear. For me, this means that they have been proven to have a balance between performance and style. Not only are they fashionable looking and perfect for a sporty get up, but they are proven to give great comfort and protection. As they are committed to providing quality sporting wear, it is without a doubt that these pair of shoes will not disappoint.

The shoes come with an Ortholite technology sockliner, which means research and modern technology has been used to create the perfect insoles to maximize comfort and performance, this holds for their signature Cloudfoam technology which has strong support for your heel and arch. As this is a trail running shoes, the soles are Traxion enhances for stronger grip especially when hiking or rather running off the grid.
$65.05


Columbia Men's Newton Ridge Plus II Waterproof Hiking Boot
A durable, lightweight hiking boot, with coated leather, built for comfort, protection, and style. Featuring waterproof, seam-sealed construction, cushioning, and superior traction outsoles – all geared for miles of terrain in any weather. This men's boot is inspired by classic mountaineering style. Designed for rugged wear with toe and heel barriers and an extended outsole toe overwrap to guard these key wear points. Combining waterproof seam-sealed construction, PU coated leather, suede, mesh and metal hardware upper, your feet will be comfortable, dry, and very happy in this hiking boot. The Newton Ridge Plus II Waterproof Hiking Boot features our TECHLITE lightweight midsole, for long-lasting comfort with superior cushioning and high energy return. It has a signature Omni-GRIP non-marking traction rubber outsole provides high grip across a wide variety of terrain, and versatile three season use.
Pros
Waterproof
Techlite Lightweight midsole
Omni-grip outsole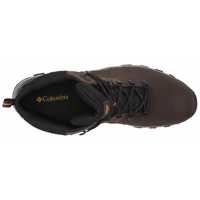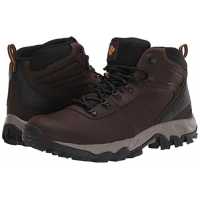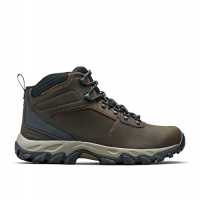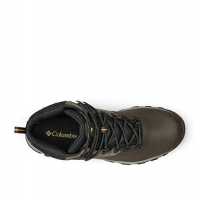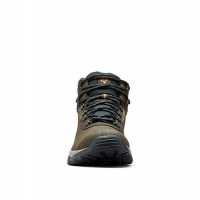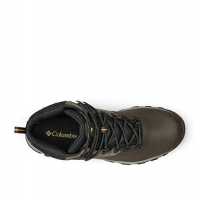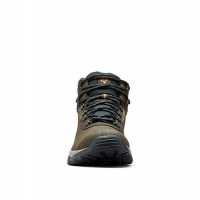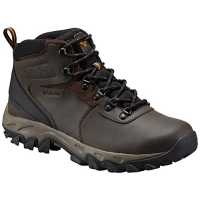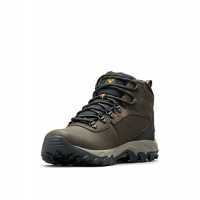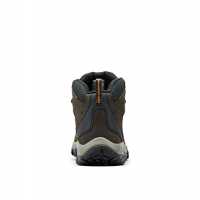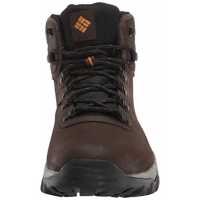 Our Take
I love it when shoes give me the floating like feeling, by floating I mean maximum comfort while feeling very light on your feet. Boot often comes in this really thick and heavy body, as expected to provide for heavy-duty use and long-lasting durability. Not for these Columbia Newton Ridge Plus boots.
They truly live up to their lightweight claim. At first look, you'd probably think otherwise, but as soon as you pick them up, you are not going to expect how light it actually is, and not only that, you'd expect that the inner body would feel hard and uncomfortable which isn't the case for these awesome looking boots. Because of the TECH LITE lightweight midsole, you're sure to have long-lasting comfort with superior cushioning and high energy return. Lastly, the shoes feature their signature Omni-GRIP non-marking traction rubber outsole, so no matter what kind of terrain you are hiking on, in any season you are sure to be provided with a high grip.
Go and check out these cool boots from Columbia and expect to have a great time and comfortably light feeling in your next hike.
$76.69


New Balance Men's 481V3 Water Resistant Cushioning Trail Running Shoe
This New Balance Trail running shoes is built for athletes who seek premium cushioning and flexibility for their outdoor workouts. These trail shoes for men deliver comfort and durability the entire time you're off-road. It uses their CUSH+ responsive midsole and the MB Ultra Soft comfort inset, whether you need stability, additional cushioning, a lightweight feel or minimal design, you'll find the perfect trail companion with these men's trail running shoes.
Pros
100% leather
CUSH+ midsole
NB Ultra Soft insets
Cons
Fits small
Not very water resistant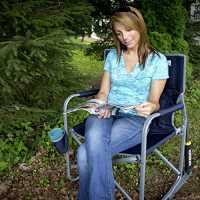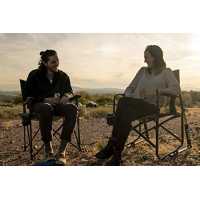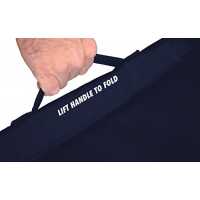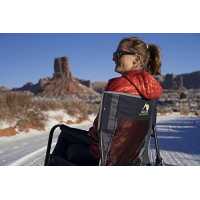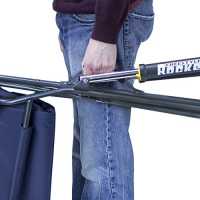 Our Take
With an affordable price point, this new balance trail running shoes provide great comfort while giving you that rugged look. With a little breaking in, you're sure to have a comfortable time wearing the shoes as it provides maximum support for your feet. These are also great for any terrain and outdoor activity like camping, hiking and as it was made, for running.

It is important to take note that these shoes may come small, just be sure to pick up a pair that is about 1 to 1.5 sizes higher, and after that, no one surely can take the comfort away from you!
$59.99