9 Best LED Camping Lanterns
Whenever you are on a camping trip with your friends and family, it is essential to have a reliable source of light, especially if you are planning to stay at the campsite over the entire weekend. With this, it is necessary that the lantern you brought with you is not only energy efficient but also has a long battery life. That is why solar-powered camping lanterns are perfect when you want to go on a weekend getaway.
When choosing for the right solar-powered camping lanterns, there are a few questions that you need to answer. First, does it illuminate well? And, second, how fast does it charge, or is it safe? On top of that, the price is one of the most critical factors as well. Is it worth it? Is it too expensive for what it can do? Is there a cheaper alternative?
If you still find yourself in the qualms to answer these questions, we have come up with a comprehensive list of solar camping lanterns that are not only high quality but are also affordable to help you find the one that you can bring with you to your next trip!
9 Best LED Camping Lanterns

LE LED Camping Lantern
This portable camping lantern comes with two hooks, one on the top and the other at the base that can hang the tent light upside down to get better light when lighting up a big area. It has an IPX4 protection grade, making it quite suitable for camping, hiking, fishing, walking the dog, etc. And the 1000 Lumens brightness and 360-degree lighting provide you the sufficient intensity.

The IPX4 rating means this camping light can protect against splashing water from all angles. Using 1.5V 3 x D batteries as power supply enables it to be used for up to 12-25 hours, which last longer than most of the camp lamps in the market, saving energy. It has a removable cap that can be upside down for camping, snowstorm, emergency usage, or other outdoor activities.
Pros
Waterproof
Has four light modes
Energy efficient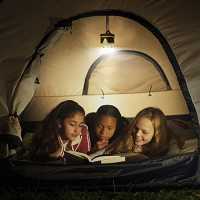 Our Take
One of the most crucial features that a good LED lantern must possess for it to be suitable for camping and hiking is waterproofing. That is because waterproof lamps like the LE LED Camping Lantern will stay safe and functional whenever you need it - no matter what the weather conditions are.

Furthermore, this one is powered by batteries and can be used up to 25 hours, which is enough for the entire weekend when you're camping. You can also bring with you spare batteries to extend the life of the lantern, depending on how long you plan to stay at the campsite.

What's incredible about this LED lantern is that it features four lighting modes and can be dimmed. With a simple press of a button, you can adjust the brightness of the light not only to make sure that your area is well illuminated but also to conserve as much battery as possible. All in all, this lantern is highly commendable. Great buy!
$19.99


Vont 4 Pack LED Camping Lantern
This lantern is super bright and long-lasting and equipped with 30 crazy bright LEDs. This compact lantern cuts through 360 degrees of darkness on the stormiest, dimmest nights. It can quickly light up the entire tent or room, and the battery life lasts over 30 hours -- that is twice longer than its competitors.

It also has a unique, patented, collapsible design that reduces or increases the light as you collapse or expand the lantern. When collapsed, it can go as small as your phone, which easily fits in your backpack or emergency kit.

This LED lantern is constructed with aircraft-grade materials and can survive a 10-foot drop, being temporarily submerged underwater, and even caffeinated toddlers.
Pros
Very bright
Easy to use
Durable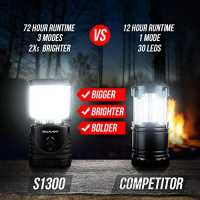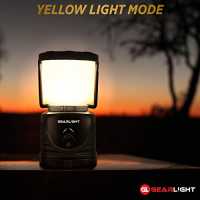 Our Take
There are so many good things to say about this lantern. It is probably one of the LED lamps in the market that has the most luminosity and can illuminate the brightest. Besides, it's equipped by at least 30 bright LEDs, making it super powerful even in stormy nights. It can quickly light up an entire room. It's also straightforward to use. All you need to do is to push it open for light and push it close to turn it off.

Construction-wise, it feels like this lantern is made with high-quality materials and is very durable. For its price, this lantern is a snatch, especially for budget-conscious campers and hikers.
$19.99


GearLight LED Camping Lantern S1300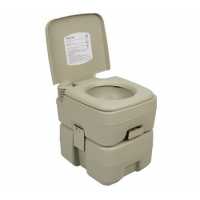 The GearLight LED camping lantern is much bigger, brighter, and longer-lasting, which can quickly light up a campsite or an entire tent with its powerful S1300 lamp. The newly designed S1300 outshines and outlasts the standard, as seen on TV collapsible lanterns. A single set of 3 D batteries can provide up to 72 hours of continuous use. It is engineered to be portable and safe; this lightweight lantern is ideal for lighting enclosed spaces such as camping tents, closets, or attics. The one-touch power button allows for quick access to 3 versatile modes (High, Medium, Warm Yellow), so you can adjust the brightness for any situation. Built for rough handling, this lantern can survive accidental drops and perform reliably in all weather conditions—suitable for outdoors, indoors, and emergencies.
Pros
Perfect for lighting huge areas
Portable
Not very expensive
Cons
Can have issues with brightness due to frosted glass
Our Take
If you are looking for a lantern that is big enough to illuminate a vast tent, then this LED lantern from GearLight is perfect for you. You will be surprised at how much light this lantern actually gives off. It will light up a whole large room, tent, or cabin. It's straightforward to use, and amidst its size, it's very portable. Aside from camping, this LED lantern is also perfect as an emergency light inside your home when the light goes off due to a storm or an unannounced blackout.

The most impressive feature of this lantern, however, is its price. For its price tag, this lantern can compete with expensive ones in the market in terms of its lighting capacity and battery life. Definitely worth it!

EZORKAS 2 Pack Camping Lanterns
The latest COB bulbs offer ultra-bright lights, and 360-degree coverage lighting provides high visibility to meet ample area brightness. It is a rechargeable camping lantern and also powered by a battery. There is a built-in 18650 battery so that you can recharge the light via the USB charging cable, but you can also place 3*AA batteries to use it. By using these two ways of battery supply, it will never let you be left in sudden darkness. The compact lamp body prevents it from being damaged from collisions. Furthermore, this rechargeable lantern is water-resistant due to its ABS military material and COB bulb. This camping lamp can adapt to all kinds of severe hurricanes and rainstorm weather and can be used as a flashlight, can be lifted vertically as a lantern, and can be hung on trees or others. Three strong magnets on the base allow it to grip on any metal surface to free your hands too!
Pros
Very bright
Can be used as flashlight
Has magnetic bottoms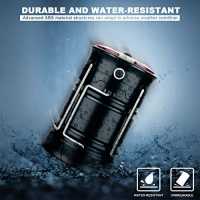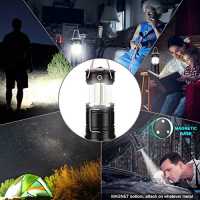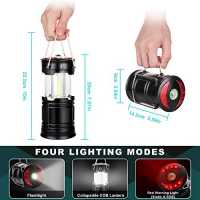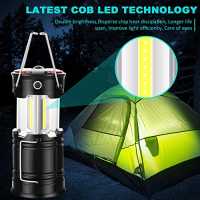 Our Take
This rechargeable LED lantern from EZORKAS is a superstar. It is made with high-quality LEDs and COB bulbs that emit super bright light with 360-degree coverage, making it perfect for illuminating broad areas like a cabin or a vast tent. Featuring four lighting modes, you can also adjust the level of brightness that the lantern emits to save battery and to create the appropriate lighting mood that you want.

Furthermore, the end of this lantern can also be used as a flashlight and can illuminate a focused area for a certain distance. It also has magnetic bottoms that make it easier to position, especially if you have metallic tent legs. Perfect for a weekend getaway with your friends and family! Highly recommended!
$23.95


MalloMe LED Camping Lantern Flashlights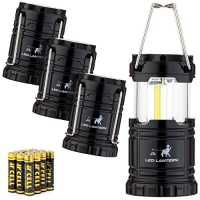 This lantern is brighter and collapsible because of the latest technology called Chip-On-Board LED technology, which allows it to illuminate larger areas with more light than with what is commonly found in 30 LED lanterns. It can produce up to 350 lumens, and four extra-bright LED lamps powered by the latest COB lighting technology designed to be the brightest and best value on the market. Enjoy the great outdoors without second guessing if you packed everything for your nights as it comes with over 100,000 hours of LED bulb lifespan, which can outdo any candle camp lamp. The lightweight, compact, and portable design is also a huge bonus.
Pros
Collapsible
Portable
Inexpensive
Cons
Not as bright as other lanterns in the list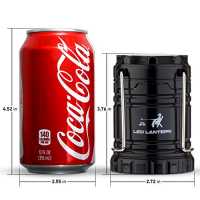 Our Take
When hiking or camping, especially if you are expected to walk long distances because of the terrain, it is important that you bring with you portable versions of the necessary tools that you need. On that note, a collapsible LED lantern makes sense especially if you are heading towards areas where there are so many trees that the moonlight is blocked. This lantern from MalloMe is one of the best of its kind in the market. The LED bulbs are durable and can last for a very long time and the entire lantern can be collapsed so they can easily fit in your backpack. It's also very bright and can illuminate a wide area. In terms of its battery life, this one can compete against expensive brands. Because of that, the MalloMe LED lantern is definitely a camping must-have!

Gold Armour 4 Pack Portable LED Camping Lantern Flashlight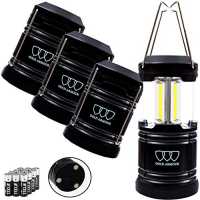 The Gold Armour 4 Pack Portable LED Camping Lantern Flashlight is designed with the user in mind. Its light is also warmer in color than the competition's 30 LED lanterns, eliminating that cold, harsh feel. The warm light also leaves your sleep rhythm intact, helping you avoid insomnia that other brands might cause. Strong magnets attached to it even allow the LED lantern to stick on any iron surface to be used as a wall light. This is also water-resistant and can withstand different extreme weather conditions.
Pros
Emits warm light that mimics natural light
Waterproof
Well-made and durable
Has magnetic bottoms
Cons
Not as bright as other lanterns in the list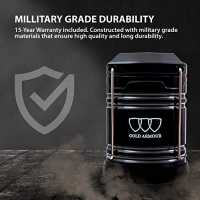 Our Take
Having a semblance of normal while camping is essential. In most cases, campers experience insomnia when they go out in the woods as their regular sleeping pattern is affected by the change of environment. Having a light that is designed to mimic natural light like the Gold Armour Portable Camping LED lantern will help you normalize your sleeping rhythm. The warm and cozy light that it emits can help you sleep well even if you are in a new environment. On top of that, the light of this lantern doesn't feel harsh, unlike other lamps. Other features of this lantern include water resistance and magnetic bottoms.

In terms of quality, this lantern is very sturdy. It appears to be made with high-quality materials and is well-made. Overall, this lantern should be part of your camping kit, and that is not debatable.
$22.99


Tough Light LED Rechargeable Lantern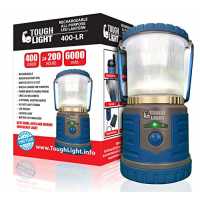 The 400-LR lantern from Tough Light is waterproof with an IPX-6 construction and was also drop tested to 5 feet. It requires no batteries and only takes 4 to 7 hours to charge but offers 200 hours of light at 40 lumens, 75 hours at 162 lumens, or 24 hours at 400 super-bright lumens all from a single charge. Tough Light has a quality power bank and charges most mobile devices, including cell phones, go pro cameras, and tablets for convenience when enjoying the great outdoors. This lantern is one of the best emergency survival lights for power outages or vehicle emergencies with six optional lighting modes, including SOS and RED flashing hazard. In a real emergency, you must have a reliable light and a charged mobile phone, making this a perfect addition to your survival kit. On top of that, it can also be charged from your car's battery through the 12-volt DC charger (cigarette lighter), so even if the power is out for weeks or you enjoy long camping trips, you can still have light and be able to charge your cell phone as well.
Pros
Very durable
Can be used as a power bank charger
Has a built-in cigarette lighter
Has six different lighting modes
Cons
It sometimes has issues with charging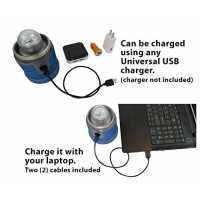 Our Take
The Tough Light LED Rechargeable Lantern's claim to fame is not just its luminosity but its durability. This is probably one of the most durable lanterns in the market today. It has survived a drop test of up to 5 feet, so you don't have to worry about breaking it when it accidentally falls off your grip, especially during a tedious hike. On top of that, it has many other functionalities that make it a worthy lantern to belong to this list.

Aside from being a high-quality lantern, this one can also be used as a power bank to charge most of your gadgets like cellphones, cameras, and tablets. It also has a built-in electric lighter and comes with six different light modes. If you are looking for an LED camping lantern that is value for your money, this one is perfect for you! Highly recommended.
$64.95


SUAOKI Led Camping Lanterns
The SUAOKI LED Lantern Lights comes in an accordion-shape design for use in multiple scenarios & spaces, making it easy to expand or collapse. The LED Lantern enables you to get the maximum or minimum brightness as needed and can be recharged via solar power or USB cable, allowing it to be powered up for longer. It is portable, foldable, and durable, and can be adjusted to any particular space to fit your current needs. Collapsing to a size smaller than iPhone 6 plus, it can be folded down completely to take the least space in your backpack. The SUAOKI LED Lantern Lights can be used as a regular Lantern flashlight or as a power bank charger to charge your gadgets with the built-in USB output port as well. Ideal for outdoor activities such as camping, hiking, fishing, or as a lighting source for a late-at-night porch reading.
Pros
Fast charging
Can be charged through solar power
Portable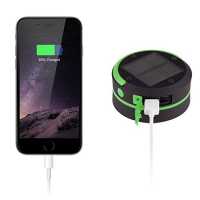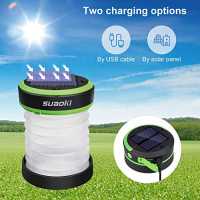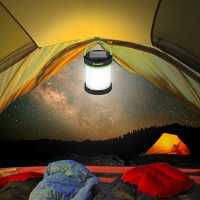 Our Take
Charging a LED lantern can sometimes be a challenge for some campers, especially if the lamps that they own don't charge fast. If that is also a problem for you, then you might want to consider the Suaoki LED Camping Lantern. Not only that, it is fast charging; it can also be charged in two ways. You can charge this lantern through electricity (by plugging it in a socket) or through solar power. With these capabilities, you don't have to worry about batteries running out during your weekend-long camping trip! Bonus: you can also use this as a power bank to charge your phone!

ENERGIZER LED Camping Lanterns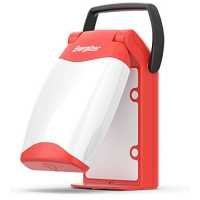 This lantern puts out up to 500 lumens of light on high mode, delivering bright visibility when you need it, from hiking to camping to blackouts. It can easily fill a room or campsite with bright light while allowing you to switch between 3 light mode settings: high, low, and night light. Use high mode for the brightest light, and low mode for lower light. With the most conservative setting, this lantern has at most 350 hours of run-time. Furthermore, it is durable, rugged, and has the IPX4 water-resistant construction quality that withstands splashing, allowing it to weather a storm and be the perfect companion for a camping trip. This lantern folds out for 360° full-view area lighting that will fill the room or the campsite - or it retracts for more directional lighting. Moreover, it comes with an integrated handle for easy use and handheld portability.
Pros
High Quality
Made by a reputable brand
Can last up to more than 14 days
Very bright
Cons
More expensive than others in the list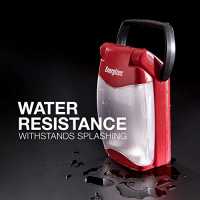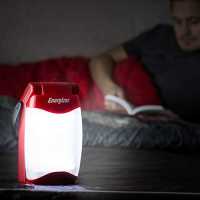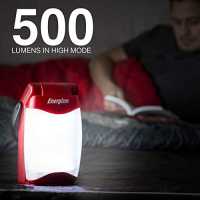 Our Take
If you are looking for uncompromising quality, then go for a brand that bears its reputation for all the products it sells. Energizer has made decades of good reputation as a battery and lighting brand. It has proven over and over again that whatever it puts out in the market will always be high-quality, durable, and sturdy. The Energizer LED Camping Lanterns is no exception to this. Living up to its name, this lantern is not only very bright, but it is also well-made. The torch itself puts out up to 500 lumens, which are bright enough to illuminate a huge tent. However, the feature that this lantern is most proud of is its battery light. On a low setting, this lantern can maintain its battery for as long as 350 hours. Yes, it can last up to 14 straight days. Need I say more?
$20.97