6 Best Multitool For Backpacking
Whether you hike, camp or backpack, you'll find there are times that you need a knife for cutting tent cords, or a screwdriver for a quick repair job. You may even want a bottle opened to have a refreshment at the end of your hike.
But nobody wants to carry a toolbox when backpacking, and if you pack what you think you'll need, you'll probably find yourself in an unexpected situation and be lacking something at the last minute.
That's when it's great to carry a multitool when hiking, camping, or for everyday use. Sometimes called a PST, or a Pocket Survival Tool, these handy little gadgets pack small but perform big, with anywhere up to 20+ tools at your disposal.
Before we get into our multitool reviews, let's look at the different considerations for choosing the best backpacking multi tool.
Size & Weight
The best backpacking multitool has to combine functionality with a size and weight that makes it easy to pack and carry on long hikes.
Generally, the more functionality and number of components included in a multitool, the more it will weigh. That could be a deciding factor if you're looking at extraneous tools that you don't think you'll use. If you want an ultralight backpacking knife, you may sacrifice some functionality. But even those with a multitude of tools can be constructed to be light enough for backpacking.
How you'll carry the tool is another consideration when it comes to size and weight. You may not want to keep it in your pack, in which case you might choose one with a sheath that you can carry on your belt, or a pocket clip to attach it to your hiking shirt or jacket.
If you choose a lightweight multi tool, with a lanyard hoop or ring, you can carry it around your neck. We have even included an option that you can wear as a bracelet, which may be preferable for some hikers.
Finally, the material of the multitool has an impact on its size and weight. The stainless steel options will be slightly lighter than the metal ones. And some have the addition of a rubber grip on the handle, which adds minimal weight but does help you to keep a firm grip on the tool when using.
Functionality & Types
It's important to remember that a multitool may not replace your favorite dedicated tool. That is to say the knife on a multitool, for instance, won't do the same kind of work as a high-quality camping knife or a hatchet. So if you need a specific tool for a specific reason, it's probably best to carry it with you.
But the best multitools are intended to provide you with a variety of tools that you may not even know you need, until the situation presents itself. And when you do need an awl, or a ruler, you'll have one in your backpack.
The first multitool was invented by Tim Leatherman, whose original PST was basically a pair of pliers that closed up, with components like knives added to the handles. Since then, a multitude of tools have been designed to include multiple types of components and functions. There are those who still equate the name Leatherman with the multitool.
In terms of the types from which you can choose, the best multitool for hiking may be different than the best pocket tool that you will carry for everyday use, or the best survival multitool. It depends how you'll use it. Your hiking tool may have more options and be bigger and heavier than a pocket multi tool. Or, if you do carry a favorite knife, you may be looking for a multi tool without a knife. Those who will be taking it fishing or hunting may want different functionality than those who are camping, or those who are doing day hikes.
In general, our list mostly comprises those types of folding multitools that are similar to Leatherman's original design. These tend to be bigger but also include many tools, and the tools are bigger. A folding multitool usually opens to reveal pliers and then have multiple other tools and components. That makes them more versatile but also bigger than standard pocket tools or one-piece multitools.
Once your choice is narrowed to a folding multitool, you have to determine what functionality you truly want in your tool. Are you looking for a multi tool can opener as the most important component? Or do you need a choice of screwdrivers, or a choice of knives?
If you have determined what you absolutely need when hiking, and it's only a few components, your choice for the best multi tool may be very different than if you want multiple components.
Some of your decisions could include:
Whether you need pliers, and if so, whether you need regular pliers and needle nose pliers.
Whether you need a knife, and if so, whether you need more than one type of knife – a regular blade and a serrated blade, for instance.
Whether you need a screwdriver, and if so, whether you need different sizes, or different types, such as a Phillips screwdriver.
While you don't need to pack a bunch of gadgets you may not actually use, the point of a multitool is to prepare you for the unexpected, so it doesn't hurt to have some extra functionality while still keeping it easy to pack.
Most multitools will include the basics, like some kind of knife, so beyond those, you have to determine what you really want in your multitool.
Finally, when choosing the best multi tool, It's not always important that it's travel-friendly. But if you plan to fly and you don't want to check luggage, you may be looking at a small selection of TSA-approved tools that you can carry on the plane. We've included one on this list.
Using the Tools
Another consideration in choosing the top rated multi tool is what it's like to actually use the tools.
Here are some of the factors.
First, how you open the tools is important. Some multitools have all the components on the exterior of the tool, making it easy to pop them out to use. Some allow you to open each individual component with one hand. Others have a butterfly design where you hold it with one hand and flip it open, like a butterfly, opening the pliers and then allowing you to access the other tools.
It's also important to have a locking mechanism, meaning the tool locks in place when you've got it open. That keeps it from folding on you while you're using it, which helps prevent accidents and injury.
And then the actual ergonomics of the tool may be important to you. The size of the handle, for instance, may be a personal preference. You want to choose a tool that's the right size for you, making it easy to hold and use.
6 Best Multitool For Backpacking

Victorinox – Swiss Army Spirit X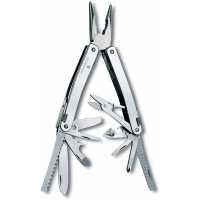 This multi-tool has 27 functions and comes with the famous Swiss Army knife name. The stainless steel construction means it's durable and lightweight for backpacking.
There are 27 functions listed, which includes a leather pouch for carrying and a hole for a lanyard.
There are 22 actual tools, and included among those are: needle nose pliers, several sizes of screwdrivers, a wire cutter, a bottle opener, a straight-edge blade and more. Among the functions listed are a coupling for a corkscrew and 10 individual springs that hold the tools.
This product has a unique design featuring those individual springs that hold the tools in place. This means you can access each tool individually from the outside of the handle. When you're using a tool, it locks into place, and then it folds away with a simple slide of the release button.
The Victorinox brand, made in Switzerland, provides you with the well-known name and a lifetime guarantee against defects in material and workmanship.
It's lightweight, at just 9.75 ounces, and is 4.13 x 1.24 inches in size. You can either store it in the case or hang it from your neck with a lanyard.
Pros
The Victorinox name is synonymous with quality multitools.
Each tool can be accessed externally and folds away easily.
Cons
May have extraneous tools that you won't actually use.
Our Take

Leatherman – Rebar Multitool
The Rebar multitool has 17 tools, a compact size and is relatively lightweight.
Among the 17 tools are a couple of knives, including a serrated one, needlenose and regular pliers, several screwdrivers, wire cutters that can be removed to replace them, bottle and can openers, a ruler, and more. The tools all lock in place when opened.
Includes a sheath and also features a lanyard ring for carrying around your neck.
Measures just 4 inches and weighs 15.2 ounces. It's metal with a black oxide coating.
Pros
A nice combo of many tools and smaller size.
The tools lock in place when in use.
Cons
You have to pull the tools out by hand.
Our Take

Leatherman – Free P4 Multitool
Another Leatherman product with a new platform that features magnetic closing and has 21 tools.
Among the tools are 2 types of knives, 2 different sets of pliers, spring-action scissors, 3 sizes of screwdrivers, wire cutters that can be removed for replacing, and more.
The unique design means all the tools are accessible from the outside of the tool and can be opened with one hand. Simply open or close with a push of your thumb. The magnetic locking feature then secures the tools in place when open.
When closed, it measures 4.25 inches and weighs 8.6 ounces. There's also a removable pocket clip for carrying.
Pros
All tools are accessible from the outside of the tool
Open the tools easily with one hand.
Cons
At 7 inches and 12 ounces, it's one of the bigger multitools.
Our Take
Any of these multitools are easy to love, but we love the Leatherman Free P4 multitool the best.
Here's why we selected it as the winning product:


Has every tool you should need.


You can remove and replace the wire cutters if they get dull.


All the components are accessible from the outside of the tool.


Easily open any tool with one hand by simply opening or closing with a push of your thumb. Has a magnetic locking feature that secures the tools in place when open.


Still easy to carry at 4.25 inches when closed and a weight of 8.6 ounces.


Has a removable pocket clip for carrying.



Gerber – Bear Grylls Ultimate Multitool
Gerber is well known for their knives and tools, and has teamed up with survival expert Bear Grylls to create this multitool with 12 components that lock when you're using them.
The rugged construction is stainless steel and weather-resistant with an ergonomic, textured rubber grip. The tools are all external for easy access. Among the 12 tools are different knives, several screwdrivers, scissors, wire cutters and more.
Comes with a nylon sheath, Grylls' pocket survival guide and a lanyard ring for carrying.
The product has a spring-loaded jaw allowing for one-handed use, and the patented "Safe.T.Plus" system, which locks the components in place when in use.
When closed it's 4 inches long and just over 8 ounces in weight.
Pros
Textured, rubber handle improves the grip.
Patented locking system keeps the tools in place during use.
Cons
May not be enough components depending on your needs.
Our Take

Leatherman – Tread Bracelet Wearable Multitool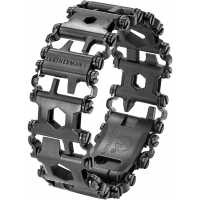 The third Leatherman product to make our list, this multitool is truly unique in that it's actually a bracelet. Each link of the bracelet is functional, creating a chain of Allen wrenches, screwdrivers, box wrenches and more.
The metal bracelet is modular and allows you to carry only the links or tools you want, or wear the entire 29 tools on your arm; also, adjust it to fit your wrist.
It's even TSA compliant so you can wear it anywhere.
The tools include components such as box wrenches, hex drives, several screwdrivers, a cutting hook, a bottle opener, an oxygen tank wrench and more. You can also purchase additional links.
To adjust the Tread, simply add or remove links in quarter-inch and half-inch increments to fit your wrist and choose your tools to carry. Its full size is 8.56 inches.
Pros
TSA compliant means you can travel with it.
Size and components are adjustable.
Cons
Not everyone wants to hike with a bracelet.
Our Take

Gerber – Suspension Multi-Plier
Another Gerber product, made by the company known for making knives and tools. This has 12 components and a lightweight, open-frame stainless steel handle, also known as a "butterfly-opening" handle.
Features Gerber's "Saf.T.Plus" locking system guarantees safety that ensures the tools are locked when in use. When closed, it's 4 inches long and it weighs 9.6 ounces.
The tools include several knives and screwdrivers, a wirecutter, pliers, scissors, an awl and more.
Comes with a ballistic nylon sheath and a lanyard ring for carrying.
Pros
Patented locking system keeps the tools in place during use.
Butterfly handle makes it easy to quickly access the pliers.
Cons
Depending on your needs, 12 components may not include everything you want.
Our Take