10 Best Portable Solar Charger
Going out on a camping trip with your friends and family is like reconnecting with the pristine nature and detach ourselves from the horrors of the noisy city for just a while. As much as possible, we don't want to deal with all the technology that we can - for experience's sake. However, there really are a lot of things that we cannot do without the help of some tools. Unfortunately, some of the most convenient tools need electric power. That is where a portable solar charger comes handy.
With that, the name itself suggests that a portable solar charger must be (1) portable, (2) solar-powered, (3) work as a charger for electronics. All of these three functions must work hand in hand to be an efficient charger. So if you're looking for a good portable solar charger, we have come up with a list of all the best that you can find in the market to help you decide which one is perfect for you!
Each portable solar charger in this list is handpicked by our team to make sure that they are all at their best quality. Read on!
10 Best Portable Solar Charger

20000mAh Portable Outdoor Waterproof Mobile Power Bank by Yelomin
This is made of durable and reliable ABS+PC+Silicone material,protects it from rain, dirt and shock / drops, intelligent security protection that avoid over-current, over-voltage, overload and short circuit,etc. Solar phone charger, featured with compass and 2 bright LED flashlights. Awesome for outside activities such as camping, hiking and other emergency use. Compatible with all smartphones,Tablets and other USB devices. More than 900+ recharge lifecycles. Solar Charging Travel Power bank with Flashlight / Carabiner, Very reliable and durable.Solar power bank provides more convenience in your daily or in your trip. The solar powered charger has dual USB and powerful LED light.Makes it easy to charge two smartphones simultaneously or a tablet at full speed . 2 led lights can be used as flashlight with Steady-SOS-Strobe mode. Five pilot indicators indicate the status of battery charger timely. Green light on when charging by solar, blue light on when USB charging.The solar USB battery pack can be regarded as a nice gift.
Pros
Fast charging
Has good security protection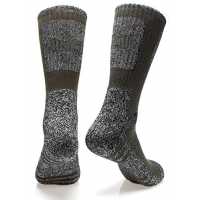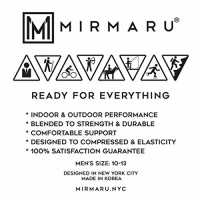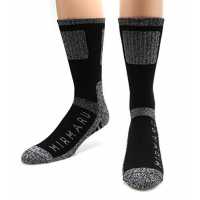 Our Take
In this day and age, access to information is particularly important. In fact, our generation can no longer survive without our smartphones and gadgets. But it's not only limited to our working life. Smartphones and tablets can be a good source of information and entertainment when we are out in the woods during a camping trip. It is true that a smartphone can contain all the information that we need to help us survive a zombie apocalypse. That is why it is important that we always have access to it even during our adventures.

That being said, I am very proud of this portable solar charger that I bought from Yelomin. It is perfect for travelers and campers as it can charge up to five phones without needing to recharge it in the sun. And since it is also solar powered, it can always be charged by exposing it to the sun. It also has a flashlight that comes with it that I find really handy at times.

The electronic component of this charger is also impressive as it has intelligent security protection,avoid over-current, over-voltage, overload and short circuit. All in all, if you are looking for a gadget charger that you can bring with you in your next camping adventure, you should check this out!
$24.99


BigBlue 5V 28W Solar Charger with Digital Ammeter, Waterproof Foldable Solar Panels with Dual USB Ports
The amount of Amps of our 28W solar charger depends on your devices, light intensity and cable used. If your device has an input current of 1A (such as the iPhone), the amount of ammeter will show between 0.8A and 1A in theory. With compact size (11.1 × 6.3× 1.3in folded or 33.1 × 11.1× 0.2in opened) and lightweight (21.0 oz) design, dual-port power applies to all the Android devices and some of the DSLRs by connecting the cable attached. You will need an extra cable for other devices. With the built-in intelligence chip, our solar phone charger can detect your device to deliver its fastest possible charge speed and assure charging stably (dual USB ports up to 4A max overall). SunPower Solar Panels with high solar conversion efficiency by up to 21.5% - 23.5% is great for any outdoor activities such as camping, climbing, fishing etc.
Pros
Stable charging
Bigger solar panel surface
Lightweight, foldable, and compact
Inexpensive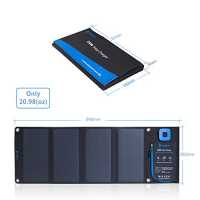 Our Take
As already mentioned, portability and compactness should always be a priority with whatever gadgets and tools we bring during our camping trips. We want our stuff to be carried easily, can be packed light, and to b e lightweight. In that category, I believe that the BigBlue Solar Charger is in front of the pack. It is foldable which makes the entire charger to be very thin - making it very easy to carry and bring wherever you go. On top of that, since it is foldable, it also is expandable. That means that there is a bigger solar panel surface which makes it charge faster than other chargers in the list.

It also comes with a dual power system which you can use to connect at least two devices including smartphones, cameras, tablets, etc. It is also fitted with an intelligence chip which has the ability to detect my device to deliver its fastest possible charge speed and assure charging stability.

With its price point, this product is definitely a steal! Go for it!
$63.96


BFOCE Wireless Power Bank
ABFOCE ES986S solar charger power bank has used ABFOCE unique charging technology,NEWEST10000mAh portable solar power bank indoor or outdoor, ABFOCE is the power bank that you need for your thrill-fraught life! Rugged IPX4 waterproof, drop-proof, and dust-proof. Built-in 20pcs LED lights for lighting function in dark. It has two charging modes: 5V / 2A adapter charging and solar charging. With powerful Qi wireless solar charger function and compatible with all Qi devices andMulti output devices: 1 Qi wireless charging and 2 micro USB ports, which can charge 3 devices at the same time. This is a very powerful function, charge your phone with no cable, very convenient, reliable, completely tangle free.
Pros
Wireless product
Durable
Best for emergencies and outdoor activities
Cons
Only 10K mAh
Solar charging is not fast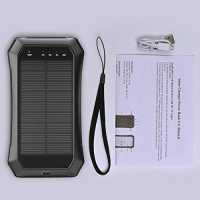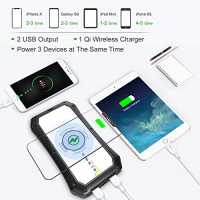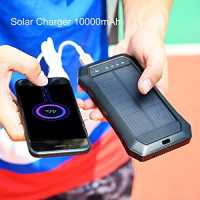 Our Take
This is a very satisfactory charger as 1) it is very portable, 2) it is solar-powered, and 3) it is fast-charging. Its material is quite good, it won't be poor quality plastic, because I didn't feel it hot when I used it! It is very practical and very convenient to use! Charge it once, and you can probably charge four iPhones, which is powerful considering that it only holds up to 10,000 mAh.

On thing that impresses be the best about this charger is that you can do wireless charging with it. Awesome, right? The mobile phone can be wirelessly charged by placing it directly on it! Another USB interface can charge other devices! When it comes to lighting, it can even act as a flashlight. ! It can be recharged in the sun wherever it goes! Very convenient! Although solar charging is not going to be fast! However, in many cases, it can really play an emergency role!

All in all, this is a highly recommended product.
$24.99


25000mAh Solar Charger ADDTOP Portable Solar Power Bank with Dual 2.1A Outputs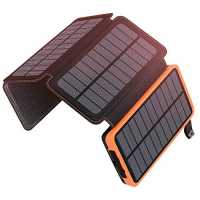 This solar charger provides large battery backup for usage during outdoor activities. The power bank can charge iPhone 6 around 10 times, Samsung S6 around 7 times and iPad Air around 3 times on a full recharge. This has four foldable panels which are handheld in size and look slightly larger than iphone X when folded. It can absorb more solar energy than an ordinary solar charger when it is unfolded. It has a dual USB output ports that can charge two devices simultaneously up to 5V/2.1A with quick charge. Auto-stop when the phone is fully charged. This helps protection against over-heating & over-charging situations. The solar power bank equipped with bright LED light, works perfectly in darkness, ideal for outdoor trips or emergency events. Easy to carry, you may hang it on your backpack for traveling, hiking, camping.
Pros
Waterproof
Foldable and portable
High-capacity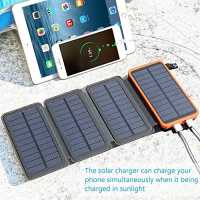 Our Take
When I am on a trail for hiking or when I go on a camping trip with my friends, I use a lot of electronics - phone, music player, tablet, etc. I use them not only for entertainment but for guides like the GPS system in my iPhone or to tell the time. That is why I am always so bummed out when they run out of battery.

But thanks to this charger, that doesn't happen anymore. This battery pack has 4 solar panels which all can independently charge the unit. In my tests it takes anywhere from 6 to 8 hours to recharge it completely from empty. That's not bad at all given that it's almost impossible to have the perfect charging situation. Some options out there are to have a separate panel assembly to charge your battery pack, but I don't want to have yet another thing to lose. This all in one design worked out for me. The Capacity is plenty for me to go through with all of my filming gear, and topping it off every day during the daytime left me with no anxiety over running out of juice. Lastly, this thing has survived drops and liquid spills. I'm one happy camper when it comes to it surviving the outdoors.
$47.99


Panergy Solar Charger
It is convenient and fast charging equipped with four panels which support 6W/5V input in total, which enables the fast charging of the portable charger, 3-4 times faster than ordinary solar chargers. Note: Solar charging is For emergency use, not primary charging source. It is highly recommended you fully charge via wall charger upon first use. The four panels that can be folded make it easy to carry and pack. With a size of 175*90*23mm, you can bring it with you while travelling and camping in the bag. Made of premium ABS materials and high-quality lithium battery, the power bank is extremely durable. 26800mAh large capacity supports charging of devices for multiple times, and two output ports supports charging of devices at the same time. It is compatible with most phones of different models. This new model of solar power bank has up to 60 LED beads as for flashlight, which is a backup when a power outage occurs. The flashlight provides illumination and repels darkness.
Pros
Durable
Very high-capacity (26,800 mAh)
Has mosquito repellent light
Cons
Not always available
The faux leather case that envelopes the solar cells do not feel strong enough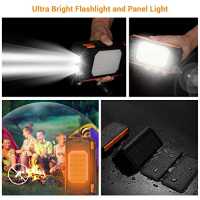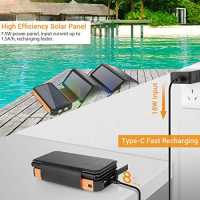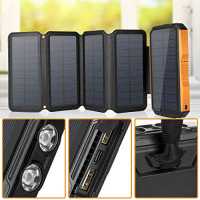 Our Take
One of the main factors that you need to consider when buying for a solar-powered chargers is its capacity. That means, you want a charger that can keep as much energy that will be available for you throughout your trip. This solar charger is one of those most powerful that I was able to find in the market. A fully charged power bank can hold as much as 26,800 mAh which can fully charge up to seven devices depending on their battery requirement. That is is enough to keep my gadgets powered for the entire weekend. But in the event that it runs out, I can always charge it through the sun. Very awesome.

On top of that, the charger itself appears to be made out of heavy duty plastic. I find the LED flashlight and lamp quite useful especially working in dark places. The LED's are pretty bright. The battery bank is also armed with a mosquito repellent lamp (although I wasn't able to vet the effectiveness of the lamp). It's definitely good value for money considering the features it has. Furthermore, the bank came in a pretty decent package and a carabiner was included with it so that you can tag it to your power bank. The solar cells (I wished they had used poly-crystalline cells instead) seem to help its case as a productive add on when you are out camping or hiking where power options can be scarce.
$43.99


Solar Power Bank by FKANT
This is a wireless and high speed solar charger compatible with iPhone 11/11 Pro/11 Pro Max/XS Max/XR/XS/X/8/8Plus/Samsung Galaxy S10/S9/S9+/S8/Note 9 and all qi-enabled devices. Besides, built-in 2 USB output and 1 Type-C output, allowing you to charge for 4 devices simultaneously. It also has a built-in 26800mAh lithium polymer battery, the solar phone charger can charge an iPhone XS for 8 times, a Galaxy S9 Plus for 6 times, an iPad Pro for 1.6 times! Automatically adjust the output to deliver the most suitable current, keep your devices from overcharging, over-current, over-voltage and short circuit. Dual input ports (Type-C and Micro USB) enable it to fully charge itself around 10-13 hours. The solar panel could absorb light and transfer into electricity. With built-in 18 LED flashlight with four lighting modes that can be a lifesaver and can lead you through the darkness.The LED flashlight lasts up to 32 hours under steady light mode and 65 hours under weak light mode. The out case is made from durable ABS + PC material to better protect battery from water, dust, crashes or drops.
Pros
Heavy-duty and durable
Well-built and tough
High-capacity (26,800 mAh)
Cons
Availability can be an issue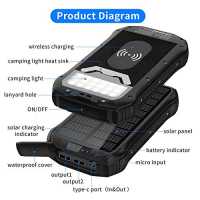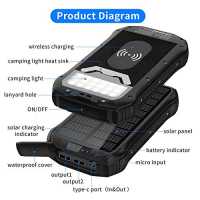 Our Take
What ideally drives me towards this solar power bank is the fact that it is trauma proof. I've had experience with my previous chargers where they would crash to the ground and immediately stop working altogether. But with this product from FKANT, it is totally durable and it doesn't easily get damaged by falls and drops.

Secondly, I really like the fact that it is 26800 mAH. Higher values of mAH generally last longer than those with smaller mAH values. Larger the mAH value, more capacity the portable charger will have for charging your portable devices. It is well built,rugged, tough, and sturdy. Its built in solar panel makes it very convenient for emergency power. It is charging itself with its solar panel with the ambient day light in the room!

All in all, this is a great buy and I recommend for you to try it too!

$44.69


Elzle Portable Solar Power Bank
This solar charger has a huge built-in rechargeable capacity of 15000mAh battery can charge iPhone 5S as (4.7 times), iPhone 7(3.8 times), Galaxy S6(2.8 Times); The Phone charger is ideal choice for hiking, camping trips or other outdoor activities. It has dual USB outputs that allows you to fast charge two devices simultaneously. Integrated 4 LED indicators to show power status, 6 LED flashlight lighten your night when going for an outdoor camping. The out case is made from durable ABS + PC material, shock proof and dust resistant. At the same time, with a compact size, you can easily hold in hand and carry. Perfect for outdoor activities.
Pros
Sturdy and durable
The LED light is very bright
Charges fast with wires
Cons
Charges slow through the sun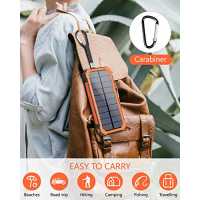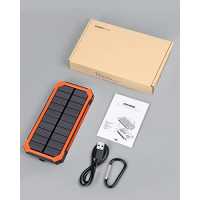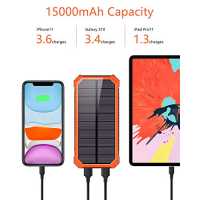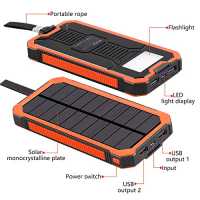 Our Take
I definitely love this solar power bank. If you're looking for a high capacity charger that's portable, the 15,000mAh portable charger may be the charger to get not only does it have capacity that will be able to charge your average smartphone over four times and still have some charge left. It can also charge some laptops too, but you may want to make sure it will be compatible with your computing option before you buy it.

This is a lifesaver when camping especially. Also great for hiking. I end up taking a lot of photos and videos which drains my battery life quickly. This charges it fast and holds the charge afterwards. It's also very tough and took a beating when I dropped it down a hill side! I thought it was a gone for sure but when I found it, it still worked as if nothing happened.

Highly recommended!

$25.99


TP-solar 20 Watt 12 Volt Solar Trickle Charger 20W 12V Solar Panel Car Battery Charger
This product is designed to maintain 12 volt battery at a proper storage voltage with sunlight, perfect for maintaining batteries of car, RV, motorcycle, boat, marine, trailer, tractor, ATV truck, etc. Monocrystalline solar panel kits 12 volt DC solar power charger, it is perfect for maintaining batteries of car RV motorcycle boat marine trailer tractor ATVs truck, etc. It is designed to maintain the 12V battery at a proper storage voltage with sunlight. Heavy duty 2.1mm x 5.5mm DC plug with extension cord, Male to Female, included cigarette lighter plug in the socket, easy to install even for those who have no professional knowledge. No additional much maintenance to the kit, no electricity cost, place the panel facing the direction with the most sunlight possible. It has a built-in circuit board to prevent your batteries from discharging backwards through your solar panels at night when charger's voltage is lower. It is designed with an indicated light in the junction box, when the solar panel is facing the sunlight, it will light up and shows that the solar panel is charging the battery. It is lightweight and easy to carry because it weighs only 2.09lb with the size of 14.1*13.1 inch and made of waterproof, long lasting materials designed for long term use.
Pros
High-capacity and high-power
Fast charging
Portable
Cons
Green LED on the solar panel stays on all night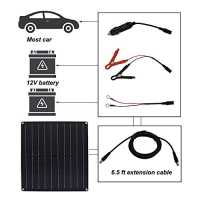 Our Take
Our gadgets are not the only ones that needs charging. Our vehicles too need it. That is why I am so happy to have found this TP-solar 20 Watt 12 Volt Solar Trickle Charger 20W 12V Solar Panel Car Battery Charger. It is not only perfect during emergencies in the road, but it is also a good charger for stuff that needs high-power charging like a chargeable heater during our camping trips.

. It puts out about 14vdc. If you want to use it for USB power, you will need a USB charger with the proper cable to connect to this solar panel. I use this solar charger on my motorcycles and it works great. It tops off the battery quite fast. On top of that, it works super well, even in the shade!
$49.99


BLAVOR Solar Charger Power Bank
This is a fast charging power bank with a power delivery fast charging tech that allows you to charge your phone with max 9V=2A/12V=1.5A/18W charging power. It will pair devices with the most appropriate charging results and greatly shorten charging time. Wireless Charger-Qi wireless charging tech frees you from messing cables,10W compatible with Samsung Galaxy Note9, S9/S9+, Note8, S8/S8+,7.5W compatible with iPhone XR/XS MAX/XS/X/8/8plus. It also includes three modes light works as flashlight, SOS light and Strobe; Complementary built-in compass kit, a MUST-HAVE handy tool for outdoor enthusiasts and emergency situations like sudden shutdown of power caused by typhoons, hurricane etc.
Pros
Fast Charging
High Power
Has a built-in compass
Cons
A bit heavy
Not always available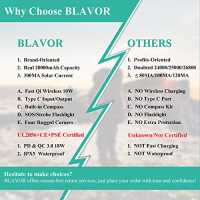 Our Take
When you are out and about during a camping trip, you need a power bank that is not only high-capacity but is also fast charging. For that, I suggest that you check out the BLAVOR Solar Charger Power Bank. In my experience, it is one of the fastest charging power banks in the market right now. Not only that it can charge as much as five to six gadgets with one full charge, it can also charge them in the fastest way. In fact, I had it charging 3 different things at once and it worked perfectly.

It's built very solid, weighs just over 1 lb (a bit heavy) but if you want that kind of juice, you sacrifice a bit. The Qi (wireless) charging works great. Just press the button and put your device on top and it charges; not as quickly if it's plugged in, but that's to be expected. The compass seems like a decent idea, but it falls short. While it might come in handy occasionally, if I'm lost in the woods and need a compass, I wouldn't trust this with my life; I compared it to my Garmin ABC watch and it was off by about 45 degrees.

Highly recommended!
$48.99


BEARTWO 10000mAh Ultra-Compact External Batteries with Dual USB Ports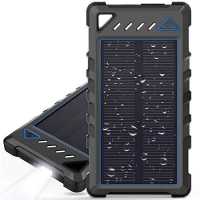 This is one of the smallest and the lightest solar charger on the market that only weighs 7.4oz. There's also extra hanger included for easy hanging on your backpack, camping tents, hiking and various outdoor activities. It is also waterproof for every USB port or micro USB port is covered by rubber cap, better to protect battery from water and the reinforced corner makes it more tough and sturdy, with rugged surfaces to avoid slipping. Built with mini LED flashlights with three modes available(Normal /SOS /Strobe), convenient to control with one button. SOS mode is specially designed for emergency use. Made of eco-friendly silicone rubber and ABS + PC material. CE, FCC, RoHS certified, reliable and durable.
Pros
Lightweight
Durable
Fast charging through wires
Cons
Lesser capacity (10,000 mAh)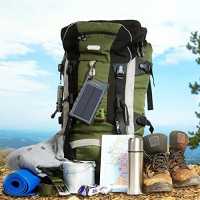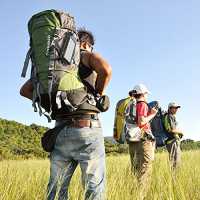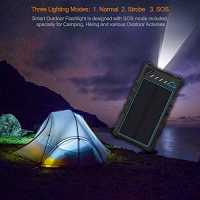 Our Take
As it advertises, this is indeed one of the smallest and the lightest solar-powered charger in the market. It is important for me because portability is one of the biggest concern for me. I don't want to bring heavy stuff during a hike or I will be too exhausted once I reach my destination. That's why I think this power bank is perfect for me.

Circuitry in this gadget is not complex, but it does have the basic necessary charge controller for the solar input, as well as the boost circuitry for charging at 5v from the 3.7v battery. It has 2 outputs, and the ratings for each are actually different. Output 1 provides 2A @5v, and output 2 provides 1A@5v. Definitely use output 1 if you only need to charge 1 device. As you can see in the pic, it does genuinely put out 2A.

The solar panel is really for a complete emergency situation where you're stranded with no other power source and the battery is dead. It bright sunlight, within a few hours, it will give you enough juice to make an emergency call, but it would take over a week of sunlight to fully charge. Definitely useful in an emergency, but charge it from a regular charger for normal use.
$19.98