7 Best Solar Camping Lanterns
The use of Solar Camping Lantern is a practical and responsible way of traveling since it leaves zero carbon footprint. The technology behind this source of light has developed into a much reliable product than those flame-related ones. In a sense, it's a way to enjoy mother nature while maintaining a significant amount of awareness to keep it protected even through the smallest intentions.
In this page, we'll tackle the recommended Solar Campin Lanterns and differentiate the styles and practicalities of each product. All in all, we aim to guide you in choosing the best product to deliver a variety of needs.
Without further ado, here are our top picks for the Best Solar Camping Lanterns for 2020.
7 Best Solar Camping Lanterns

LuminAID Solar Inflatable Lanterns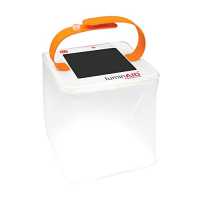 The LuminAID solar lanterns let you bring rechargeable light anywhere with its "no need for batteries or outlets" function. The LuminAID lights are high performing, inflatable solar lanterns. This waterproof and dustproof LuminAID light could perfectly illuminate just about anywhere—including the campsite, backyard, and emergency kits.

You can choose from a selection of lanterns that shine at up to 50 - 75 lumens of bright LED light, and range between 12 - 50 hours of light on a single charge.

The PackLite Nova USB, PackLite Spectra USB, and PackLite Firefly USB can be recharged with the sun, or with a USB input cord (included). These lanterns pack flat to under an inch thick but expand into full-sized lanterns.

The lights are 100% waterproof and float on water. Bring them to the beach, backyard, campsite, or pack them in your emergency kit to make sure you have light when you need it.
Pros
Collapsible into very thin squares
Can light up to 20 hours
Waterproof
Cons
Not very bright (only 50 - 75 lumens at full charge)
Our Take
The LuminAID Solar Inflatable Lantern has a unique inflatable design that allows you to collapse it into a thin piece of plastic when not in use. This is particularly important when camping because you can bring many units with you to ensure the maximum illumination at night without carrying bulky and heavy lamps.

On top of that, these lanterns work ideally when charged under the sun, and even so, it can remain light up to 20 hours with only just one charge. Because of this, you will be sure that you will have sufficient lighting at night, even if you leave the lanterns to charge under the sun during the day. Overall, this lantern is highly recommended, and you should try at least one! You will not regret it.
$24.90


Tansoren Solar LED Lantern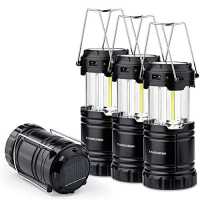 This lantern has three attachment methods. It can be on the wall by its magnetic base, top loop, or metal loop. It has a bright COB LED highly efficient strips that shine extra bright while consuming energy much more slowly. The collapsible control brightness allows you to adjust the height of the lantern to control the amount of light emitted. USB Port allows you to charge your android mobile phone or other android USB devices in emergencies.
Pros
Collapsable adjustment
Can easily be mounted
Can be used as a phone charger
Cons
Energy usage is not very efficient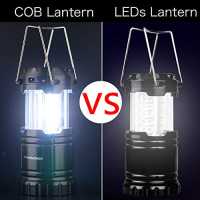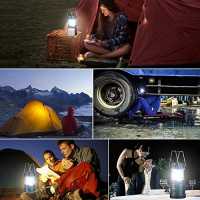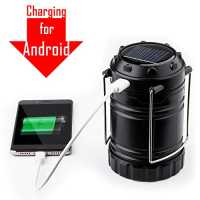 Our Take
If you are looking for a lantern that is not only solar rechargeable but is also easy to attach to surfaces inside your tent, then the Tansoren Solar LED Lantern is the perfect one for you. Depending on your tent or the area where you want to mount this lantern, there three different options to do that: (1) through its magnetic bottom, (2) through the top loop, or (3) through the metal loop. It's very convenient that you will not have a hard time looking for ways on how to elevate the lanterns to give maximum illumination. On top of that, you can also adjust the brightness that these lamps emit by collapsing it. Overall, this is a very compact set of lanterns, and they work perfectly no matter what environmental conditions you are at.
$35.98


AGPTEK Solar Lantern
This ultra-bright solar LED lantern is great for camping, reading, fishing, car repairs, and other outdoor activities. Just one minute of easy cranking at approximately 120 RPM provides 20 minutes of light. This power-saving lantern is designed with 36 LEDs for operation life up to 100,000 hours. It also has built-in Polysilicon solar panels, which allows it to be brighter than the other camping light with lower energy consumption. A universal USB charging port for charging mobile phones and other devices can also be inserted, making it multi-purpose. Its hook swings out from the handle to hang the lantern with two additional string holes for tying it in place. It has two brightness modes that are ideal for normal activities and super bright mode for lighting a room.
Pros
Can be charged in different ways
Compact
Can be used as power bank
Our Take
There are so many things to be excited about the AGPTEK Solar Lantern. First of all, there are different ways you can charge it. You can charge it normally by connecting it to a socket and using utility electricity to charge it up or you can charge it through its built-in solar panel. On top of that, you can also mechanically charge it with your hand by pumping it up. For reference, one minute of mechanical cranking at 120 RPM is enough to charge it to power up to 20 minutes of light. This is also a multipurpose lantern. Aside from using it as a light source, you can also leverage its charged energy to power your mobile phones during an emergency. It is perfect for campers and hikers!
$23.99


Kizen Solar Powered LED Camping Lantern
The Kizen Camping Lantern is solar rechargeable, so you never have to worry about running out of batteries on your outdoor and camping trips. It can also be quickly charged by USB port. This lantern is also space-saving and can be fully folded as 2.4x smaller from its full size. Barely larger than a hockey puck. The whole extended lamp has three light modes as high, low, and SOS for emergencies. When the lantern is folded, it can also be used as a flashlight. The lamp has fail-safes to prevent overcharging, over-discharging to prevent the circuits from overheating, and getting blown.
Pros
Collapsible and compact
Has 3 lighting mode including SOS mode
Has fail-proofing mechanisms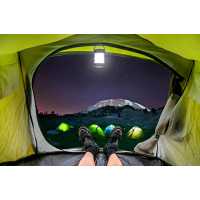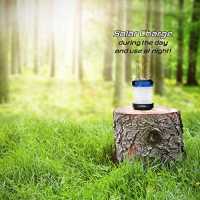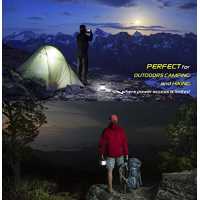 Our Take
Safety is one of the primary factors that you need to look at when buying a camping torch or lantern. You want one that will not overheat or over-charge. On this aspect, the Kizen Solar Powered LED Camping Lantern is one of the best. It has a fail-safe mechanism that prevents the lamp from overcharging and overheating, so you will be sure that it will not catch fire. On top of that, it is also fitted with anti-over-discharging features that prevent the lamp from abnormally discharging energy when in use. This feature is not only a safety precaution but is also an energy-saving mechanism as well. When fully expanded, this collapsible lantern can be adjusted in three different lighting modes, including an SOS mode that will help you communicate distress signals when you are in trouble. Overall, this is a secure and awesome lamp that you should look into! Highly recommended!
$14.95


MPOWERD Luci
The Luci Original weighs only 4.4 ounces and collapses flat, so this adventure-ready, which can also be easily packed whenever you want it. This is extremely durable and super bright, Luci Original will light up your tent no matter how far off the grid you go. Luci Original is waterproof and completely submersible, so it's perfect for any water adventure. Luci Original is an entirely renewable source of clean energy with 10 LEDs in four settings: the low, medium, high, and 1-second flashing. Luci Original is the perfect addition to any emergency kit. Completely solar powered and incredibly bright! Whether you're planning for a storm or putting together a bug-out bag, trust Luci Original.
Pros
Waterproof and completely submersible
Has four light settings
Compact and durable
Cons
Not very bright
No other charging options aside from solar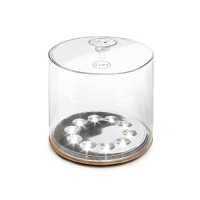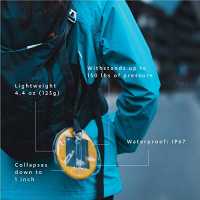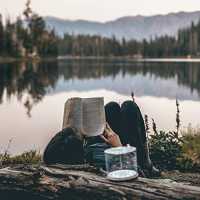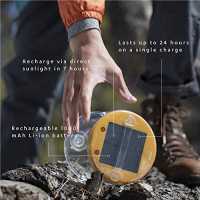 Our Take
Having a solar-powered lantern that is completely waterproof and totally submersible can go a long way if you are a frequent hiker, camper, or angler. That is why you should not miss the chance to add the MPOWERD Luci to your camping and emergency kit! It is entirely solar-powered, so you don't need to charge it through a socket or to use it with batteries. It also has four modes of lighting, which allow you to conserve the power you have saved up from the sun! Overall, this is an excellent small addition to your camping gears, and for the price that it comes with, it's a steal!
$17.73


SUAOKI Collapsible Clover Style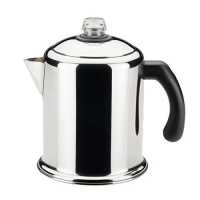 This clover-shaped camping lantern is designed to satisfy your lighting needs in the camping site. The three lampshades can be adjusted independently to direct the light towards a specific angle, which allows you to customize the way you light up space. Moreover, it can be hung or set on its base. Suaoki's lantern also features a smart protection chip, which increases the lantern's safety by fighting against overcharging, over-discharging, and over-circuit. This lamp is convenient to carry because it is portable, foldable, and durable. It can be adjusted to any particular space to fit your current needs. It can be folded down completely to take the least space in your backpack too!
Pros
Has three lamp heads that can change orientation and angles
Very thin and compact
Has big lighting surface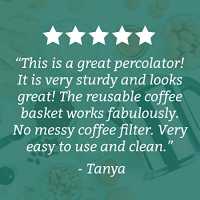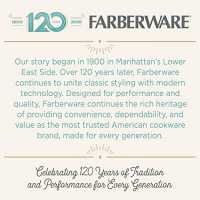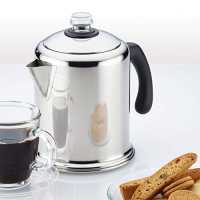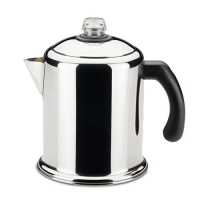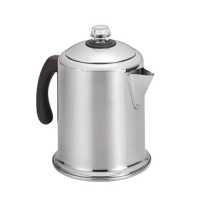 Our Take
The creativity and uniqueness of the design of this camping lamp are top-notch. The SUAOKI Collapsible Clover Style camping lantern has three interconnected lampshades that are moveable to different orientations, which allows you to point the different lantern heads to different angles and directions to match your lighting needs. On top of that, because it has three lamp heads, there is also a bigger surface that emits light so it illuminates brighter than most lanterns in its price point. It's also very thin and collapsible, so bringing it to the campsite and setting it up is no hassle at all! Highly recommended!
$24.99


SUAOKI Led Camping Lanterns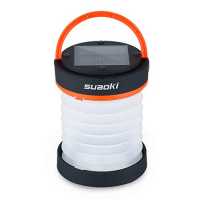 The SUAOKI LED Lantern Lights comes in an accordion-shape design for use in multiple scenarios & spaces, making it easy to expand or collapse. The LED Lantern enables you to get the maximum or minimum brightness as needed and can be recharged via solar power or USB cable, allowing it to be powered up for longer. It is portable, foldable, and durable, and can be adjusted to any particular space to fit your current needs. Collapsing to a size smaller than iPhone 6 plus, it can be folded down completely to take the least space in your backpack. The SUAOKI LED Lantern Lights can be used as a regular Lantern flashlight or as a power bank charger to charge your gadgets with the built-in USB output port as well. Ideal for outdoor activities such as camping, hiking, fishing, or as a lighting source for a late-at-night porch reading.
Pros
Fast charging
Can be charged through solar power
Portable
Cons
Mainly made of plastic
Not very bright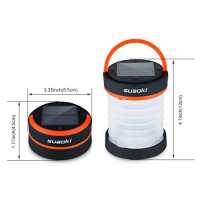 Our Take
Charging a LED lantern can sometimes be a challenge for some campers, especially if the lamps that they own don't charge fast. If that is also a problem for you, then you might want to consider the Suaoki LED Camping Lantern. Not only that, it is fast charging; it can also be charged in two ways. You can charge this lantern through electricity (by plugging it in a socket) or through solar power. With these capabilities, you don't have to worry about batteries running out during your weekend-long camping trip! Bonus: you can also use this as a power bank to charge your phone!